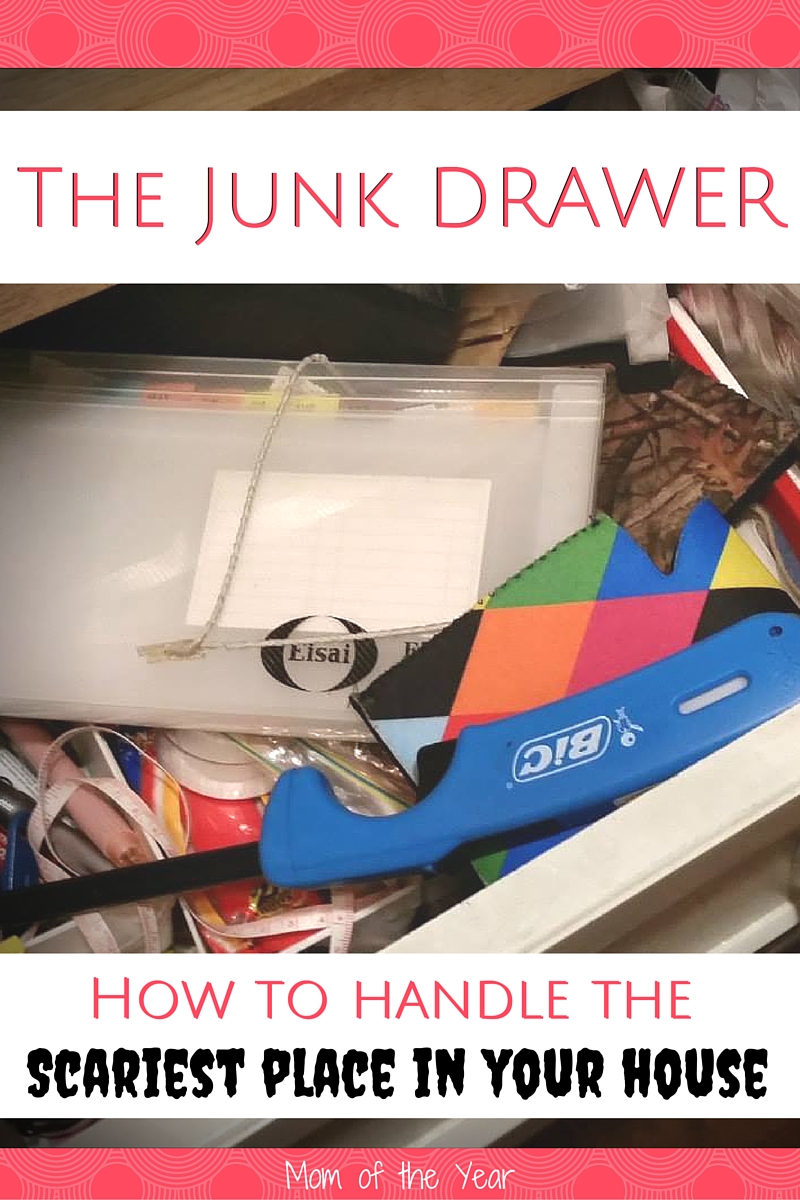 We have one.  A junk drawer, that is.  Truth told, it scares me.  The sheer fear of what it may or may not contain is enough motivation for me to ignore it for months on end (okay, let's be honest–it's probably been 3+ yrs.) and just continue to write "sort junk drawer" repetitively on my to-do list.
The thing of it is: it upsets me.
It upsets me in the way that I'm a control freak and significantly enjoy having order in my home. I enjoy knowing where my Sharpies are and if I need to stock up on Scotch tape because I'm running low.
Unfortunately, this sweet order fled like a toddler caught coloring on the wall as soon as I took on my parenting gig.
It was a definitive case of "Have children, lose all accounting for scissors within the household"
You see, I enjoy trying to save money for my family.  I clip coupons and fantasize about obscene amounts of cash-back at the grocery register.  I imagine celebratory balloons cascading from the ceiling as the cashier tabulates my awe-worthy receipt.
As turns out, achieving this level of greatness requires organization.
I do not have this organization.
I have dreams of this organization.  Memories of it from a previous, pre-child glory.  And currently, a whole crappy drawer full of junk.
A daily reminder that I do not have my mess together.  That I do not come close to having my mess together.  And that at best, my hope is to cram my mess into the drawer and squeeze it shut so I can catch up on my Game of Thrones binge-watching in peace after I stash the kids in bed
The drawer mocks me still.
Listen, I don't know if there will ever be a time in my life when I will be able to adequately school my junk drawer.  Same goes for those horrid dust bunnies under the cabinets or random toy parts setting up shop underneath the dark corners of my couch.  I can fantasize, I can hope for a more-together house, but only Lord knows if it will ever come.
As such, I'm getting cozy with my desperately-throwing-things-in-the-air-while-searching-for-the-pizza-coupons routine (on nights when take-out is the only reasonable option).  If I need a measuring tape?  Let's just say a nice prayer before yanking open the drawer. It may still be in there!  It will not be neatly wound up. Bonus tip: in the meantime, if you're looking for nifty storage ideas, head over to Kitchen Professor for some great recommendations.
At this stage, my life is not presently addressed in an orderly fashion.  Largely, it is addressed with a fervent hope that my children and dressed and fed and a whole lot of extra coffee.
For now, this may be enough.
Someday, I may have adorable labelled caddies.  This someday will not be today.  Today, I will shove aside Bic lighters and paper pads while I madly search for the needed paper clip that will most assuredly bring order to my day…
The following two tabs change content below.
Meredith blogs at The Mom of the Year, where she dedicatedly earns her title one epic parenting fail at a time, offering quick, relatable laughs for fellow parents and all their empathizers. She has been part of several best-selling anthologies, featured on prominent sites such as Huffington Post, In the Powder Room and BlogHer, and loves her role as the Executive VP/Operations Manager of The BlogU Conference. When she's not breaking up fights over Legos and juice boxes, she remains fully committed to sharing a less serious look at the world of parenting.