Your mom waits all year long for her special day. When Mother's Day arrives, you've got to be at the top of your game, surpassing last year's gifts and surprises. After a while, it can be daunting to figure out just what to get your mom when you feel like you've gifted her with every possible motherly goody on the planet. Have no fear. In this article, we break down four new ways to make your mom feel special on Mother's Day.
4 Ways to Make Your Mom Feel Special on Mother's Day
The Gift of Personal Assistance
Find ways to be helpful and give your mom the convenience of your assistance. Our mothers do a lot for us, and though we like to think of ourselves as helpful, for most of us, we could probably be doing a lot more if we were truly honest with ourselves. So, make up for the lost time and offer to help your mom with whatever she needs on Mother's Day. Hang pictures, clean out the refrigerator, help her in the garden, be her partner in Bingo, you get the idea. She'll appreciate your gesture and the effort you put into making her day special.
2. The Gift of Something Unexpected
Your mom might already have a handful of handmade gifts that she's saved over the years, either from previous Mother's Days or your childhood school days. In either case, she's up-to-date on the kinds of made from scratch gifts you're likely to give her. If you're thinking of giving her a handmade gift this year, include the wow factor and create something she'd never expect. This gift will look different for different people. For instance, if you're a painter, try a new medium and gift your mom with handmade pottery. Instead of just writing another poem, make the jump and perform your poetry at a poetry reading or an open mic night. Take things a step further than you usually would to give mom something new to enjoy.
3. The Gift of Unique Flowers We figure that you've probably already gotten your mom flowers for Mother's Day before, but we bet you haven't gifted her with mother's day floral arrangements like these. With so many customizable options, there's no way you won't impress your mom with these flowers. Get creative, include flowers of all kinds and colors, and maybe throw in a few eucalyptus leaves for minimalist aesthetic and aromatherapy. She will love the spin you've put on a traditional bouquet.
4. The Gift of Gratitude
In the past, you've given your mom cards that say, "Thank you for being a great mom" and even "Thanks for being the world's best mom." Although these words were appreciated, you should probably be more specific about what you're so thankful for and why your mom is the best in the world. We recommend writing your mom a letter of gratitude that genuinely thanks her for all of the things she has done over the years to make you happy. By coming up with specifics, you'll show your mom that you remember all of the good things she has done to help you, and this will show her that you truly appreciate her. It's not that she needs convincing that you love and appreciate her as much as you do; it's just the effect of gratitude! Making a list of all you're grateful for about your mom will win her heart even more.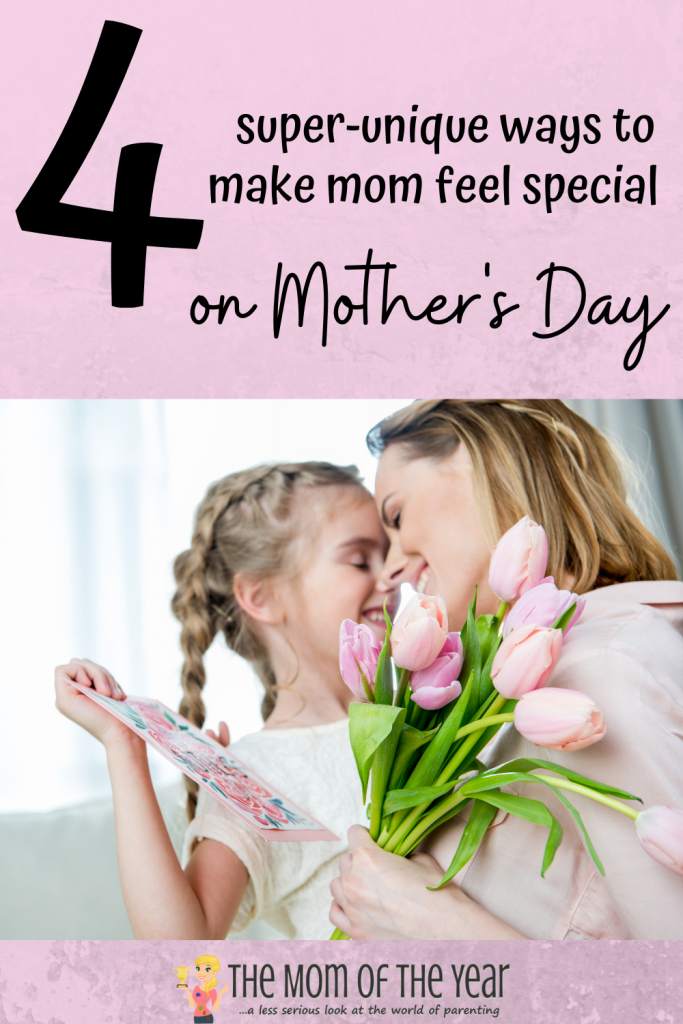 Mother's Day is a special time of year for moms everywhere. Make your mom feel special and win Mother's Day with these totally unique ideas.
The following two tabs change content below.
Meredith blogs at The Mom of the Year, where she dedicatedly earns her title one epic parenting fail at a time, offering quick, relatable laughs for fellow parents and all their empathizers. She has been part of several best-selling anthologies, featured on prominent sites such as Huffington Post, In the Powder Room and BlogHer, and loves her role as the Executive VP/Operations Manager of The BlogU Conference. When she's not breaking up fights over Legos and juice boxes, she remains fully committed to sharing a less serious look at the world of parenting.