(via: https://pixabay.com/photos/roses-noble-roses-basket-flowers-2208357/)
Mother's Day is a day to celebrate the wonderful things our mothers do and have done for us. Mothers help the world go round and deserve all of the praise and attention in the world. In order to show your love for the mothers in your life, it is customary to get them some gifts, like a flower bouquet, on Mother's Day.
While there are a number of different gifts that you can get, one of the most popular and high-quality gifts you can get are flowers. Getting your mother some thank you bouquets or a gorgeous floral arrangement is the perfect way to show her how much you care and just how much you value her.
But what is it about a flower bouquet that makes it such a good Mother's Day gift? Why do they continue to be so popular? Well, that is exactly what this article is going to take a closer look at. So read on and learn more about why flowers are, and will continue to be, the perfect Mother's Day gift.
They Bring Joy
While flowers have a variety of different meanings, one thing is shared amongst all flowers, and that is that they bring joy. Everyone likes to receive flowers as a gift. Not only are flowers joyous to look at or experience, but they will remind the gift recipient of you every time they look at them. They are bright, vibrant and it is difficult not to experience some joy when seeing them around your home.
Of course, in order to bring the most joy possible, be sure to know the preferences of the mom you are getting a gift for. If you don't know their favorite flower, choosing one that is their favorite color is often a good idea. If they have an allergy to pollen, be careful with the flowers you get them to make sure that they don't cause any problems.
A Flower Bouquet Can Improve a Home in Multiple Ways
(via: https://pixabay.com/photos/bouquet-decoration-1853622/)
The joy experienced by receiving a flower bouquet isn't only internal. Flowers can also help to improve your home and let you experience happiness every time you see them. Because flowers come in a variety of shapes, sizes or colors, you are sure to be able to find one that can add to the decor of your home.
Flowers can be kept in pots on the ground, on the counter, as a centerpiece on a table, or even hung from the ceiling or walls. In addition to how they look, many flowers also have very pleasant scents that can fill a home with a great aroma. Most aren't overpowering, and instead offer up a subtle smell.
They also fit well in any room. For example, while there are a variety of different ways to affordably update your bedroom, adding a flower bouquet is one of the best. Not only can it boost the look of the space, but also help it smell outstanding.
They are Budget-Friendly
Another reason that flowers are an incredible choice for a Mother's Day gift is that they are friendly for just about any budget. While flowers can cost as much as a few hundred dollars (or more), they can also be found much more affordably than that.
Whether you want to spend a little or a lot, finding a flower that is in your price range that your mom will love should be easy. Also, just because flowers are cheap, doesn't mean they are low quality. There are plenty of affordable options that are still high-quality and are sure to impress. Of course, be sure to know the signs of a healthy flower before you buy. This includes firm green stems and petals free from brown or black spots.
They Are Incredibly Easy to Find and Buy
One issue with many different gifts is how difficult they are to buy. When it comes to clothes, you need the right size and style. For technology, you need the right version and model. But for flowers, once you find the right flower, your work is done. In addition to being simple in this sense, actually getting the flowers is equally as easy.
There are likely many local florists around your home that have a healthy stock of flowers at most times. However, an even better option might be to head online. Online florists will generally have a greater selection, and may even be able to offer you better prices than you would normally pay in-store. They can also ship to you very quickly, and securely, as well.
Of course, whether you buy your Mother's Day flowers at a local florist or online, it is important not to leave it until the last minute. If you wait too long, the florist could sell out of the flowers you want to buy.
A Flower Bouquet Can Last Longer Than You Think
When many think of flowers as a gift, they think of something that will only last for a couple of days or a week before dying and needing to be thrown out. However, that isn't always the case with flowers, as they can (in some cases) be the gift that keeps on giving.
Some flowers, if cared for and tended for well, can last much longer. You can also dry out and press your flowers once they are getting close to the end of their lives. This allows you to continue to display your flowers beautifully, just in a different way.
Dried or pressed flowers can be great to use as bookmarks, put in frames and hung on walls, and in various other ways. So while flowers may not last as long as some other gifts, there are ways you can keep them preserved much longer than you might have originally thought.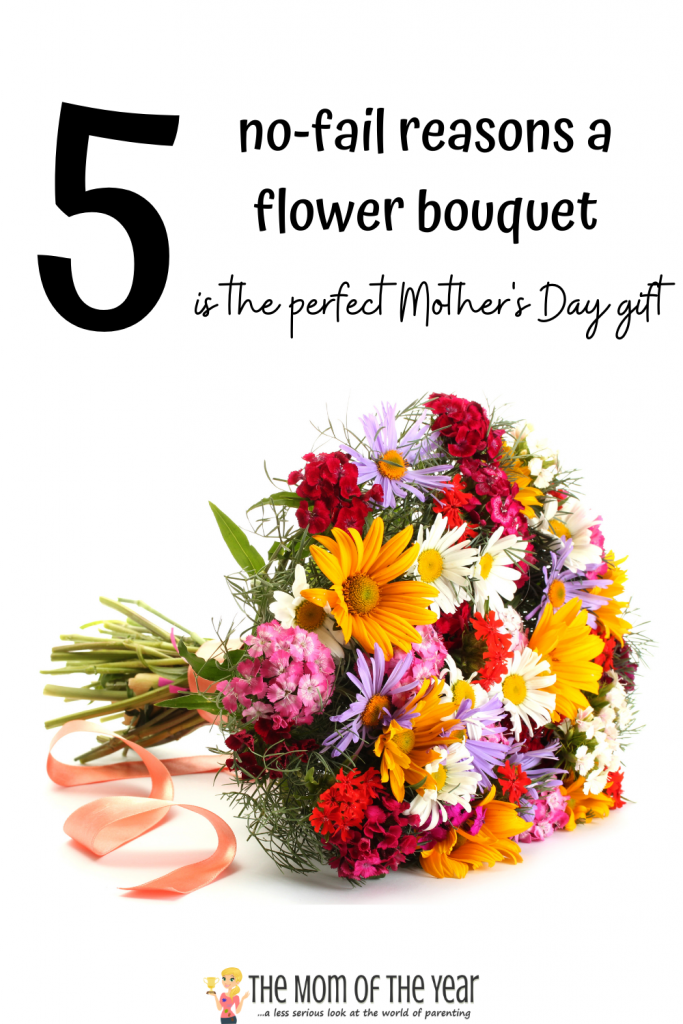 In conclusion, while there are plenty of different gifts you can buy your mom for Mother's Day, flowers sit atop of that list. They are beautiful, can fill her home with a pleasant scent, and show how much you care.
The following two tabs change content below.
Meredith blogs at The Mom of the Year, where she dedicatedly earns her title one epic parenting fail at a time, offering quick, relatable laughs for fellow parents and all their empathizers. She has been part of several best-selling anthologies, featured on prominent sites such as Huffington Post, In the Powder Room and BlogHer, and loves her role as the Executive VP/Operations Manager of The BlogU Conference. When she's not breaking up fights over Legos and juice boxes, she remains fully committed to sharing a less serious look at the world of parenting.