As a mom, I have a difficult time keeping my kids on task during homework, plus trying to cook dinner, along with getting my children to and from activities. I have one child diagnosed with ADHD primarily inattentive plus another child with suspected ADHD. I also have 2 other children. Homework time in our house isn't a favorite activity for any of my children, but it is clearly more of a struggle for the ones with ADHD. Over the years I've tried out different strategies to lessen the stress of homework time. After a lot of trial and error, I'm happy to share the tips that work best for our family.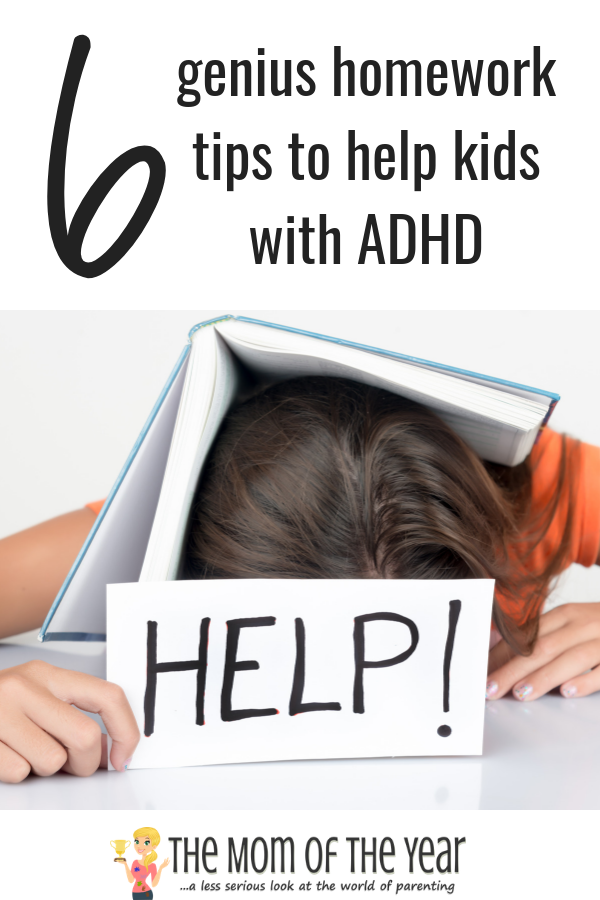 Homework Help for Kids with ADHD
Limit The Time Spent on Homework
Check in with your child's teacher to see how long they should be spending on homework. If the teacher is assigning homework that should take 20 minutes and it takes your child an hour, that's a problem! This was exactly the situation in my house when my kiddo was in elementary school. After months of struggling on my own, I finally reached out to the teacher to ask her advice. She assured me that my son should not be spending that much time on homework and that devoting so much time to homework was probably doing more harm than good. Such a relief to hear!
The solution was simple. The teacher and I worked together to modify his homework. A worksheet with ten similar math problems might be great practice for a neurotypical child, but it might be too much for your student with ADHD. Maybe your child has the option of doing five of
the ten problems. This accommodation might be most easily accomplished if your child has an IEP or a 504, but if you don't have one, don't be deterred from talking to your child's teacher.
Stick to a Schedule
Set a designated time for homework. Knowing what to expect and when to expect it helps all kids but is especially important if a child has ADHD. Plus, once your child knows to expect homework time from 5 to 5:30 pm every single day, there will be less nagging on your part. Note, I didn't say any nagging!
Also, don't stress if you have after-school activities that cause this time to change. In my family, we have four kids who are each in four different activities so our routine after school is different almost every night. I just make sure I schedule homework time at some point each day. On Mondays, homework time might be from 4 to 4:30, on Wednesdays it might be from 6:30 to 7. Changing it up is not ideal, but it's still a routine in that every Monday, it's the same time, and the same with Tuesday, and so on..
Redirect
If your child is young, you might need to sit with your child to give them prompts to help him stay on task. Make it clear that you are not there to do his homework, just to help keep him on track. If you schedule is such you can't sit with him the entire time he is doing his
homework, help him get started, and let him know you'll be back for regular check-ins.
Let Them Pick
When my son first started getting homework, I would encourage him to get the more difficult work out of the way. What seemed like a good idea on my part turned into a battle of wills between me and my kiddo with ADHD. This only added to the time we were dealing with homework, so I backed off. Give your child a sense of control over their homework by letting them pick which assignment they want to do first.
Use Fidgets as Homework Help
Give your child a fidget to play with while they do their homework, something to keep her hands or feet busy. This allows her to keep moving while she is still in her seat, or standing at a desk or table. There are a ton of fidgets on the market specifically for this purpose, but there are also plenty of things you already have in your house that will work for free! My favorite fidget for myself is a twist tie from a bag of bread! You can also try a piece of velcro stuck to the underside of her desk, a squishy, or even a ball on the floor she can roll around with her feet. Experiment with what works best for your child but make sure it's not something that distracts her from work.
Check Work and Pack Up
When your child finishes his homework, sit with him and make sure he completed the whole assignment, including putting his name on his paper. Remind him to put the paper in the correct folder and the folder back in his school bag. Taking this small step at the end of the
homework time builds a great habit for them that they will eventually be able to do on their own. This also helps with your morning routine since you won't be running around looking for homework as the school bus is pulling up.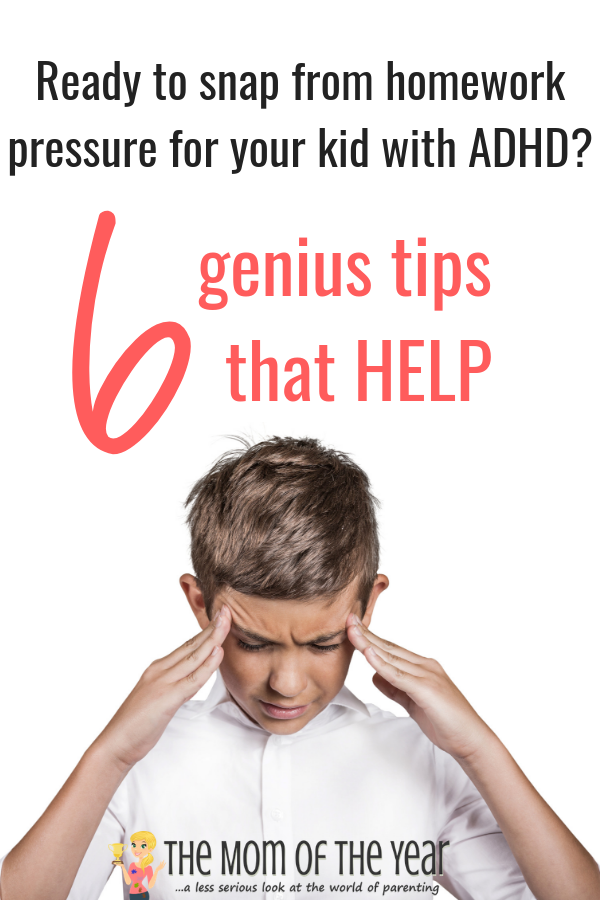 Please know, this does get easier! As your child grows and becomes more autonomous, you'll be less and less involved with homework. In the meantime, I hope these homework help tips help lessen the stress of your evenings and help to instill good habits in your child.
I'd like to note here that I'm not an educator or an expert on ADHD. I am simply a mom sharing homework help tips and techniques that work for my ADHD kiddos in the hopes that you'll find something that makes homework in your house a little easier.
The following two tabs change content below.
Anne is a mother of four, a 10 year old boy and 6 year old triplet girls. Always looking for a creative outlet, Anne sometimes hijacks her kids' parties, projects, and costumes to get her fix. (Even though they'd rather have their party at a moonbounce place and their costumes from a store). She blogs at onceuponamom.net where she writes funny and sometimes poignant posts in the hopes of lifting up other moms as they travel the chaotic, beautiful road of mothering.
Latest posts by Anne Metz (see all)