Last year, my neighbors installed an in-ground pool and told my family we could come over to swim any time we wanted. Initially I was excited but then realized I had dropped the ball on teaching my son to swim. At the time my son was 3 years old and other than splashing in the ocean waves, he wasn't comfortable in the water, and he definitely didn't know how to swim. Any time he was in the water, he screamed for my husband or me to hold him. He was fine in a boat or on the shore, but once that water hit his legs, he needed the security of mommy or daddy. Yet I was eager for us all to enjoy our neighbor's pool, so I signed him up for private swim lessons. Not only did he learn to swim, he learned that you do not need to be wary of the water! From these lessons I learned some cool ways to help a child learn to swim, and I'm sharing them here with you!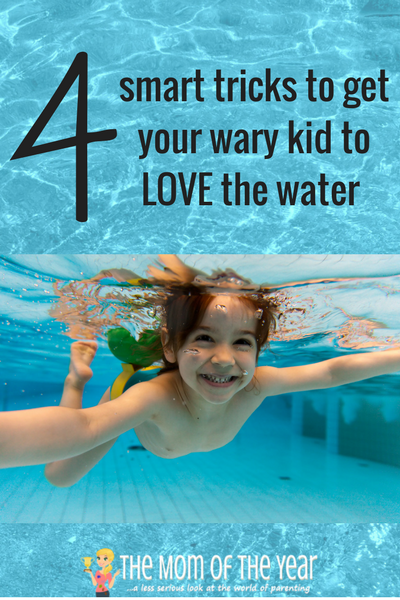 4 helpful ways to help a child learn to swim:
Practice in the bathtub. I realize this sounds ridiculous, but it is exactly what my son's swim teacher told us to do! Taking your child into water they are already comfortable with (the tub) and teaching them skills without them even realizing it is a great way to lay down a foundation for swimming. Our teacher told us to practice blowing bubbles in the tub and put his head underwater and hold his breath. Since he was in the bathtub, he wasn't afraid and the skills easily transferred into the pool.
Make it fun! Whenever we go swimming I make it all about playtime. Whether we stay in the shallow end or go where my son can't reach, we always bring toys along. I find that the toys distract him from the fact that he's in water while he focuses on playing.
Invite a friend. It's a child's natural instinct to want to observe and imitate other children. If your child has a friend who's already a swimmer, invite them along to the pool. Likely, your child will want to play in the water like her friend, and if not, then at least the idea that swimming is fun has been introduced.
Don't let go. Our swim teacher taught us if you start by never letting go of your child while in the water, they tend to push their limits more, trusting you are right there. Our teacher had me hold onto my son and each time we went into the water (over the course of a month) I held on less and less. So by the end of the month I wasn't even holding onto my son, only standing in the water next to him. It really helped my son gain confidence knowing I was right there and wouldn't let anything happen to him. By the time I wasn't holding on, he felt safe enough to actually swim alone.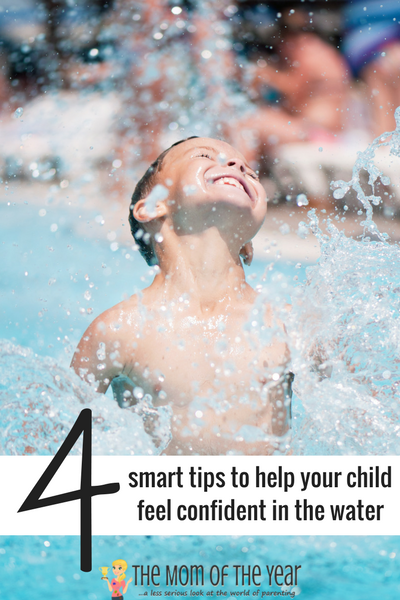 This year we are so excited to head to our neighbors' house to swim thanks to our swim lessons and these great tips from our teacher. Now my son can play while I tackle my own much-needed pool workout. Score!
Use these smart ideas and your child will be a fish in the water in no time!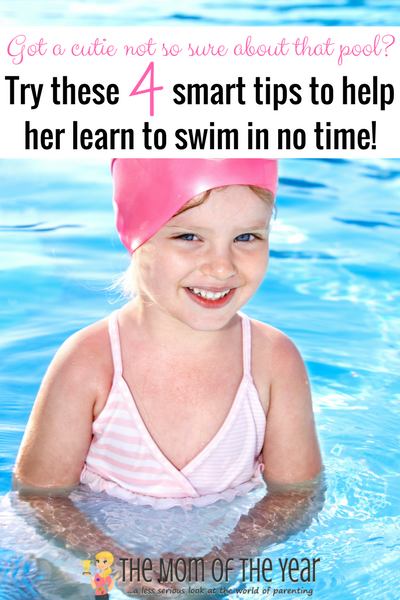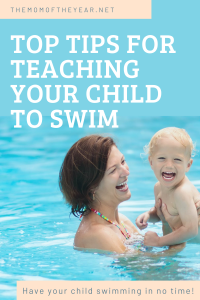 First image credit: depositphotos.com, Image ID:3982448, Copyright:Antartis 
Second image credit: depositphotos.com, Image ID:43242465, Copyright:FamVeldman
Third image credit: depositphotos.com, Image ID:19737097, Copyright:VaLiza
Fourth image credit: depositphotos.com, Image ID:5736157, Copyright:poznyakov
The following two tabs change content below.
Lindsay Houser
When Lindsay isn't fielding three-nager temper tantrums and scraping Play-Doh off the floor, her passions are the great outdoors, cooking, creating, and healthy, holistic living.
Latest posts by Lindsay Houser (see all)