Do you ever get so overwhelmed by an organizing project that you put it off? Like say for instance, my linen closet. I'm grateful to have it, but it's so narrow with deep shelves, so it feels like everything constantly gets lost and I'm not sure how to fix the situation. I'm embarassed to admit, it was in that sad messy state for a year and a half! But with all the sickness my kids have dealt with this year, I really needed to be able to open the door, find the thermometer or heating pad or ibuprofen quickly! So I decided to finally tackle the project. If you are due for some linen closet organization, follow these simple steps and we'll get it sorted.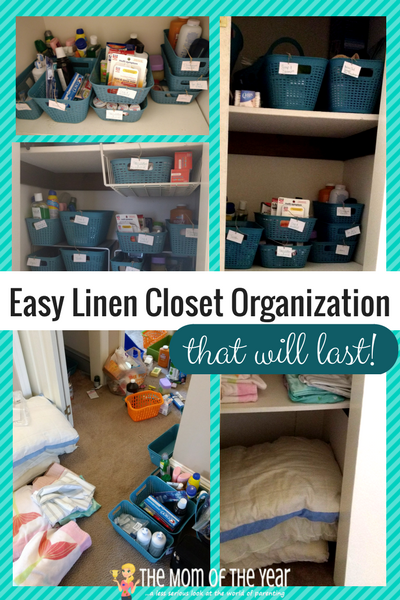 6 easy steps to linen closet organization:
1. Take inventory
When you are doing a whole closet organization, take everything out. It feels both overwhelming and completely freeing at time. This is an important step so you can see what you are dealing with and start the tossing and sorting process. Plus, it can't get any messier! It will only get better from here, I promise.
2. Toss the expired
This is a great time to take all the medicines in your linen closet and toss any that are expired. Even in my family of six, who goes through medicine pretty quickly during cold season, I found a ton of expired medication. If you are looking to toss expired prescription medication, but don't feel comfortable tossing them in the trash, contact your local police department to see if they have a prescription medication take-back program to dispose of them properly.  
3. Organize like items
Once you've thinned out the pile, organize like items. Pile your extra toothbrushes and floss together. Match up your sunscreen and aloe. Corral your first aid supplies.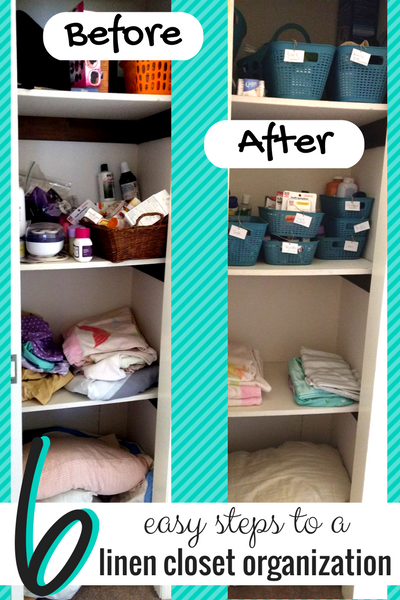 4. Get bins
This is the fun part! Get yourself some bins! Typically I don't recommend going out and buying new bins. I think it's better to take inventory and see if you already have bins that work, or even use some tupperware that's lost it's lid to keep your items together. Having said that, have you checked your dollar store lately? You may be in luck! Dollar stores are a great place to get color coordinated bins on the cheap. They'll give your linen closet a unified look without breaking the bank. I love that I was able to get a variety of sizes of bins all in the same shade of blue for only about $12.  
5. Label
Here's another place I don't recommend spending a lot of money. I used some cardstock I already had, a hole punch, and some twine to make simple labels for my bins. Don't skip this step! It may seem obvious to you which is the bin for toothpaste and toothbrushes, but it makes it easier for the little people in your house to help find things and put them away properly.  
6. Problem solve as needed
Once I had all my items organized and put in labeled, color-coordinated bins, I started putting everything back and ran into a new problem. The shelves in my linen closet are deep and high so I had to stack bins on top of each other in order to make it all fit! I figured this might lead to things getting jumbled up again so I bought some additional shelves to make room to stack the bins properly. I also purchased an under the cabinet shelf that slides on easily and gives me room to get that last bin up.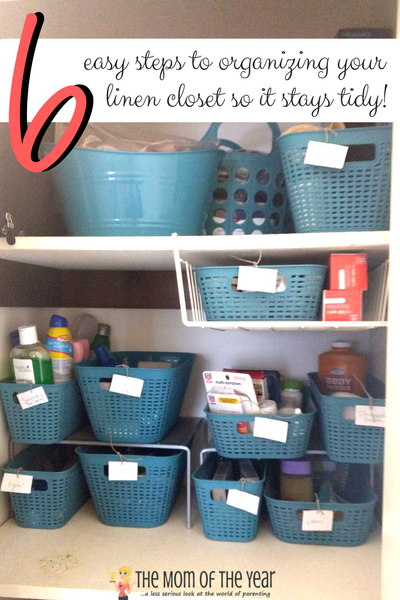 Has your storage area gotten out of control? Feel overwhelmed by the need for linen closet organization and need a little motivation? Head out to the dollar store, grab some bins and get started with these easy steps!
The following two tabs change content below.
Anne is a mother of four, a 10 year old boy and 6 year old triplet girls. Always looking for a creative outlet, Anne sometimes hijacks her kids' parties, projects, and costumes to get her fix. (Even though they'd rather have their party at a moonbounce place and their costumes from a store). She blogs at onceuponamom.net where she writes funny and sometimes poignant posts in the hopes of lifting up other moms as they travel the chaotic, beautiful road of mothering.
Latest posts by Anne Metz (see all)