We moved recently and one of my favorite things is that we come in the house through the garage. You know why I love this? Because my kids don't come in the front door and drop all their belongings all over the front of the house. So, when we have guests over, they enter through the front door and are greeted with a clean, non cluttered foyer.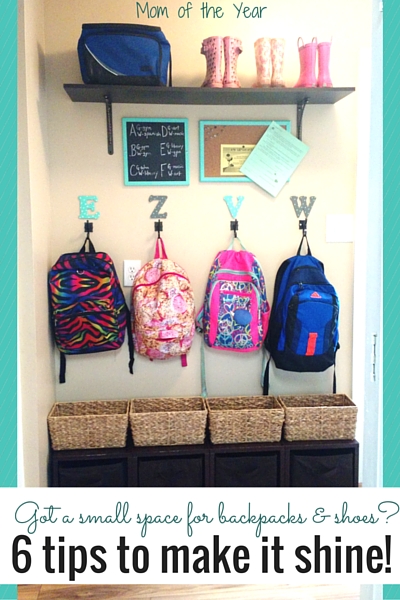 But the thing is, that mess just relocated to the door off the garage. And while my guests don't necessarily see it, I do! And come to think of it, most of our guest are our family and close friends and they come in through the garage too. I mean, unless it's a really special occasion, most people don't even see my beautiful uncluttered foyer. Instead, they have been carefully stepping through a sea of jackets, shoes, umbrellas, bookbags and more and my dream of having people enter my house in a tidy space seems to have disappeared.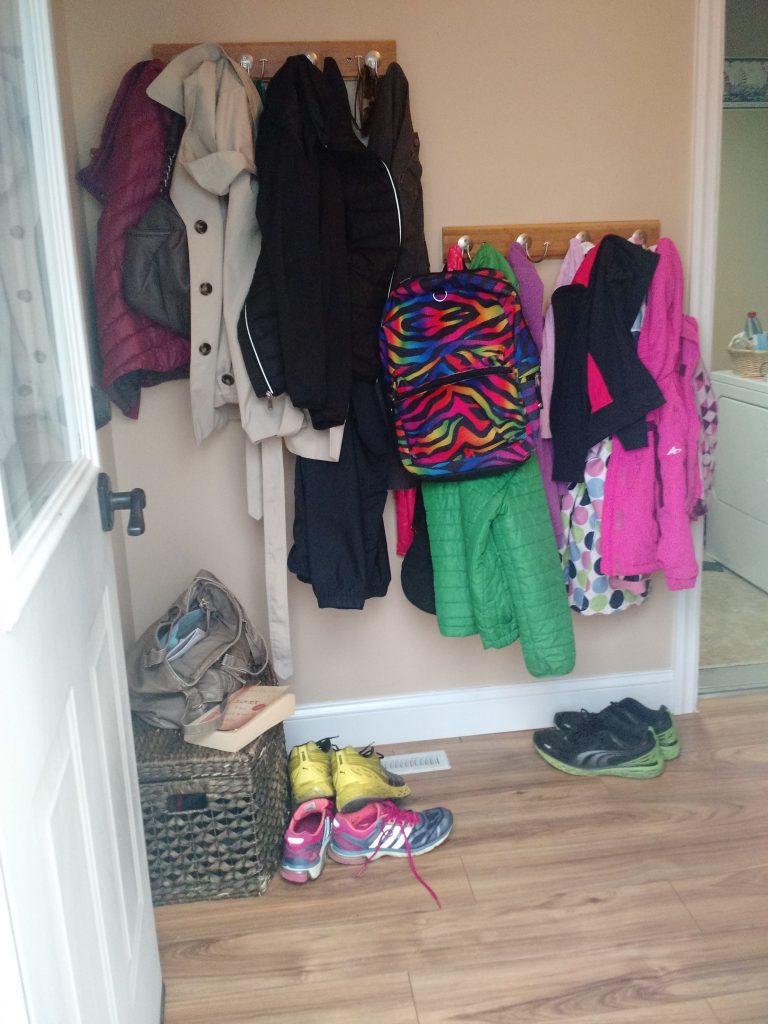 So I decided to tackle our "mudroom." I'm putting this in quotes because we don't really have a mudroom. But we do have a hallway! And so I made it our "mudroom" or "drop zone." You don't really need a mudroom or a room at all. The tips and tricks below can be used in your front closet, laundry room, garage or anywhere your kids drop their stuff!
When we moved in I added a few things to the hallway to keep it organized, but it just wasn't working. I tried to tackle the clutter by putting boot trays down and by hanging up some cute hooks I found. I also added a chalkboard and a bulletin board with a shelf above.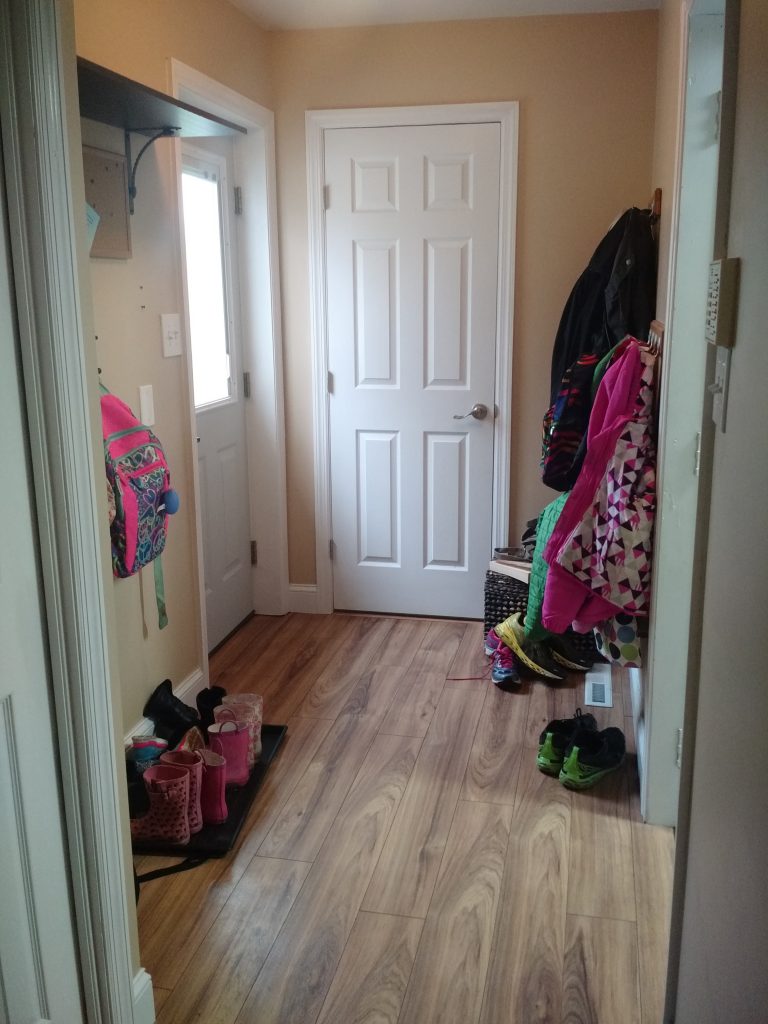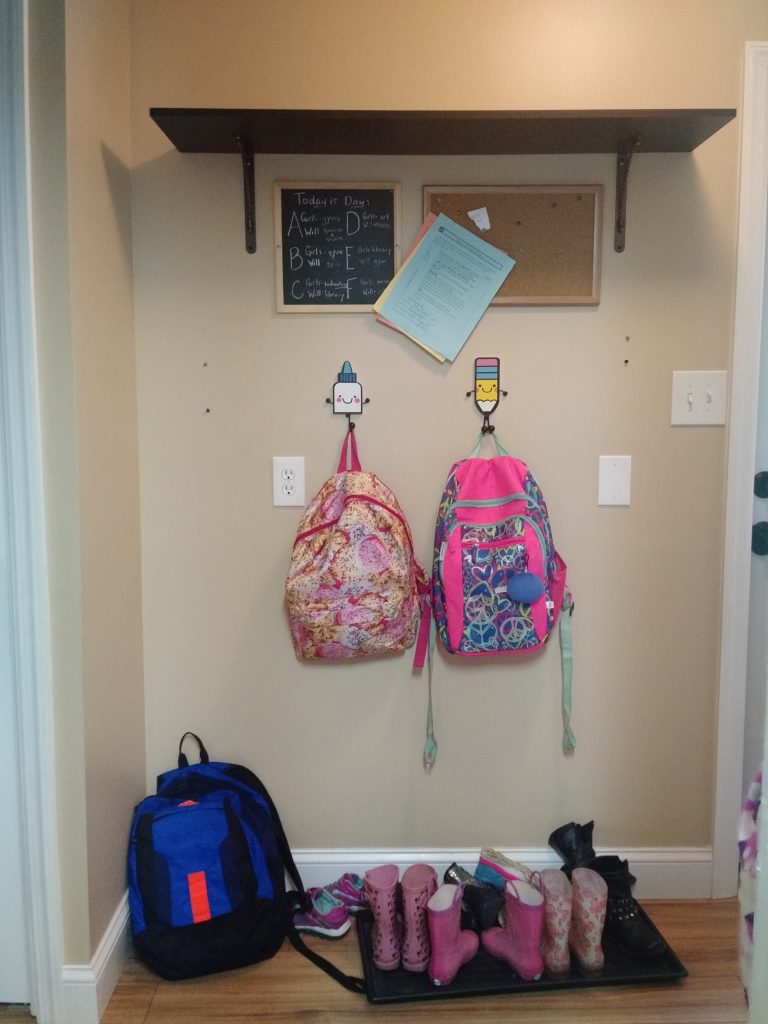 But the shoes and boots piled up and the cute hooks weren't sturdy enough and quickly broke. (That's why you are only seeing two even though I have four kiddos!) The chalkboard and bulletin board were blah and I wasn't sure what to do with that shelf!
So, I spent some time thinking about what I needed that space to do and what I wanted it to look like.
Ideas for organizing a mudroom in a small space:
shoe storage
Hooks for backpacks and coats
A place for each kid's gear for activities and sports
Storage for seasonal items
And I really wanted it to look pretty!
As it turns out we don't need to have all of our sweatshirts, spring jackets, winter jackets, and rain jackets hanging on the hooks in the mudroom all at once. I thinned the pile and it looked better right away. Plus, we found my son's violin that had been missing all week! It was hidden under all those jackets.
Then I tackled the shoes.
I knew I didn't like the look of shoes just being out so I looked for cube storage for each kiddo to put their shoes in. I have four kids and most cube storage I found came in sets of 3 or 5 and since I didn't want to have another kid or get rid of one, I found some cubes that were sold individually. But when I put them next to each other, they look like one connected piece which I love. I recycled some fabric cubes that used to hold toys and placed one in each cube for the kids' shoes. I also used a larger basket to store mine and my husband's shoes. Now I love that our shoes aren't out in a messy pile! It instantly makes the area look neater.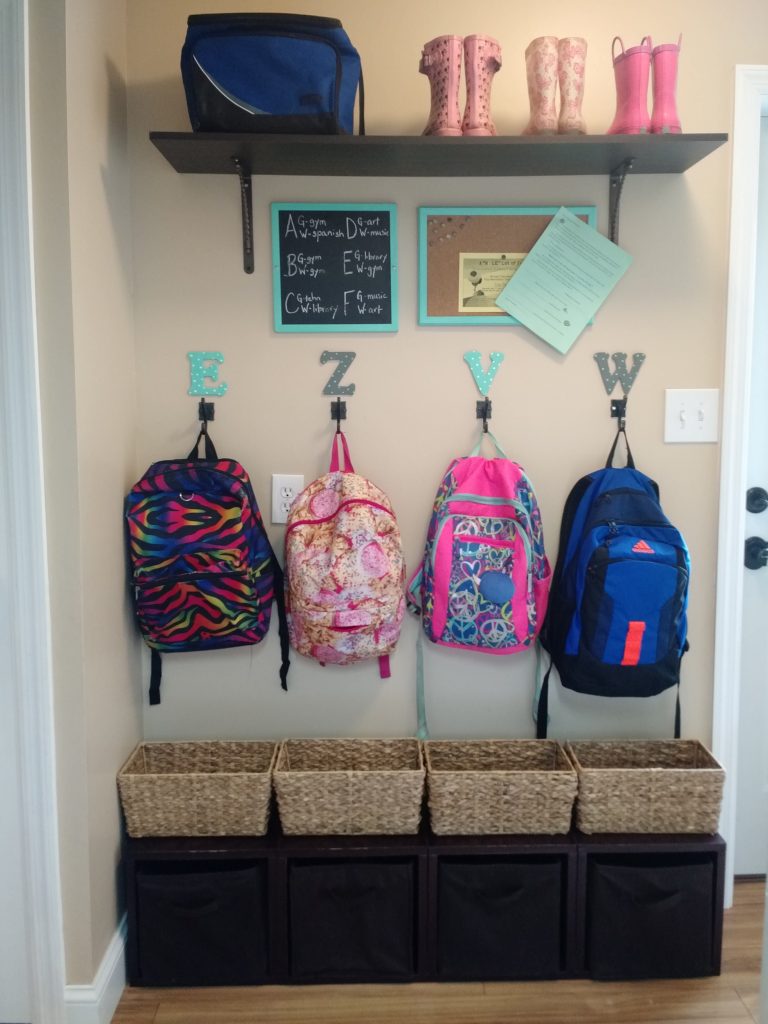 I bought stronger hooks.
Hooks are the way to go with small kids. If you are making a mudroom in a closet, I would get rid of the hangers and put hooks up on the back wall. This makes it really easy for the kids to hang up their own backpacks and coats, saving you the trouble of hanging up their coats on hangers for them.
My husband put up new sturdier hooks above each shoe bin for the kids to hang their backpack on. We also have hooks on the opposite wall for their coats.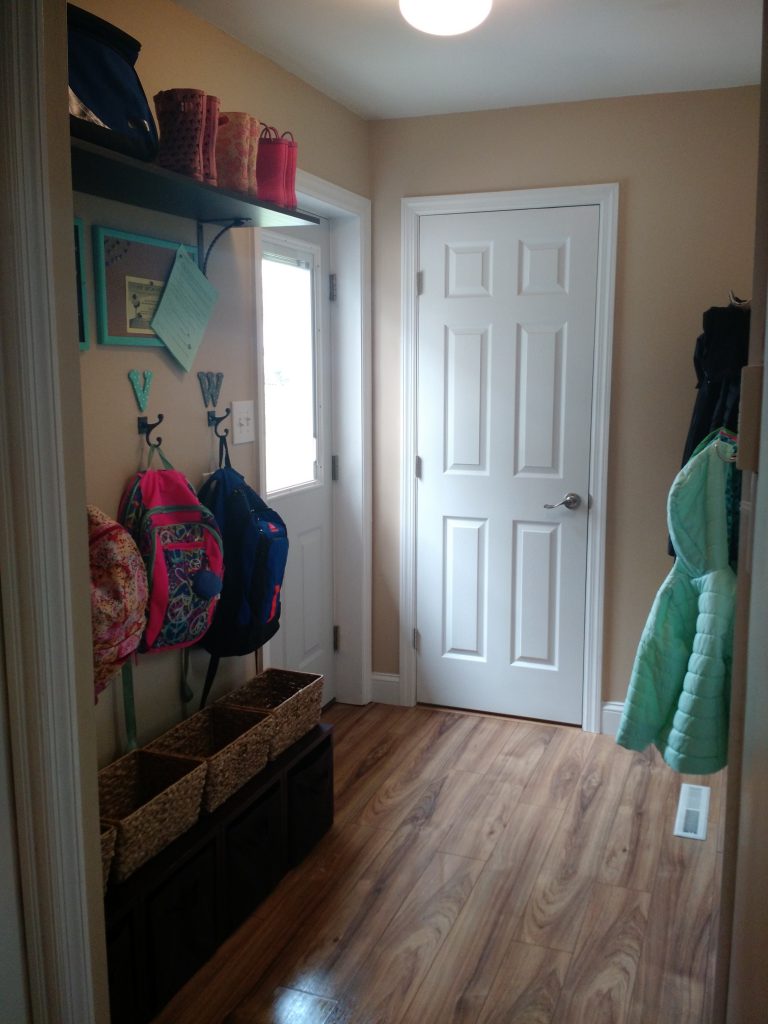 Baskets are the solution for sports gear.
On top of each shoe cube, I put a basket for each kid. This is one of my favorite additions. I think these will be great for holding their goggles and towels for swim lessons, their cleats and shin guards for soccer, their hats and gloves in winter. I imagine this will save us a few last minute frantic searches for tap shoes before dance class!
Next I put the shelf to work!
The shelf above is my solution for seasonal storage. It's spring here so it's currently holding our rain boots and a cooler we use to pack lunches or snacks to take to the park. In the wintertime, I'll use it for storing snow boots and cold winter gear like snowpants and extra gloves and hats.
And finally, I prettied it up!
The chalkboard and bulletin are a must for our house. My kids' school runs on an A day through F day schedule. So not only do I have to know which regular day of the week it is, I also have to know if it's B day and then figure out what "special" each kid has to make sure I send them in with their library books, or violin or whatever it is they need that day. Well, that's just too much info for my brain, so I have their "specials" listed on the chalkboard, with a school calendar close by to tell me which "day" it is.
The bulletin board in the drop zone is great too! Again, it just makes it easier to have a spot to pin up reminders, important notices, and permission slips for school.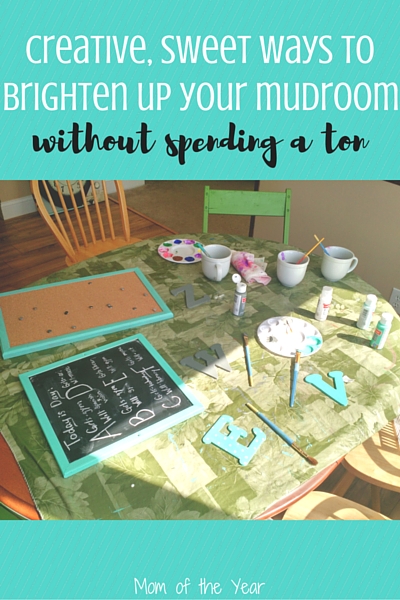 But they did look pretty boring, so I took them down and painted them a bright, happy, teal color Then I bought little wood letters at the local craft store, one for the first letter of each of the kids' names, painted them, and hung them above each hook. Now all the kids know which hook is theirs and it pretties up the space.
If you are working on organizing a mudroom in a small space, I'll leave you with two final tips
1) Work with the space you have.
There are some things I don't love about this space. There is a random outlet on the wall where the backpacks are. And there is a vent on the floor where I would have liked to put the grown ups' shoe basket. But this is the space I had to work with and I think it came out pretty good. You might not have as much room as you'd like or you might also have a random outlet in your way, but make your wish list anyway, and work around it!
2) Work with the budget you have.
Ideally, I would have loved to hire someone to come and build custom "lockers" for my mudroom but that wasn't in the budget. But, by reusing what I already had and buying things on sale and with coupons, I really got everything on my wish list for less than what a custom carpenter would charge me.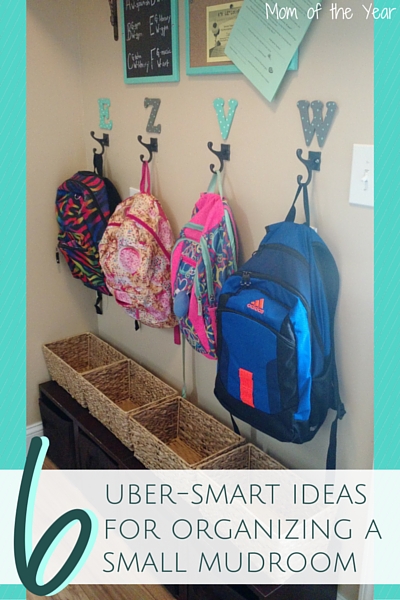 So, what do you think of the final product? Are you working on organizing a mudroom in a small space? I'd love to hear about your project!
The following two tabs change content below.
Anne is a mother of four, a 10 year old boy and 6 year old triplet girls. Always looking for a creative outlet, Anne sometimes hijacks her kids' parties, projects, and costumes to get her fix. (Even though they'd rather have their party at a moonbounce place and their costumes from a store). She blogs at onceuponamom.net where she writes funny and sometimes poignant posts in the hopes of lifting up other moms as they travel the chaotic, beautiful road of mothering.
Latest posts by Anne Metz (see all)