Cleaning and I aren't besties–by any stretch. Yet since I'm not a huge fan of dust bunnies and cobwebs, we've called a bit of truce, and when Kimberly-Clark and The Motherhood asked to sponsor a post sharing my spring cleaning tips with you, I was more than delighted to share the ins and outs of this peaceable arrangement I've made with tidying up my home.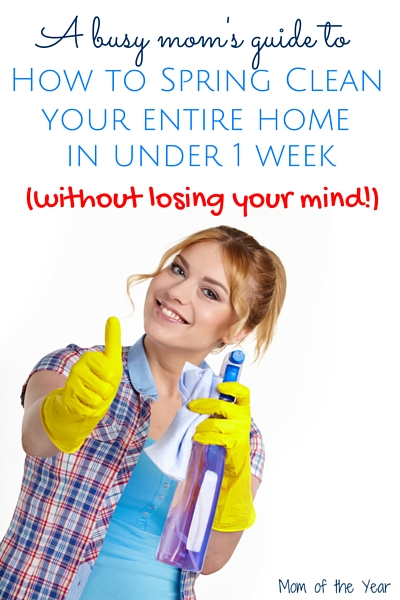 You see, I'll clean, but I treat it like a job and tackle it with the highest efficiency I can muster. In short, I clean like I mean business, and this is the trick to how I approach spring cleaning each year.
As a busy mom, who has time to play? Truth told, who has time to even take a proper shower, much more taking time to scrub down the walls? So we mommas have to find a way to work cleaning into our already overfilled schedule and crank it out like a boss.
Knowing this, I've honed my annual deep cleaning techniques to a tee. Read on for the scoop on a minimally painful, quick-as-possible cleaning plan of attack and check out the ideas on my Spring Cleaning Pinterest board. You'll be basking in lemon-scented freshness before you know it!
So what's the skinny on getting your house in shape for the spring in less than a week?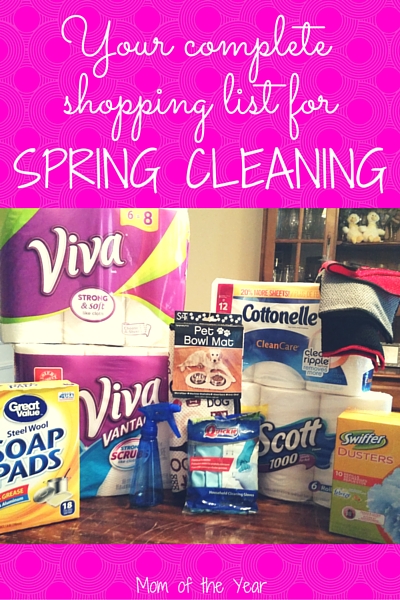 Step 1–Game plan
Any good business plan starts with some well-planned strategy, and schooling the mess of your home merits the same intentional game-planning. Grab a fresh sheet of paper and a pen and set to work with some wild brainstorming. Yup, that's it–go crazy listing all those cleaning and organizational tasks you never, ever seem to get around to doing. Don't limit yourself by what you think you might actually be able to accomplish, just start letting the ideas flow, however big or small.
On my list this year:
Dust ceiling fans
Wash baseboards
Wipe down cabinets
Organize toiletry stash in bathroom
Wash soap and toothbrush holders
Sanitize dog bowls
Purge freezer of old food
After you make your list of these "dream" tasks, break your regular cleaning duties into five days (i.e. Day One-kitchen and dusting, Day 2–Bathrooms and floors, etc.).
Now, grab your calendar and schedule. First, add the regular cleaning jobs you've allotted for each day. Then, add one of your dream tasks to each day. Not enough days to accomplish the things on your list? No sweat. That's all what being a balanced mom is about. We can do some things, but not all. Anything we do is better than nothing, right? Write down all the things that don't make the cut this year on a sticky note and stash it in the back of your planner. Some day we'll get to it, really.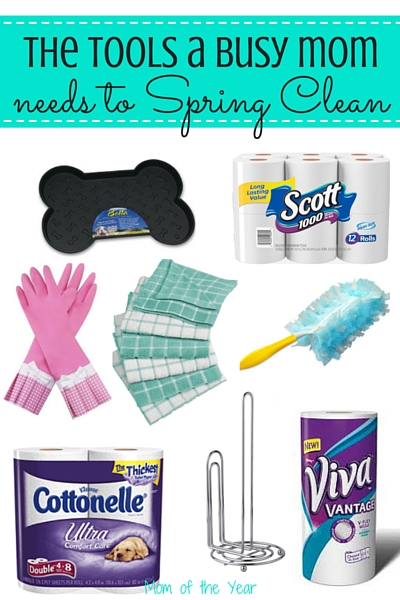 Step 2–Stock up
Make sure you have all the supplies you need to ace out this cleaning. And while you are out shopping, stock up on basics. This is the perfect time to stock up on things your family uses every day. Also use this chance to grab some new small items to freshen up your home–you know those things you've been meaning to grab for forever, but always forget to buy? I took a swing by the pet aisle and found a water bowl mat on clearance and also grabbed some fresh dish cloths (not that our old ones were completely tattered and torn…) and a paper towel roll that was less last-century. These small difference would make a big difference in brightening up our house!
For spring cleaning shopping, we made a family trip to Walmart, a fantastic place to find the best products needed to spruce up your home. Check out the selection they have available at the Kimberly-Clark Family Care Walmart site. Since Walmart is such a super one-stop shop, we were able to get all the items on our list, while stocking up on our favorite brands like Viva®, Cottonelle® and Scott®.
Viva® Big Roll Paper Towels are hands-down my preferred paper towels. They are so cloth-like and strong, it's easy to get hooked. I use then for both cleaning up kitchen spills and during my regular whole-house cleaning.  Viva® Vantage® has a scrubby texture, like a terrycloth that is great for getting stainless steel appliances and glassware to shine and scrubbing stovetops, patio furniture and other grimy surfaces. Viva® Towels have a signature soft and smooth texture, like an undershirt cloth. They are great for cleaning delicate surfaces like countertops and coffee tables, and even soft enough for the hands and face. You can even wash dishes with Viva® Towels– its strength holds up to multiple rinses! Whichever Viva® Paper Towels you choose, consider those tough messes tackled!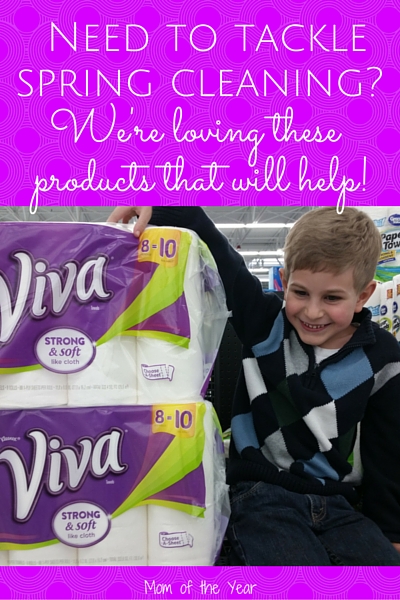 While getting both kids potty-trained was definitely a major score, we now go through toilet paper with alarming speed. To stock up on this trip, we grabbed Cottonelle® Toilet Paper Double Rolls (Clean Care and/or Ultra Comfort Care) and Scott® 1000 Bathroom Tissue. Cottonelle®'s CleanRipple Texture makes it easy to fall for with it's incredible softness and bum-cleaning power. With Scott® 1000 bathroom tissue you can't go wrong. This toilet paper gives you the quality, performance and value in 1,000 long-lasting sheets.
Step 3–Get cleaning
This part might not be the most fun, I get it. But keep in mind this is one week. Your goal? In addition to your daily extra task, achieve the regular cleaning tasks you've scheduled for each day–in depth. That's right–move each and every single canister and knife set off that kitchen counter and scrub the counter down. Plan on taking about fifteen minutes longer than it would usually take for you to clean an area of your house. Think of it this way: taking the extra time to deep clean now allows you speed it along the rest of the year.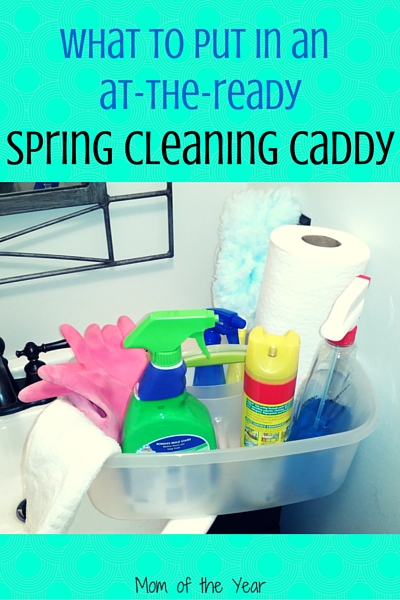 My Day One involved giving lots of extra love to my kitchen and thoroughly dusting every surface in my home (every picture frame lifted up! No dusting "around" here!). Then I scrubbed up the dog's bowls before throwing them in the dishwasher on high heat to sanitize them. Was I exhausted? Sure. Did I feel like boss for getting so much done? Absolutely. And then because I had a plan for the rest of the house, I was able to relax and call it a day.
Step 4–Pat Yourself on the Back
Time for a break! Pat yourself on the back for a job well done, and for goodness' sake, bury those pesky spring cleaning notions for another year. You dug deep, you did well and can now fly by in maintenance mode until winter chill is again met with warming breeze. Relax, kick back and take a well-earned rest on your seventh day, mama!
***Thanks to Kimberly-Clark and The Motherhood for sponsoring this post so I could share my spring cleaning plan of attack with you!***
First image credit: depositphotos.com, image ID:42766139, copyright:zoomteam
The following two tabs change content below.
Meredith blogs at The Mom of the Year, where she dedicatedly earns her title one epic parenting fail at a time, offering quick, relatable laughs for fellow parents and all their empathizers. She has been part of several best-selling anthologies, featured on prominent sites such as Huffington Post, In the Powder Room and BlogHer, and loves her role as the Executive VP/Operations Manager of The BlogU Conference. When she's not breaking up fights over Legos and juice boxes, she remains fully committed to sharing a less serious look at the world of parenting.