Did you know that a majority of people quit their New Year resolutions by the end of January? For many of us moms, our resolutions usually have some semblance of "exercise more" "eat better" or "get organized". After a month of attempting those, continuing on for 11 months is not a feat for the faint of heart! Since the "get organized" is a resolution I still have yet to master (and I hope I am not the only one?), I tend to stick with health related resolutions… as many of us do! In an effort to continue health resolutions long after January, here are 28 days to a better you tips to keep you accountable for the month of February!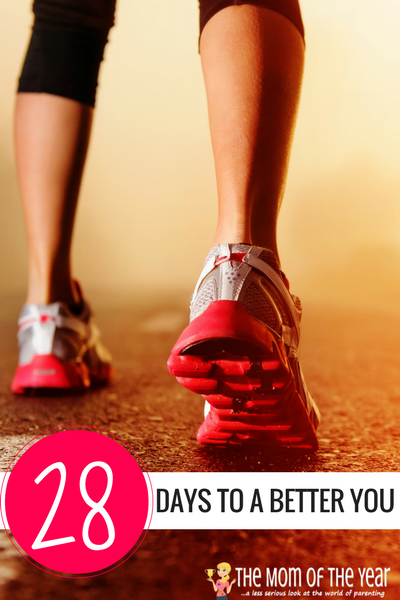 28 Days to a Better You:
1. Take 1 minute every morning to plank. It is one of the best full body exercises!
2. Try meal planning. It not only keeps you accountable for what you eat, but it helps you to resist the urge to purchase unnecessary food at the grocery store.
3. Park your car far away from the store and get in those extra steps.
4. Work on your posture: standing and sitting improperly can put strain on your back that in turn can hurt your entire core. You can check out Protalus shock absorbing inserts if you want to evenly distribute body weight across joints, in addition to shifting weight off the body's weaker structures which carry extra strain due to misalignment.
5. Craving chocolate? Give dark chocolate a try instead of more sugar laden options.
6. Power walk your kids to the bus every morning. Bonus if you do this in the afternoon too!
7. Sneak in some simple body exercises while doing daily chores.
8. Fill half your plate with vegetables.
9. Don't forget about sunscreen! Winter or summer, the sun still has harmful UV rays.
10. I know you're busy, but eat a full breakfast every day. No excuses!
11. Skip the elevator… take the stairs!
12. Ditch the sweet and sugary drinks in your fridge and instead try water with plain lemon. Lemon has many benefits, including aiding digestion.
13. Sleep, every moms primary pursuit in life! Try to at least get a few great nights of sleep a week.
14. Say no to unhealthy snacks! In a world of processed food, try avoiding prepackaged (and mostly unhealthy) items.
15. Try making sure to eat something nutritious every few hours, it will keep your metabolism going and reduce the urge to binge eat when you're hungry.
16. Replace white potatoes with sweet potatoes. Easy, but SO smart!
17. Incorporate weights into your workout; muscle recovery can burn you calories a full day after lifting!
18. Every Sunday, slice up vegetables and fruit and keep them in containers in your fridge for easy access snacking.
19. Once you wake up, take 5 minutes to stretch. It will help you loosen all of your stiff muscles so you are ready for your day.
20. No more white bread, stick with wheat!
21. Stuck standing at the stove cooking? Get up on your toes while standing there–this activates many different leg muscles and you may even feel sore the next day!
22. Don't skip flossing when you brush!
23. Winter weather can take a lot out of your skin, be sure to moisturize most nights.
24. Feeling fatigued even after decent sleep? Check in with the doctor this month, sometimes there can be underlying reasons for your tiredness other than the exhaustion of parenting.
25. Drink 8 glasses of water a day.
26. Pack your lunch! Whether you are off to work or just have a long day of errands, you are less likely to go off the rails and end up eating fast food if you pack a meal ahead of time.
27. Focus on a family dinner every night: it keeps you accountable with a healthy meal and spending time relaxing with family can de stress you after a long day.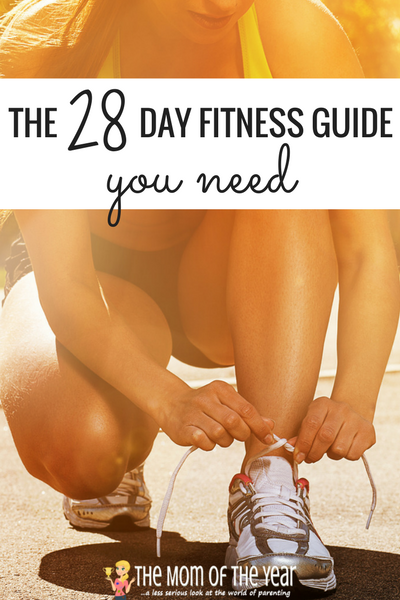 Most importantly moms, the number 28 days to a better you tip is to take this month to focus on you. So often we spend so much time focusing on everything else that we forget ourselves in the process. Take the time to be good to yourself, and your health will benefit! Go get your February resolutions and I'll see you all still at it in March! 28 days to a better you is on!!
First image credit: depositphotos.com, Image ID:28423575, Copyright:Daxiao_Productions
Second image credit: depositphotos.com, Image ID:26387219, Copyright:yekophotostudio
The following two tabs change content below.
Lindsay Houser
When Lindsay isn't fielding three-nager temper tantrums and scraping Play-Doh off the floor, her passions are the great outdoors, cooking, creating, and healthy, holistic living.
Latest posts by Lindsay Houser (see all)