In the past decade birthday parties have made the leap from celebrations to grand scale events. The days of cake and ice cream have been replaced with petting zoos, bounce houses and banquets of food based on a specific theme. Not only are these parties stressful and time consuming but they are costly. Birthdays shouldn't be a major budget blow and they shouldn't be stressful. An affordable birthday party is possible!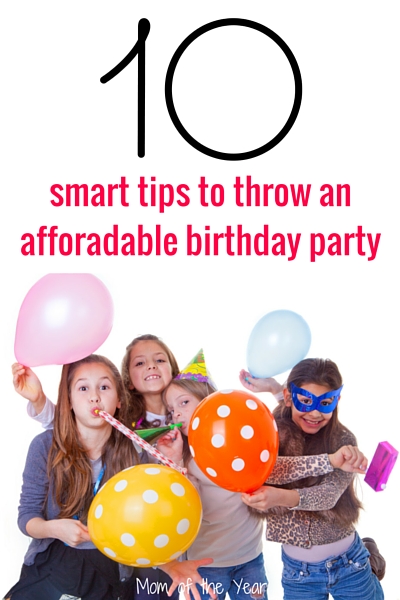 Take the pressure of with these top 10 tips for an affordable birthday party:
Don't serve a meal. Nothing eats up a party budget like food. Have the party in between meal times to save money. The guests are there to celebrate the birthday kid and have fun. Keep them occupied with fun not food! Some carrot and celery sticks, chips and salsa and pretzels should be a reasonable amount of munchies.
Skip the theme. There is no more excited of child than one in a party store who loves Batman (or Spider-Man, My Little Pony, Paw Patrol, etc.). But the mark up on these products is astronomical. You can get twice as many solid color plates for less money at Target or on Amazon. Have your child pick two coordinating colors and stick with those when purchasing paper goods.
Go homemade. Cakes have gotten as out of control as birthday parties themselves. Along with impressive decorating comes a less impressive price. Avoid the cost and bake at home. Whip up your own icing for a personal touch; you can even use food dye to coordinate with the paper goods. Kids love cupcakes and as a bonus they are quick and easy to serve.
Location, location, location. It's not just the mantra of real estate. When I was a kid the only thing to bounce on was the bed. Now you have you choice of places to bounce, soar, climb and jump. It's all fun, but it all cost money; a lot of money. Have the party at home or if space is tight, check out your local park. Most townships rent their pavilions for very little cost to residents.
Be Creative. Party games and activities don't have to cost a ton. With some smart planning and research (now handily available on Pinterest!), you can have fun on a small budget. If it's summer, simple water activities are an affordable and fun way to cool off and celebrate. Have a winter baby? Hit up the craft store (with a coupon of course!) to buy t-shirts and puffy paint, beads to make necklaces or a craft to assemble.
Keep the guest list small. No need to invite the entire school or neighborhood. Have your child make a small guest list based on budget and available space. Having a few good friends allows the birthday child and guests to all play together.
Limit decorations. It's unlikely the children at the party will be oohing and ahhing over the plethora of banners, crepe paper and table toppers for which you've shelled out a ton of cash. What they will notice? Balloons. Kids love balloons. Keep the decorations limited to a few balloons and a colorful tablecloth and you'll be saving yourself time and money.**
Just say NO to party favors! Favors are probably second to food when it comes to party budget blowers. I'm not sure when the party favor explosion began, but it's unnecessary and a waste of money. The guest is there to celebrate the birthday child; the party you are providing is more than enough. No parent ever wished his or her kids came home from a get-together with another bouncy ball or more candy. Just say NO to favors and your wallet and fellow parents will thank you.
Don't compare, don't compete. This should be the mantra of all parents nationwide. It's your child's birthday, not a 5k. Don't plan your birthday party based on other parties your child has attended. It's not fair to you and certainly not fair to your bank account. Blowing your budget to "keep up with the Joneses" is never a good idea. Be comfortable with throwing a smaller party. I guarantee your child and guests will appreciate the simplicity of old fashion fun.
Or even, skip the party. There is no parenting law that says you have to throw your kid a birthday party every year. I have a dear friend who rotates her kids' parties so every year they take turns on who has a party. What a great idea! Another idea is to choose a family activity in lieu of a party. Throw the party cash towards museum trip, night at the movies or the zoo. Let the birthday child pick! Or just have your immediate family over for cake, ice cream and present opening.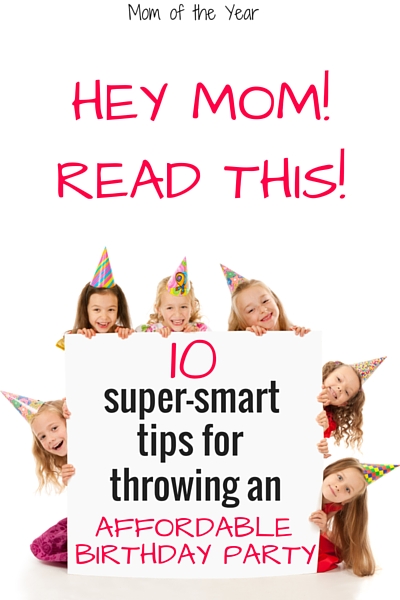 We all live insanely busy lives. Between work, sports, school, household duties and more there is often little time or money left for relaxation and fun. Don't add more to your plate or budget with elaborate parties. Following these tips for throwing an affordable birthday party will help you create a memorable day free of stress and worry.
Happy Celebrating!
***********************************************
Another cool way to score some savings for an affordable birthday party? Buy your balloons ahead of time grab one of these nifty helium tanks from Balloon Time and fill them at home! It was so easy and far cheaper than purchasing balloons at the store!
Balloon Time did not sponsor this post, but did send us a helium tank to use for our birthday parties this summer, and we loved using it!
******************************************************
First image credit: image ID:20802561, copyright:mandygodbehear
Second image credit: image ID:20802561, Copyright:mandygodbehear
The following two tabs change content below.
Suzanne Brown
Suzanne is a SAHM to 3 amazing children, ages 8, 7, and 2. Her children's spacing allows her to bounce between common core math headaches and the dramatic and hilarious world of toddlerhood. Her children keep her learning and laughing and she has an amazing partner by her side to enjoy it all. Suzanne has been married to her super hero of a husband for 10 years following a 5-year courtship serving chowder and biscuits together at Red Lobster. When not hiding in the bathroom googling math answers and sneaking Girl Scout cookies Suzanne enjoys planning her family's yearly vacations, squeezing in a workout, experimenting in the kitchen and reading the latest in her book club pick. Suzanne has a Master's degree in counseling which she has used to pursue her passion of working with others. . When life allows Suzanne provides counseling to individuals with mental health needs at a local mental health clinic. She also teaches Kindergarten Sunday school and volunteers for the PTO of her children's school.
Latest posts by Suzanne Brown (see all)