Summer and vacation go together like winter and snow. Daydreaming of sunshine makes those long, dark winter days a bit more bearable. But no need to dream any more, summer is here! Your trips have likely been paid for and planned. You just have one task left–stick to a budget while on vacation.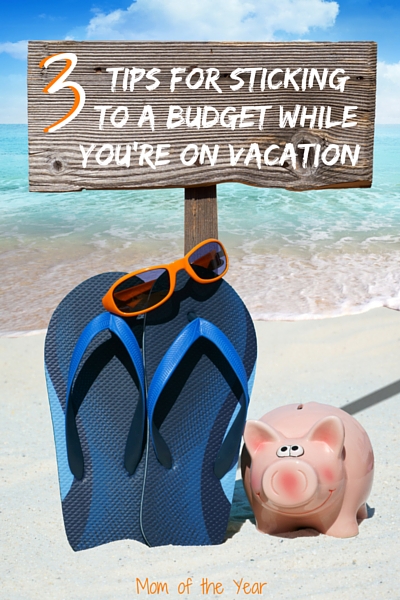 It's so easy to loose track of our spending and be free with our wallets on vacation. But just like the excessive calorie consumption that seems to occur while you're away (it's not just me right?), overspending will leave you feeling guilty when you return home to reality. Below I've detailed a few small ideas that will help you save big.
3 Ways to Stick to a Budget While on Vacation
1. Food!
Ask me how to save money, and my first answer is always food. Be it at home or on vacation, food is a big budget blower. But it doesn't have to be. Planning your food can be one of the smartest ways to save on a vacation.
How can you save? Always pack as much of your food as possible. Food shopping at the market in your destination town is budget sabotage. First, its unfamiliar territory. A new supermarket is like the first day of high school; overwhelming, confusing, and tricky. Your lack of knowledge of the store doesn't allow time for price checking or buying the store brand; you have no idea where anything is and the prices in a vacation town are often far higher then your hometown. At this point you're likely to run through the store and grab what you need, frustrated by your unfamiliarity and eager to get your vacation started.
Instead of going through all that hassle, pack your normal groceries instead and only buy what you have to upon arrival. Unless you're vacationing close by and have room for a cooler, you'll likely need your dairy products, meats, and other cold items when you arrive, but all your dry goods can be packed. Cereal, snacks, bread, condiments and even spices. Pack your go-to seasonings and spices so you don't empty your pockets on a new jar of dill when you make your beloved potato salad for the family. Don't forget the salt and pepper!
Lastly, consider using a grocery delivery service. Many supermarkets now have them especially in resort towns. Most offer a discount for first time orders. You can plan ahead of time, avoid over-buying and impulse purchases and best of all, not waste any precious vacation time!
2. Plan, plan, and plan!
Thinking "How boring is that?"? I know, it's vacation, time to relax not to have a schedule. And I agree–to a point. Making a loose plan but allowing for flexibility can help you save big. Last minute plans usually equal a huge budget blow.
Hop on the Internet and research the area you are headed to. Sit down as a family and decide what activities and restaurants you want to try. Pick one or two paid activities and one restaurant night. What you choose will all depend on what you can afford for your family and your personal finances. The important thing is you have a plan that works for your family. If you know how much mini golf cost or the price range of the restaurant you want to go to, its much easier to create a vacation budget.
And remember you can say "no" while on vacation, but it's much easier to say "no" at home. By planning exactly what activities your family wants to partake in, you can avoid disappointment, the guilt of saying no, and stay in budget. Vacation is about escaping reality and being with family, but the truth is your bank account doesn't escape reality. It'll will be waiting for you when you go home; make sure its happy to see you.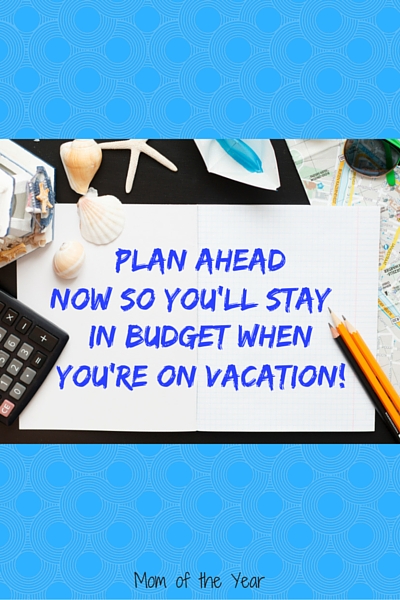 3. Remember when I said you can say "NO" on vacation? Well your best opportunity to exercise that right is at a souvenir shop.
Do your kids really need another stuffed animal or a keychain that will likely be lost before it finds a key? Probably not–I know mine don't. Break the news at home that you won't be buying costly souvenirs. Instead decide on something for the whole family, a keepsake to mark your vacation, something that can become a yearly tradition.
My family enjoys purchasing a Christmas ornament we can decorate our tree with each year. It's inexpensive and fun to pull out for tree trimming. Other ideas might be a coffee mug, picture frame to display a favorite vacation photo, or maybe a calendar to remind you all year long of the memories you made. Choose whatever has meaning for your family and stick to that. Not only will your wallet thank you but also someday your kids will to. You've taught them the valuable lessons to use their dollars wisely, on quality not quantity.
Vacations are all about fun and family. Go forth and enjoy yours knowing that you won't be struggling to fix the budget when you get home. Relax, enjoy the rays and don't forget the sunscreen!
First image credit: depositphotos.com, image ID:77919754, copyright:TKphotography
Second image credit: depositphotos.com, image ID:103314006, Copyright:tkuzminka
The following two tabs change content below.
Suzanne Brown
Suzanne is a SAHM to 3 amazing children, ages 8, 7, and 2. Her children's spacing allows her to bounce between common core math headaches and the dramatic and hilarious world of toddlerhood. Her children keep her learning and laughing and she has an amazing partner by her side to enjoy it all. Suzanne has been married to her super hero of a husband for 10 years following a 5-year courtship serving chowder and biscuits together at Red Lobster. When not hiding in the bathroom googling math answers and sneaking Girl Scout cookies Suzanne enjoys planning her family's yearly vacations, squeezing in a workout, experimenting in the kitchen and reading the latest in her book club pick. Suzanne has a Master's degree in counseling which she has used to pursue her passion of working with others. . When life allows Suzanne provides counseling to individuals with mental health needs at a local mental health clinic. She also teaches Kindergarten Sunday school and volunteers for the PTO of her children's school.
Latest posts by Suzanne Brown (see all)