Ah, summer break!! No more packing lunches, no more last minute projects, no testing, no "hurry up we are going to miss the bus and I'm not driving you" threats. The last day of school brings us right back to childhood–ahh freedom!
Day 1 starts with sleeping in, lazily lounging in pj's, and eventually moseying outside to soak up the sweet sunshine over a game of catch. The afternoon is filled with a glass of lemonade and the sweet reminder of how much you've missed your little sidekicks all school year. It's like a scene from a Hallmark movie.
By Day 3 you chug (er, sip) your coffee while searching the school calendar for the first day back to school, feeling less Hallmark and more post-apocalyptic Oscar contender. You hear footsteps upstairs (way earlier then on a school day, of course…) and you wonder how you will survive the next 15 hours. The "I'm bored, he's breathing on me, she looked at me again, there is nothing to do" pleas have commenced.
How, you ask? How will we all survive!?
Sure, there is no end to indoor play zones, museums, zoos, and amusement parks but those places separate you from your money quicker than a gas pump on 4 h of July weekend. But fun can be had without breaking the bank.
The how-to Summer Fun on a Budget:
1. Water play. Nothing beats the summer heat like good old-fashion water play. Whether you have preschoolers or tweens everyone can get in on the action. Head to the dollar store, grab a few bags of water balloons and get filling. Enlist the kids to fill them and grab that lemonade you had on day one and sit back, this is going to take awhile (you're welcome).
The giggles should begin immediately as the balloons begin to pop mid-fill! Once filled don't go all out assault, get creative and make the fun last. Play a round of hot potato, grab the baseball bats and take turns pitching and hitting, have a juggling contest, play duck, duck, splash, and so much more. Get creative and you've got an afternoon of fun.
2. Grab your friends for a potluck picnic at the park. Plan it for early evening when the heat is bearable and the kids have energy to burn. Create an email chain or even better a Sign Up Genius so you can see what everyone is bringing and you don't end up with 6 pasta salads and 3 jugs of lemonade.
Now you've not only got the kids entertained and dinner served but you've hopefully scored some adult conversation. Your friends and kids will be thanking you for planning a great evening. You may even consider making this a monthly (or weekly!) event.
3. Two words: Obstacle. Course. My kids love obstacles courses and I bet yours do as well! I mean who doesn't? Adult obstacle courses are the new 5K. This is a great way to fuel the creative juices and encourage teamwork. Surrender to the mess this may cause and just enjoy the fun. You'll be impressed by your budding engineers creative use of lawn chairs, bats, balls, bikes, stacks of wood, hula hoops and whatever other randomness you have in the garage as they create a wild backyard adventure. Building it is just half the fun!
Sorry mama, you can't sit this one out. Time to show the kids just what a master of speed and agility you are!
4. Branch out from the backyard and tap into nature. Visit a shady walking path, climb rocks through a stream, or take a challenging hike through the woods. Bring a bag along to collect leaves, rocks, pinecones and other small pieces of nature.
Once home use these pieces to make artwork. Painted rocks add a fun and colorful element to your garden. Leaves can be painted as well or pressed between contact paper for a pretty piece of artwork. If you are able to find pinecones there is no limit to what you can do. Create animals, make a bird feeder, get a head start on Christmas ornaments, and so much more.
Search "pinecone art" on Pinterest for endless inspiration. Don't feel up to making nature art? That's ok! Just being with the kids and mother Earth is enough to disconnect so your family can reconnect!
5. Of course not every summer day is filled with beautiful skies. For the days when the rain pours or the heat is too intense a lazy day inside is well deserved. Grab some popcorn and a few boxes of favorite movie theater candy, usually available at the dollar store, and have an indoor movie day. Pick a few from your home collection or hit up your local Redbox. Register online and they frequently text rent one get one codes, just be sure to return within the 24 hour window!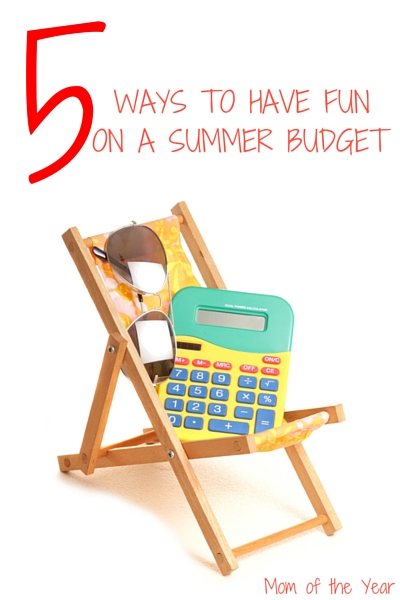 Hang towels on the windows to darken the room, silence the phones and get comfy. While we all aim to reduce screen time an occasional family movie day can be a fun way to bond and share some laughs. Enjoy!
These 5 ideas are just the beginning. With some imagination, creativity and teamwork summer fun on a budget doesn't have to be boring or expensive. Summer is about creating memories not breaking the bank. Enjoy my friends, your kids (and you) are on your way to the best summer yet!
For more fun ideas on saving money over the summer month with kids, check this video and discussion on VProud.tv!
First image credit: depositphotos.com, Image ID:71710453, Copyright:viperagp
Second image credit: depositphotos.com, Image ID:31815751, Copyright:konradbak
Last image credit: depositphotos.com, Image ID:11308545, Copyright:chrisbrignell
The following two tabs change content below.
Suzanne Brown
Suzanne is a SAHM to 3 amazing children, ages 8, 7, and 2. Her children's spacing allows her to bounce between common core math headaches and the dramatic and hilarious world of toddlerhood. Her children keep her learning and laughing and she has an amazing partner by her side to enjoy it all. Suzanne has been married to her super hero of a husband for 10 years following a 5-year courtship serving chowder and biscuits together at Red Lobster. When not hiding in the bathroom googling math answers and sneaking Girl Scout cookies Suzanne enjoys planning her family's yearly vacations, squeezing in a workout, experimenting in the kitchen and reading the latest in her book club pick. Suzanne has a Master's degree in counseling which she has used to pursue her passion of working with others. . When life allows Suzanne provides counseling to individuals with mental health needs at a local mental health clinic. She also teaches Kindergarten Sunday school and volunteers for the PTO of her children's school.
Latest posts by Suzanne Brown (see all)