I am broken this Christmas season. Large parts of this are that my dad isn't here. Before he died, I hadn't understood how grief could hurt physically, but the pain can be so acute it takes my breath away. My body is knocked down by the still present long covid I battle, which I've learned over a year into this, also takes a great emotional toll. Toss in massive upheaval in our house, a serious medical condition and a shattering loss of a friend, and this hasn't been my year.
When I find myself so beaten and vulnerable, the more regular bumps and bruises of daily life tend to magnify into a persistent sense of defeat. The difficult people and frustrating tasks normally better taken in stride can now break my spirit. Along with the stress of parenting, working, and tackling the hectic parts of the season, I'm done in.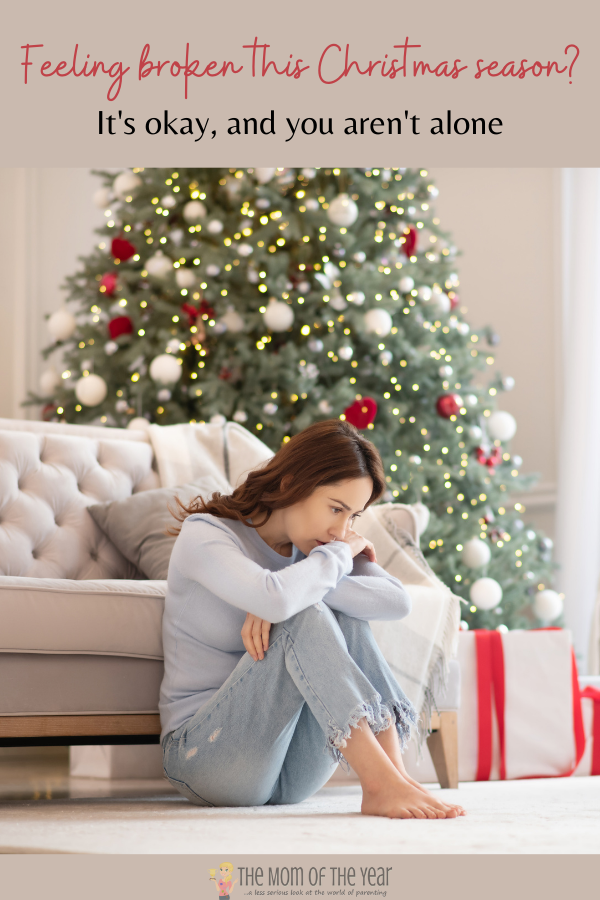 The past two weeks in church, we've sung the beautiful Christmas version of Broken Hallelujah. If you've not heard it, listen to it. If you haven't read the lyrics, do. As I've sat in church and let the words wash over me, the weight of how desparate for a Savior the people were became stunningly real. They were crushed by their life, their circumstances. His coming was far more than a nativity scene. It was answer to a prayer, a plea for hope in the midst of despair. And yet despite this brokeness, they still offered their hallelujahs. They offered them in anticipation of His arrival and faith that He would deliver them.
I believe it's not how we come to Jesus that matters, but rather that we come. I would love to roll into these last days before Christmas with joy and giddiness over things like hot cocoa by the tree and baking cookies, but that's not me this year. I feel like a fallen heap of hurt and pain, and that's okay, as long as I dump that heap at Jesus's feet.
So here I am, offering my very broken hallelujah. Just as the people of Bethlehem rejoiced despite and because, I'm going to raise my voice from the darkness and say, "Welcome Jesus."
"A Hallelujah Christmas"
(originally by Leonard Cohen)
I've heard about this baby boy
Who's come to earth to bring us joy
And I just want to sing this song to you
It goes like this, the fourth, the fifth
The minor fall, the major lift
With every breath I'm singing Hallelujah
Hallelujah, Hallelujah, Hallelujah, Hallelujah
A couple came to Bethlehem
Expecting child, they searched the inn
To find a place for You were coming soon
There was no room for them to stay
So in a manger filled with hay
God's only Son was born, oh Hallelujah
Hallelujah, Hallelujah, Hallelujah, Hallelujah
The shepherds left their flocks by night
To see this baby wrapped in light
A host of angels led them all to You
It was just as the angels said
You'll find Him in a manger bed
Immanuel and Savior, Hallelujah
Hallelujah, Hallelujah, Hallelujah, Hallelujah
A star shown bright up in the east
To Bethlehem, the Wise Men three
Came many miles and journeyed long for You
And to the place at which You were
Their frankincense and gold and myrrh
They gave to You and cried out Hallelujah
Hallelujah, Hallelujah, Hallelujah, Hallelujah
I know You came to rescue me
This baby boy would grow to be
A man and one day die for me and you
My sins would drive the nails in You
That rugged cross was my cross, too
Still every breath You drew was Hallelujah
Hallelujah, Hallelujah, Hallelujah, Hallelujah
Hallelujah, Hallelujah, Hallelujah, Hallelujah
The following two tabs change content below.
Meredith blogs at The Mom of the Year, where she dedicatedly earns her title one epic parenting fail at a time, offering quick, relatable laughs for fellow parents and all their empathizers. She has been part of several best-selling anthologies, featured on prominent sites such as Huffington Post, In the Powder Room and BlogHer, and loves her role as the Executive VP/Operations Manager of The BlogU Conference. When she's not breaking up fights over Legos and juice boxes, she remains fully committed to sharing a less serious look at the world of parenting.