Spring is here! Hopefully, the temperatures will soon get the memo too 😉 In the meantime, Carrie and I are excited to dive into a new season of great reads, and there's no better way to do it than with this cruise-themed novel. Welcome to our The Unsinkable Greta James book club discussion. We're thrilled you're here, and as always, a copy of our next pick is up for grabs. Be sure to read on it–it's THE hit new read for April!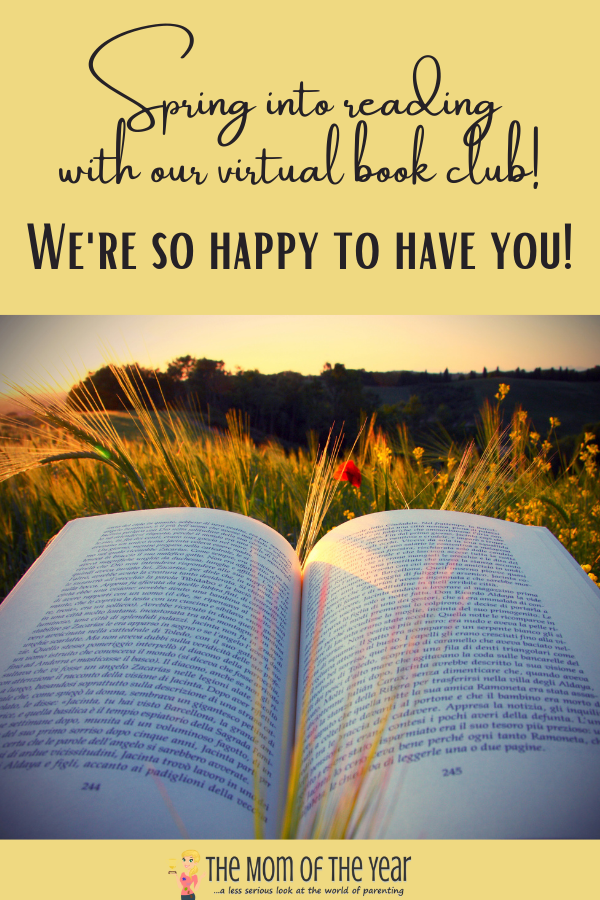 I wasn't sure what to expect from this book, as the description carried heavy notes of melancholy for me, but I was surprised to find so much joy and light amidst the grief. Jennifer E. Smith juxtaposed a stark realness against sweetness and heart. She told her story with such a quick wit and wisdom, I'll now be grabbing whatever she next publishes. I highly recommend adding The Unsinkable Greta James to your nightstand if you haven't yet read!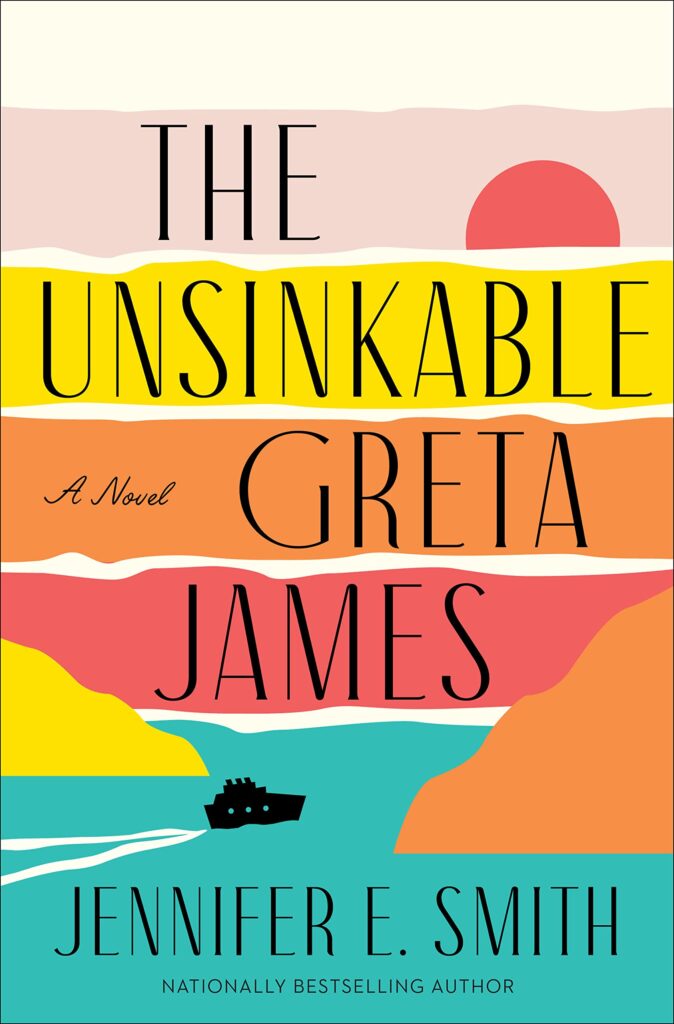 The Unsinkable Greta James Book Club Discussion
Have you ever had an event so defeating that it took you considerable time and/or effort to "get back on the horse", so to speak? I am sure I have better examples that my current situation, but right now, it feels a feat to get past this long covid and aftershocks of my father's death to resume my normal life activities.
What do you think about Greta's lifestyle? Do you think it is sustainable as she ages? I think if she desires things like marriage and a family, it will not be feasible for her to continue as such, but Greta seems very self-aware in this sense. She notes how if she meets anyone who makes her want to change course, she will have to and will do so.
Have you lost a parent? How has it changed your relationship with your still-living parent? My mom died 10 years prior to my father. In many ways, it made me closer to my dad, though our communication patterns and rhythm was definitely altered.
Discuss Conrad's relationship with Greta. Why was it so distanced? What might happen to breach this divide? I think they valued very different goals in life and were unable to communicate effectively about these differences. Starting to talk, as they did on this trip, was a huge first step. Reinforcing their love and admiration for each other was another, as we saw play out, especially with Conrad's actions at the end of the book.
Asher and Greta joke that he is the favorite child. Did your family of origin have a favorite child? Do you have a favorite child among your own children? My family laughs because I am constantly telling a different child they are my favorite, depending on who does a kind turn or makes a good choice! 😉
Greta and Ben seemed unlikely companions, yet discuss what drew them together. What were their similarities? Differences? Aside from their similar age on the ship, they were both very driven in their profession/passion. They each were at a crossroads in life. That said, they were living entirely different lives from each other.
Preeti was one of my favorite characters. What purpose did she serve in the story for Greta? Preeti reminded Greta not only of where she had started on her journey but of what it meant to love her music for the joy of it.
How was the story shaped by the setting of Alaska? What meaning did this provide? I have never been to Alaska, but from what I understand and per the description in the book, it is majestic and powerful in its raw beauty. Greta and Conrad's grief was so raw and powerful, so this was fitting. Also, her mother had long loved Alaska and arranged the visit, so made it the perfect postmortem voyage.
What was the significance of the sign that Greta's mom, then her dad held at her concerts. What way can we send similar messages to our own children (presuming they're not rock stars 😉 )? It was a way of saying, "I believe in you! I am proud of you!". We can do this by showing up for school concerts and games, cheering on grades and accomplishments and simply telling our kids we love them every night before tucking them in.
Discuss the unwritten next part of Greta and Ben's story. What do you think will happen? I loved the slow ending of Smith's novel! It gave you both the truth of what happened without giving away the end of their story. Personally, I think they will end up together.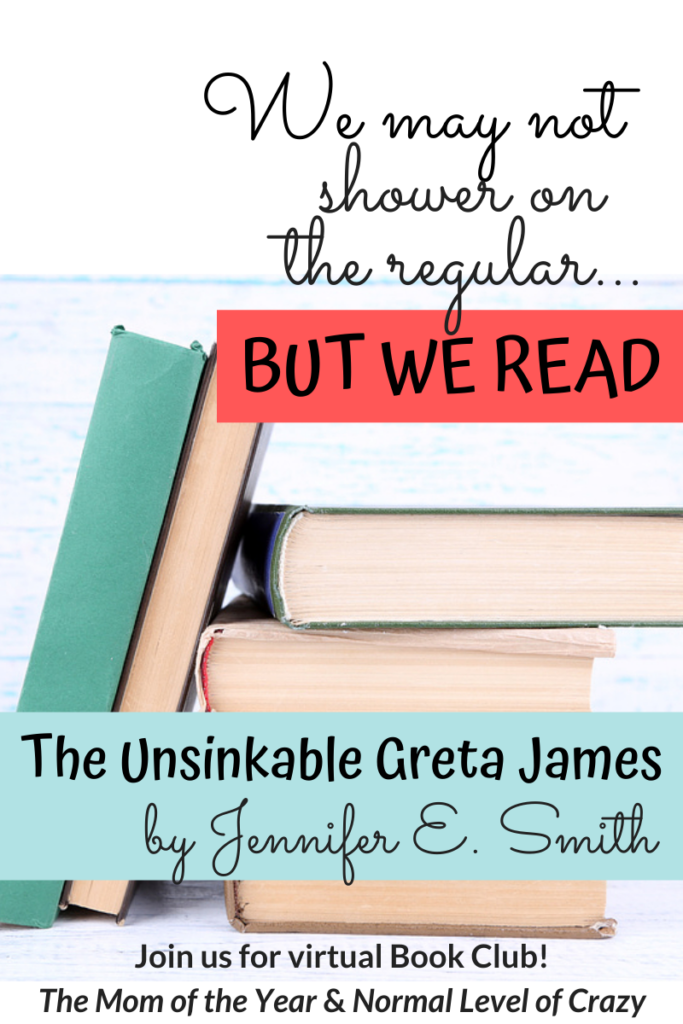 Thank you for joining our The Unsinkable Greta James book club discussion! We love hearing your thoughts, so please share any thoughts or questions in the comments below.
************************************************************
As promised, we're giving away a copy of our next pick…The Sea of Tranquility by Emily St. John Mandel! After HBO made a TV series based on her smash hit, Station Eleven, this author has been the IT writer, and her latest is much-anticipated. To enter, leave a comment on this blog post OR tag a friend on the Instagram post by 4/8/22 at 7am EST. As long as you are 18 or older and live in the continental United States, you are eligible!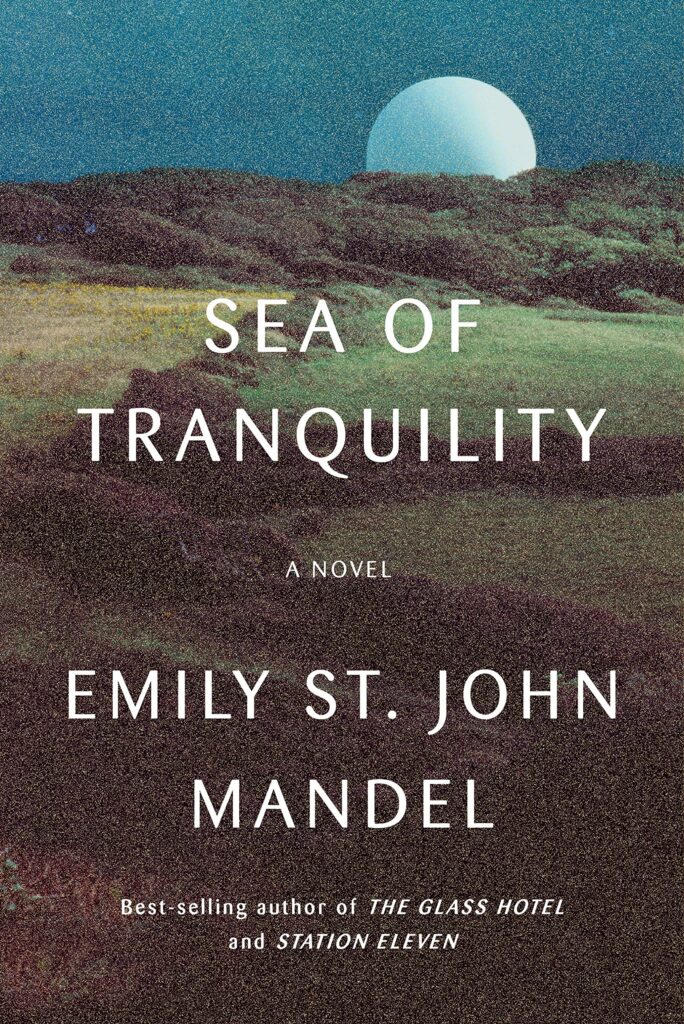 The award-winning, best-selling author of Station Eleven and The Glass Hotel returns with a novel of art, time, love, and plague that takes the reader from Vancouver Island in 1912 to a dark colony on the moon five hundred years later, unfurling a story of humanity across centuries and space.
Edwin St. Andrew is eighteen years old when he crosses the Atlantic by steamship, exiled from polite society following an ill-conceived diatribe at a dinner party. He enters the forest, spellbound by the beauty of the Canadian wilderness, and suddenly hears the notes of a violin echoing in an airship terminal—an experience that shocks him to his core.

Two centuries later a famous writer named Olive Llewellyn is on a book tour. She's traveling all over Earth, but her home is the second moon colony, a place of white stone, spired towers, and artificial beauty. Within the text of Olive's best-selling pandemic novel lies a strange passage: a man plays his violin for change in the echoing corridor of an airship terminal as the trees of a forest rise around him.

When Gaspery-Jacques Roberts, a detective in the black-skied Night City, is hired to investigate an anomaly in the North American wilderness, he uncovers a series of lives upended: The exiled son of an earl driven to madness, a writer trapped far from home as a pandemic ravages Earth, and a childhood friend from the Night City who, like Gaspery himself, has glimpsed the chance to do something extraordinary that will disrupt the timeline of the universe.

A virtuoso performance that is as human and tender as it is intellectually playful, Sea of Tranquility is a novel of time travel and metaphysics that precisely captures the reality of our current moment.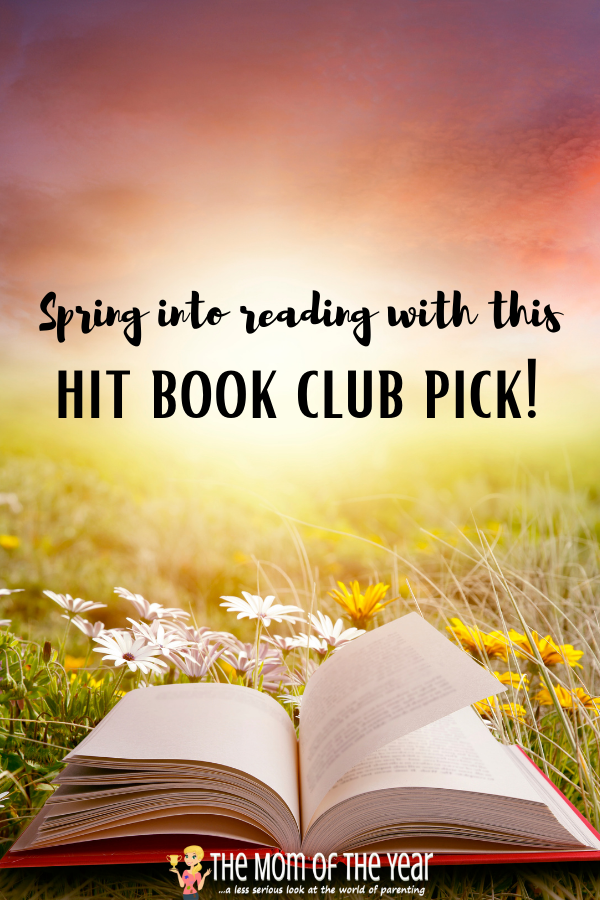 This sounds so good, right?! I am tickled to dive in and hope you can join us, friends. Until we meet again in May, happy Spring and happy reading!
The following two tabs change content below.
Meredith blogs at The Mom of the Year, where she dedicatedly earns her title one epic parenting fail at a time, offering quick, relatable laughs for fellow parents and all their empathizers. She has been part of several best-selling anthologies, featured on prominent sites such as Huffington Post, In the Powder Room and BlogHer, and loves her role as the Executive VP/Operations Manager of The BlogU Conference. When she's not breaking up fights over Legos and juice boxes, she remains fully committed to sharing a less serious look at the world of parenting.