Thank you to Hersheypark for sponsoring this post so I can fill you on their brand-new The Chocolatier restaurant. All opinions are 100% my own.
This week I had the fantastic delight of visiting Hersheypark's premier new The Chocolatier restaurant. What a fun day!! Friends, I can't describe the joy of seeing people out and about, enjoying the shops, food, and of course, heading into Hersheypark. It was so edifying to see such a beloved summertime tradition well underway. There really has been a shift in the winds of getting out and about, and I have the highest hopes that Summer 2021 is going to be a hit. I can't wait for all that it holds, and I can't wait to get the fun started at Hersheypark!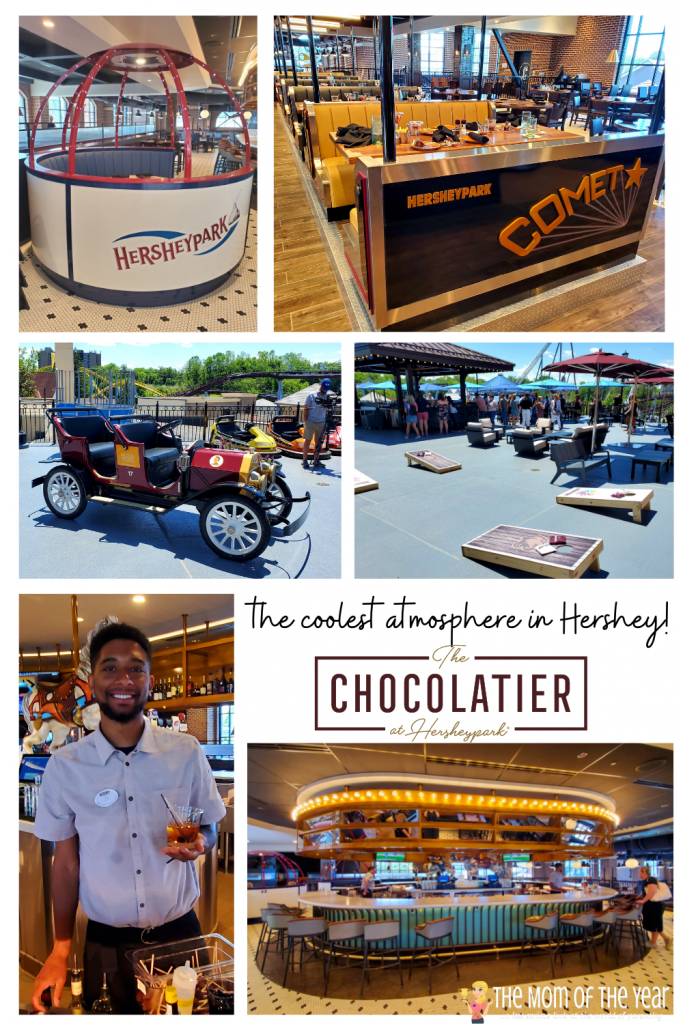 It's game on at Hershey's Chocolatetown! In addition to The Chocolatier Restaurant, Bar + Patio opening this Memorial Day weekend, the 23-acre development of Hershey's Chocolatetown also boasts Candymonium coaster, the tallest, fastest, longest, and sweetest coaster at Hersheypark. In Chocolatetown, you'll also find a reimagined front gate experience, the iconic Kisses Fountain, the first-ever Starbucks inside Hersheypark, new shopping destinations, and Hyperdeck, an immersive virtual reality experience unique to Hersheypark. And let's not forget the two other new sweet treats spots that have been delighting visitors since opening this spring–Milton's Ice Cream Parlor and The Sweeterie–both inside Hersheypark Supply Co., atop which The Chocolatier sits on the second floor!
Beyond Chocolatetown, Hersheypark is happening! Open daily from Memorial Day to Labor Day followed by September weekends, guests of all ages can enjoy three parks in one this summer with more than 70 rides and attractions–The Boardwalk At Hersheypark water park (also opening this weekend!), ZooAmerica North American Wildlife Park, and Hersheypark!
2021 is a special year for coaster lovers as the Comet coaster, the oldest at Hersheypark, turns 75! I have been riding the Comet since I was a kid and it's still one of my very favorite coasters. So tickled to celebrate this anniversary!
For Summer 2021, Hersheypark also has enhanced Hershey Character interactive experiences and photo "Sweet Greets" in new locations throughout the Park, as well as new Our Friends from the Sea experiences. Sea lions Colby and Ripley and seal Cocoa will be joined by two seal pups, Harper and Cobh, this summer in the Aquatheatre. Shows resume daily starting May 27, 2021, with a new Flippered Friends and Family offering to come in June where guests can meet and feed the animals, take photos and experience the magic of marine mammals up close.
Plus, for a limited time, Everyone Pays Kids' Price at Hersheypark. Guests who purchase tickets online can save and enjoy the sweetest thrills of the season for $52.95. For more information, visit www.Hersheypark.com.
The Chocolatier is an all-new, full-service restaurant, bar, and patio open year-round in Hershey's Chocolatetown, the shopping and dining space by Hershey's Chocolate World at the front of Hersheypark. As the Executive Chef, Dessert Chef and managers took time to describe the two-year-long effort in opening this restaurant, I was wowed by all the tremendous attention to quality, and intentional, meaningful touches meant to celebrate Hershey park and its founder, Milton S. Hershey. With specific booths dedicated to park rides (three cheers for this year's 75th anniversary of the Comet wooden roller coaster!), a breath-taking central Carrousel Bar (with actual carrousel horses afoot!) and gorgeous wooden tables crafted by the students of Milton Hershey School, The Chocolatier Restaurant is so impressive. Throw in a second-story patio with a bar with panoramic views of the Candymonium coaster, the iconic Kisses Fountain and 102-year-old Carrousel inside Hershey's Chocolatetown. The whimsical outdoor elements of an anique car, bumper cars, and Hershey-themed cornhole games add to the fun.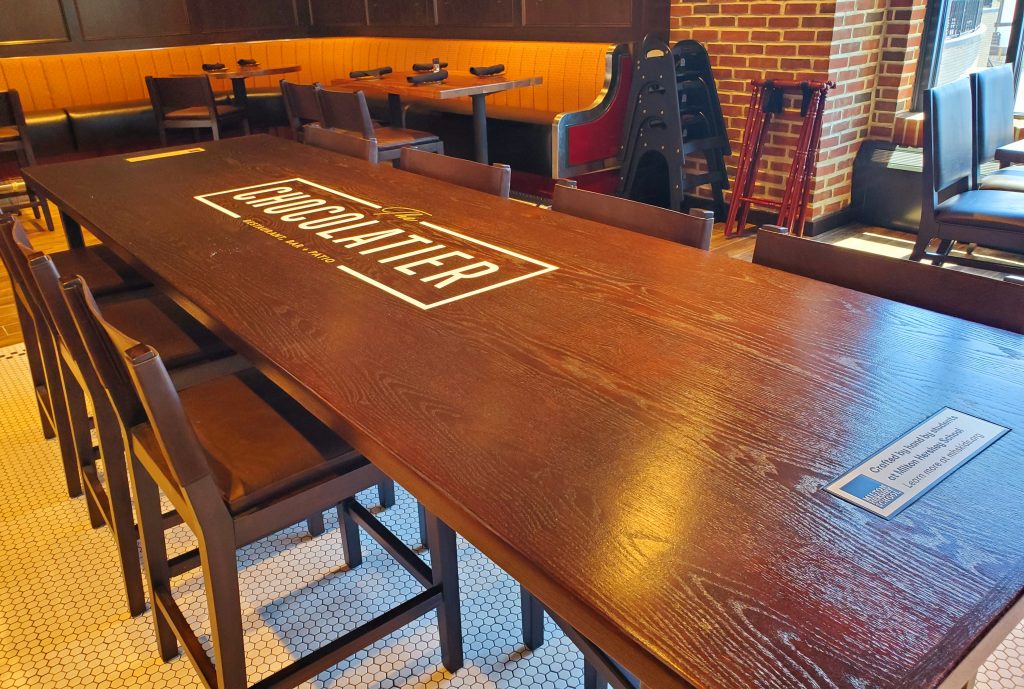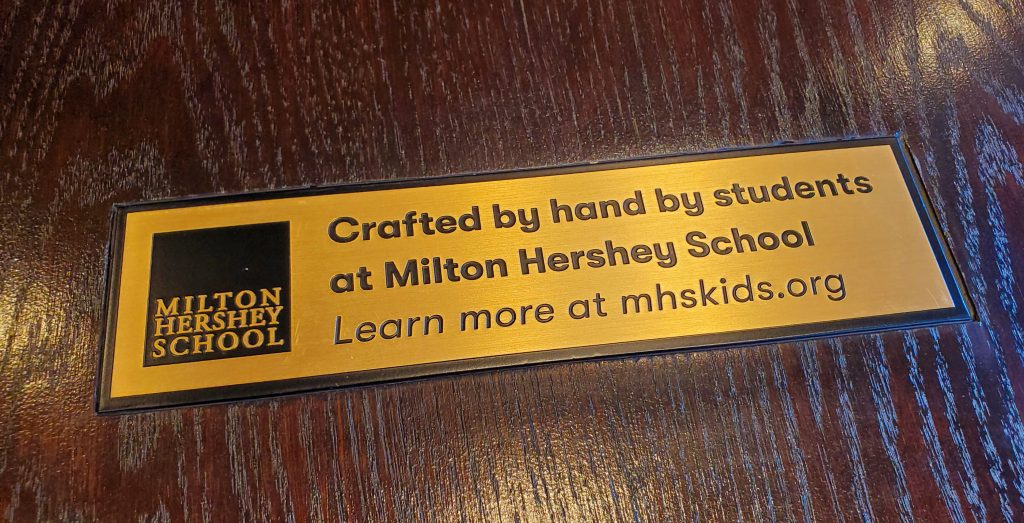 The Chocolatier also boasts the title of the largest restaurant in Hershey with 290 seats inside and around 150 seats outside. It is located inside the same building as Hersheypark Supply Co. outside of the front gate. You do not need a Hersheypark ticket* to visit The Chocolatier, open from 11 a.m. to 9 p.m. daily this summer (check back later for year-round hours). *you do need to pay for parking if Hersheypark is open.
What does "Fun to Table" Mean?
At The Chocolatier, Fun to Table finds its way to your plate via classic family fare with a fun spin and hints of chocolate served from an open kitchen. Please head over and check out the full menu–it's awe-worthy!–but note the highlights below: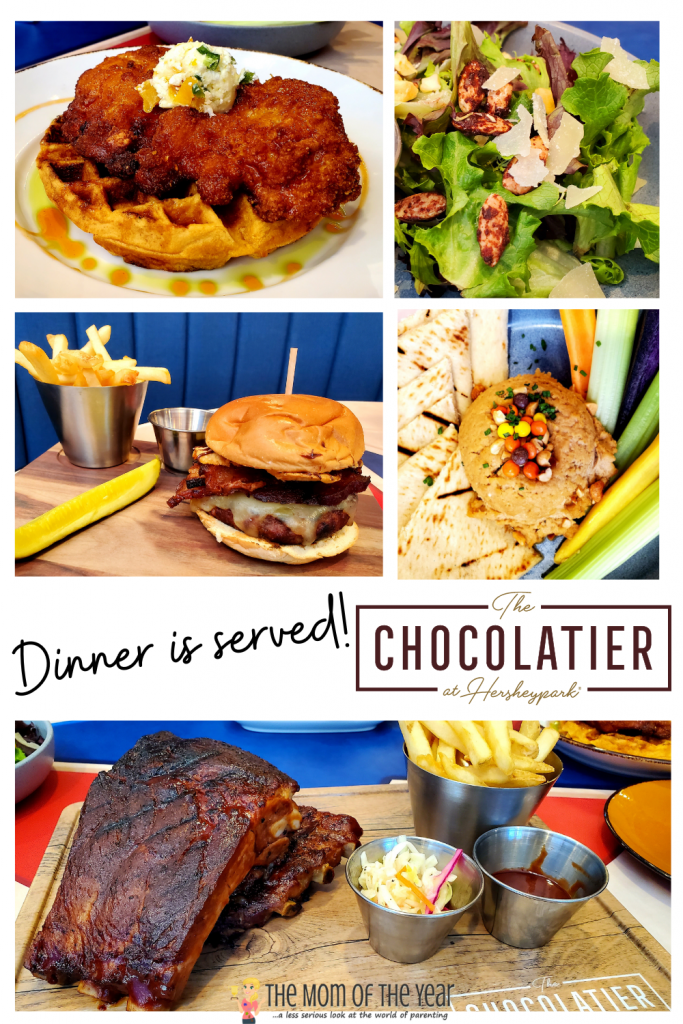 Shareables highlights:
Ferris Wheel Sampler (how cool is this?!)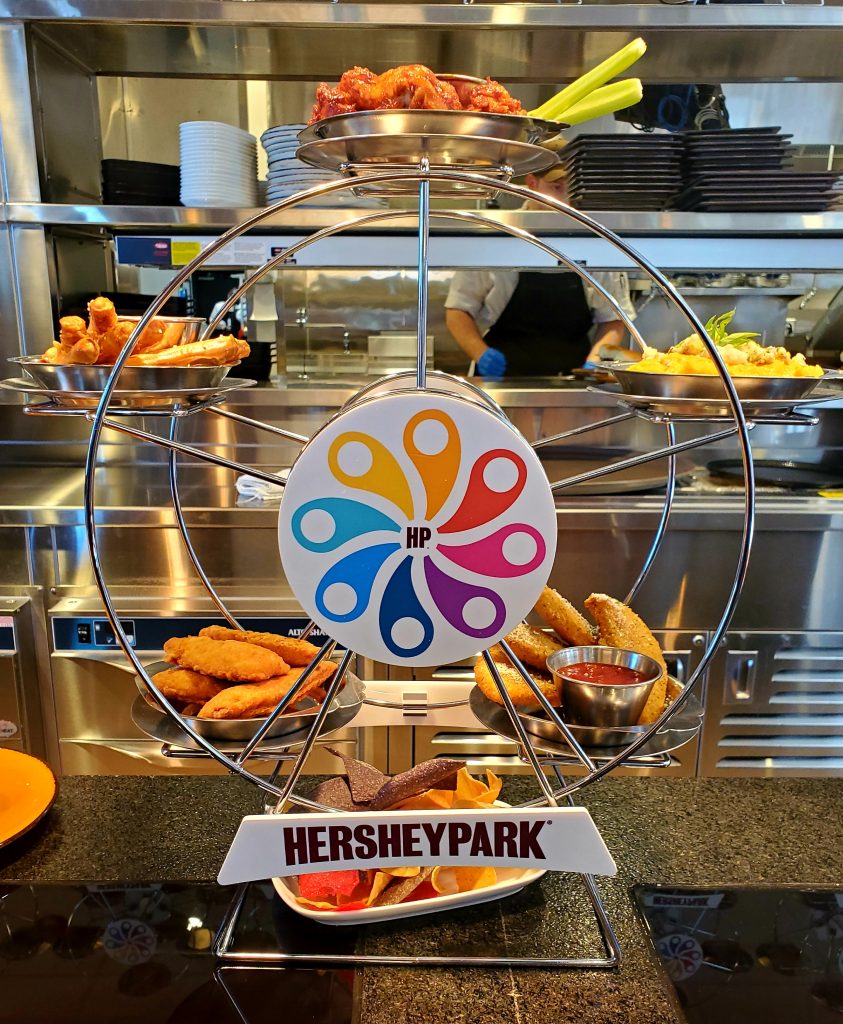 Southwest Chicken Nachos
Reese's Peanut Butter Hummus (I was surprised how tasty this was–hummus with a heavier texture and peanut butter flavor–yum!)
Big plates favorites:
Cocoa-Dusted Beef Short Ribs
Chicken & Waffles (inspired by one of Mr. Hershey's favorite dishes and created in collaboration with Milton Hershey School–and my FAVORITE item on the menu!)
Hershey's Cocoa Barbecue Ribs
Filet Mignon rubbed with coffee and Hershey's cocoa
Heath Bar Crusted Salmon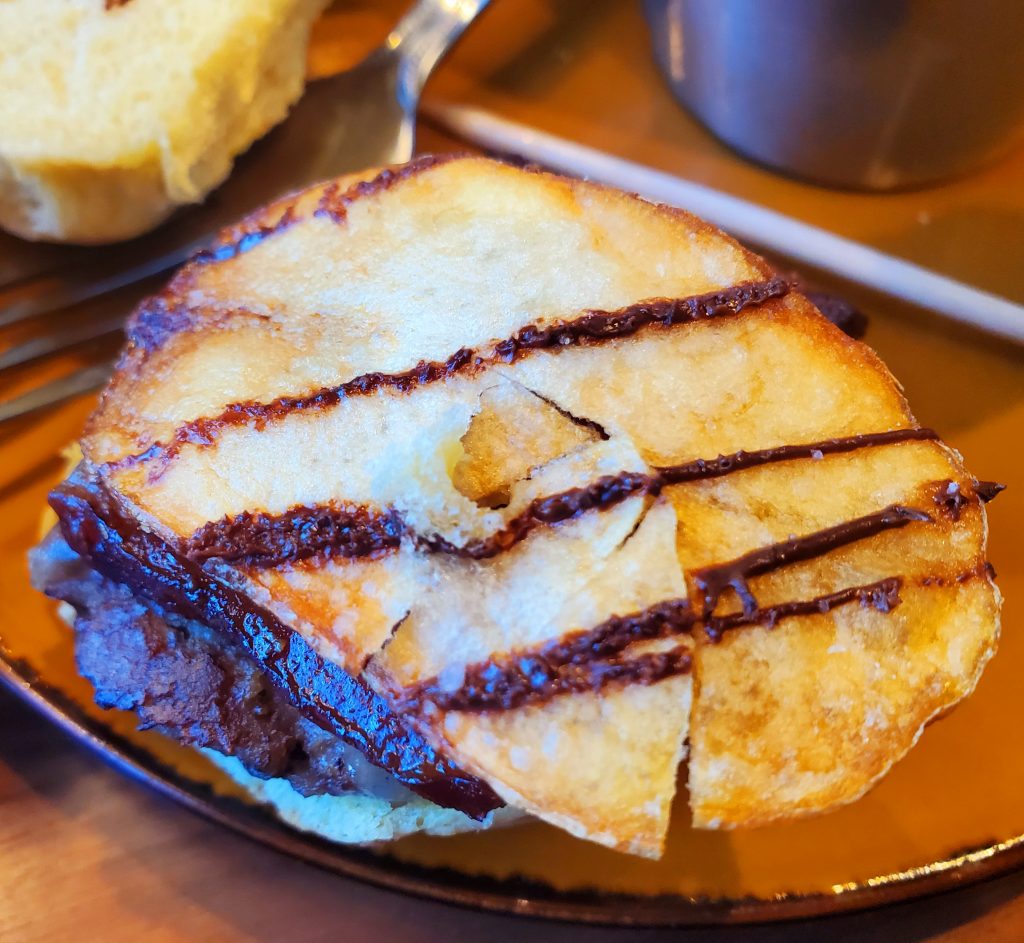 Dessert specialties:
S'mores Than Chocolate Cake & Ice Cream
Chocolate Chip Cookie Skillet
Chocolate Fun-due
Sooper Dooper Ice Cream Sundae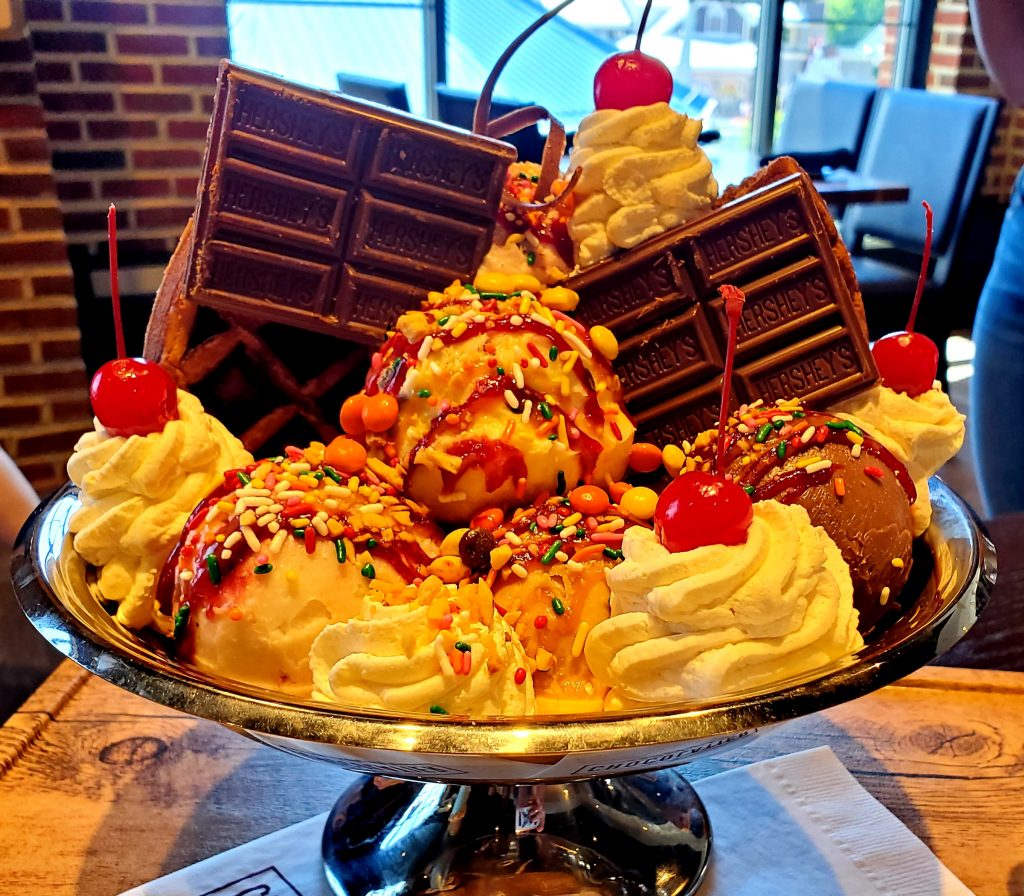 Four over-the-top milkshakes also be available!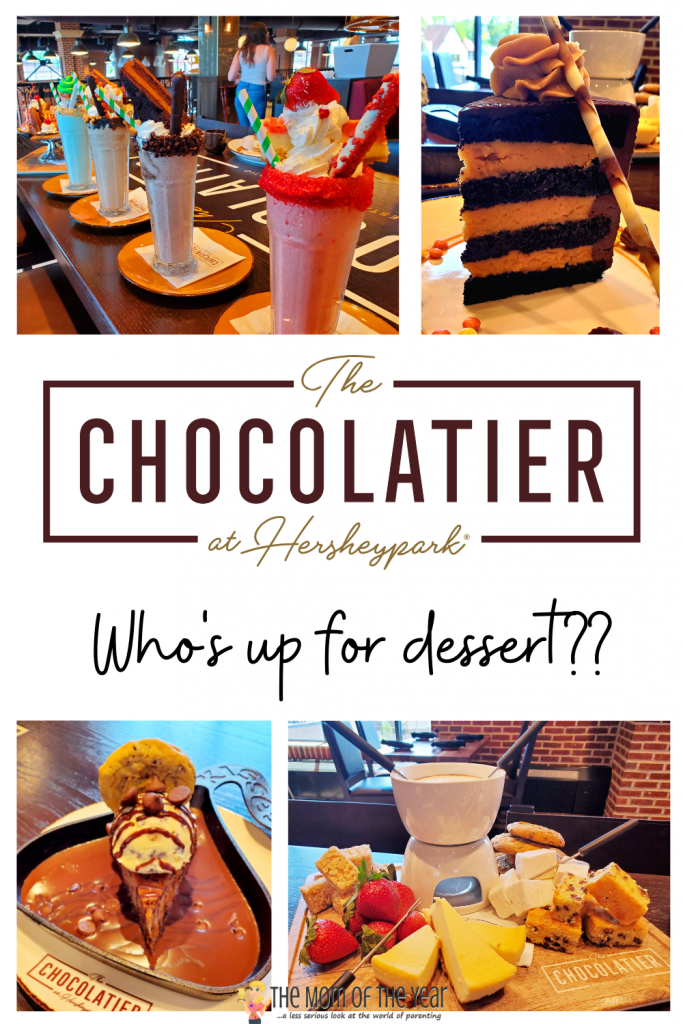 Signature cocktails:
White Lightning Racer
The Frozen Chocolatier
Reese's Cupfusion Old Fashioned
Jolly Rancher Green Apple Martini
Hershey's Signature Chocolate Martini…and more.
Drooling yet? Chocolate-loving taste buds buzzing? Ready for some record-breaking roller coaster fun? Get thee to Hersheypark and The Chocolatier, friends! No better way to ring in summer! Happy Memorial Day weekend!
As a reminder, Hershey Entertainment & Resorts Company continues to follow the guidance from the Centers for Disease Control and Prevention (CDC) and Pennsylvania Department of Health, so everyone can enjoy The Sweetest Place On Earth responsibly. All guests two years of age and older who are not fully vaccinated must wear face coverings during their visit except while eating, drinking, or while on certain water attractions. For the safety protocols at Hersheypark, please visit www.Hersheypark.com/safety.php. For more information across Hershey, please visit www.HersheyPA.com/safety.
The following two tabs change content below.
Meredith blogs at The Mom of the Year, where she dedicatedly earns her title one epic parenting fail at a time, offering quick, relatable laughs for fellow parents and all their empathizers. She has been part of several best-selling anthologies, featured on prominent sites such as Huffington Post, In the Powder Room and BlogHer, and loves her role as the Executive VP/Operations Manager of The BlogU Conference. When she's not breaking up fights over Legos and juice boxes, she remains fully committed to sharing a less serious look at the world of parenting.