This is the story of how online learning stole my mom soul. This isn't just my story, but the shared story shared of friends, family, neighbors, and all my fellow parents in the trenches this fall. This isn't a pretty story, but it's real, it's true, and it might just make you feel a bit more normal lest the beast of online learning has landed with a deafening thud at your door too. Or at the very least, it might help you feel less alone when you want to bang your head on the kitchen table because life is so fun.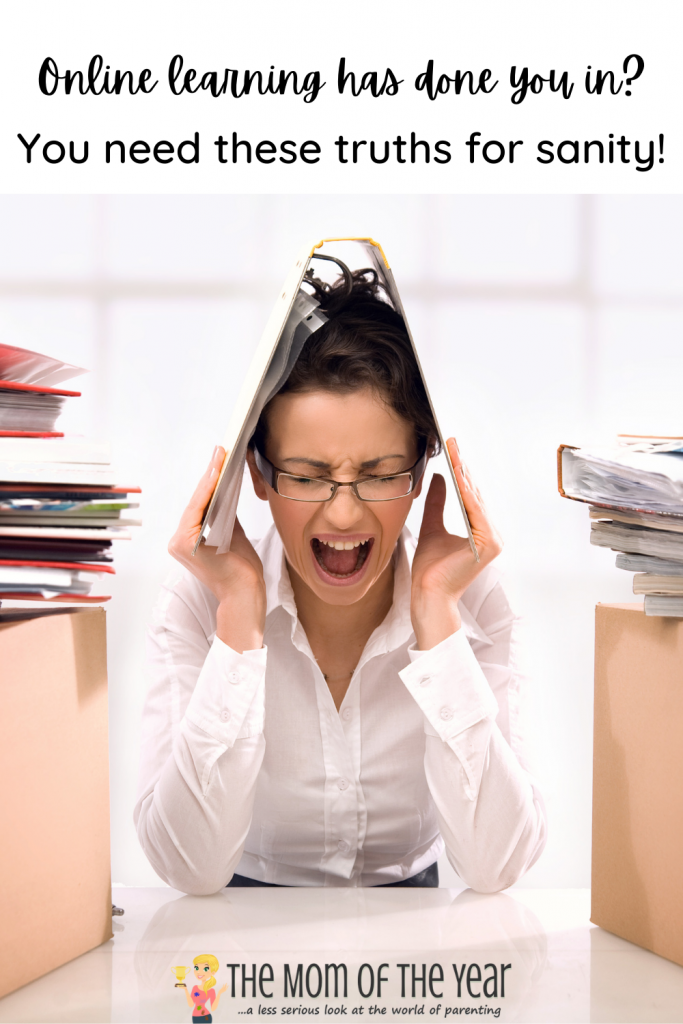 This story is for all of you who now consider the walk to the mailbox a vacation, who have spent undue hours having Google teach you the difference between simple and complete predicates, and who have calculated the average number of times an elementary-aged student will ask you how to spell a word each day (FYI, it's 547, give or take 3.2). This story is for those who are now jealous of bear moms and pops for being allowed to sleep the winter away in a cave and who have wondered how to sign up for a course in escaping Bernadette-style per Where'd You Go, Bernadette? It's for all of you who are DONE.
Let me roll out the slew of disclaimers first…
First and foremost, my heart breaks for full-time employed single-parent families and families in which both parents are employed. You are the true hero soldiers on this painful online front, and you are beyond incredible. We are very, very fortunate that my flexible, self-employed schedule allows me to attempt running herd on this online learning scene, and I know this.
We are also fortunate we only have two children, and they are in 4th and 6th grade, not in younger grades. The challenge of doing this with littles is a whole different ballgame of impossibility.
This isn't a political statement nor a quarantine policy op-ed.
I refer to the loss of my mom soul because I am a mom, yet I know if your home is online learning, everyone in the house can be hurting. I also know so many dads who aren't only sharing the joy, but who are front-running on the day-to-day.
It is in no way claiming that families who have kiddos back in school, either full or part-time hybrid, aren't also struggling with education in this dark age of coronavirus. These days are a challenge for all of us, everywhere.
It is not disparaging of teachers or our school district. I know teachers are working overtime to make the best of this impossible experience and have been so wowed by their efforts, energy and time. We are also incredibly fortunate that our district was able to provide devices for each child, which inarguably makes this battle possible.
We are also fortunate that our IEP needs have been relatively manageable from home, albeit with much mom attention and intervention, but it IS possible, and we muddle on. I know others are in tremendously more dismal scenarios.​​​​​​​​​​​​​​
So many families do so well with homeschooling, and that is super. This is not homeschooling: online learning is its own unique endeavor, one we never chose or wanted. I am not a teacher and have no clue what I'm doing.
Above all, I know online schooling is far from the worst that COVID-19 has wrecked, and if this is the worst of our pain, we are fortunate.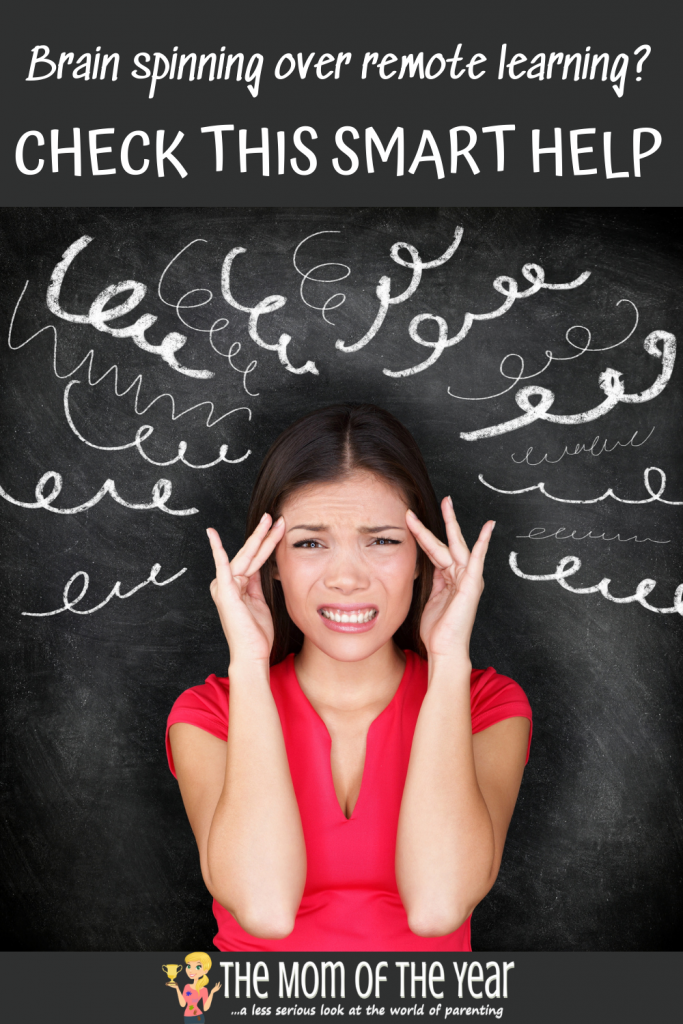 All that said, here is my story of how online learning stole my mom soul…
It wasn't overnight. The first couple of weeks were marked with a "We can do this!" feel. This is when the pencils were sharpened on the regular, individual assignments were carefully checked, and iPads were sanitized nightly. Oh to those giddy early days!
And then…it started to unravel. Assignments were missed. Tech glitches shifted from annoying to derailing. The tears and screams that were intermittent at the beginning morphed into a daily energy drain. Laughs over the inaneness of the whole gig became less. Still, we persevered.
More planners (so many planners! so many calendars!) were procured, more details were noted, more breaths and moments were tracked. I familiarized myself with the six-minute window I could feed both of my children lunch at the same time every other day; the odd days we forage-for-yourself-whenever-suits-style. That the Thursday condensed schedule would vary depending on whether it was A, C or E day versus a B, D, or F day was grasped. We rolled with it, we got organized.
We were online parenting warriors; it was tough and brutal, but we had it…
Until we didn't have it.
We are wrapping up Week 6 today, and I need to say that it isn't cute or funny anymore. If anyone tries to make light of our battles, I scowl at them with the passion of a thousand fiery suns (or of one way, way overstressed mama, same difference). "Can do!" has officially left the building. "I can't" has set up shop. The days are dark, heavy, and tears of defeat are only ever a half-breath away.​​​​​​​​​​​​​​​​​​​​​​​​​​​​
The children are exhausted and foul-tempered, ending the days with glassy eyes after staring at a screen for nearly seven hours. The joy of school they found in recess, classroom games, comradery, assemblies and even silly things like dress-up days has been erased as they push through classes and assignments on repeat. Their frustration and discontent lands neatly on their closest target–family. The overall atmosphere of the home? Not great to put it mildly.
A Week 6 in the losing of my mom soul…
Monday was my morning this week to run All the Errands, because my husband was scheduled to stay home. When I say errand run, think less of a chic Lady Who Lunches in fashionable athleisure pertly checking off her to-do list, and more of an escaped convict with unwashed hair making a run at the grocery store followed by shoveling in bargain aisle sushi while awaiting her monstrous cup of caffeine in the drive-thru lane. I arrived home just in time for him to take off, a bag of sweaty mess because I overdressed. Who has time for silly things like checking the weather report??
Tuesday I rose early! It was going to be a grand day! Or, not. Work crisis slammed down at 6:30am, only to be followed by my daughter coming downstairs a bit later to sobbingly announce the project she had been working on for eight days didn't save. (Assignments not saving is my new online school favorite, BTW!). No worries! It only took me five hours to put out both fires, and then I was back on track with that super-early start to my day. And good news: my son only told his OT once that he couldn't hear her because his mom was screaming. Score! I was totally winning the day.
Wednesday we were assigned a project so complex, I called a friend in tears and her response was, "I couldn't do that until high school!". She is better than I, because I still don't know how to do it. I forwarded to my husband with note "Nope. Your turn." I fought through the rest of the day, decided to shut it down at 3:30 pm. Then cooked dinner, fed the dogs, got the mail, changed laundry, and sent out some necessary texts then shut it down for real by 6:30 pm. I then binged Emily in Paris on Netflix, which was the perfect lightweight tonic to my heavy soul.
Thursday I woke up still exhausted. How can this be? I just took the night before off! I should be restored! Ready to save the world of all things! But I wanted to give up before getting out of bed. I remembered in August (recall the good old days when covid life by itself sans online school felt crazy enough??) when my husband was a rockstar and took the kids away for the weekend. They came back, and I remember feeling so annoyed I wasn't more energized after my solo time. But the thing is…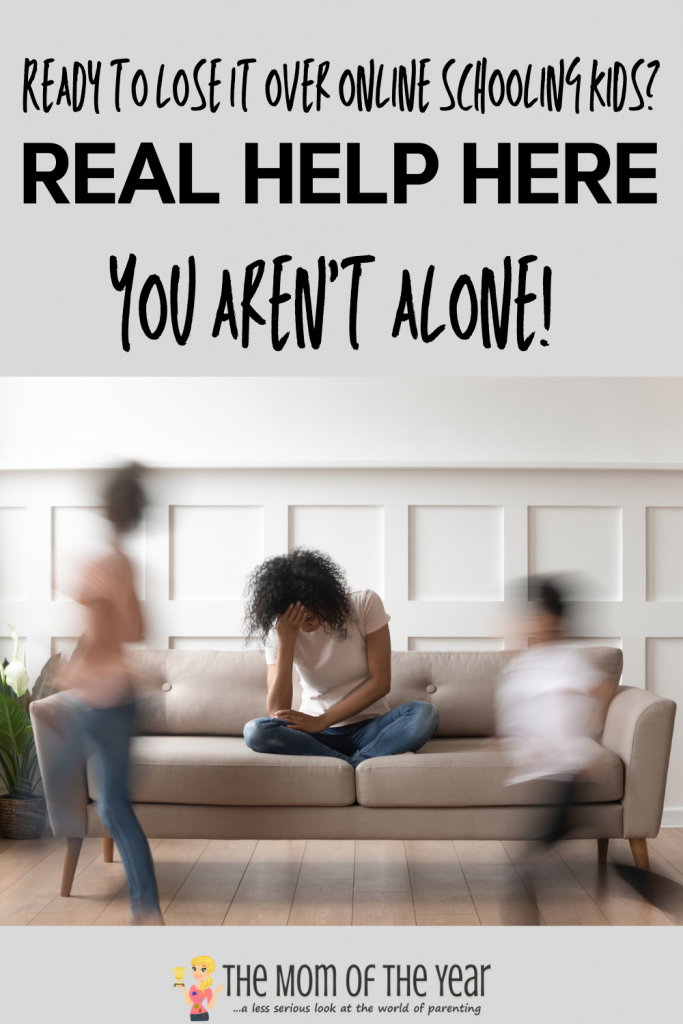 How exactly I lost my mom soul
With this COVID life, we all, but parents especially, are so, so drained and depleted. It might take a month of Sundays to get us back in fighting form, and maybe not even then. A night, a weekend, a week isn't enough to repair the damage we've wrecked on our well-being. For introverts, the battle of no regular alone time makes the hit on mental health especially acute.
In addition to regular parenting tasks, we've added on being educators and round-the-clock socialization coordinators (for the record, in my book, socialization is MORE important than education at my kids' stage in the game). We have done uncountable tasks for which we were never trained nor prepared…then we failed at them and are made to do them, again and again (unsuccessfully), day after day.
Our support system? Others in the exact same boat. No white knight riding in to erase our troubles. No white flag to raise in surrender. No end date when this will all go away and we can "get back to life as normal." There is no give, no out.
I poured and poured myself out, then did it again. There was so little left of me to give, still I gave, and this, this is how I lost my mom soul. I gave it away until it was gone.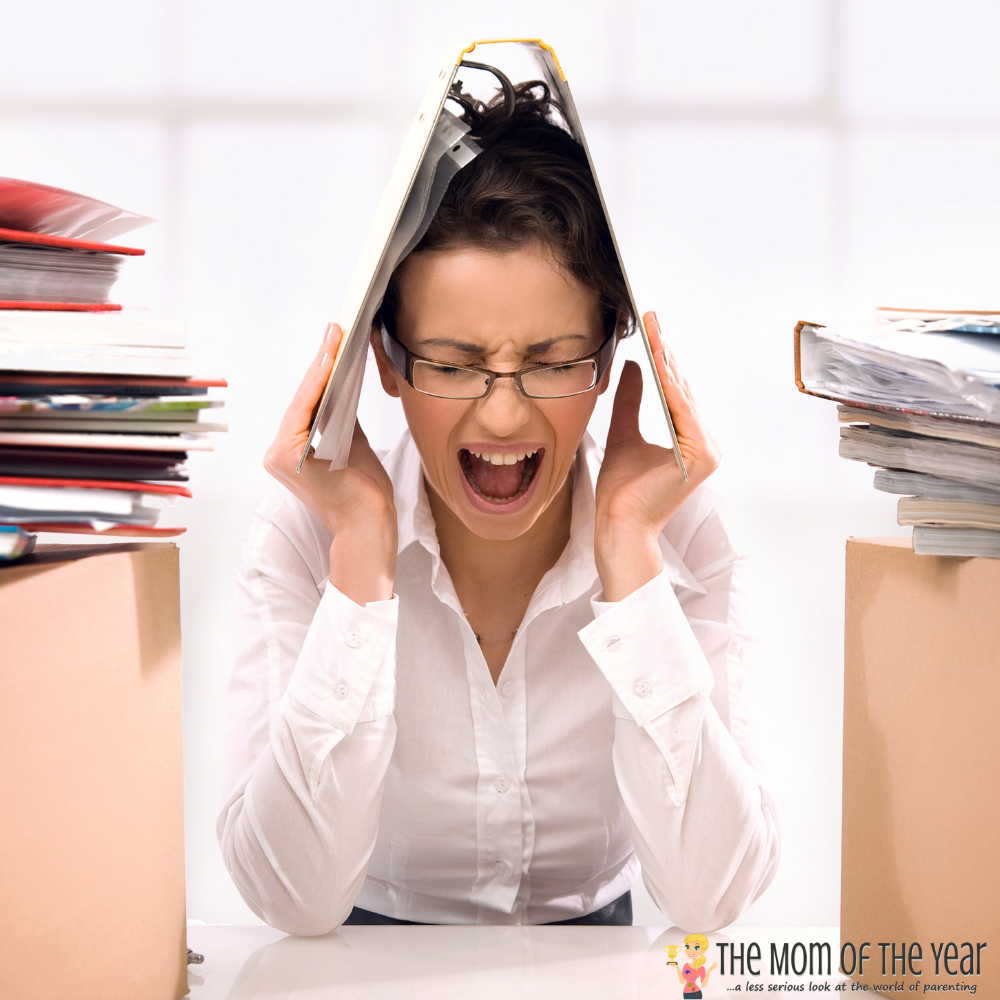 I did try not to lose it. I am sure I have missed much, but I did try hard: I am exercising more than I ever have in my life, talking openly with friends, drinking scads of water, eating as well as I can, blasting soothing tunes, sneaking in fun activities (apple picking! corn maze!), firing up the diffuser with essential oils, stress-walking up and down the street (phone in hand, of course, for the inevitable emergencies), reading like a fiend in sleepless moments (while of course trying to sleep as much as my insomnia allows), and breaking however and whenever I can.
The problem is simply that I'm human. And despite all of my best efforts, efforts will never be enough. Online learning is a beast my mom soul is no match for; online learning has won.
And that brings us to this day, Friday, the day of my saga when I share the story of how online learning stole my mom soul with all of you.
Tell me your story, please? I need to hear it. I need to know I'm not alone.
The following two tabs change content below.
Meredith blogs at The Mom of the Year, where she dedicatedly earns her title one epic parenting fail at a time, offering quick, relatable laughs for fellow parents and all their empathizers. She has been part of several best-selling anthologies, featured on prominent sites such as Huffington Post, In the Powder Room and BlogHer, and loves her role as the Executive VP/Operations Manager of The BlogU Conference. When she's not breaking up fights over Legos and juice boxes, she remains fully committed to sharing a less serious look at the world of parenting.