How is everyone holding up these days?  Currently, with most of us on lockdown, we are all trying to find creative ways to pass the days.  With being home so often now, my kids and I have been taking to baking something new every other day.  We've made our way through cookies, pies, and delicious bread, but when my son asked if we could make soft pretzels, I was excited to put together a super easy homemade soft pretzels recipe.  There is no need to wait for the dough to rise which makes it a perfect baking activity for young children.  These pretzels are soft, delicious, and are ready to eat in under an hour!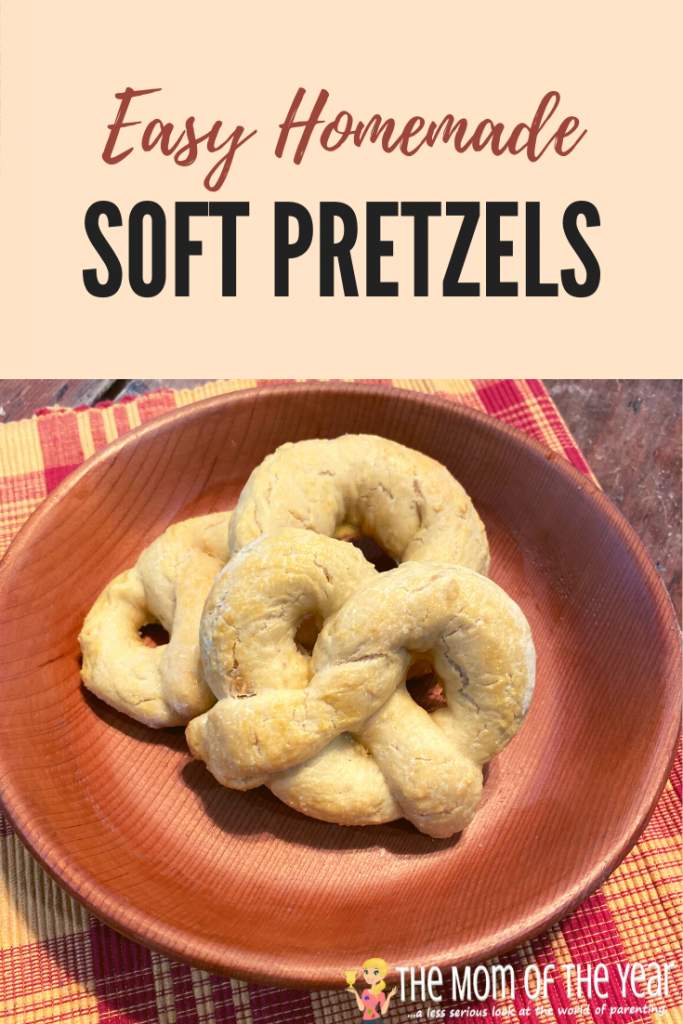 You will need:
1 packet yeast (2 teaspoons)
3 cups all purpose flour
1.5 cups warm water
1 teaspoon salt
1 tablespoon sugar
1 tablespoon butter
1 egg
Coarse salt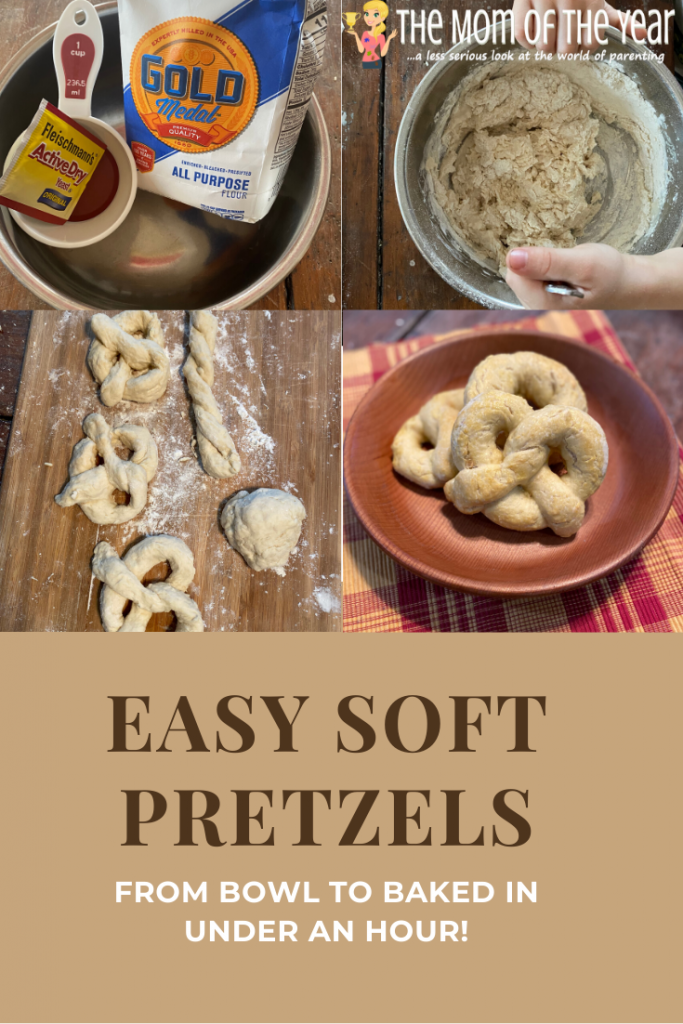 Preheat your oven to 375. Begin with stirring the yeast into warm water. Once it is mixed well, stir in sugar, salt, and 1 cup of flour. Continue to stir and add another 1.5 cups of flour. Flour a surface and begin to knead the dough by hand. You do not want the dough to be so sticky that it sticks to your hands but you do not want it overly dry- try to find a happy medium where it is slightly sticky. As you knead, you may need to add in up to ½ cup additional flour.
Break apart your dough into 12 pieces and begin to roll each piece into a rope with your hands. Now comes the fun part- creating a pretzel! My kids and I made some traditional pretzels but also had fun making shapes and letters.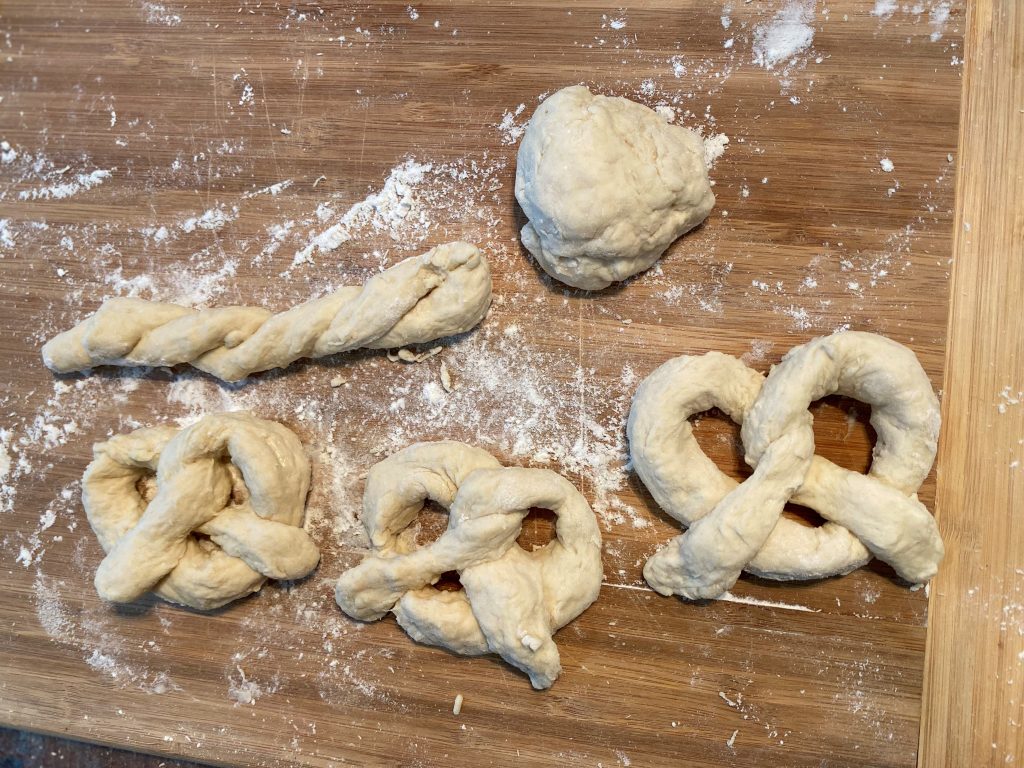 Once your pretzels are created, melt 1 tablespoon of butter into a shallow dish. After the butter cools some (you don't want it hot), beat 1 egg into the dish. Dip your pretzels into the egg mixture and place on a tray with parchment paper. Sprinkle with coarse salt before placing in the oven. If you don't have coarse salt, you can definitely substitute with sea salt, it all tastes the same!
Our pretzels took about 20 minutes to finish baking but as each oven varies, keep an eye on them. The goal is to have the bottom browned and the top to crust up.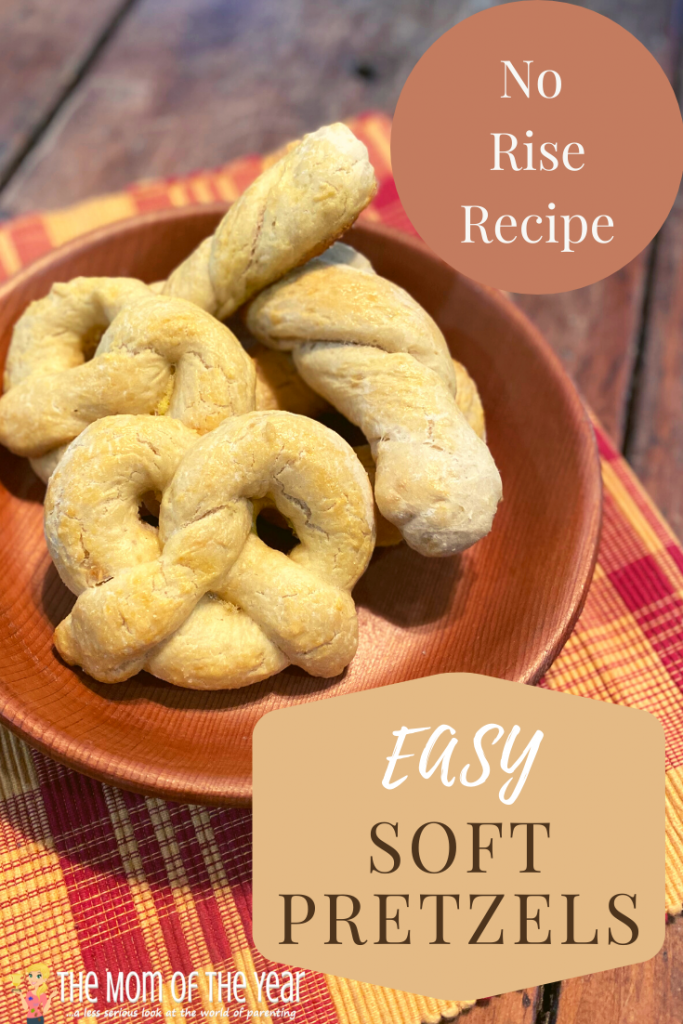 This easy homemade soft pretzels recipe is sure to please your entire family. Since we didn't have to wait for the dough to rise and avoided any complicated steps, my kids were entertained the entire time and already asking to make them again. We had so much fun creating soft pretzels and watching them bake that time passed quickly and all thoughts of a lockdown ceased. I hope that everyone is finding some peace in this difficult time. If you make these pretzels I would love to hear about how it went for you. Comment below and let me know what shapes you and your kids made and how you liked them!
The following two tabs change content below.
Lindsay Houser
When Lindsay isn't fielding three-nager temper tantrums and scraping Play-Doh off the floor, her passions are the great outdoors, cooking, creating, and healthy, holistic living.
Latest posts by Lindsay Houser (see all)