I'm a firm believer that we should all be armed with a few solid, go-to recipes. Recipes you can whip up with your eyes closed that seem far more complex than they actually are. Good quality ingredients don't need much fuss to morph into a drool-worthy dish, and that's good news for us moms who live and breathe by shortcuts. This Honey Apple Cranberry Tart is the answer to the, "just bring a dessert" requests that have leave you stumped!
Honey Apple Cranberry Tart
This recipe has become our family's go-to for potluck dinners, office get-togethers, Thanksgiving at the in-laws, and many a fall weekend that called for a pie, but I was too lazy to crimp and tuck, and get the amount of filling just right. Apples are the star, but without some serious support from the best quality honey you can get your hands on, they won't shine as bright. With an uber-simple ingredient list including store-bought pie crust; fling open the pantry door, pre—heat the oven, and get ready for the easiest "fancy" dessert for which you'll become known! You're welcome.
Honey Apple Cranberry Tart Ingredients:
2 medium sized apples (we love Gala or Honeycrisp)
1 refrigerated pie crust (thawed)
1 handful dried cranberries
¼ cup brown sugar
1 -2 heaping tbs honey (adjust for your preferred sweetness)
½ tbs corn starch
½ tsp cinnamon
1 egg (for egg wash)
1 tsp cinnamon sugar mixture (optional)
Honey Apple Cranberry Tart How-to:
Peel and thinly slice the apples. Stir together apples, cranberries, honey, cinnamon, corn starch and brown sugar while pie crust thaws. Unroll pie crust on baking sheet. Pile apple mixture in the center of the pie crust and spread into an even layer. Begin folding over the edge of the pie crust approximately 1/3" and crimp with thumbs. Continue all the way around. Brush crust with egg mixture and dust with cinnamon sugar mixture if desired. Bake at 425 degrees for approximately 11 minutes, checking for doneness around 10 minutes. Apples will be fork-tender and crust will be golden brown when it's done!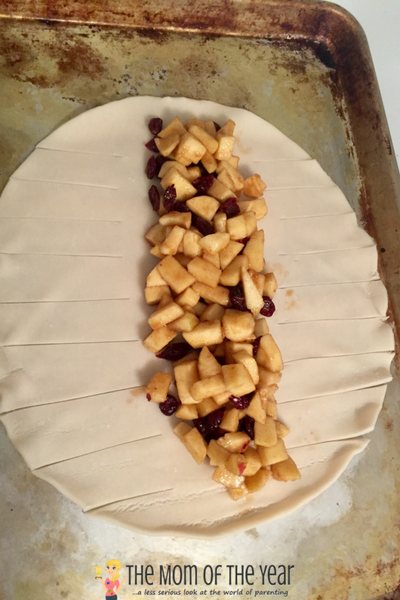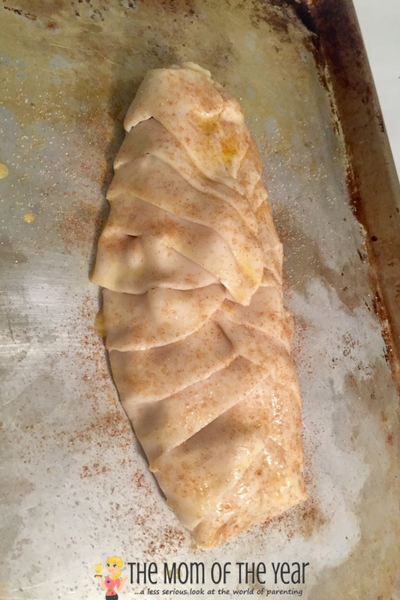 Want to score some extra points? Lay the pie crust out on a baking sheet, slice evenly spaced slits up one side and mirror them on the other, load up the filling in the center and crisscross the strips across the middle to create a braid of sorts. Egg wash to seal and sprinkle with cinnamon sugar. Bake at 425 degrees for approximately 12 minutes, then stop to gawk at the fancy-pants dessert you just pulled out of the oven 😉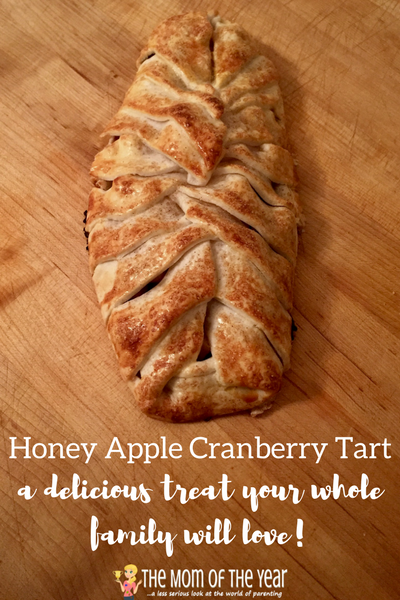 Sold? I know, friends. This your brilliant go-to "wow" fall dessert for the win! Whip it up and enjoy all the oohs and aahs!
The following two tabs change content below.
Heidi Rega
Heidi is a full-time mom to one spunk-tastic three-year-old, part-time nanny to 3 others, Publisher of Macaroni Kid Main Line, big time foodie, graphic design snob, and massive self-care advocate. With a professional background in food and beverage, and real world experience in what kids will actually consume, she ventures to bring you fun recipes that come "thisclose" to making everyone happy. We all know that it's an impossible feat; but this mom loves a challenge!
Latest posts by Heidi Rega (see all)