Thank you to Disney for sponsoring our visit so I could share these smart hacks for visiting Epcot and Hollywood Studios in one day. All opinions are 100% my own!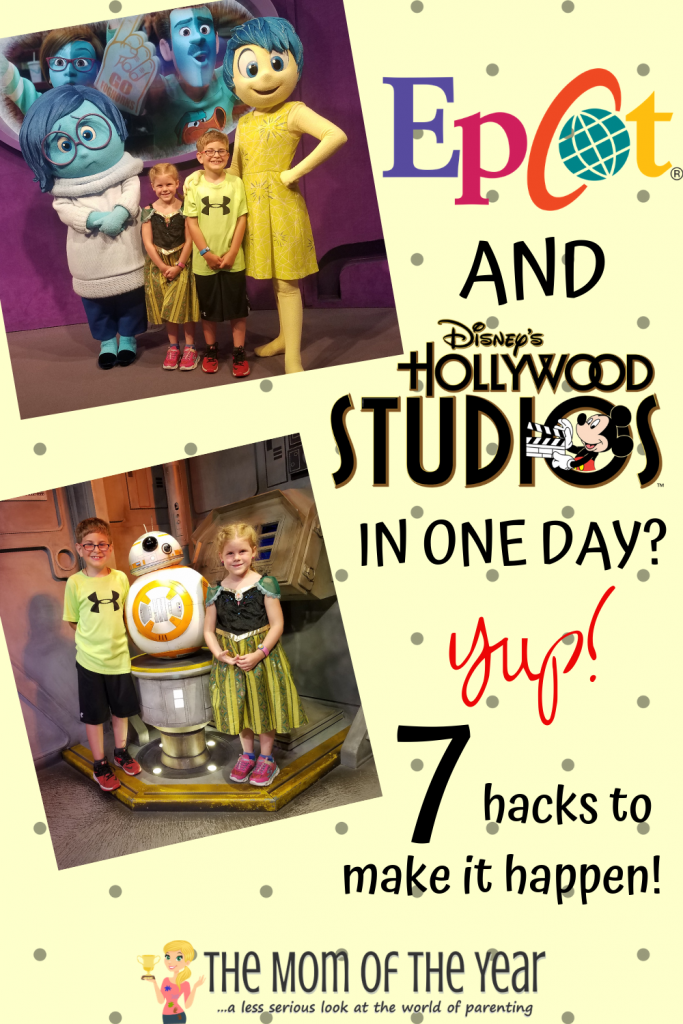 Three years ago, we were able to visit Walt Disney World "properly" and enjoy a full week there exploring all of the parks, but last year, we found ourselves in the midst of Florida road trip with a bonus day to touch down on Disney. Yay! But..where would we go? What would we do? How could we pack it all in? To set our itinerary, I zeroed in on our two family favorites–Star Wars and Frozen, and from there, the day took shape. We would be visiting Epcot and Hollywood Studios in one day. Were we crazy to attempt? Probably 😉 But did it work? Shockingly, yes! And here's how…
Get there EARLY. And by early, let's keep in mind that Disney early is not your average early. We got there an hour before park opening, and it was still pushing it (we had to sort tickets and our disability pass, granted). We were able to get in the park slightly before rope drop (opportunity to walk into the park to a certain point and wait until the rope drops and the rides actually open). This is a huge benefit with Epcot, a park that is extraordinarily large, with lots of ground to cover. PRO TIP IF FROZEN ATTRACTIONS ARE ON YOUR ITINERARY: Rope drop at Epcot is especially nice because it lands you super close to the Frozen attractions, so you can the top jump on the lines!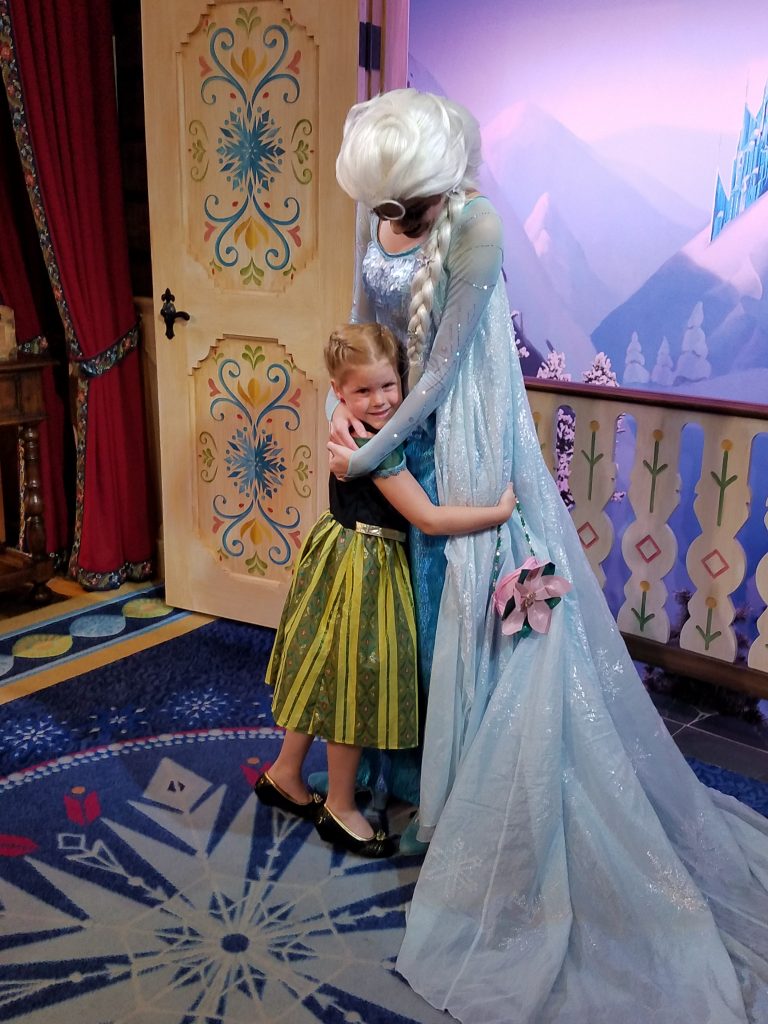 Load yourself up with early Fast Passes. Fast Passes are always genius–if you book and use them early in the day, go ahead and try to grab more through the Disney app to continue saving yourself time throughout the day. PRO TIP IF FROZEN ATTRACTIONS ARE ON YOUR ITINERARY: Be there for Rope Drop (as explained above), and have Fast Passes for Frozen Ever After shortly after opening. Make tracks to the line to meet Anna and Elsa (no Fast Passes available for this), and get there first (the line fills quickly and can be loooong), then pop over to the ride and use your passes.
Be organized. This is always a must for a smooth Disney Day, but even more so if you are on a super-tight itinerary of visiting both Epcot and Hollywood Studios in one day. Think: no waffling over where to eat and when, decide before, and stick to the plan. Also set a cut-off point for when you must leave the first park to give yourself time to trek over to the second to enjoy the attractions there. Otherwise, the day will sneak up on you and you'll not leave yourself with enough time for the second park. PRO TIP: Sounds obvious, but find out ahead of time which park will be open later on the day of your visit, and make that your second stop.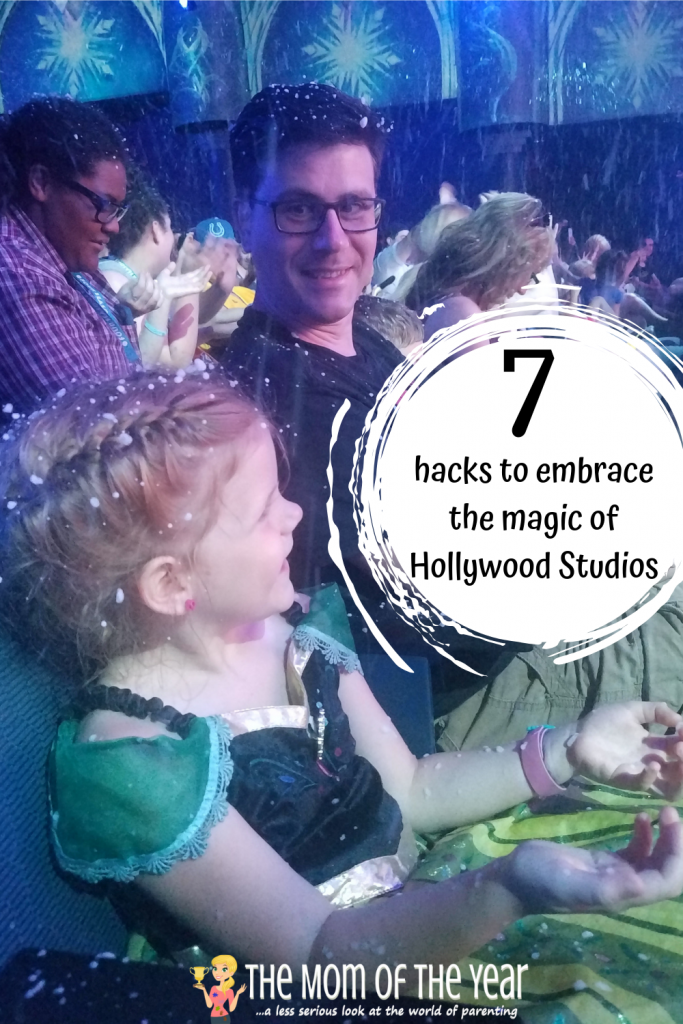 Nail down show times as much as possible. This can be tricky, as Disney frequently switches up its daily schedule, but this can be SO helpful in sorting your day, especially at Hollywood Studios, where there are many assorted shows. I was so irked I hadn't gotten us to Hollywood Studios a half hour earlier because the timing lined up such that we weren't able to see two shows we wanted to see. NOTE: All programming and shows will all change up on 8/29/19 when the much-awaited, HUGE new world of Star Wars Galaxy's Edge opens at Walt Disney World.
Considering Uber-ing or Lyft-ing from one park to the next as it may be faster than relying on Disney transportation. Take the time to explore your options on the day/time of your transport need. Anything that can save time on a day of visiting Epcot and Hollywood Studios is a huge win!
Interested in meeting characters? Book one sit-down meal. This not only ensures you will get to hug some of your favorite friends, but also builds in a solid meal and a break from the hectic pace into your day. We did this at Hollywood & Vine for an early supper, and it was such a great way to hang with some Disney classics while sneaking in a good meal.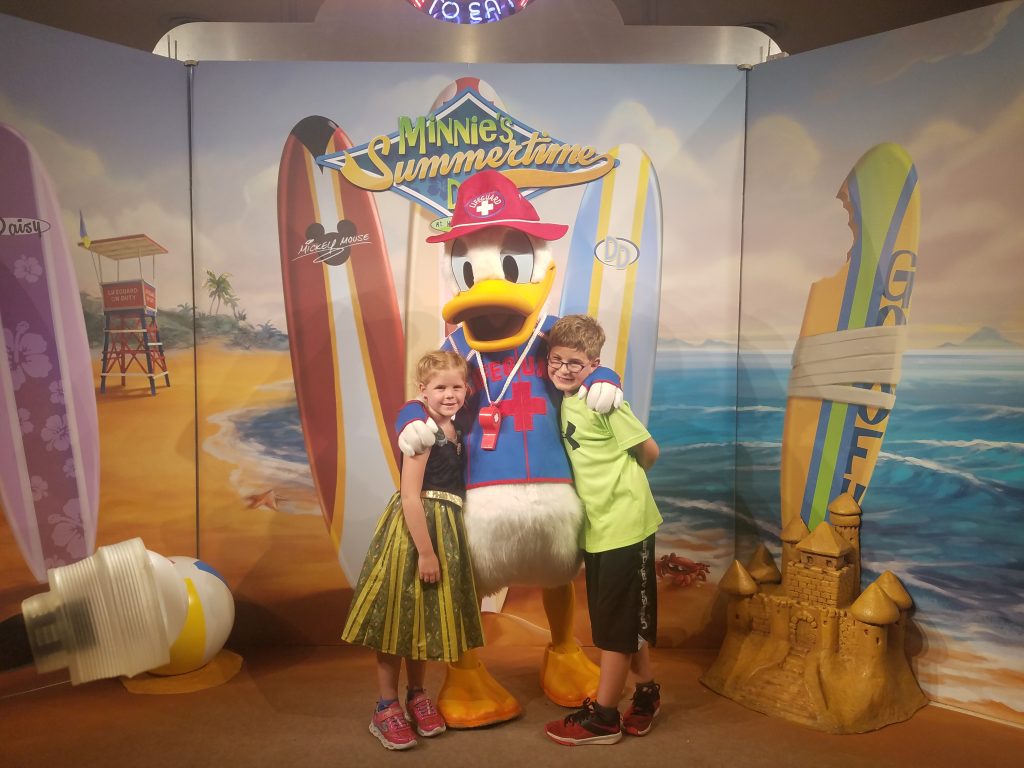 BE FLEXIBLE. I know, I know. Easier said than done. But…but the time we finally got ourselves situated at Hollywood Studios for the Stormtrooper's Imperial March, it started to rain. Sob! My husband and son, the true hardcore Star Wars fans in our home, were good about it, but we all learned the lesson that comes from squeezing a ton of fun into one day: take anything that happens as bonus, and don't mourn what falls wayside.
I KNOW, friends, the idea of visiting Epcot and Hollywood Studios in one day, or any two of the Disney parks in one day can feel so overwhelming! But if you find yourselves in our boat, with only one day to check out the fun, I say soak up as much as you can and enjoy!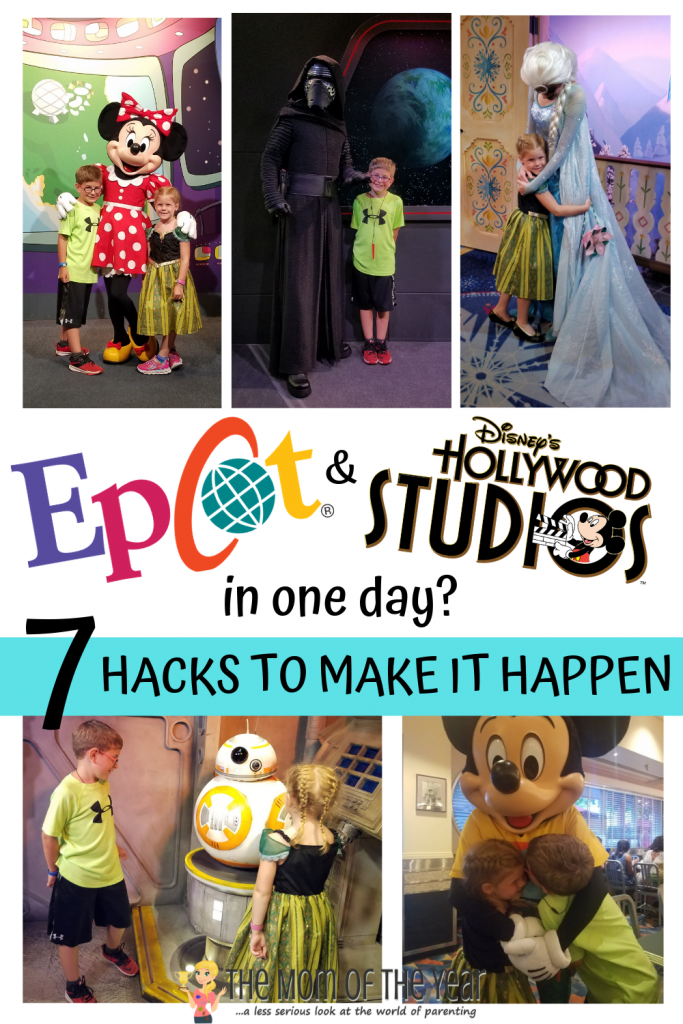 These seven hacks truly do help. And make sure to read 5 Must-Know Tips to Tackle Disney in a Day as well. If you are visiting over the summer months, Tips for Surviving a Trip to Disney in the Summer will also be very helpful!
You CAN enjoy visiting Epcot and Hollywood Studios in one day, truly! Here's to all the Disney magic that awaits!
The following two tabs change content below.
Meredith blogs at The Mom of the Year, where she dedicatedly earns her title one epic parenting fail at a time, offering quick, relatable laughs for fellow parents and all their empathizers. She has been part of several best-selling anthologies, featured on prominent sites such as Huffington Post, In the Powder Room and BlogHer, and loves her role as the Executive VP/Operations Manager of The BlogU Conference. When she's not breaking up fights over Legos and juice boxes, she remains fully committed to sharing a less serious look at the world of parenting.