Getting kids ready in the morning can be stressful, but when you add an ADHD diagnosis to the mix, it becomes exponentially more so. Yet, while mornings can be challenging, doesn't mean everyone must be a fight, filled with nagging and frustration. Here are some tips to help school the morning routine for kids with ADHD.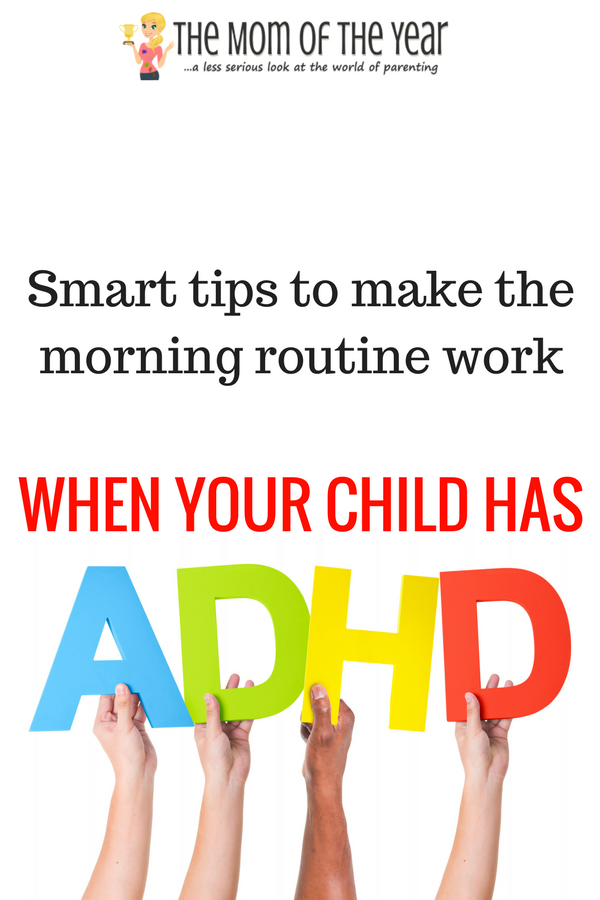 Nailing the Morning Routine for Kids with ADHD:
I'm sure you've heard this a million times, but simply writing down the routine might not be enough for your child with ADHD.
Some lists don't work because they are in the wrong location. When I first wrote out a morning routine for my then preschooler, I posted the list on the refrigerator. He would start out strong, by eating breakfast, the first thing on the list. No problem there! The next steps were to brush teeth and get dressed. That's where he started getting lost in the routine. First of all, at that time, my 4-year-old could not follow two-step directions, so to expect him to take two to-dos in his head and accomplish both was setting him up for failure. Also, because the list was in the kitchen, and the toothbrush was in the bathroom on a different floor, the list was no longer working for him. It was a prime example of out of sight out of mind. To solve this problem, we put his morning routine on index cards and put them on a ring binder
that he could take along with him.
The other option is to make two lists: one for upstairs and one for downstairs. Also, group all upstairs tasks together. Have your child get dressed, and brush teeth and hair before he/she comes down for breakfast. Even though I like to brush my teeth after breakfast, for my ADHD child, extra trips up and down the stairs in the morning sometimes led to teeth going unbrushed since he would get lost along the way. For us, the act of brushing teeth was more important than the ideal time for brushing teeth.
If your current morning routine list isn't working for your child, it's possible that the list is too passive. Add an action to it! Write out the list on a whiteboard, so they can cross out items or put a checkmark next to the completed tasks. Or, use a chart that allows them to move each task from the To Do column to the Done column. Magnet charts or charts with cards attached to dual-sided velcro tape work well for this.
If the novelty has worn off, the morning routine chart can stop being effective if your child has simply become bored with it. Switch it up and create a new chart or to-do list to get back on track.
Transitioning Kids with ADHD
Transitions are tough for ADHD kiddos, especially if they must transition from a preferred task, eating a delicious breakfast for example, to a non-preferred task such as putting on shoes and tying laces.
Give your child lots of warning about the next task coming up to help them transition. For example, you might say, ten minutes till we go to the school bus, five minutes till we go to the school bus etc…"
Put a preferred task at the end of the routine to give your child something to look forward to. Perhaps you will skip to the school bus, or you'll let them push their baby sister in the stroller on the way to bus stop.
While it might seem odd to dole out praise for a seemingly simple task, for a child with ADHD completing an undesired task is no small feat.
Don't be afraid to say things like: "I like how you put both shoes on before you moved on to the next step and remembered to put the cap back on the toothpaste; great job!" "Thank you for putting your pajamas in the hamper."
For a child that has difficulty getting ready, know that their normal is probably lots of negative feedback, so these positive words go a long way to keep the morale up in the morning.
Consider a Consequence or a Reward
Perhaps to keep your child on task in the morning, you might offer a reward. This way, you can remind your child of the prize to come as you are referring him or her back to his task list.
Consequences work! If any of my children miss the bus because they are doing something they aren't supposed to be doing, like reading instead of getting ready, they lose their screen time for that evening. For my family, this works well since my kids are totally screen motivated! Of course they don't lose their screens if I didn't get them up in time, or they were just having a difficult morning and were
slow to get moving. I save this big consequence for when they are blatantly ignoring their list.
Focus on the Progress. Look at what your child can do now compared to a year ago. Yes, my inattentive kiddos are slower to get ready and a little more scattered than their siblings who don't have ADHD, but instead of comparing them to their siblings, I compare them to themselves a year ago. When my oldest was in preschool, I still had to help him pick out his clothes and get dressed. At the time, I was frustrated because I thought he should be able to do this on his own. But, by kindergarten, he was able to manage this on his own with no reminders. In Kindergarten, he still needed help in the morning staying on track, but instead of getting frustrated, I would think back on how far he had come and appreciated each new skill he could handle on his own. Helping them now doesn't mean that you'll have to help them forever.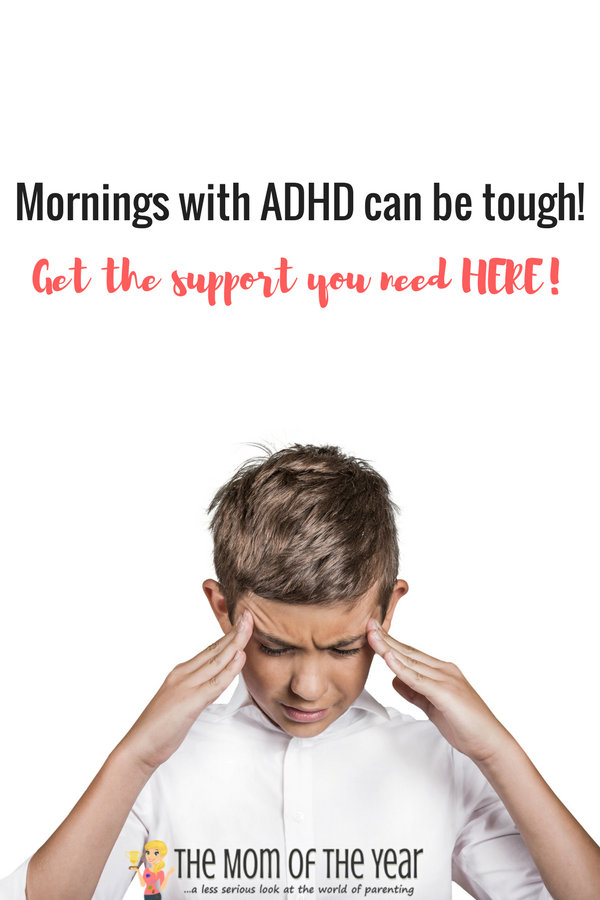 Hopefully these tips will help your morning routine for kids with ADHD run more smoothly! If you have any tips that work well for your family, I'd love to hear them! Please add a comment below!
The following two tabs change content below.
Anne is a mother of four, a 10 year old boy and 6 year old triplet girls. Always looking for a creative outlet, Anne sometimes hijacks her kids' parties, projects, and costumes to get her fix. (Even though they'd rather have their party at a moonbounce place and their costumes from a store). She blogs at onceuponamom.net where she writes funny and sometimes poignant posts in the hopes of lifting up other moms as they travel the chaotic, beautiful road of mothering.
Latest posts by Anne Metz (see all)