The Big Game comes with big appetites, even for the little ones in the house. While some of the grown up favorites might be a fit for the smaller ones in the group, others (like spicy buffalo wings and jalapeno-heavy nachos) might leave the kiddos feeling left out. As our crew grew beyond baby snacks, they wanted to be included in the big spread. What could we make that would give them a spot at the buffet, but was also yummy enough for the grown-ups to nosh on, too? Enter the Cracker Stacker Bar!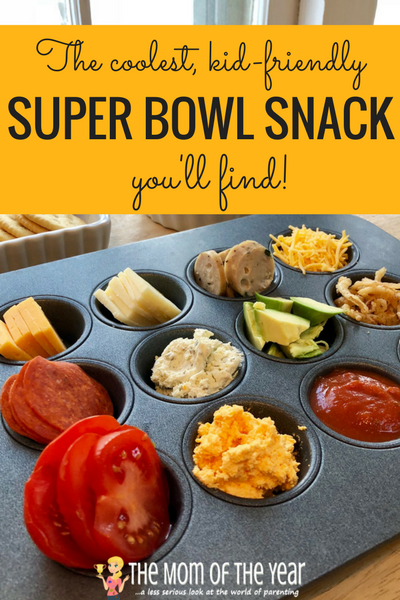 The prep for this Cracker Stacker Bar is insanely simple. And with lots of flavors, it's sure to quickly become a party favorite. Grab a couple muffin tins stuffed with a lineup of tasty spreads and toppings, pair with a basket or two of your favorite crackers, and let your team get to work!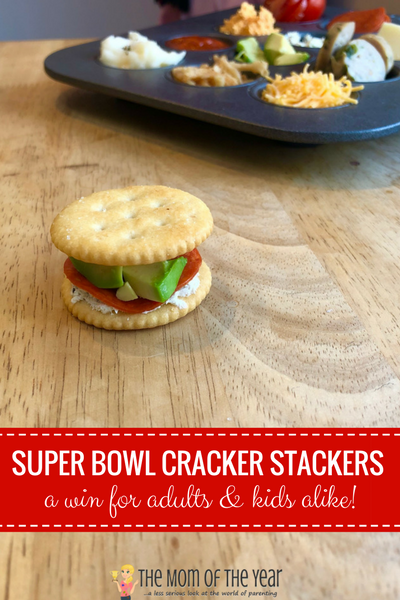 The tools you need for the Cracker Stacker Bar:
A couple of baskets for your cracker options
Muffin tins for your spreads and toppings
Small knives and spoons to stick in the muffin tins for serving
A cutting board and knife to cut your toppings into cracker-sized pieces
The food you need for the Cracker Stacker Bar:
Crackers: we usually offer a buttery choice (Ritz crackers are super!) and a gluten-free option
Spreads:

spreadable cheese
pizza sauce
hummus
cream cheese
BBQ sauce
peanut butter

Toppings:

pepperoni
shredded cheese
sliced cooked sausage
crunchy fried onions
sliced cheese
chopped peppers
dried cranberries
sliced grapes
jam
frosting
sprinkles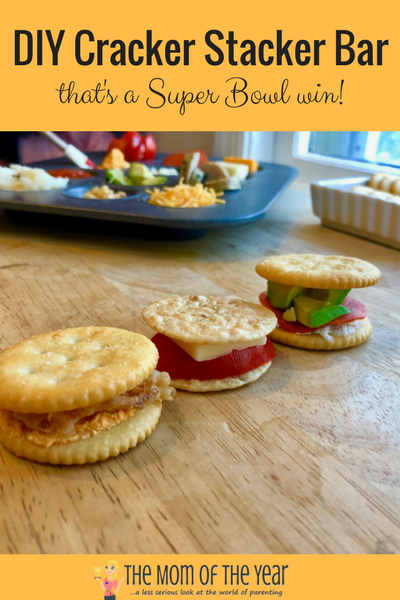 Clean up is a breeze–just toss the muffin tins in the dishwasher! And you can't beat how fun this Cracker Stacker Bar idea is–let your imagination run wild with the choices you offer. You can go savory, all sweet, or a combo of both. Our kiddos love challenging each other to try new flavors, which is always great experience for little ones.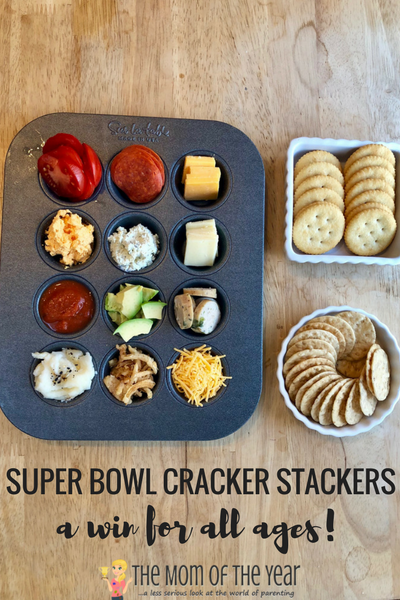 Now that you have the whole scoop on the Cracker Stacker Bar, get out there and win the Big Game with this idea!
The following two tabs change content below.
Heidi Rega
Heidi is a full-time mom to one spunk-tastic three-year-old, part-time nanny to 3 others, Publisher of Macaroni Kid Main Line, big time foodie, graphic design snob, and massive self-care advocate. With a professional background in food and beverage, and real world experience in what kids will actually consume, she ventures to bring you fun recipes that come "thisclose" to making everyone happy. We all know that it's an impossible feat; but this mom loves a challenge!
Latest posts by Heidi Rega (see all)