Well moms, it happened.  My son broke his elbow falling off his bike, and I was introduced to the world of having a kiddo in a cast. While I'm grateful it wasn't a worse break (remember when Meredith's son broke his femur bone and landed in a hip spica cast?!), not knowing how to handle a broken bone was unnerving! After his arm was casted, our doctor gave us three orders; don't get the cast wet, stay calm, and do not increase risks of falls.  Suddenly I was left with a high strung five-year-old with one functioning arm and my plans of endless pool and playground days came to a screeching halt.  Keep a five-year-old calm for a month?!  I had no idea what to do to entertain him for the next month.  Since this happened in the summer and it was hot outside, anything we did outdoors led to him complaining of his arm sweating, and who could blame him?  Over the course of the month, I eventually figured out some fun activities for kids in a cast to do that wouldn't hurt my son's cast or get him wet, and I'm here to share.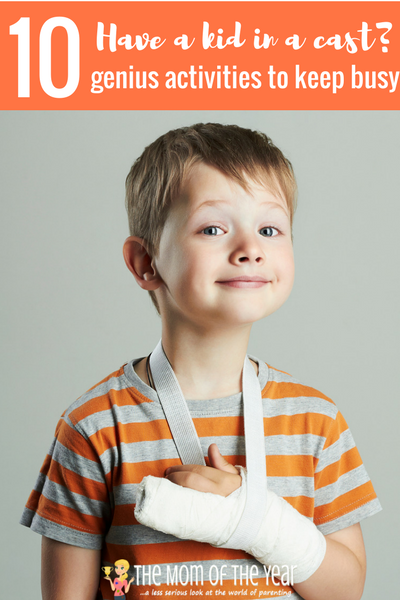 10 Fun Activities for Kids in a Cast:
Storytime– Fortunately, we have some fantastic local libraries and hit up all of the storytimes we could to get his energy out in an educational way.
Train tracks– This was an easy activity for him to build with one hand and kept him entertained for many days. Would also work for a kiddo who couldn't walk and had to stay seated or lie down.
Board games– We had quite a few board game days where we would play for hours! A sedentary activity, they were easy to do one-handed and kept my son's brain moving.
Train ride– We are lucky to have two railroads close to us, and taking a ride was the perfect day outing for a child with a broken bone.
Treasure/ Scavenger hunt– Take items and hide them around the house (or in a bin of sand/corn flour for those who can't walk), pretend to be a pirate looking for treasure and the frustration of a broken arm will soon be forgotten!
Zoo/Aquarium– Both of these are perfect for a child with a broken limb as neither is too physically strenuous, but they are still able to see all of the animals.
Farm– If there is a local farm nearby, see if you can go visit the animals or watch the farm equipment. We loved petting sheep and goats at our local farm!
Outdoor concerts- Usually at your local park, there are so many of these in the summer evenings when the heat of the sun has lessened. We loved to pack a dinner and listen to some tunes. 
Farmer's market- My son loved going to these with me in the mornings, especially since he had say over what was for dinner and got lots of fun free samples!
Movies- Special time at a movie of his choosing with popcorn really helped him forget about missing out on pool time with his friends. Check your local community site for a listing of free movies in the warmer months!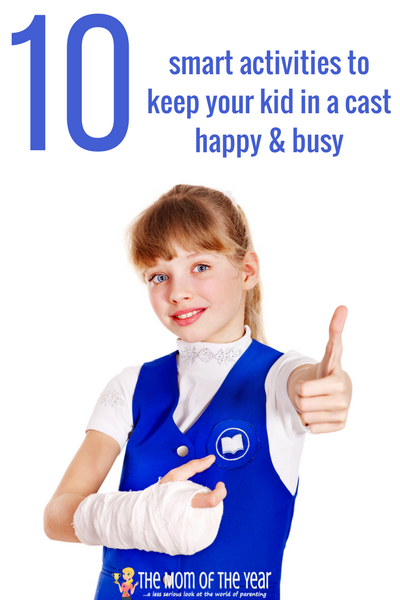 Let's face it; keeping a young child calm is no easy task for a parent no matter the weather outside.  These ten fun activities for kids in a cast really helped to not only keep him distracted from the fact that he was only able to use one arm, but also keep him entertained enough that he stayed busy and calm (per doctor's orders!) throughout the day.  If your child is stuck in a cast, try some of these to keep them amused without stress, mama!
The following two tabs change content below.
Lindsay Houser
When Lindsay isn't fielding three-nager temper tantrums and scraping Play-Doh off the floor, her passions are the great outdoors, cooking, creating, and healthy, holistic living.
Latest posts by Lindsay Houser (see all)