***Thank you to many of the brands featured in this Mom of the Year Christmas Gift Guide for sending me product for review and consideration. All opinions are 100% my own.***
What's this? The holidays are already here?? Alright, deep breaths, mama–we've got this. My junk drawer might be in atrocious form and I'm wholly unprepared for my high school reunion, but I'm pretty aces at Christmas shopping. The two tricks I've mastered: be organized about your shopping and buy the right things. How do you know what the right things are? That's where this handy dandy Mom of the Year Christmas Gift Guide comes in.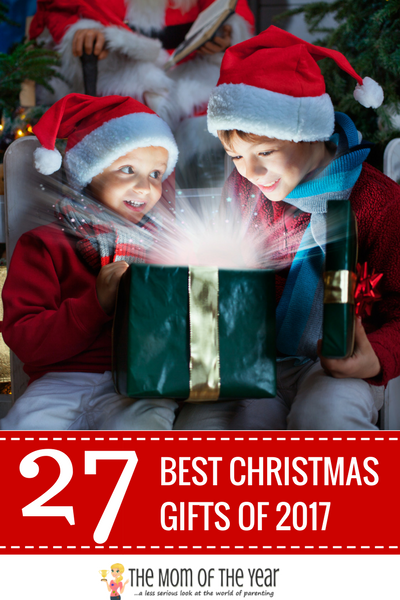 In my book, a gift is super if it's both slightly creative and available at a reasonable price. After spending scads of time combing through potential gift ideas on the market, I've wrapped up the best and brightest into one tidy little guide and am sharing the list here with you. You'll find the ideas organized by category: for kids, for book-lovers, for moms, and for the home. And then make sure to pay special attention at the end of this post: some items from each category are included in one super-duper giveaway! Enter and start crossing items off your list before you even brave the crowds to start your shopping.
The Mom of the Year Christmas Gift Guide?
Gifts for Kids:
Subscription boxes are all the rage, so it can be hard to sift out which ones are truly a win. When my kids met up with their Superpower Academy boxes, we were wowed! These at-home kits deliver hands-on STEAM (science, technology, engineering, art, and math) projects that encourage a growth mindset and social and emotional learning right to your door. The box of reading and maker activities is such a cool way to support the concepts promoted at my kids' school. A letter/magazine is also sent to parents to help explain the purpose and use of the boxes! Learn more at the website and make sure to enter the giveaway below because one of these boxes is included in it!
Lottie Dolls are such a neat gift your doll-lover! Far more than just a typical doll brand, 

Lottie

 is "Inspired by Real Kids" with the aim to represent all children regardless of gender, ethnicity or ability. It's range of dolls aim to empower children to be themselves, to be imaginative and adventurous, and above all, to have fun! They have a full line of STEAM dolls to geared to encourage development of these skills, and buildings and playsets are also now available for even more imaginative play! Wildlife Photographer Mia doll, Forest Friend doll, and the Bee Yourself clothing set is available in the giveaway below!
Edushape offers hands-down the BEST gifts you can give the little ones on your list. Their products are so mindfully crafted with purpose and intent to allow your baby or toddler have loads of fun while developing important life skills and/or early STEAM skills. The Water Cube engages hand, eyes, and mind in water and science fun, while the Curiosity Cubes encourage hand-eye coordination while children try to get the beads to where they belong in the four cubes of different skill levels. To help young ones build emotional awareness, the Feelings Friend is genius. This plush toy 

introduces facial vocabulary to encourage children to easily express their feelings while allowing others to understand how they feel, and works 

develop socialization, fine motor skills, logic and reasoning and tactile and sensory development. What a brilliant line of products to help your little ones grow!
Portable North Pole! PNP is a classic in our home and getting ready for Christmas wouldn't be as much fun without it! Gift the Santa fan on your list with personalized video messages and calls from the North Pole! You can even download a HD version of your video to keep for years to come, and there are special toys and gifts available on the site to celebrate the season even more!

Use this DISCOUNT CODE to save money on your PNP purchase!: PNP7BLG20

Please use this link to redeem the 20% off on your Video Pass :

https://www.portablenorthpole.com/en/?openCart=PAS02&promocode=PNP7BLG20
Please use this link to redeem the 20% off on your Magic Pass :

https://www.portablenorthpole.com/en/?openCart=PAS03&promocode=PNP7BLG20

Anyone else have a kiddo who loves to build and construct? These new Snaptite "Star Wars: The Last Jedi" kits are perfect for my Stars Wars-crazed little dude who loves to put models together! The hardest part? Choosing which model to get for him! With a toy that is both challenging AND fun, I might just have to get all of them!
Have a very little one on your list? Give them the sweetest ride ever in the Huggs Baby carrier from Abiie! I remember struggling so much to find a carrier that was truly comfortable for my babies AND me, and I wish I would have had this! Huggs Contour is an innovative baby carrier built for versatility. Its revolutionary carrier booster seat not only provides all-day comfort, the ergonomic design ensures a healthy sitting position (frog-leg or M-position) for a growing baby. Huggs Contour is lightweight, yet rugged, and has been designed to deliver the very best ergonomics in every carrying mode, for both the parent and child–genius!
Who has a little fashionista on your hands? I remember those carefree days when my daughter was younger and I actually got to pick out her clothes. No more! Now my gal has to select everything herself–from dresses to jammies to play gear. I'm glad we found Jill Yoga, a fab brand of quality activewear that meets both her style requirements AND my price point–it's a win-win, so I'm happy to let her choose clothes from their wide, colorful selection for her wardrobe as she grows!
My kids LOVE building with magnetic pieces, and the new MagnaflexTM creative construction kits have been such a find! This brand inspires kids of all ages to flex their imagination and build anything they can imagine. Colorful kits include magnetic strips, connector pieces and an easy-to-follow instruction guide with project ideas including animals, vehicles, wearable accessories and more. Magnaflex unique shape and material allow kids to easily bend, zip, connect, or stack the magnetic strips together, and decorate with metal connector pieces that also add structure. This is a super gift for any child on your list!
Teletubbies! I am old enough to remember when these loveable creatures first touched down and delighted my younger sister. Fun to see these cuddly creatures return 20 years (20 years!!) later with the new releases: Teletubbies: Silly Fun and Teletubbies: Let's Sing & Dance! Shop for the little fun-lover on your list and make sure to enter below: a copy of each of these new DVDs–with a special stuffed doll!–are up for grabs below.
Gifts for Book Lovers:
Gifts for someone who loves to hang at home:
Gifts for Mom: (won't lie, this is my absolute favorite gift category and I give you full permission to buy and keep all of these things for yourself without any hesitation 😉 )
I would be absolutely lost without my Personal Planner. I have raved about this brand before and I'm still a sold-out fan. I love how Personal Planner incorporates such gorgeous style and creative options while allowing you to fully personalize each and every single page to your own needs and preferences. Take a minute to check out their fun accessories too–I splurged this year and snagged one of the gorgeous seafoam (my favorite color!) leather planner covers and I couldn't be more excited! Pop over and create your own (it takes only minutes!) or purchase a gift card for a friend and be her new favorite friend! Bonuses: a free planner is up for grabs in the giveaway below AND make sure to use promo code M-ERED-ITHS valid for 15% off until 12/10/17! Score!
What a find in Sweetflexx! Any mamas desperate to keep fit but finding little to no time for exercise, especially come this busy holiday season? Check out this genius: Sweetflexx invented a new concept in clothing by integrating resistance bands into leggings. This innovation provides a mild resistance to every step or movement, which creates a comfortable and fashionable way for busy women to burn extra calories and tone their legs while going about their day. This isn't just a concept either, Sweetflexx has been tested and proven by Yale University! These leggings allow women to look and feel better, without having to constantly go to the gym. Anyone else wildly waving their hands, "Sign me up! Sign me up!"? Sign me up for this brilliance, indeed!
Any other mama find herself in need of a backpack for herself? I'm not sure when exactly this need took root–somewhere in betwixt diaper bags, preschool minipacks and our current elementary school backpacks designed to heft a weighty ton of library books and homework, but on those rare days we can escape to the zoo or an amusement park, I'm not keen to sport a Shopkins pack for the day. I found myself seeking something sturdy, large and with pockets aplenty for all the accouterments of a day out with kiddos. Enter Sydney Paige. While Sydney Paige does have packs aplenty for kiddos, they also have some cool designs for the mamas, and I am loving the backpack they sent. Even cooler? For every product sold, this brand donates another to a student in need, right here in the U.S. Now that is awesome! Snag a backpack for yourself or your friend on the move–a total win, I promise!
What mama wouldn't appreciate a sweet little jewelry treat to help her feel just a little bit fancy? I am so tickled by the KIS line at Boscov's. So many lovely items at such fantastic prices–it's easy to find something that's a win for all the ladies on your list. KIS offers feel-good jewelry that inspires and motivates you. Check out their selection and cross off the gals on your list with ease! 
I'm closing this Mom of the Year Christmas Gift Guide out with one of my favorite all-time brands, Elisabethan! If you've been following along with me for any amount of time, you know how very much I adore the eco-friendly mindful efforts of this clothing line, which works to not only protect the earth but provide meaningful jobs for women in the process. Their new cashmere accessories and baby booties are so sweet, and don't forget how much this company loves doing custom orders with your personal, special t-shirts, etc. (I would die to have them make something with my old band tees–my heart!). Also, you can always request custom sizing! Elisabethan is the most personable brand I've ever met up with–they want to work with you. Don't be shy about asking for what you need!
I'm also loving these marble phone cases from Velvet Caviar! They are so pretty and unique, and there is such a wide selection!
What's a mama to do with all this crazy holiday business? Take heart and game plan like a beast! We can do this, friends! Use this handy dandy Mom of the Year Christmas Gift Guide to sort your shopping the smart way, and make sure to enter below to snag some of these fantastic gifts for free! Time to tackle the chaos smartly!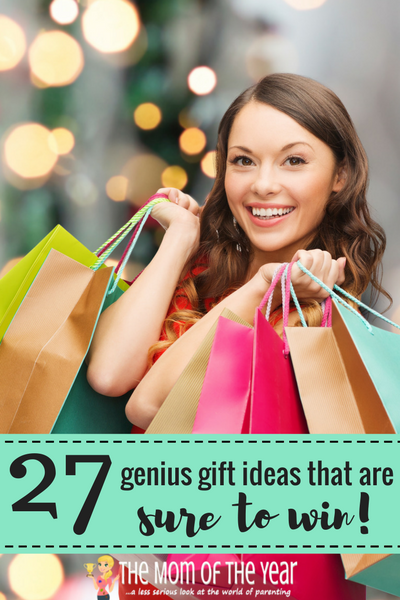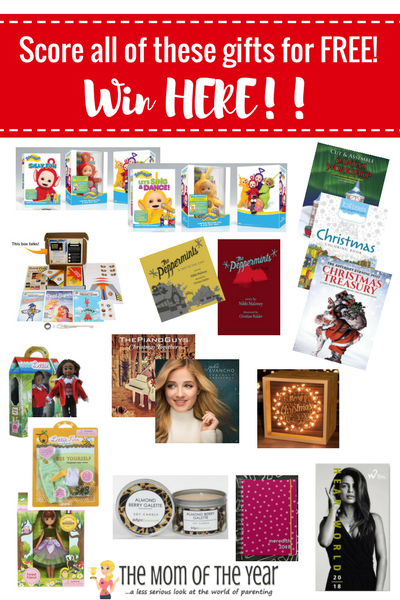 The following two tabs change content below.
Meredith blogs at The Mom of the Year, where she dedicatedly earns her title one epic parenting fail at a time, offering quick, relatable laughs for fellow parents and all their empathizers. She has been part of several best-selling anthologies, featured on prominent sites such as Huffington Post, In the Powder Room and BlogHer, and loves her role as the Executive VP/Operations Manager of The BlogU Conference. When she's not breaking up fights over Legos and juice boxes, she remains fully committed to sharing a less serious look at the world of parenting.