That chill in the air is here to stay, and with it comes rumbly tummies, and bodies needing warming. In our house, reaching for a can of soup is usually met with a chorus of groans and eye rolls, and half of the time, we're hungry an hour later. While it may taste fine, it's generally lackluster, and unless it's full of recognizable character pasta noodles, the kids want nothing to do with it. This got me thinking. Why don't we love it? Canned soup is convenient and typically healthy…so, what gives? It's boring. That's right. It's simply not exciting, and here's an easy way to fix these soup hum-drums. Check out this DIY Soup Bar idea and win!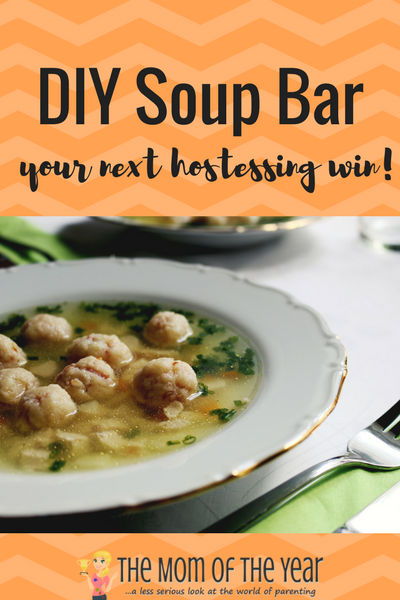 DIY Soup Bar:
The bar concept has been done for tacos, omelets, cupcakes–you name it–but soup has been left on the back burner (pun intended) for far too long!
First, pick your base. The broth or creamy base can be store bought or homemade depending on how much time and energy you want to spend. Maybe you just choose one you all like for family nights, and up your game to all three if you're hosting a crowd.
Go-to bases:
Creamy Chicken or Mushroom
Clear Chicken or Veggie Broth
Tomato
Next you need mix-ins. The possibilities are ENDLESS, and can be adjusted to include your family's favorites, and, better yet, to include some of the leftovers hanging in your fridge! It's amazing how easy it is to transform last night's leftover chicken breast and potatoes into a brand new meal they'll love.
Our fave mix-in's:
Roasted Root Veggies (potatoes, carrots, parsnips)
Shredded Chicken (no leftovers? Grab a rotisserie chicken from your grocery store!)
Pre-cooked cheese or meat tortellini
Pre-cooked short pasta (orzo works perfectly!)
Defrost a cubed carrot, green bean & pea medley
Pre-cooked rice (those heat and eat packages do the work for you!)
Chickpeas
Pre-cooked meatballs
Crumbled Bacon
Sour Cream
Chopped scallions or chives
Croutons
Dish up your ingredients in individual serving bowls while the pot of your base or broth simmers on the stove. Let everyone run down the line choosing their favorite mix-ins, then ladle your liquid on top! Garnish with any of your favorite toppings. We love a dollop of sour cream and basil on any of the tomato based soups.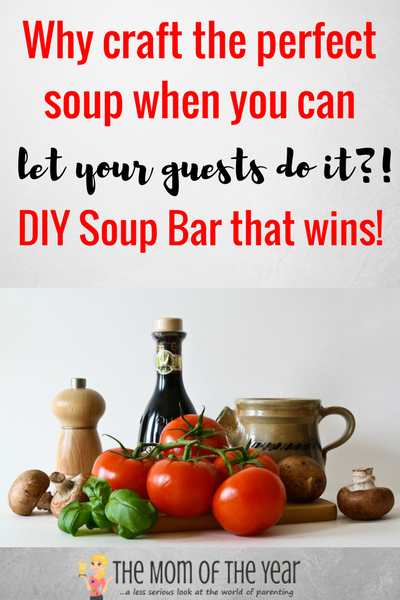 Genius Combos for your DIY Soup Bar:
Shredded chicken, orzo and basil in a creamy tomato base
Roasted veggies with cheese tortellini in a veggie broth
Shredded chicken and rice with mixed veggies in chicken broth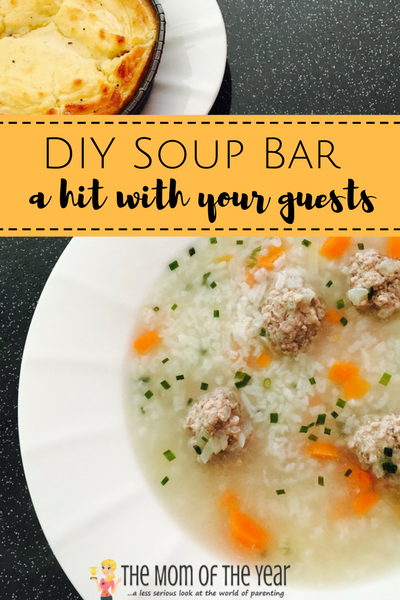 The DIY Soup Bar is a fun, creative way to host a lunch, craft a brunch station, or just amp up the fun on Soup Night at your house. Make it casual and have everyone ladle out their own broth or set up a full buffet to serve the masses. Hosting a baby or bridal shower? The DIY Soup Bar ensures you can customize to satisfy vegetarian, gluten free, and dairy free guests with ease. Round out the meal with a lovely salad
and quiche if you're feeling fancy. Above all, enjoy!!
The following two tabs change content below.
Heidi Rega
Heidi is a full-time mom to one spunk-tastic three-year-old, part-time nanny to 3 others, Publisher of Macaroni Kid Main Line, big time foodie, graphic design snob, and massive self-care advocate. With a professional background in food and beverage, and real world experience in what kids will actually consume, she ventures to bring you fun recipes that come "thisclose" to making everyone happy. We all know that it's an impossible feat; but this mom loves a challenge!
Latest posts by Heidi Rega (see all)