Like many parents, I want to feed my children the best food possible. We live in a world with artificial this, genetically modified that, and when you look at food ingredients and how items are produced it can be alarming! For that reason I strive to buy as much organic food as possible. Buying all organic sounds easy, but when you actually sit and tally the difference between conventional foods and organic, the price is staggering! Fortunately I have found warehouse stores sell organic food for a far more reasonable price than typical grocery stores. It is no secret I have a love affair with warehouse shopping, not only can I find so many quality foods and brands, but everything is sold in nice large sizes so I needn't tackle food shopping every single week! Here are the top 12 budget-friendly organic items you can find at warehouse stores while keeping your finances in check. Yes, my friends, you can save money and buy organic at the same time!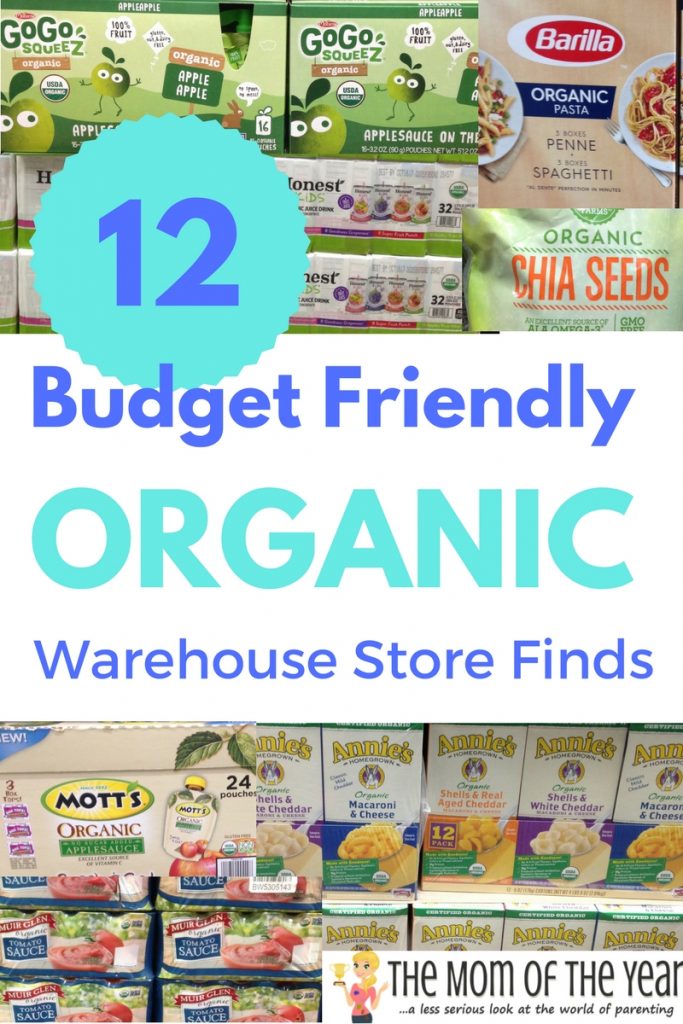 Top 12 Warehouse Store Budget-Friendly Organic Finds:
Coffee. Obviously a necessity for us moms! At warehouse stores, you can even snag some brands suit a Keurig.
Frozen Fruit. Smoothies are a staple in our house, especially for school mornings when we are rushing around. The budget-friendly organic finds of bags of fruit sold at warehouse stores keep us stocked up.
Applesauce. If you have kids, you know about their obsession with applesauce. The squeeze packs are perfect to throw in your purse for running errands with the kids and since many warehouse stores almost always have a coupon for applesauce, you can save even more than the the discounted retails price!
Greens. Warehouse Clubs sell such huge containers of spinach and salad, and they last us for well over a week.
Oils. The two oils I use in our home are olive oil and coconut oil, both of which can be found organic at most warehouse stores.
Classroom Snacks. If you have a child in preschool like me, you have to bring in a snack every month and for 10+ kids it can be expensive! Fortunately, the bulk sized options can cover two full months of snacks in one trip. Our classroom snack staples are organic gummies, popcorn, and juice boxes. Now I can feed all of the children in the class healthfully while sticking to my budget. Score! 
Tomato Products. I use tomatoes in so many cooking dishes, but making my own sauce is time consuming. Warehouse stores make it easy to find all types of organic tomato products for a reasonable price.
Pasta. On busy nights, I need something quick and easy to feed the kids that is also filling. Pasta is a lifesaver for hectic nights, and tastes great paired with the tomato sauce mentioned above!
Baking Products. When I find time to bake, I love using healthy organic recipes. Warehouse clubs always have the ingredients I need in large enough sizes to make extras. Sweet!
Peanut Butter and Jelly. My pantry lunch go-to. Both peanut butter and jelly are sold in sizes large enough to last us the month. Sold!
Milk. Many warehouse clubs carry organic milk in varieties from fat free to whole and even carry organic milk boxes for on the go.
Sides. Making a healthy side with our dinners is an essential for our family, especially when my son is refusing to eat his meat and vegetables! Warehouse stores carry 3+ lb. bags of brown rice, quinoa, and even macaroni and cheese. Doesn't get easier than that!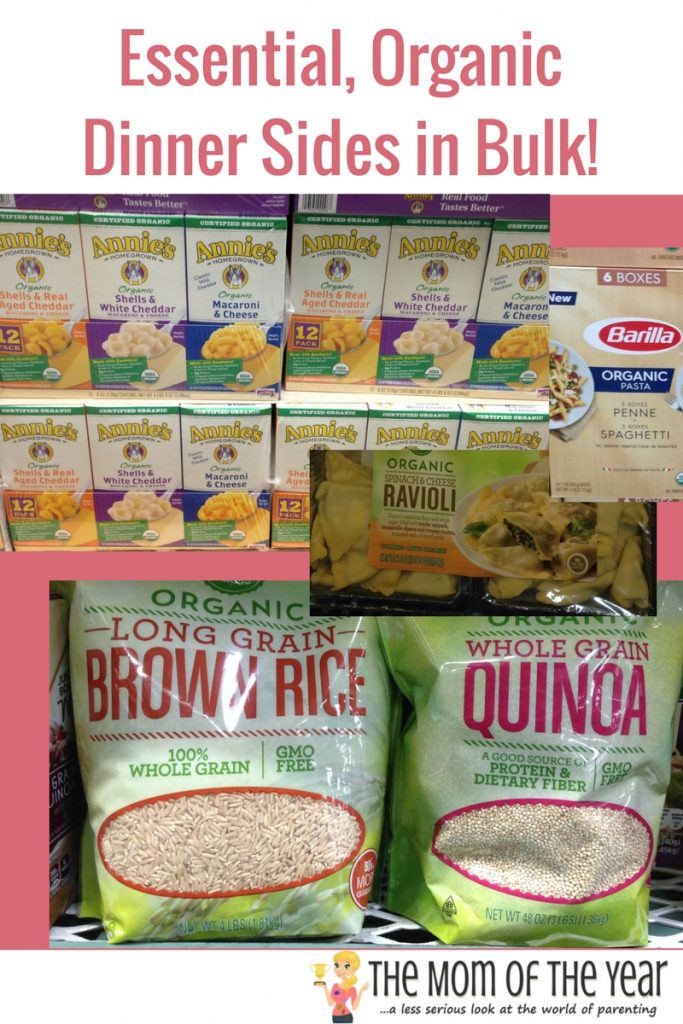 Organic foods are becoming more readily available and filling up the shelves at warehouse stores. The best part? Becoming a member of these stores is so easy and you then receive access to coupons and extraordinarily priced organic items. Forget spending an entire paycheck to feed your family organic, warehouse stores are here to help you save while you snag the healthy foods!
The following two tabs change content below.
Lindsay Houser
When Lindsay isn't fielding three-nager temper tantrums and scraping Play-Doh off the floor, her passions are the great outdoors, cooking, creating, and healthy, holistic living.
Latest posts by Lindsay Houser (see all)