I am a planner by nature. I love planning ALL the things. Birthday parties, family celebrations, cookouts, vacations…you name it, I love to plan it. I love being creative, searching for deals, and creating an event that is memorable AND affordable. So, when my kids came along and I was able to start planning birthday parties for them, I was pretty much over the moon. But then? Then the unthinkable happened. After years of fun, girly themed parties, my daughter asked to skip the big party this year in lieu of a sleepover. A SLEEPOVER PARTY. What in the world?!? What about my weeks of planning and executing an elaborately themed shindig for the masses? Also, ARE YOU CRAZY? A bunch of 9 year old girls (NOT) sleeping over? For a whole night??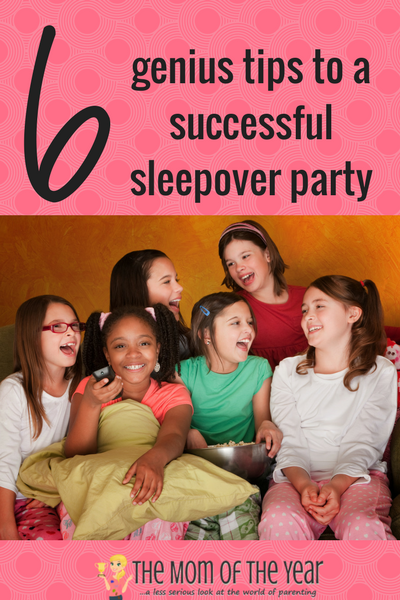 I stalled. I worked hard to sway her with other ideas. And then finally…I caved.  I mean, my girl is truly such a good girl and if this is what she wanted, we (me, the husband, and, maybe a bottle of wine…) ultimately decided that it was worth a try.  Being a planner by nature, I jumped right in and got to organizing.  I'd heard horror stories from friends: kiddos staying up until morning (I need my sleep), kiddos breaking off into groups and not getting along (I want this to be fun, not upsetting to anyone), and the list goes on.  While there is no guarantee that these things wouldn't happen, I felt if I had a plan in place, it was possible the party would go off well and I could overcome my fear of sleepovers.
The result? I'm happy to report that the party was a raging success! Truly. Honestly, it surpassed my wildest dreams and re-confirmed for me that my daughter and her friends are the sweetest. So what made it such a win? With a little pre-planning, these 6 tips could make a big difference for your sleepover party, too!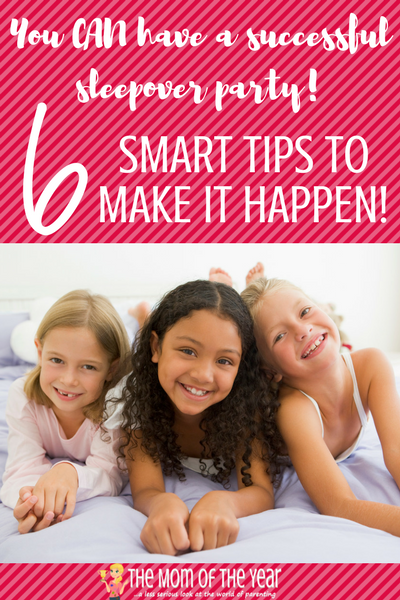 6 Must-Dos for a Successful Sleepover Party:
Limit the number of kids. This is a make or break issue. Kids like kids–lots of kids. All of the kids. But when it comes to a sleepover party, less truly is more!  The smaller the group, the more likely they are to interact well and stick together as a group.  By limiting the number of attendees, I was hoping to prevent was small groups breaking off and doing their own thing. We decided on six girls total: my daughter plus five of her friends. She thought long and hard about her list and chose the group of girls that she just couldn't imagine celebrating her birthday without. In the end, all of the girls were able to come, and all of the girls spent the night laughing and giggling.
Set reasonable drop off and pick up times. There's a fine line between not enough time and WAY too much of a good thing! Our sleepover party began at 5:30pm on a Friday evening. We figured this would give the girls time to relax and regroup after school, but at the same time not make the evening too long. The girls arrived, we had dinner, did some activities (more on that soon), had dessert, and headed to bed. In the morning, we set pick up for 10:00am. Sure, the girls loved to have played together all day, but as I said, there too much of a good thing is too much of a good thing! When the girls woke up they played, had breakfast, played a little more, and then it was time to pack up. Fun was had by all and we ended it before the honeymoon bliss came to an end!
Plan a good mix of activities and "free time". My daughter and I talked through what SHE wanted the evening to look like, and together we came up with a plan. We decided on dinner, a craft, play time, a movie, and s'mores over the fire pit. We set a loose schedule, and once the girls had all arrived, we ran down the list with them. Then, as we moved from activity to activity, they knew what to expect and were excited to move on to the next event. I truly think this pre-planning is what made the party run so effortlessly.  Yes, we made sure the girls had time to just play and do their own thing, but they didn't have so much unstructured time they got bored/argued/missed home/etc.
Consider "banning" electronics. GASP. I know, I know. But you know what's really cool? My daughter (she's 9, and this isn't the first time I've boasted her ability to teach ME a life lesson) requested that I ask (on the invitation, even!) that all the girls leave their electronic devices at home. While I had NO problem with this, we did have a good talk about why she wanted this. She explained that since she was inviting her closest friends, all she really wanted out of the night was a time to talk and have fun together, and she didn't want anyone to be distracted from that goal. Done and done! It worked like a charm.
Set a bedtime. Ok, so even I had a hard time believing this, but setting a bedtime worked! Once the girls started their last activity for the night (a movie), we explained that bedtime would immediately follow the movie. My husband and I were watching a movie of our own upstairs when the whole gang came scrambling up the stairs, toiletries in hand.  I asked them what was wrong and was met with confused looks. They said, "The movie is over, so we are coming up to brush our teeth." Well, then…!  So they brushed their teeth, filed back downstairs, and climbed into their sleeping bags.  We said goodnight, turned out the lights, and (ready for this?) they went to bed.  The girls slept soundly, so we did, too.  Again, I think this comes down to knowing the schedule. They knew what to expect, so they followed the plan.
Have reasonable expectations. Kids are kids. Whether you are hosting a sleepover for 6 year olds, 8 year olds, or 12 year olds, they will be silly. They will be loud. They may bicker. They may even be a little homesick. But if you plan things out, and they (and you!) know what to expect, they will have FUN. And isn't that really what it's all about? At the end of the day, a little noise never hurt anyone. Let the kids be kids. Expect them to not be perfect. But know that they will LOVE their time together. And your child will LOVE that you gave him or her this experience.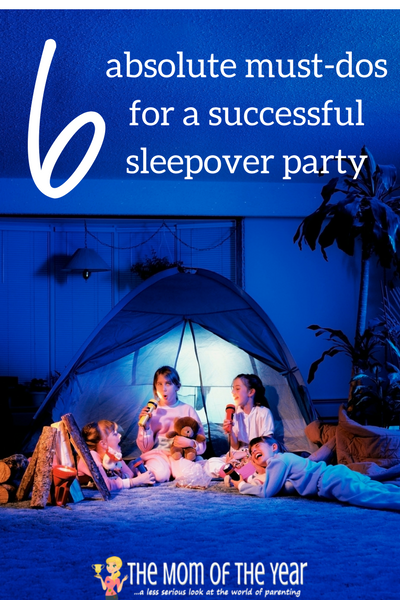 There is no key to a perfect sleepover party. Things happen. Kids will be kids. But keeping these 6 smart must-dos for a successful sleepover party in mind will help you to plan an event that is both fun and manageable. And, heck, you just might be open to doing it again!
First image credit: depositphotos.com, Image ID:40721437, Copyright:creatista
Second image credit: depositphotos.com, Image ID:4780393, Copyright:monkeybusiness
Third image credit: depositphotos.com, Image ID:31755911, Copyright:DesignPicsInc
The following two tabs change content below.
Amy Waltermyer
Amy is an English teacher turned stay at home mom to her three amazing kiddos, ages 10, 8, and 4 months. She has been married to her very own Superman for over 12 years and loves riding this crazy roller coaster of life with him. After getting the "big kids" to their various activities (soccer, and hockey, and dance…oh my!) and loving every second of being back in the baby stage, Amy still finds time to work as an educational consultant, focusing on ACT/SAT test preparation. If there's time after that (HA!), she enjoys going for long mind-clearing walks, reading, and binge-watching anything on Bravo. Amy enjoys traveling with her family and spending time with friends…making memories one crazy adventure at a time!
Latest posts by Amy Waltermyer (see all)