Visiting the American Girl store in New York City is a yearly tradition in our house. My mom and I started taking my daughter for her birthday when she turned five. The first year we went, I was totally overwhelmed! How would we get there? (I'm not a fan of city parking OR city driving!) What would we do? (Do you really spend hours on end in one store?) Is it really as crazy crowded as people say? (Waiting in a long line to get a doll's hair done?!?) In the five visits since we began this tradition, both my daughter and I have learned a lot about what makes an American Girl visit successful and fun for both of us.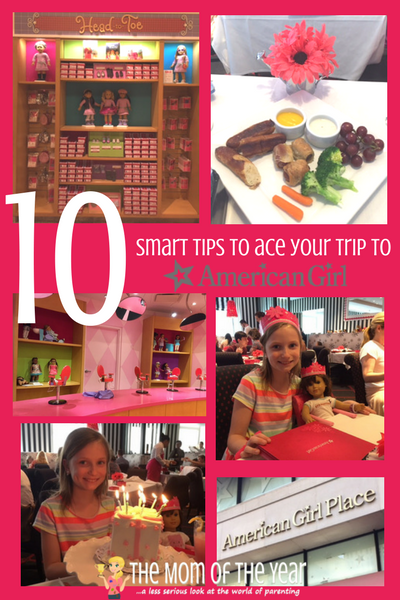 6 Tips from a Mom to Ace an American Girl Visit:
Timing is everything. Before our first trip, I was terrified by the stories I'd heard about crazy long lines and crowds in the store. The city can be overwhelming with crowds as it is, but crowds inside the store? No, thank you. We decided to go the Tuesday after
Memorial Day. My hope was people would have already headed home after the holiday weekend. We got to the store and it was empty. I mean EMPTY. We didn't wait in line for a single thing, and my daughter received lots of attention from the very kind store employees–one even scooped her up and offered to be her personal shopper for the day (more on that in a bit). So I strongly recommend a mid-week visit during the school year. (Yes, I pull her on a school day. She knows the drill: we play and have fun, but she makes up the work afterwards. She's only little once!)
Set a budget! It's easy to get eaten alive when you walk into the store. For the past several years, we have always gone with a budget in mind, but I will be the first to admit that somehow, that budget always seemed to climb by the time we were ready to check out. This year, we tried and new strategy, and it was FANTASTIC. My mom and I each gave my daughter an American Girl gift card to spend in the store. She knew that she didn't have to spend it all, but that also was as much money as she had. She was very thoughtful about her purchases and took the time to think through what she really wanted. She made a list. Added prices up. And then, she made an informed decision about how to spend her money. I'm pretty sure there's a bigger lesson in there than I had even intended!
Arrange to have a personal shopper. Every trip? Not necessarily. But the first trip? Yes! We did not set a personal shopper up ahead of time for our first trip but, as I mentioned above, the store was so empty that a shopper found us and took over the navigation of our day. She was pampered us and was so helpful. She talked to my daughter about what she wanted. She set up her doll's hair styling and ear-piercing appointments. The best part? There's a personal shopping lounge where we went to sort through my daughter's potential purchases and, eventually, actually make our purchases. We relaxed, played, and regrouped before beginning the trek home. And…did I mention there is NO ADDITIONAL COST for the personal shopper? It's a total win-win.
Schedule appointments as soon as you get there. Does your doll need an up-do? Her ears pierced? (I swear, my daughter's dolls get more personal care attention than I do!) Make the appointments as soon as you get to the store. I know what you are thinking: "Wait. I'm following your advice. I'm going midweek during the school year. You said the store is empty. Why do I need to be in such a hurry?". Well, that's exactly it. The store is empty. Empty store equals fewer employees working. Fewer employees means less available hairstyling and ear piercing appointments. So, while the store may look empty, it still could be a bit before someone can work on your doll.
Make it a lunch date! We love our lunches at American Girl. First, the setting is adorable. It's done in black, white, and pink. It's pretty, girly and fun. Every girl can eat with her doll (she can borrow a doll if she doesn't have one). Secondly, Second, the food isn't bad. The start with their signature mini cinnamon buns and then bring an assortment of child-themed appetizers. The menu varies from year to year and the food is always served in generous portions. Finally, they do a sweet birthday celebration. We always do the "party", even with just three of us. It includes a neat party bag for the birthday girl as well as a cute cake, complete with a big pink bow on top. While I wouldn't say that lunch is cheap, not much is cheap in the city. From the experience to the food to the service, it is well worth a lunch date! (Note: Be sure to call ahead for reservations!)
Pack your patience. It can be a long day. Like, really, really long. From travel time to navigating the city to painstaking decisions of what items to purchase to the long trek home, it's an American Girl visit is a tiring trip. However, it is well worth all the energy as both you and your daughter will remember and cherish your day for years to come. When it gets overwhelming, take a minute to pause and appreciate the joy and excitement through her eyes to remember why you are making the effort!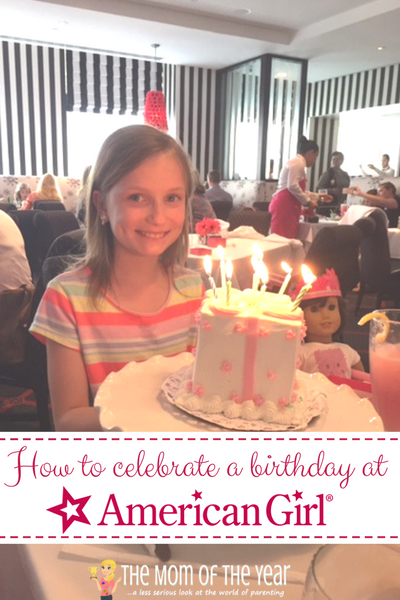 On our way home from our most recent trip, I told my daughter I would be writing a post about our day to help other moms and girls make their own special American Girl memories. Turns out, my gal had some tips of her own to share (and, if I do say so myself, they are pretty darn smart!).
4 Tips from a Girl to Ace an American Girl Visit:
DON'T go with a specific purchasing plan. The first few years we did this trip my daughter knew exactly what she wanted to buy. She didn't do a whole lot of looking around because she wanted to make a bee-line for the items on her carefully-crafted list. The last two years, she has gone with no agenda. She explained that she really loves window shopping and checking things out. She enjoys the process of deciding what she wants the most, and between you and I, I think she likes feeling like a grown up as she browses and then purchases new items on her own.
Take your doll along for the trip! While you certainly do not have to take a doll with you (I know moms, it is one more thing to pack!), my daughter says it makes the shopping experience more fun. She enjoys carrying her around, eating lunch with her, pampering her, and even trying out the products and clothes on her. (And from my point of view…it really is pretty cute watching her take her doll around with her all day.)
Make a list of future gift ideas. There's a big difference between seeing items in the catalog and actually touching and playing with them. My daughter explained that sometimes she sees things and loves them in person when they didn't even catch her eye in the catalog. Knowing her spending limit, she knows she can't buy everything she likes, so she makes a list of ideas to give people when they ask what she'd like for Christmas or her birthday in the future. (For me, this is fantastic. I'm finding as she gets older, gift ideas are much harder. This take a lot of the guess work out and allows me to get her something I know she will use and love.)
Wear comfy shoes. Live and learn, right? My girl says that comfy shoes are a MUST. Last year, we did a particularly crazy amount of walking, and her poor little feet were hurting (you know how it goes – adorable shoes equal total discomfort) I don't just mean tired feet, I mean red, sore, starting-to-blister feet. It was actually so bad we had to stop and buy her a new pair of sneakers! (To be fair, she had truly just outgrown her sneakers, so at least I didn't feel like I was just throwing out money). So, when helping your daughter choose her footwear for the day, go for COMFY above all else!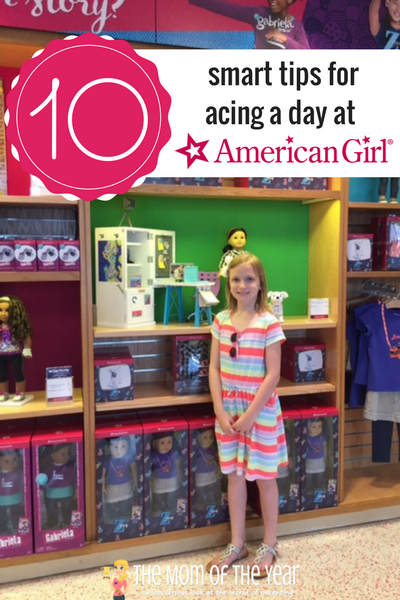 As with any new experience, visiting the American Girl store can feel totally overwhelming. I promise, though, if you have an American Girl-loving child, it truly is worth it. Plan ahead. Make a budget. And HAVE FUN! Even if you are not a doll person yourself, I'd venture to guess you'll have at least as much fun on an American Girl visit as your daughter!
The following two tabs change content below.
Amy Waltermyer
Amy is an English teacher turned stay at home mom to her three amazing kiddos, ages 10, 8, and 4 months. She has been married to her very own Superman for over 12 years and loves riding this crazy roller coaster of life with him. After getting the "big kids" to their various activities (soccer, and hockey, and dance…oh my!) and loving every second of being back in the baby stage, Amy still finds time to work as an educational consultant, focusing on ACT/SAT test preparation. If there's time after that (HA!), she enjoys going for long mind-clearing walks, reading, and binge-watching anything on Bravo. Amy enjoys traveling with her family and spending time with friends…making memories one crazy adventure at a time!
Latest posts by Amy Waltermyer (see all)