Summer is here with its endless outdoor fun for your whole family. This year, the weather has been unusually mild and rainy which naturally brings along with it so many of our nemeses…bugs! The wet weather and heat makes for perfect sanctuary for all types of insects, and we know the threat of disease some of these bugs can carry is scary. While you are loading up on bug spray this summer, take some time to dig some dirt and plant some of these amazingly beneficial plants to effectively deter even the most unwelcome guests from your yard. Read on to find out the natural way to get rid of insects from your backyard sanctuary!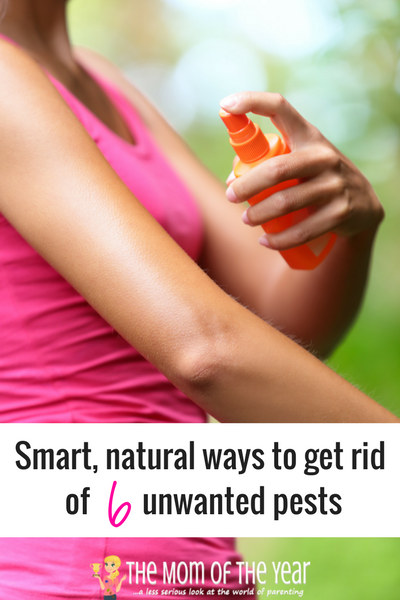 Get rid of insects the natural way with these plants:
Mosquitoes. Mosquitoes are perhaps the most infamous unwanted backyard guest. Alarmingly, mosquitoes can smell your skin from great distances so deterring them with strong scented plants can easily help keep them at bay. Lemongrass is a perfect contender to keep mosquitoes away as the oils of the plant are exactly what is used for citronella oil! Rosemary is another plant mosquitoes detest. Find some large pots and place rosemary around your deck or backyard to keep those biters away.
Ticks. As a person living in Eastern United States, ticks are seemingly impossible to get rid of and the threat of Lyme disease they carry is a real fear for so many people. I constantly hear people say they fear going outside because they don't want to have a tick attach to them. A great tip is to plant lavender around or throughout the perimeter of your yard to help deter these unwanted pests. Lavender releases a very strong scent that many bugs, including ticks, won't approach.
Carpenter Bees. For those of us with wooden decks, you know how annoying the buzzing and congregating of carpenter bees is! While these critters only sting if bothered, their flying around your head while you are trying to relax is not the idea of summer fun. Fortunately, planting peppermint and spearmint near their holes can help prevent them from coming back to the same location. The bonus is you can make some delicious mint tea for your summer barbeque with the same ingredients!
Japanese Beetle. These pests can easily destroy some of your most beautiful plants within a few weeks. Not only do they eat plants while in the beetle stage, but they also chow down on plants in the grub stage underground. Chives are a plant that Japanese beetles don't like to be around, so planting chives near other plants should help to keep them away. Take note that grubs are inside the ground, so you may want to plant the chives in the dirt versus a pot to benefit the full effects.
Ants. No one wants ants near their house because they seemingly multiply in seconds. Fortunately, chrysanthemum flowers are a deterrent for these little creatures. Be sure to plant them in the ground versus a pot to effectively keep ants at bay while they are digging.
Stink Bugs. The thought of these smelly little creatures makes me shudder! They somehow always manage to find their way into your home too easily. Ironically, despite their own strong odor, stink bugs do not like the smell of many plants. Planting mint, chrysanthemums, lavender and/or lemongrass can not only deter stink bugs, but the other above mentioned bugs as well!
Many bugs are beneficial and essential for our environment to run smoothly but no one wants them in or near your home. Head over to your local garden center and pick up some of these wonderfully beneficial insect-deterring plants and you'll be able to relax without unwanted pests in your yard. Get rid of insects the natural way this summer!
First image credit: depositphotos.com, Image ID:97353858, Copyright:Maridav
Second image credit: depositphotos.com, Image ID:45846097, Copyright:motorolka
Third image credit: depositphotos.com, Image ID:8700575, Copyright:antrey
Last image credit: depositphotos.com, Image ID:10906204, Copyright:lifeonwhite
The following two tabs change content below.
Lindsay Houser
When Lindsay isn't fielding three-nager temper tantrums and scraping Play-Doh off the floor, her passions are the great outdoors, cooking, creating, and healthy, holistic living.
Latest posts by Lindsay Houser (see all)