When I was a kid, I loved Valentine's Day. Leading up to it, my classmates and I would make mailboxes out of old shoe boxes or milk cartons and decorate them in red and pink. My mom would take me out to the store to pick out Valentines with Rainbow Brite or Care Bears on them. I'd carefully select which valentine would go to which friend, and happily deliver them at our class party.
Although one year, my mom forgot to take me out in time to buy Valentine cards. I was devastated! I couldn't understand how she could have forgotten (though now that I am a mom of four small kids of my own I totally get it!). My mom pulled out a ream of construction paper, a few paper doilies and a box of crayons and told me to get to work, and you know what? That was my favorite Valentine's day! I loved making my own cards and writing my own sayings. I was so proud to deliver my creations that year!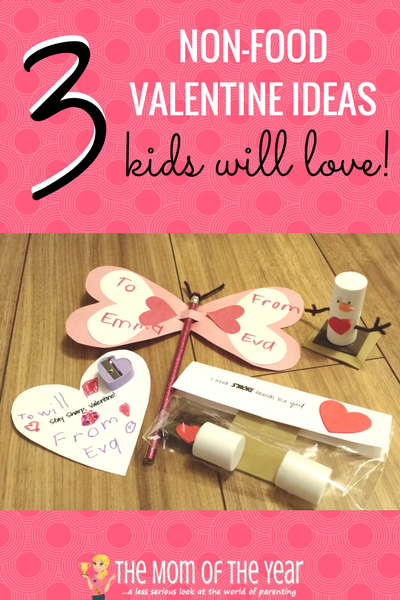 Since my oldest started preschool we've done handmade Valentines as many years as we can. We started simple with construction paper and crayons and got a little more adventurous by adding a lollipop or a piece of candy to the card. But since our elementary school has recently done away with candy on Valentines due to food allergies, we've had to get a little more creative finding fun non-food valentines.
3 fun DIY non-food Valentines: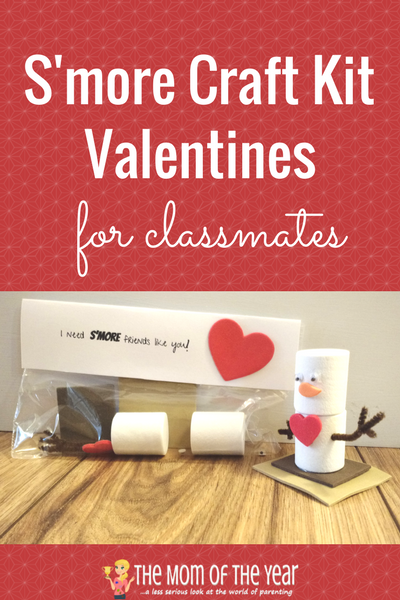 Craft Kit
I love the idea of sending home a little craft project for my kids' classmates. It gives them something fun to do after the excitement of opening all the cards has worn off.
To save a bunch of money on the kits, go shopping for supplies right after Christmas. I hit the craft stores after the holiday to shop their foam sticker crafts. Sure, most of what was left involved Santas and stockings, but this year I lucked out by finding adorable s'more person kits. Sometimes you'll also find a make-your-own snowman kit, or a decorate-your-own snowflake kit. These are great because after Christmas, they are usually 75% off a which is far cheaper than the newly stocked Valentine craft kits. As long as you can find a winter-themed kit that isn't necessarily Christmasy, go for it. Snowmen and snowflakes are still relevant in cold February!
For my s'more guy, I simply put the pieces in a small snack size baggie, printed out a label (with a fun s'more pun of course!) and attached with scotch tape.
These are great non-food Valentines for kids who may not love to draw and cut and paste. They can simply help you put the baggies together and tape on the labels!
Pencil Butterfly
Pencils are a great little gift when food treats aren't an option. My kids have a real talent for losing pencils! I don't know if it's just me, but we start out the school year with a few packs of pencils and by November, we're down to a few stubs with no erasers.
Putting two hearts together makes a quick butterfly shape. I cut out two hearts on their sides, leaving a rectangular section in the middle so I could insert a pencil. Once I had my shape cut out, I folded it in half and cut two small slits so I could add my pencil. After that, the sky's the limit as far as decorating your valentine. My seven year old added some paper hearts and wrote her to and from in pink marker. I slipped in the pencil, taped it in the back, and added some antennae to the top of the butterfly's "head." It came out pretty cute, right?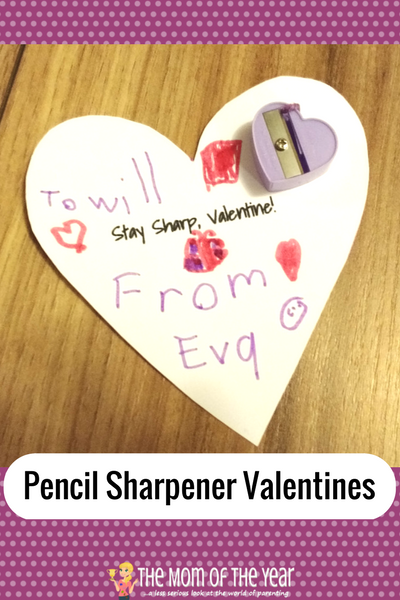 Stay Sharp, Valentine!
If your school is "no food" like ours, you know that your kids are going to come home with a lot of pencils, whether it's for Valentine's Day, birthdays, fall parties, winter celebrations, etc…so why not stand out from the crowd, and give out a pencil sharpener instead?
This Valentine idea is super simple and works well for younger kids. All you need to do is print out a saying, like "Stay Sharp, Valentine!" (can you tell how much I appreciate a good Valentine pun?). Then trace and cut out a heart shape. Have your child address the card and decorate with stamps, stickers, or drawings. When your child is finished, punch two holes and use a small ribbon or string to attach the pencil sharpener.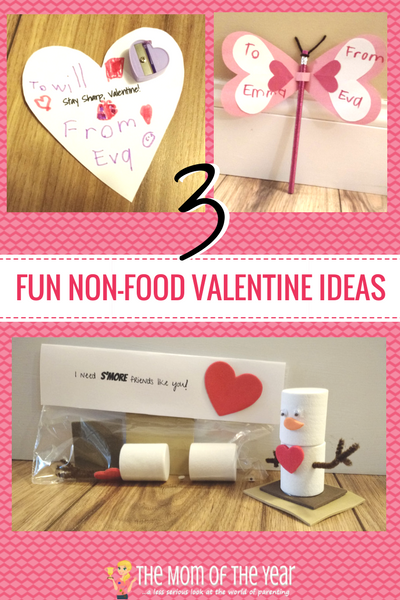 Will your kids be making Valentines this year? I'd love to see your ideas for non-food Valentines (or those with food!). Leave a comment with a picture of your child's masterpiece!
The following two tabs change content below.
Anne is a mother of four, a 10 year old boy and 6 year old triplet girls. Always looking for a creative outlet, Anne sometimes hijacks her kids' parties, projects, and costumes to get her fix. (Even though they'd rather have their party at a moonbounce place and their costumes from a store). She blogs at onceuponamom.net where she writes funny and sometimes poignant posts in the hopes of lifting up other moms as they travel the chaotic, beautiful road of mothering.
Latest posts by Anne Metz (see all)