I'm a summer girl to my core, but the stretch of time between Halloween and New Year's comes in a seriously close second as my favorite time of the year. It's chock-full of crisp air, time spent with family, friends, and yummy food. What's not to love, right? Well, with the chillier air comes a natural slow-down that always seems include my exercise routine. Add in all of that yummy food that we consume while catching up with loved ones, and suddenly my pants are a feeling a bit tight.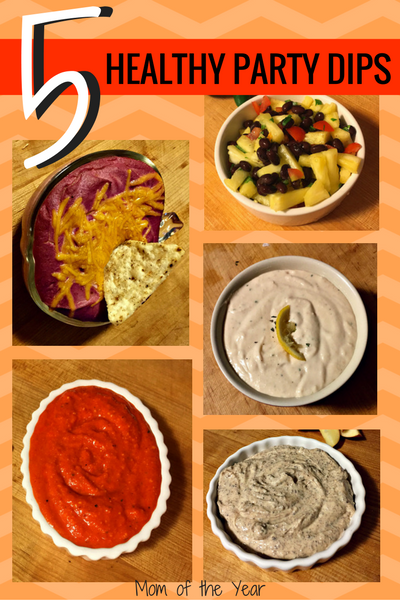 I've found that offering to bring something to a gathering is usually met with, "oh, just bring a dip or something." Fast forward a bit to me carrying something gooey and cheesy through the door. While it's always tasty, it certainly isn't helping my waistline when I inevitably scarf down a third of it heaped onto some kind of fried chip. And all of that before dinner is even served!
Can't we find a balance that lets us snack and chat without adding a few pounds to the bottom line? We can! We did! These healthy party dips fit the bill. And they're so easy to make, you'll never look back.
5 Healthy Party Dips that Will Be a Hit:
Parmesan Roasted Red Pepper Dip
Combine one jar drained roasted red peppers, ½ cup of white beans, 3 garlic cloves, ½ cup of aged parmesan cheese, drizzle olive oil, salt and pepper in a food processor and blend until smooth. Serve with veggie dippers and whole grain pita points.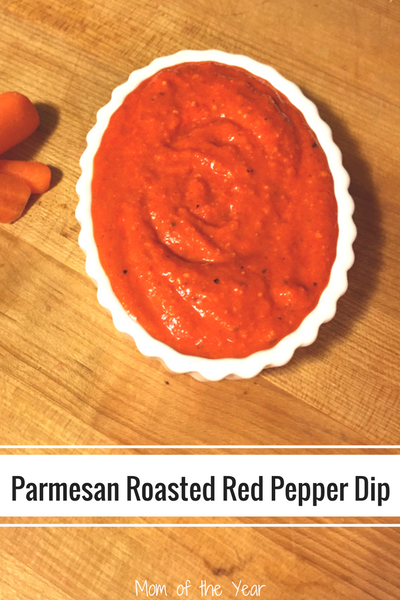 Rosemary Lemon White Bean Dip
Combine one can of drained and rinsed white beans, the juice of one lemon, 4 garlic cloves, 1 tsp of fresh minced rosemary, drizzle of olive oil, salt and pepper in a food processor and blend until smooth. Serve with baked pita chips, and fresh veggies.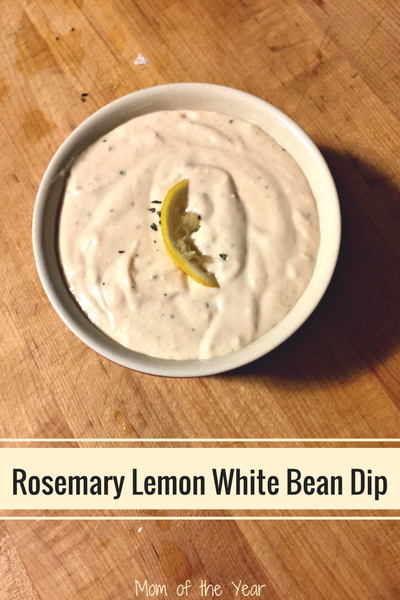 Pineapple Black Bean Dip
Combine half of a diced pineapple, ½ can of drained and rinsed black beans, the juice of half of a lime, sprinkle of onion powder, a handful of chopped cilantro, salt and pepper in a bowl. Stir and let stand to combine. Serve with baked tortilla chips.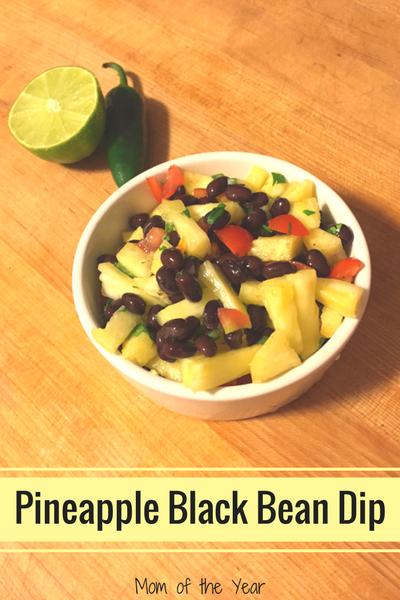 Tex-Mex Purple Cauliflower Dip
Combine a head of steamed and cooled purple (or regular) cauliflower, 1 cup of plain non-fat greek yogurt, 1 ½ tbs taco seasoning, ½ cup shredded sharp cheddar cheese, 1 tsp hot sauce. Sprinkle with additional cheese, and bake for 20 min at 350 degrees. Serve with baked tortilla chips, veggies, or pretzels.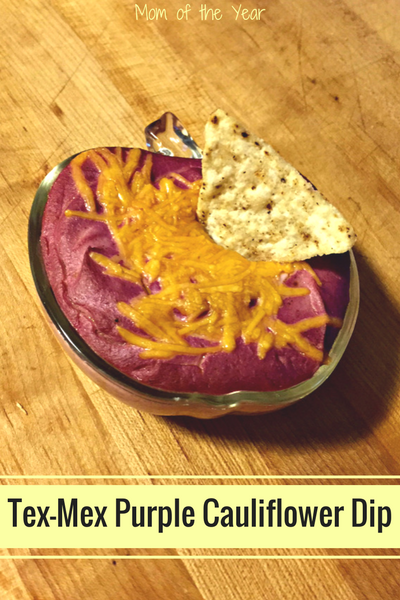 Creamy Chocolate Peanut Butter Dip
Stir together 2 cups of nonfat plain greek yogurt, 3 tbs powdered peanut butter, 2 tbs cocoa powder, and 1 tsp honey. Serve with fruit for dipping.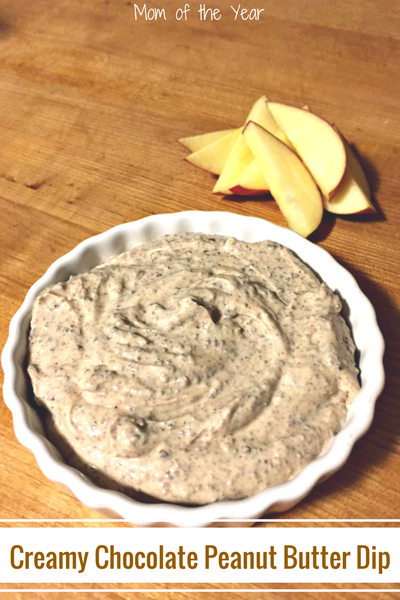 Not only are they tasty, but these healthy party dips whip up super-fast so you'll be out the door to your family gathering in no time. Have leftovers? The pineapple salsa makes an awesome topping for fish or chicken tacos, and the parmesan red pepper dip is fantastic as a spread for sandwiches and wraps.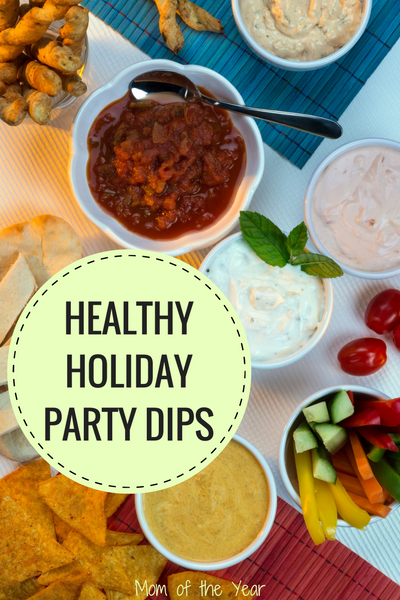 Now, go get your healthy holidays!
Last image credit: depositphotos.com, image ID:73937645, copyright:Steve_Allen
The following two tabs change content below.
Heidi Rega
Heidi is a full-time mom to one spunk-tastic three-year-old, part-time nanny to 3 others, Publisher of Macaroni Kid Main Line, big time foodie, graphic design snob, and massive self-care advocate. With a professional background in food and beverage, and real world experience in what kids will actually consume, she ventures to bring you fun recipes that come "thisclose" to making everyone happy. We all know that it's an impossible feat; but this mom loves a challenge!
Latest posts by Heidi Rega (see all)