It's a new milestone in my house: all four of my kiddos are in school all day! Last year my triplets started kindergarten, and that was manageable. They were only gone for half the day, so I didn't miss them too much and I didn't have to pack their lunches! Plus, they were in the same class so it was pretty easy to keep track of who needed their library books, gym shoes, etc. But this year, the triples are gone all day along with their 5th grade brother, not to mention I decided to split them up into different classes. This is great for them, but challenging for me! Now I have four different schedules, four different teachers to communicate with, and four separate homework assignments to manage. So, it was time to get organized with a command center!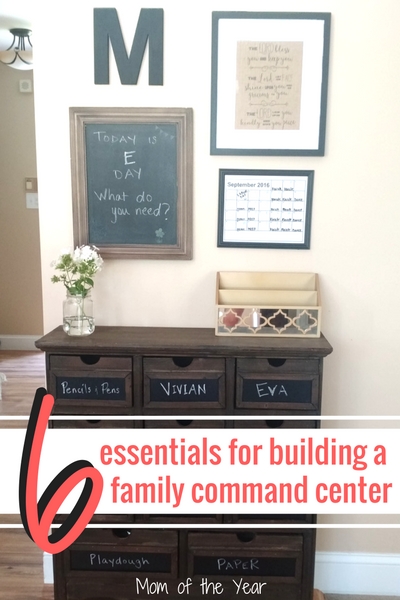 Interested in creating one for your home to help control your own chaos?
The six essentials you will need to set up an effective command center: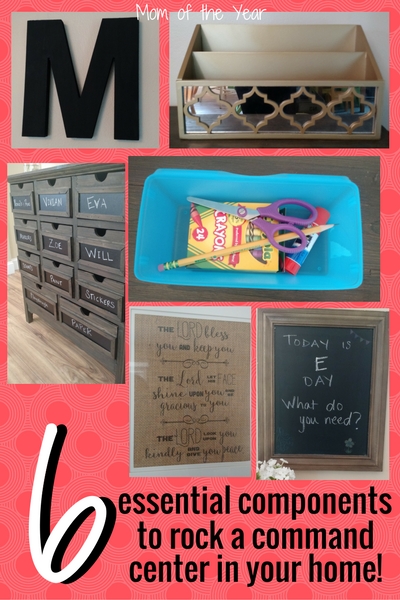 Storage
I had a blank wall in my kitchen that I decided to use to bring some order to our school routine. The first thing I wanted was a cabinet of some sort to stow homework supplies. My original plan was to find an old dresser and repurpose it for homework storage, but I struck out on the yard sale sites so I had to buy something new. When I walked past this cabinet, I knew it was perfect for us! It was just the right size and has chalkboard paint on each drawer for easy labeling. I assigned each of the kids their own drawer. In their individual drawers, there are bins that hold everything they need to get their homework done. The other drawers hold our family arts and crafts supplies.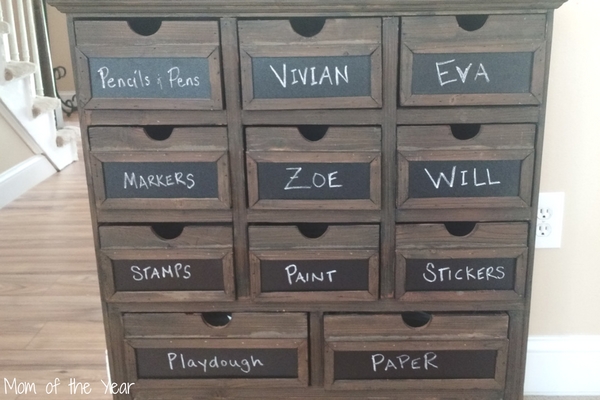 Homework Supplies
Last year, I would haul out a bin of crayons, markers, and pencils and plop that on the kitchen table but it was hard for all the kiddos to reach it and use it at the same time. I also have one kid who likes to snap crayons in half for the fun of it! So, I figured it would be best to give them each their own set of supplies. Also, my kids are each involved in different activities so they might end up doing their homework at different times. So, when it's their turn to do homework, they simply grab their bin from their drawer (and only my little crayon snapper will have to deal with those broken crayons!)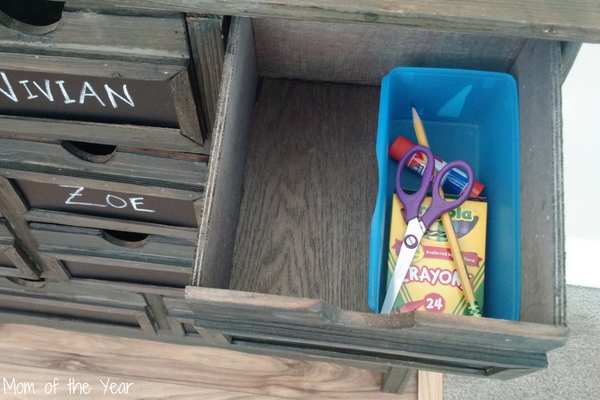 Calendar:
This is an obvious command center essential. We all need to know what day it is and more importantly, what we are doing that day. In an effort to encourage my triplets to focus on being their own person and not just part of a set, I allowed them each individually to choose one after school activity. In my mind, I was pretty sure at least two of them would choose the same activity and I was also convinced that they would choose something short term, like a 12 week soccer league. But instead, the girls each chose a different year-round activity, so it's been super confusing remembering who has what activity on a particular day. The calendar is a great way to quickly see where we need to be after school.
The calendar also helps us know what "day" it is. My kids' school runs on an A through F day schedule. Each kiddo has a different "special" (gym, library, art etc…) depending on what "day" it is. We mark this on the calendar so the kids can know what their special is and get what they need in their backpacks.
Chalkboard or Whiteboard:
I went with chalkboard because they are so very in right now! For now, the chalkboard reminds the kiddos of the letter day at school, but I also use it for other reminders about events coming up at school to keep us all on track.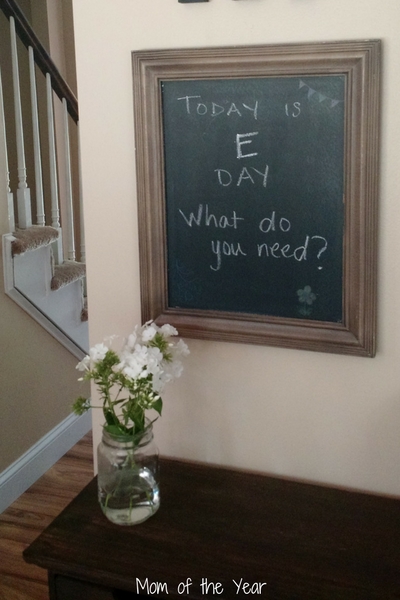 Paper Organization:
My kids' school has gotten so much better about digitizing a lot of paperwork, but let's face it, no school is completely paperless. With four kids in four different classes and in four different activities, I am sometimes completely overwhelmed with permission slips, registration forms, and notes from teachers. I love this stand up file I found; it's a great way to stash all the paperwork from school that I need to attend to.
Decorative Extras:
Because this command center is in my kitchen and can also be seen from my family room, I wanted it to be pretty as well as functional. So I added our last initial (just an inexpensive wooden letter I found and painted black), framed one of my favorite blessings, and added a few flowers from our garden.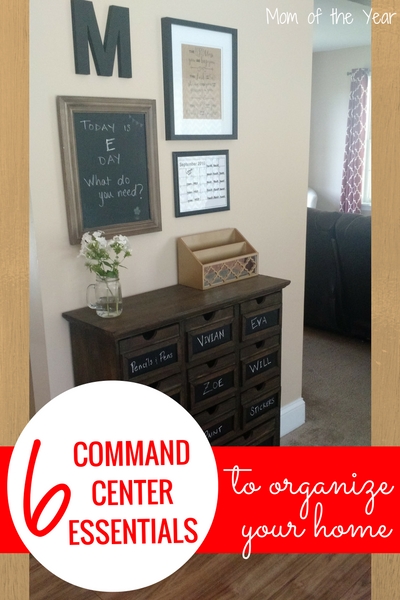 Do you have command center in your house? I'd love to hear how you designed it and what the essentials are for your organized space!
The following two tabs change content below.
Anne is a mother of four, a 10 year old boy and 6 year old triplet girls. Always looking for a creative outlet, Anne sometimes hijacks her kids' parties, projects, and costumes to get her fix. (Even though they'd rather have their party at a moonbounce place and their costumes from a store). She blogs at onceuponamom.net where she writes funny and sometimes poignant posts in the hopes of lifting up other moms as they travel the chaotic, beautiful road of mothering.
Latest posts by Anne Metz (see all)