I'm taking my bedroom back.
When my husband and I were newlyweds, it started as a nice, clean, orderly room. There was a new bedspread, freshly painted furniture, and light, airy curtains freshly matched for our new life together. Over the past 14 years it has morphed into something completely different. The bedspread has grown old and worn and has been puked on (kids). The furniture has gotten nicked and scratched (again, kids). The curtains have been pulled down (you guessed it–kids yet again!) and clawed (the cat!). In addition to damage, it's not uncommon for us to settle in at night to find stuffed animals, toys or even a kid or two under the covers.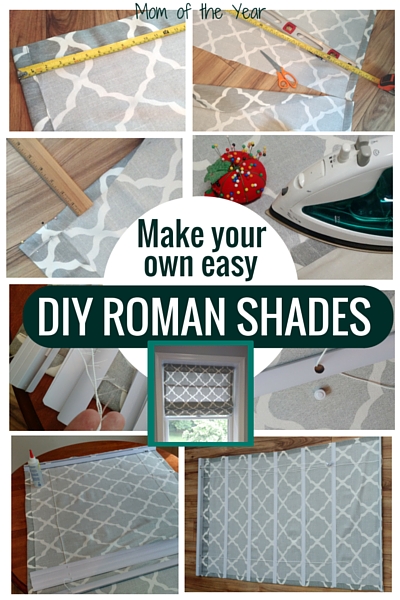 So I decided it was high time to take our master bedroom back–make it the one room in the house just for adults! I replaced the old bedspread, bought two matching nightstands, and a headboard. (Listen, if you don't have a headboard in your master bedroom, get one! Honestly! This is the one thing in my whole house that actually makes me feel like I'm a real grown up!). And then I made DIY Roman shade window treatments. They are pretty, too short for the kids to reach and ruin, and easy to make–basically, they are perfect.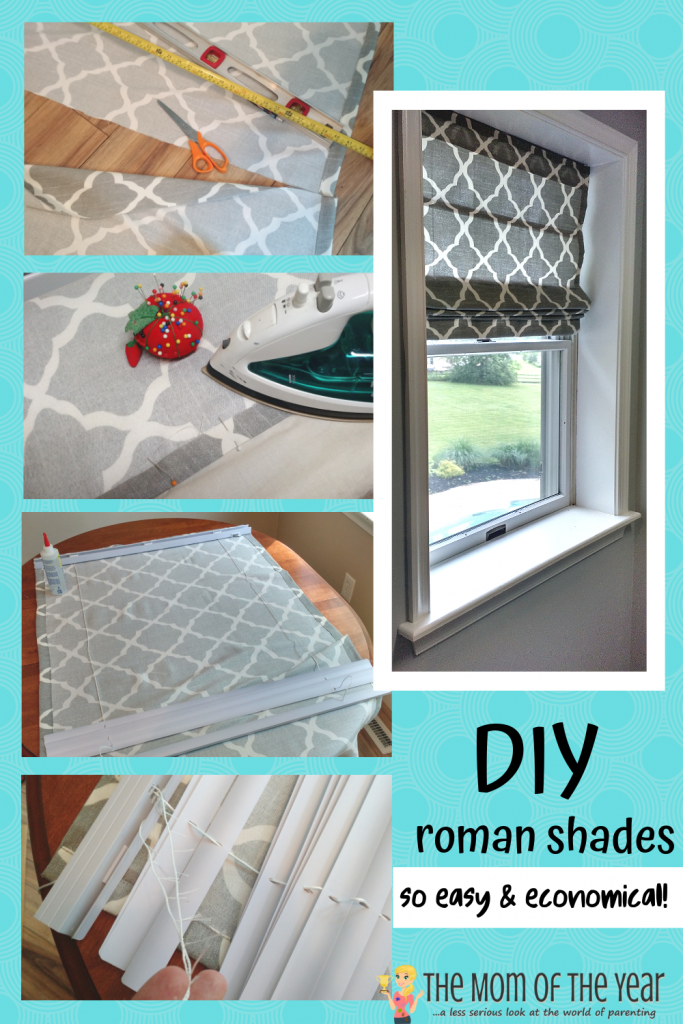 Originally I'd purchased long panels for the windows, but I realized they would cover up the our pretty window trim. But I loved the fabric. So instead of returning them and getting blinds, I decided to use the mini blinds mechanism and attach the fabric to it.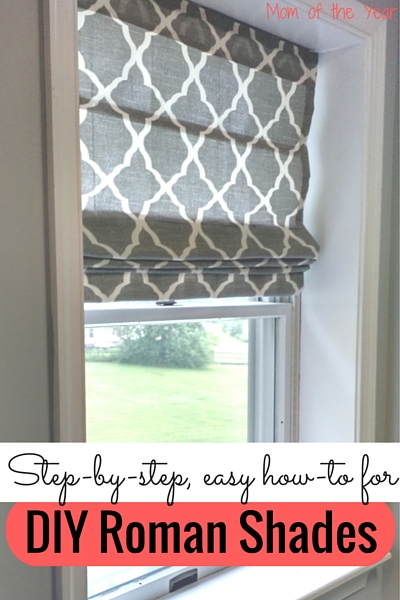 How to make your own easy DIY Roman shades:
First, I purchased the cheapest ones mini blinds I could find–about $5. I didn't want to spend more than that in case I messed up and had to buy more.
Then, since I was working with window panels, I decided to save time and take advantage of the finished edges.
For the width: I cut the fabric 1 ¼" wider than the blinds. Then I folded in the edge one inch, pinned, ironed, and glued the fabric down to make a nice seamed edge. If I were working with fabric from the store with raw edges, I would have done this on both sides and the top.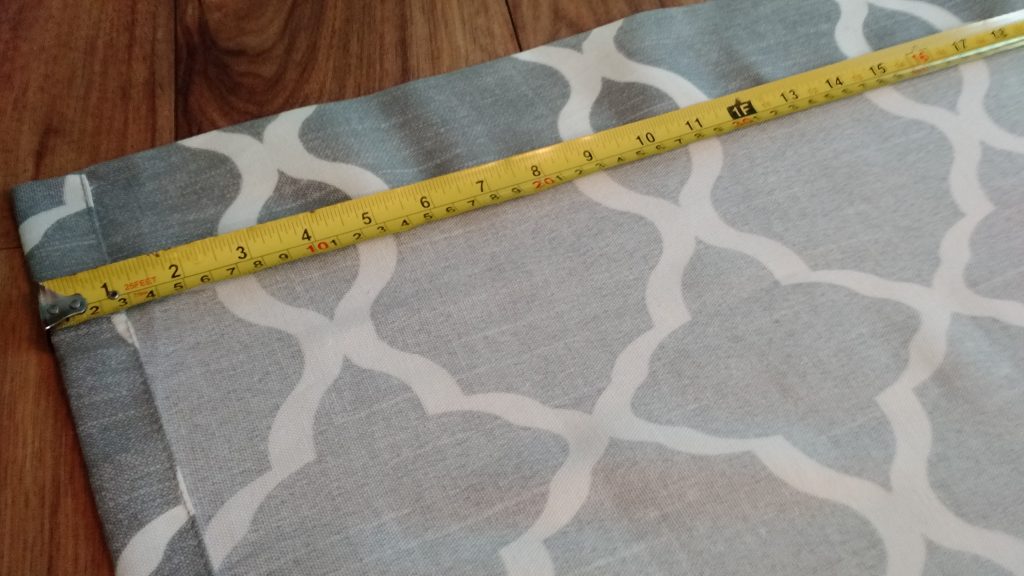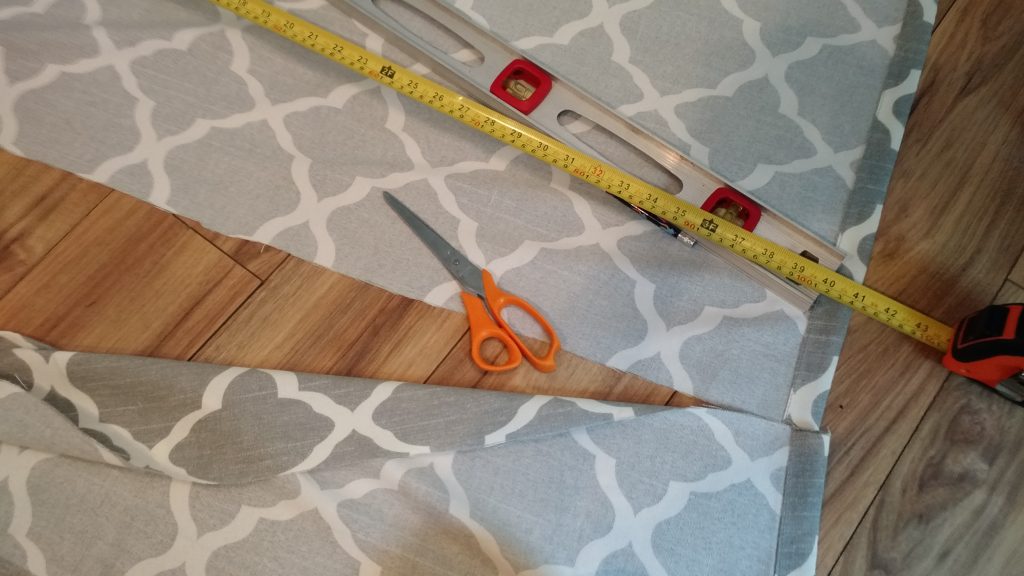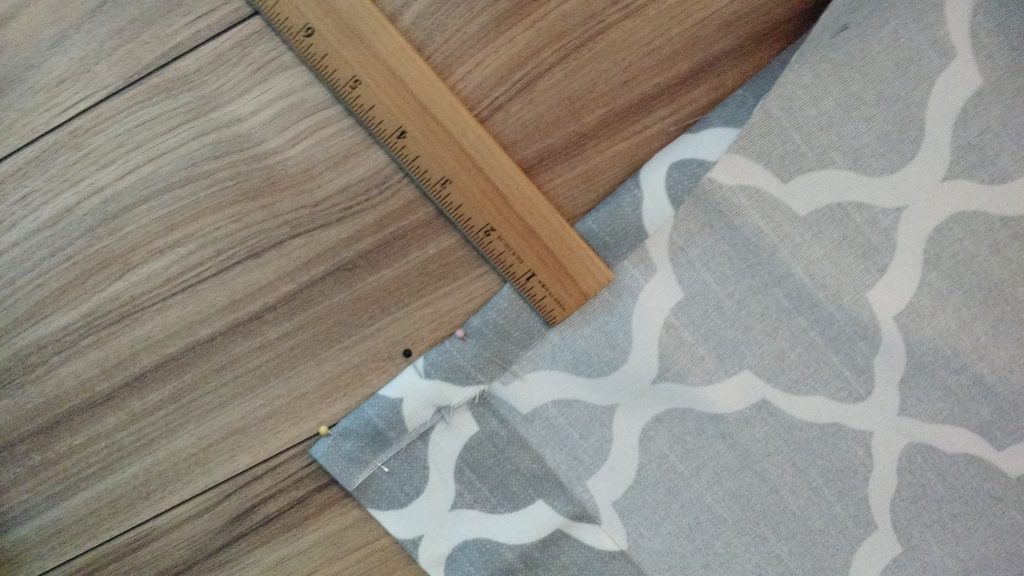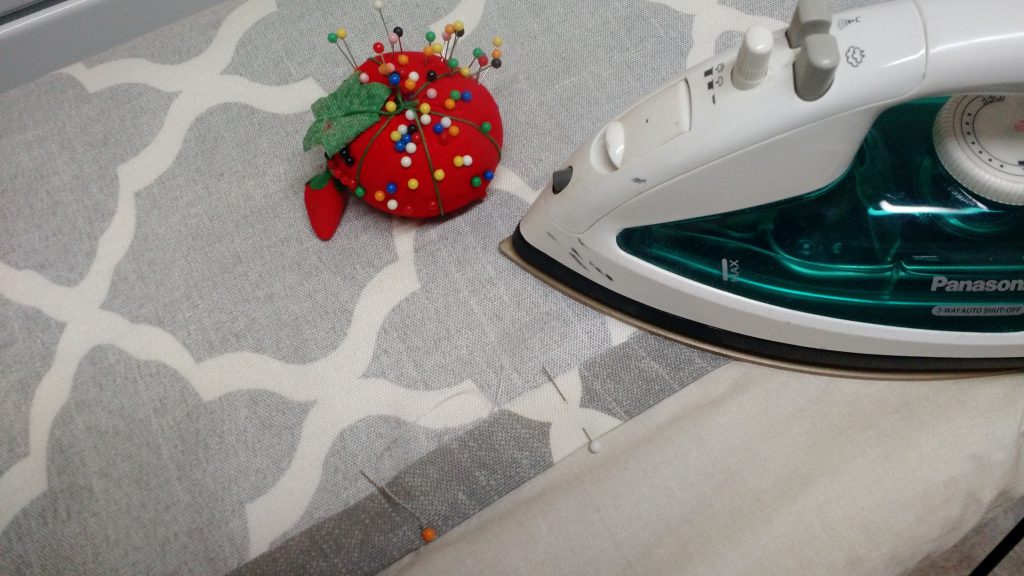 For the height: The mini blinds I bought were 64" long, but my window is only 46" long. So I cut an extra two inches to make the fabric 48" long and left that edge raw.
Then I set to work modifying the blinds.
I'm not going to lie, this felt scary. I've never even hung mini blinds, and now I was about to take these things apart and cut them up? But I talked myself down, took a few deep breaths and pulled out my scissors.
There are two main strings on mini blinds. One is the pull cord that runs through all the blinds and that is what you use to pull the blinds up and let them back down. If you are attempting this project, do not cut that cord! The other is the ladder cord that holds the blinds and tilts them open or closed. This is the cord to cut! I cut all three sets of ladder cord off the blinds.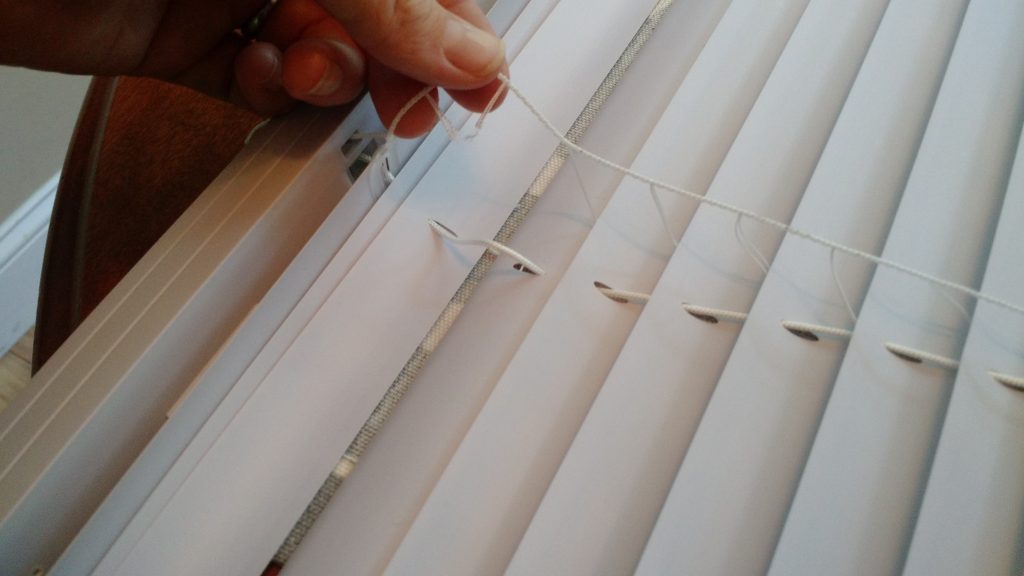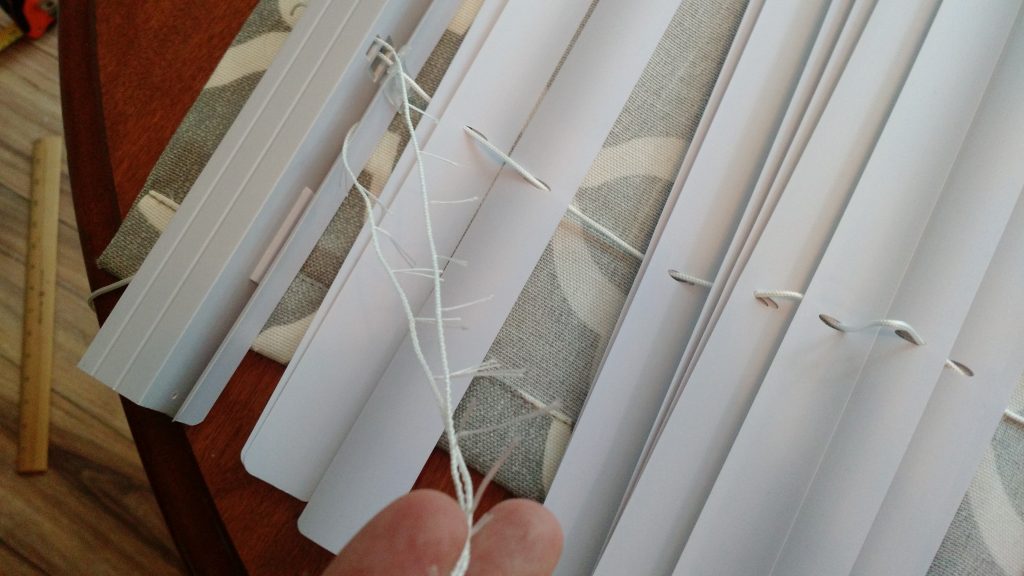 Then I removed these plastic thingies (that's the technical term I think) from the bottom of the mini blinds. I undid the knots on the pull cord, pulled the bottom off and removed most of the blinds. For my size window, I wanted six pleats in my roman shade.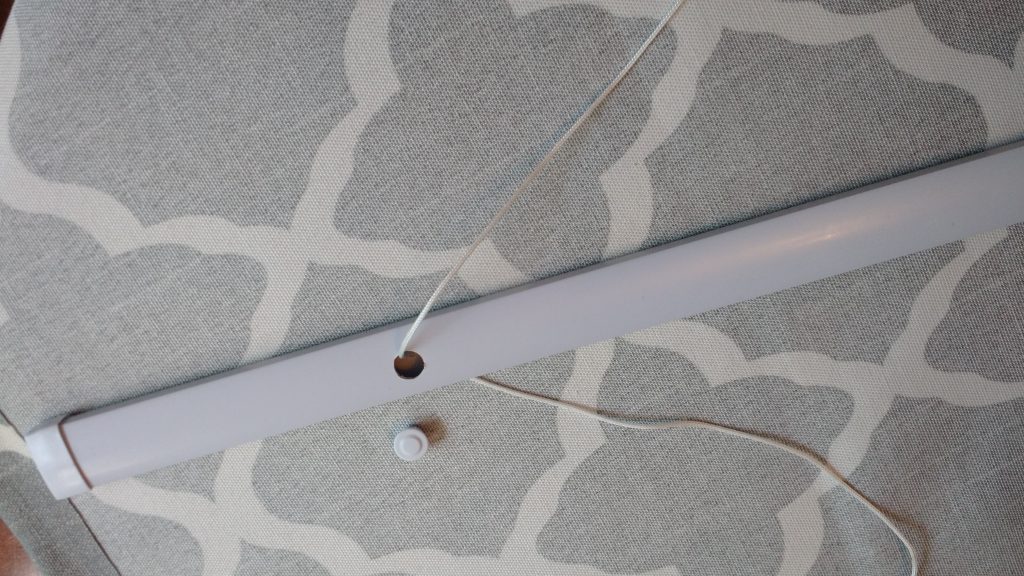 Now, remember how I mentioned the mini blind was way longer than my window? I cut the pull cords down to about 1" longer than my window height. Then I slid the bottom piece back on, tied new knots, and replaced those plastic thingies.
I'll confess I spent a ton of time trying to get the knots on my pull cords the exact same length until I realized it didn't have to be perfect. I could use the pull cord strings to even up the bottom!
I laid the newly modified blinds on top of my fabric and was excited and a little surprised that I actually cut my fabric correctly! It looked like it was going to be a perfect fit.
Next I measured out where I wanted my remaining slats to go. You can do a lot of these or just a few depending on what look you are going for, but you have to space them evenly.
Once I had it all measured out, I glued each piece of the mini blind onto my fabric, starting with the top piece that fits into the mount in your window. I worked my way down with each slat, making sure to glue the curved side down. When I got to the bottom piece, I folded up my raw edge to make a nice seam, glued it shut, then glued the bottom of the fabric on to the front and underside. It's important to avoid getting glue on your pull cord or else you'll have to head back out for another $5 mini blind and start the process all over again.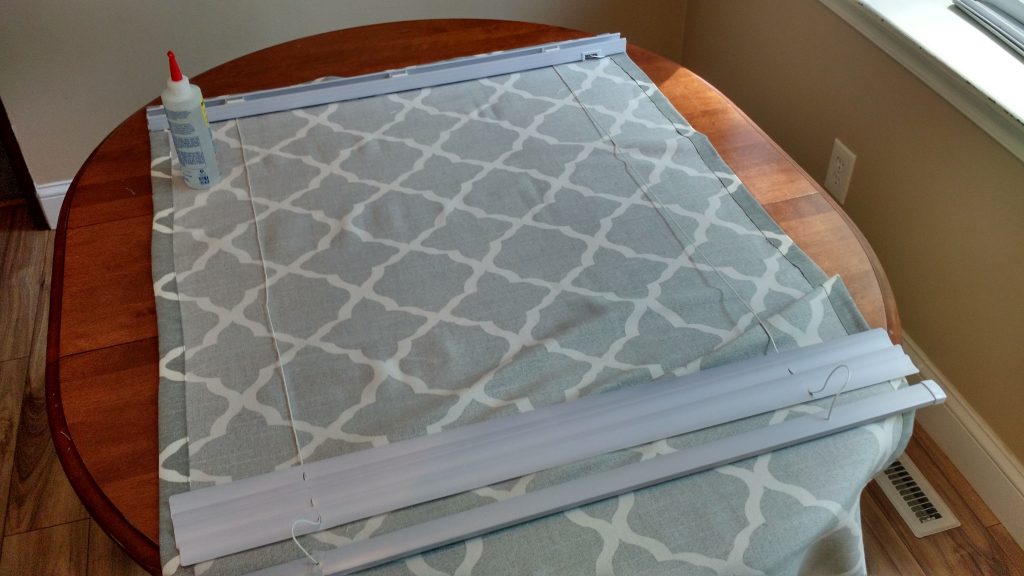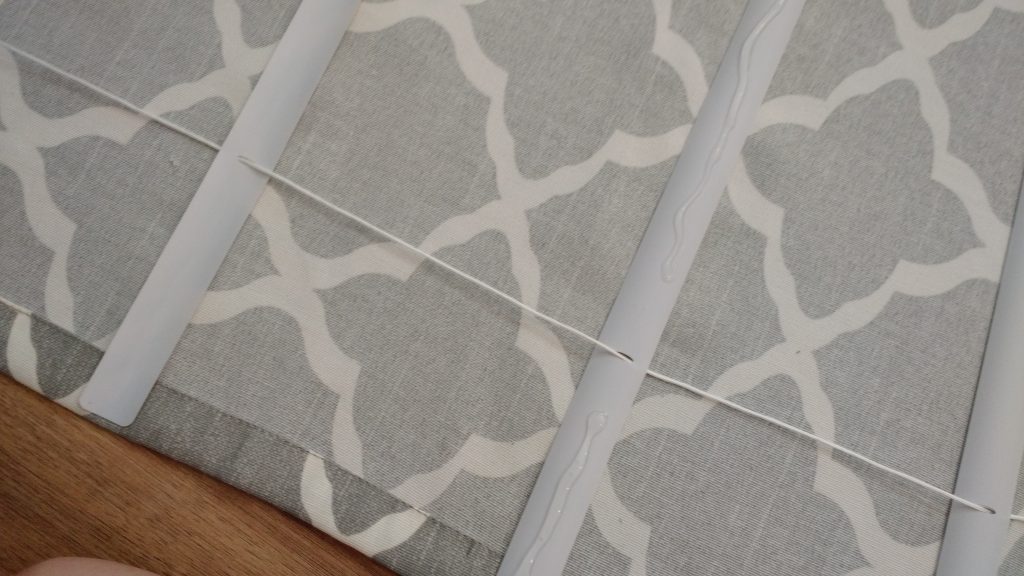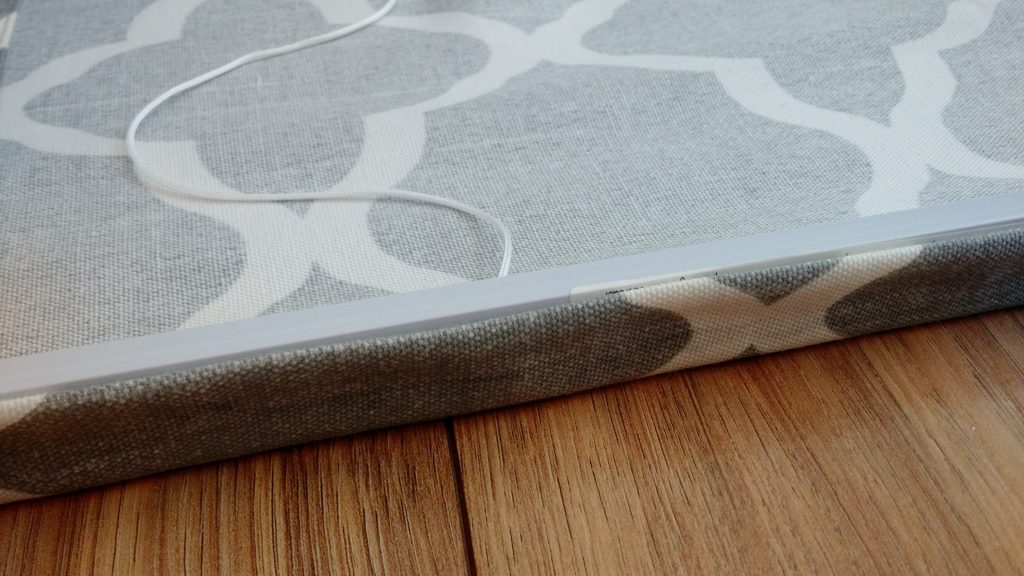 I'd like to say that I then hung the mini blind, but I didn't. I let my husband do that so I could have a few minutes walking around in a daze saying, "Wow, it really worked! I can't believe it!"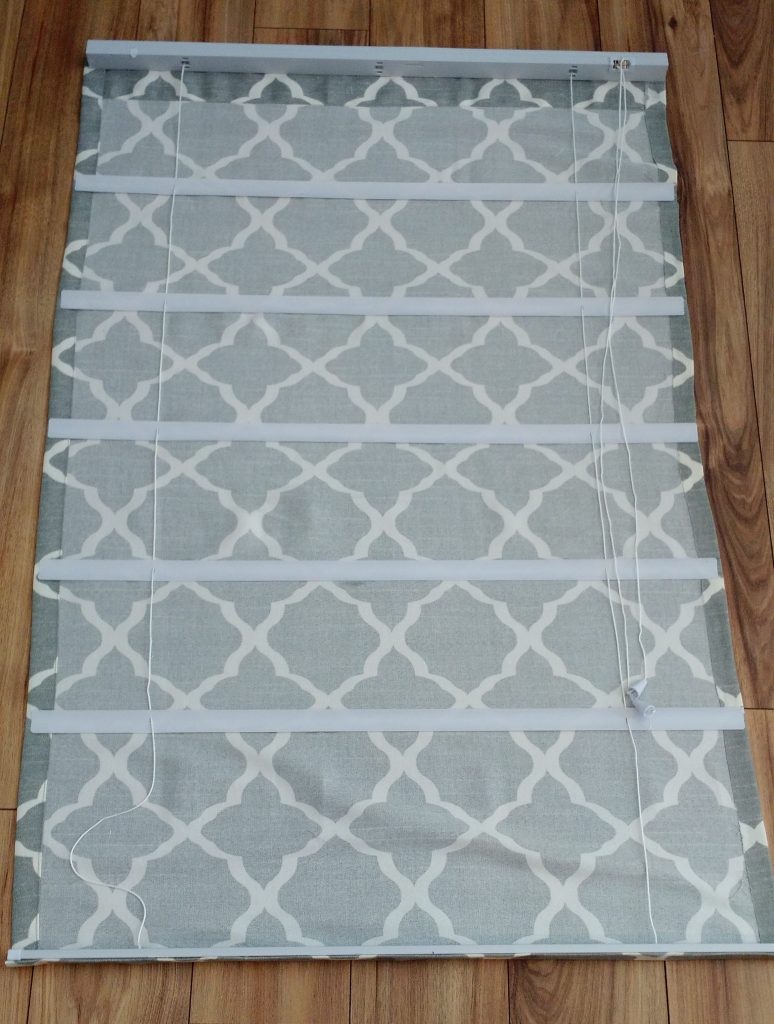 If I had to do it again I would probably have sewn a liner on the back of the fabric because it has a see-through look I don't love.
But overall, I really like result of my easy DIY Roman shades. They look pretty and give us privacy in our room. Also, they don't cover up the molding that I love so much. Plus, I have extra fabric from the panels that I can now use to make throw pillows (another item that makes me feel oh-so- grown-up!). For help with this and more, you can find more great sewing tips and product reviews from our friends at Teach You To Sew!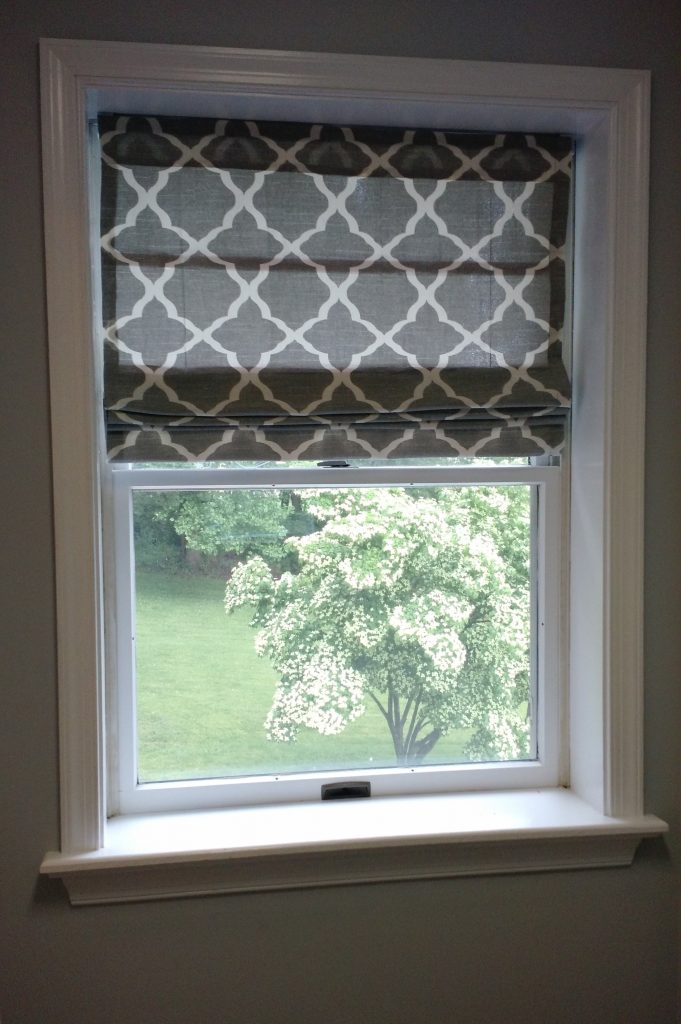 These roman shades are the perfect addition to Operation Master Bedroom Takeback. Now I'm off to make a "No Toys Allowed" sign for the door to the bedroom!
The following two tabs change content below.
Anne is a mother of four, a 10 year old boy and 6 year old triplet girls. Always looking for a creative outlet, Anne sometimes hijacks her kids' parties, projects, and costumes to get her fix. (Even though they'd rather have their party at a moonbounce place and their costumes from a store). She blogs at onceuponamom.net where she writes funny and sometimes poignant posts in the hopes of lifting up other moms as they travel the chaotic, beautiful road of mothering.
Latest posts by Anne Metz (see all)