We've all been invited to a picnic or BBQ where the host asks us to bring along a dish to share. And we've all brought bowls of uninspired salad and store-bought cookies, thinking there's no easy way to bring something that will please a broad group of adults and kids, so why bother?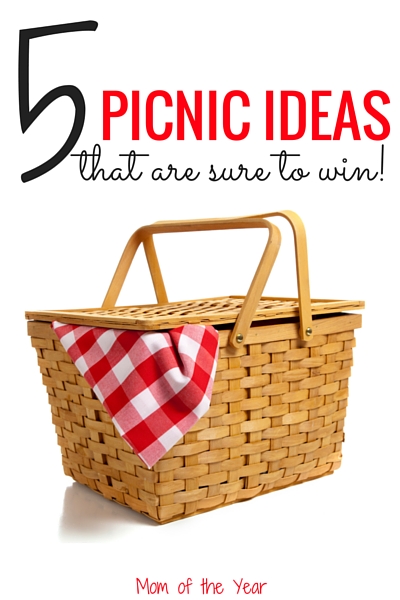 I'm here with some of my favorite picnic-friendly potluck dishes that are amazingly versatile, and huge crowd pleasers! These are all easily adapted to be very heat resistant as well–simply leave out the cheese.
All of these have been tested on the kiddos, too. My little is particularly obsessed with the hummus and couscous salad. She thinks it's hilarious that the couscous is really just tiny pasta, so she's decided to call it "baby pasta" and picks out her favorite veggies to eat first! She may or may not leave the less favorable ones on the side 😉 She uses the hummus to dunk chicken and veggies, and of course, pita chips.
5 Picnic-Friendly Potluck Dishes to Rock this Summer:
Couscous Salad
Prepare two boxes of couscous (I love using one roasted garlic and one parmesan flavor). Add chopped cucumber, sweet red/yellow/orange pepper, tomatoes, and crumbled feta cheese. Toss with red wine vinaigrette. This is a perfect side for all kinds of grilled fare, and leftovers make a phenomenal lunch!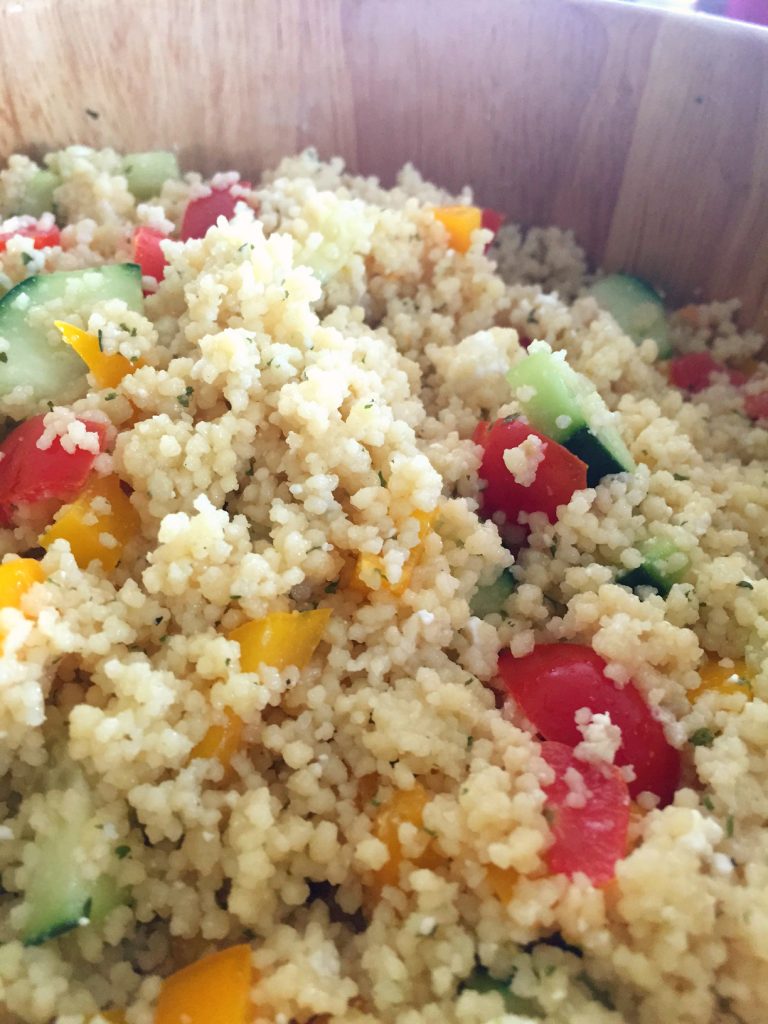 Three Bean Guacamole
Drain and rinse a can each of kidney beans, black beans and chick peas. Add 2-3 ripe, diced avocadoes, a generous sprinkle of taco seasoning (store-bought or homemade), and 2-3 heaping tablespoons of prepared salsa. Squeeze lime juice over everything, and mix gently to combine. Great served as a dip with tortilla chips, or as a topping for tacos, chicken, and fish!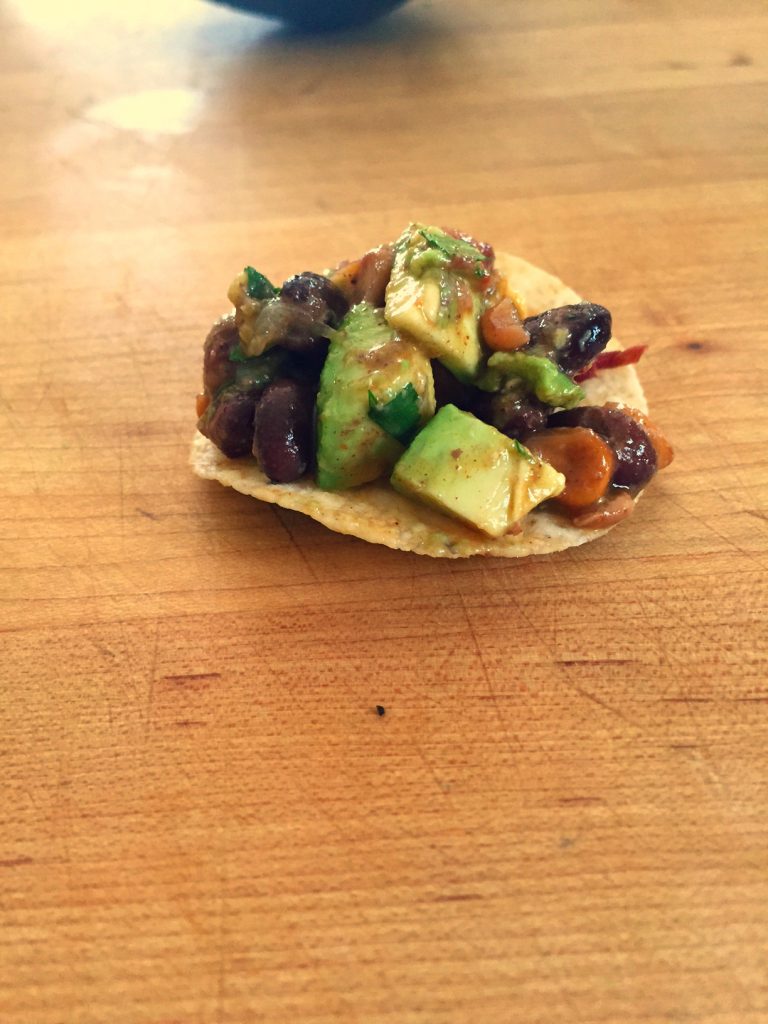 Spinach Tomato Tortellini Salad
Prepare tortellini of your choice according to package directions and set aside to cool. Saute spinach with olive oil, garlic and onion powder, salt and pepper. Stir in approximately 1 cup of prepared marinara or your favorite tomato based pasta sauce. Add tortellini, and combine. Serve room temp, chilled, or hot! Great as a vegetarian option when prepared with cheese tortellini!
Lemon Garlic Hummus
Drain and rinse one can of chick peas, and add to food processor with 4 cloves of minced garlic, the juice of 1 whole lemon, salt and pepper to taste. Process on high while adding a steady stream of olive oil until the hummus reaches the desired consistency. Amazing as a stand-alone dip with pita chips and veggies, but also works really well as spread on sandwiches and wraps!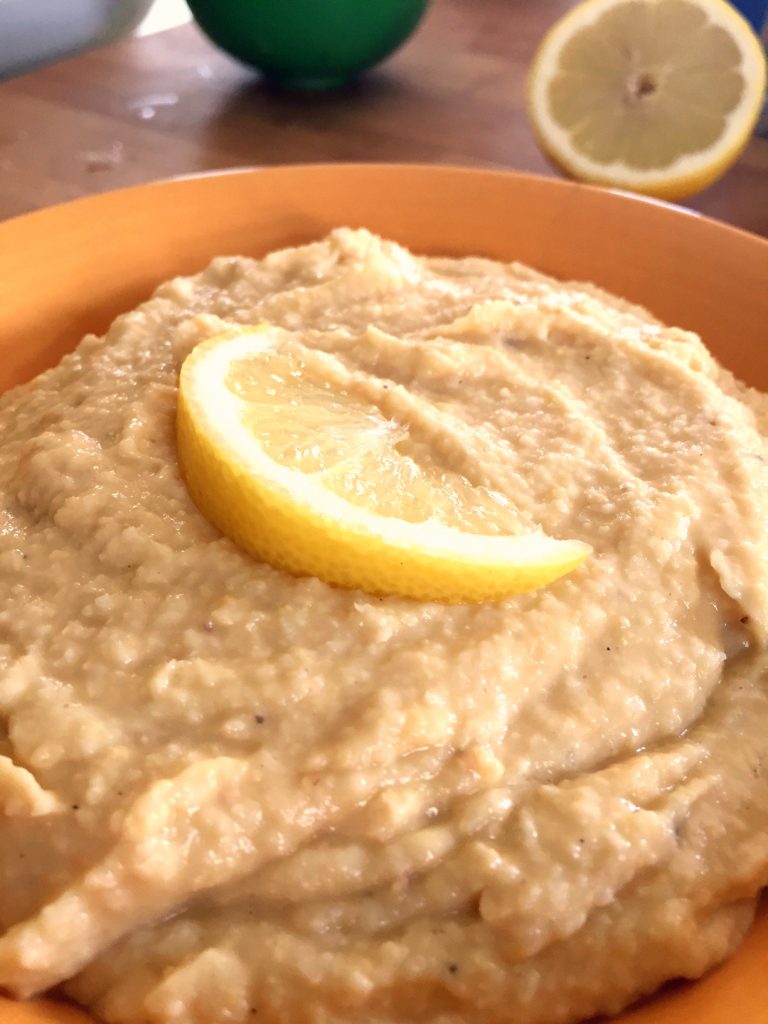 Herbed Potato Salad
Cube approximately 10 medium sized red potatoes, and boil in salted water until just fork tender; drain and cool. Once cool, combine potatoes with a handful each of flat leaf parsley and dill, the juice of 1.5 lemons, 4 cloves of minced garlic, salt and pepper. Very versatile, and is a really nice addition to a brunch table, as well!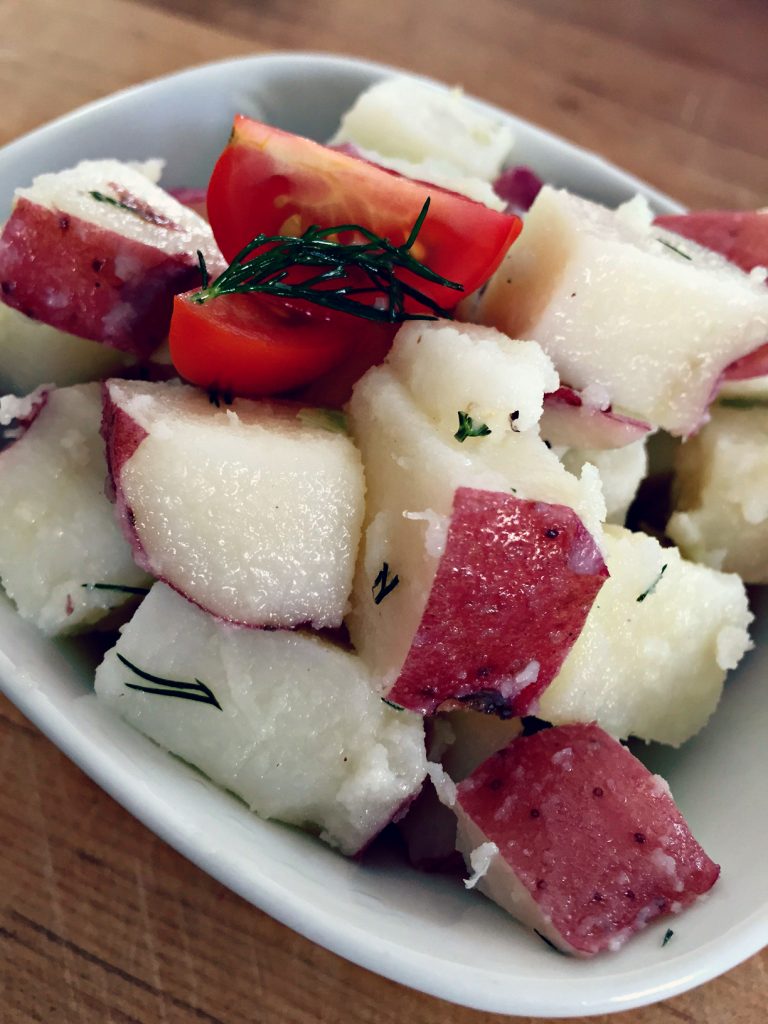 So, next time you get an invite asking you to bring a dish to share, ditch the lettuce and get super excited to show off your new potluck skills with this picnic-friendly potluck dishes!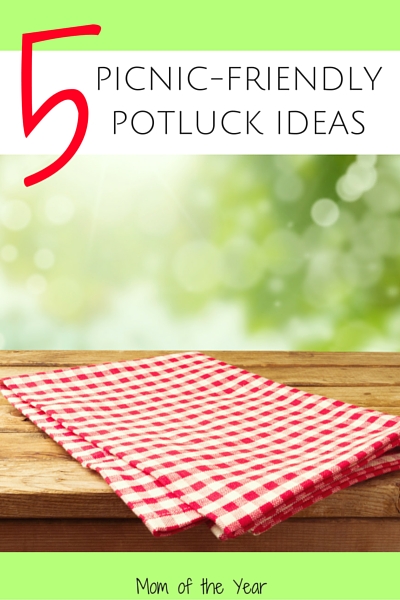 First image credit: depositphotos.com, image ID:13383255, copyright:miflippo
Second image credit: depositphotos.com, image ID:24558851, copyright:maglara
The following two tabs change content below.
Heidi Rega
Heidi is a full-time mom to one spunk-tastic three-year-old, part-time nanny to 3 others, Publisher of Macaroni Kid Main Line, big time foodie, graphic design snob, and massive self-care advocate. With a professional background in food and beverage, and real world experience in what kids will actually consume, she ventures to bring you fun recipes that come "thisclose" to making everyone happy. We all know that it's an impossible feat; but this mom loves a challenge!
Latest posts by Heidi Rega (see all)