I am unarguably the worst packer in the world. Seriously, I win the title.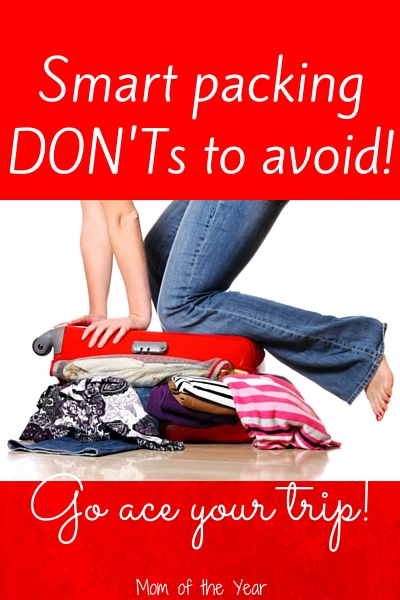 When it comes to planning a trip, I rock. I can nail an agenda and a to-stash-in-carry-on list like a boss. I plot and scheme details of a vacation with such fervor, travel agents swoon with envy (this last part is entirely fabricated, but this is how it exists in my imagination).
Yet when it comes time for actually packing for a trip, well…let's just say, it wouldn't be inappropriate to send my husband sympathy cards for the trauma he endures in the process.
I do mean well. My intentions are solid: often I set out suitcases days in advance. Yet as our departure nears, a nonsensical cloud of confusion and inefficiency unwittingly takes over all logical brain functioning. I pick up a book to stick with our luggage, but end up walking into another room and sorting an underwear drawer (it needed to be done!). The haziness builds to such an astounding apex that I even annoy myself–yet the blurry packing fog cannot be abated.
Despite my characteristic packing hopelessness, I was determined to pack like a pro for our recent Florida trip. As it turned out, this determination was largely useless.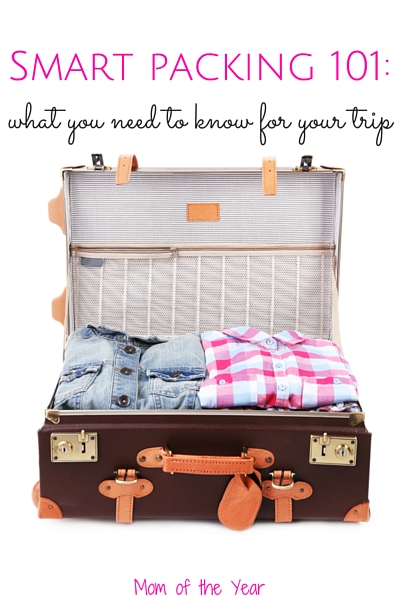 I spent my packing efforts running around, focus-chanting, "Grab shoes, pack toiletries. Grab shoes, pack toiletries…"–only to proudly beam at my husband ten minutes later, "I found my winter hat!"
His response? "We're going to FLORIDA. It's 80 DEGREES THERE. YOU DO NOT NEED A HAT." He then mumbled something about needing a stiff drink. Understandable.
Yet to my credit, I did make two important gains with my latest packing endeavors: I began laying things out early afternoon on the eve of our departure versus waiting until late night AND I refused to allow myself to overpack.
I very carefully selected my black pants for the ten days we'd be gone–because really, are there any other dressing options for The Mom of the Year?? Two athletic leggings for sleep, a fancier pair for out and about, two capri pants for the day, and a pair of black jeans that go with everything. I was set. Completely set and smug over my mad packing skills.
Later, as my husband worked his magic to get all of our stuff jammed in the bags, he grumbled over how much I'd packed and my defensive hackles flared, "I did NOT overpack! I was so careful." He remained silent; I assumed he was feeling thankful that I'd managed to sort my clothes before midnight.
Fast forward a plane flight and a touchdown at Legoland later, we were sorting our suitcases in the hotel room. I was frantically rifling through a bag for safety tattoos (yes, yes I am THAT mom), when I chanced upon something interesting: the most ginormous pile of black pants I had ever seen.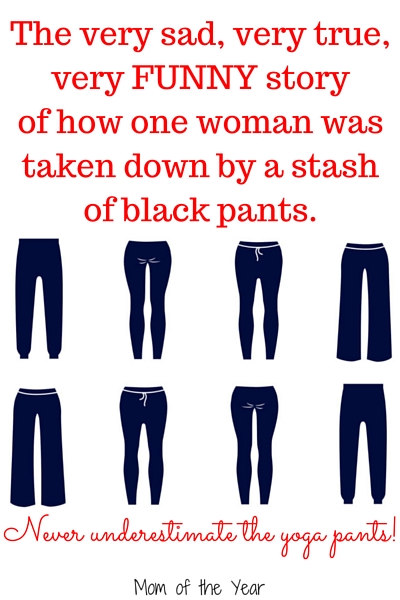 ***Like, seriously–let's break here. Picture in your wildest imagination the largest amount of black plants that might exist on this earth–THAT IS WHAT WAS IN THIS SUITCASE***
"Jared!," I hollered, "What IS this?"
"Those are your black pants."
"MY black pants?! I only packed 6 pairs. This is enough to dress an army!"
"I know! That's why I said you packed too much. I was so confused; I didn't know if you were packing for a Ninja Convention."
"I didn't pack these!"
"They are yours."
I began to rifle through the pairs of pants, and crap on a cracker! They were mine…all mine. WHAT HAPPENED?!
After some thoughtful reflection, the following was surmised: I was sorting through my entire black pant inventory on the bed in the process of selecting the desired pairs for our trip. Most unfortunately, the unwanted pants did not a) return to the dresser drawer but did b) get mistakenly packed in the suitcase. The end result? ENOUGH PAIRS OF BLACK PANTS FOR EVERY PERSON AT LEGOLAND. Or, as my husband suggested, we could well dress an entire Ninja Convention.
And I died with laughter. Rolled on the fancy-pants Legoland Hotel carpet and died with laughter.
All that dedicated determination not to overpack? Turns out, my title as The Worst Packer in the World is my destiny.
And that, my friends, is how NOT to pack for any vacation. But should a Ninja Convention be on your agenda, definitely go with this method–step by genius step.
**For some smart packing DOs, check this helpful Vproud.tv video–I love these savvy tips!**
First image credit: depositphotos.com, Image ID:4963166, Copyright:macniak
Second image credit: depositphotos.com, Image ID:69733673, Copyright:belchonock
Third image credit: depositphotos.com, Vector ID:59796715, Copyright:Ksena-Shu
The following two tabs change content below.
Meredith blogs at The Mom of the Year, where she dedicatedly earns her title one epic parenting fail at a time, offering quick, relatable laughs for fellow parents and all their empathizers. She has been part of several best-selling anthologies, featured on prominent sites such as Huffington Post, In the Powder Room and BlogHer, and loves her role as the Executive VP/Operations Manager of The BlogU Conference. When she's not breaking up fights over Legos and juice boxes, she remains fully committed to sharing a less serious look at the world of parenting.