My family recently returned from a magical trip to Walt Disney World and it was the most incredible experience! Yet when people ask me what my favorite part was? Legoland. I know! But true story.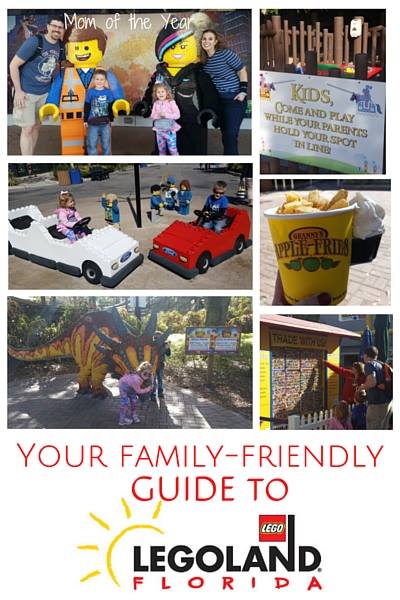 Nothing down on Disney: we loved our time there so very much! But ask us to recall the most blissful days of our Florida trek, and Legoland takes the cake, hands down.
It's at this point I'd like to take a solid minute to say, "I told you so" to my husband. For no other reason than I did, and I was so, so right. I find moments like this to be very beneficial in maintaining the careful balance of a marriage…
You see, our son fell in love with the notion of Legoland as almost all persons under the age of 12 living outside of Central Florida did–through the wickedly well-placed advertising promo at the beginning of The Lego Movie DVD. And as his softie mother, despite my husband's skepticism, I was soon clicking away on my laptop researching ways to make his 6 yr. old dream come true.
Fast-forward several months, and we found ourselves departing two days early for our Disney vacation with a very well-planned itinerary (thanks to Beyond Disney: The Unofficial Guide to Seaworld, Universal Orlando, & the Best of Central Florida for such spot-on planning advice!). We were on our way to hang out at Legoland before meeting up with Mickey.
The excitement level was high. Not only were visiting THE LEGOLAND FROM THE MOVIE and staying in the new Legoland Florida hotel, I put my blog string-pulling to good use and got my family into the World Premiere of The Lego Movie 4D: A New Adventure, the follow-up story to what happens after The Lego Movie ends. Yeah, we were stoked.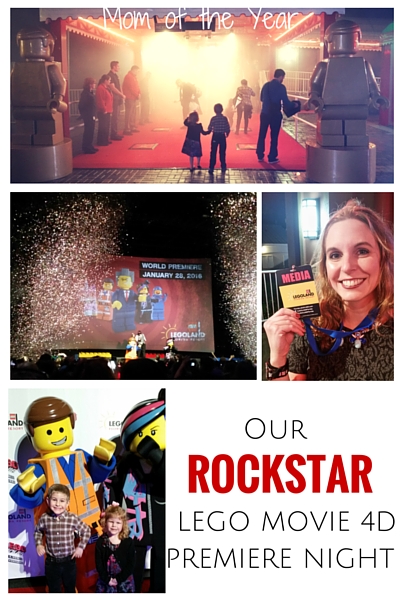 And from the minute we walked through the hotel doors, not a single one of our wildest expectations was left hanging. Beyond being treated like rockstars at the exclusive premiere of the fantastic new movie (seriously, a must-see for any The Lego Movie fans–shown daily in the park!), our bossest family experience to date, our entire trip to Legoland was brilliant.
Why was our trip to Legoland such a dream vacation?
1) The LEGO themselves. This may sound silly, but everything there is built out of LEGO. From rides, attractions and the entire Miniland section of the amusement park to walls in the lobby and decor in your hotel room, the genius feat of Master Builders is on full display in all it's jaw-dropping glory.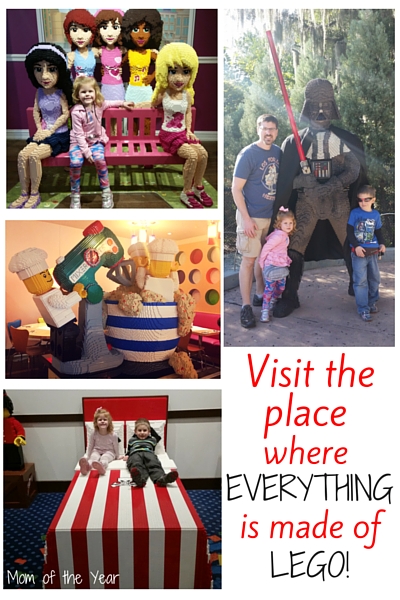 2) That Legoland was the perfect fit for our four and six year old children. They bill it as being ideal for two to twelve year olds, and I vouch for the accuracy of this estimation. There was only one ride in the park my son couldn't ride, and only a handful my daughter had to miss. And tons and tons of rides that were perfectly suited for their age and stage.
Not only is everything built out of LEGO, there are rides and attractions unique to the park (Ford driving school, Royal Joust, Aquazone Wave Racers, and the entire innovative Duplo play area for tots) that you can't experience at other amusement parks. And while our family of four thoroughly enjoyed strolling around Miniland (think a ginormous replica of places and eras all over the world–and galaxies to be correct, with the addition of the new Star Wars features–in the form of the most intricate LEGO construction imaginable), I kept thinking how much my dad would enjoy spending hours studying the models for the historical value. Truly all ages will enjoy a visit to Legoland.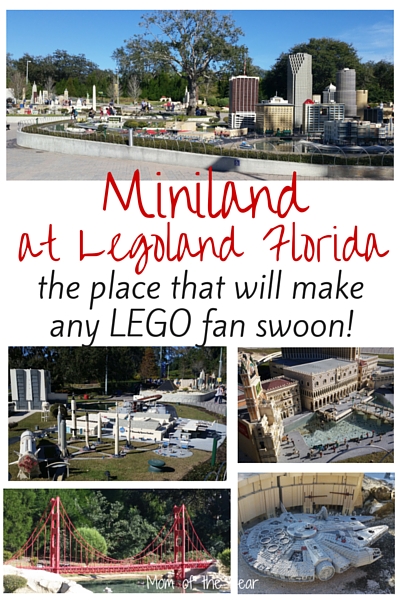 We visited in January, when the crowds were low, but even if we visited on a busier day, Legoland is amenable to a single-day visit. We had a very full day, but left satisfied, and not feeling as if we'd missed anything we wanted to see. If the water park had been open, I would definitely have wanted to visit for two days, which Legoland allows you to do with the very reasonably $15/ticket upgrade from a one-day pass to a two-day pass.
And, friends, make sure to snatch up some of the world-famous Granny's Apple Fries when you're in the park. Just do. 
3) The hotel. THE HOTEL. If you've got an extra few hours, ring me up and I can chat your ear off raving about the Legoland Hotel. The thing is, this hotel nailed an elusive phenomenon in the world of parenting young children: this was a place that was genuinely relaxing for both parents and children. True story.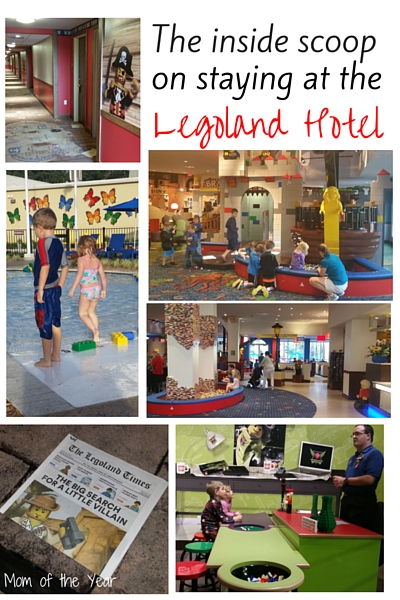 The bliss starts in the lobby with these huge sandbox-like structures. Except there is no sand, there are LEGO. LEGO piling over piles of LEGO surrounded by a padded seat wall so kids (AND parents if they're feeling creative) can plop down and dig into the work of building! Some of the LEGO bins moat around an indoor play castle where children instantly make friends and play to their hearts' content. I recall looking at my husband, and nearly tearing up over the beauty of watching kids play, sans electronics, using nothing but their imagination and a bunch of teeny tiny bricks.
If playtime should run weary, there are Master Builder classes children can take (free and they keep the model they build!), a Kid Club lounge with The Lego Movie set on repeat and more bricks to build with, and an outdoor heated pool with–you guessed it–more LEGO! This time, the LEGO are large foam bricks that you can piece together to build your own cool pool toys or floats. The building fun never ends at this place!
And I'd be remiss not to shout-out the spontaneous dance parties that break out on every elevator ride. With the flashing lights and disco music that kicks off every time the doors shut, it is guaranteed to be the grooviest elevator ride of your life.
At the epicenter of all this fun is the Skyline Lounge, a bar and restaurant full of comfy chairs and couches for parents to kick back while they keep an eye on all the fun their kids are having. The Lounge spills into the castle area where there is nightly entertainment for the kids from 6pm-9pm. The kids rock a pajama party, building competitions and games while the parents soak in all the fun from the sidelines.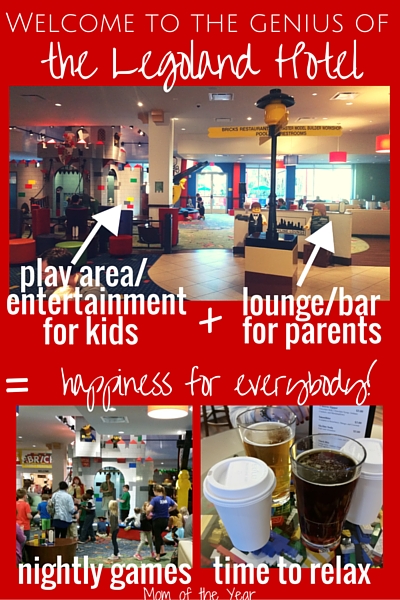 The rooms are set up ingeniously. There is a main area with a large bed and TV for the parents, separated by a bathroom and a hallway to the kids' area, which is equipped with a bunk bed (and pull-out trundle bed, so sleeps up to three kids) and a TV for the kids. When you get to your room, children find instructions for a treasure hunt in which they must solve the code to break the safe open–where they will find kid-friendly treasures and LEGO sets of their own to build and take home.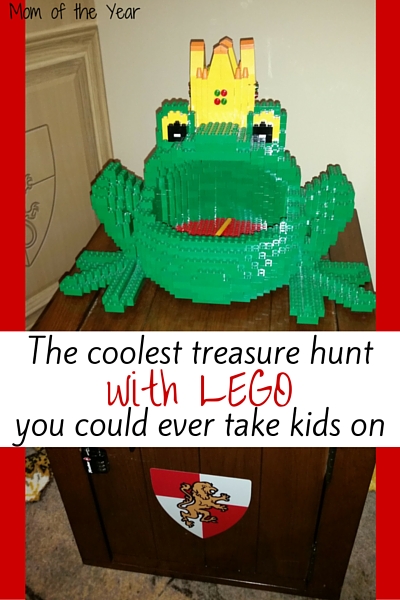 And don't worry about breakfast–the Bricks Restaurant buffet is included. Without exaggeration, it was the cleanest, most kid-friendly breakfast buffet I've ever visited. Lots of yogurts, fruit, cheeses, mini smoothies and mini pancakes. And make sure to ask the chef at the omlette station for his speciality homemade salsa–it is unreal! Seating is well spaced, so it's not overcrowded. It's a fun bonus to meet the LEGO characters who visit your table while you're eating.
When breakfast is over, fill a to-go cup of coffee and park on a lounge chair while the kids play in the castle until the park opens.
Don't forget hotel guests get an early entry into the park. When 9:30am hits, walk out the front doors to the park entrance about 100 ft. away. Yeah–it's that awesome. 
4) The super-friendly staff. Wow. Seriously, everyone was nice. Accommodating, friendly and downright cheery. The bellhop was full of helpful advice and inside scoop. If there was no line at a coaster, the staff invited us to remain in our seats for another ride–three times in a row!–without us even asking. And they wished us a fun ride and clapped for us when we got back. True story! I think they were confused that we were celebrities?
Each staff has a hand-made (out of LEGO of course) name badge with LEGO minifigures stuck to it. They encourage trading of the minifigures and this was one of my kids' favorite parts of our trip! Every time they asked to trade, the staff member pleasantly responded and was happy to accommodate.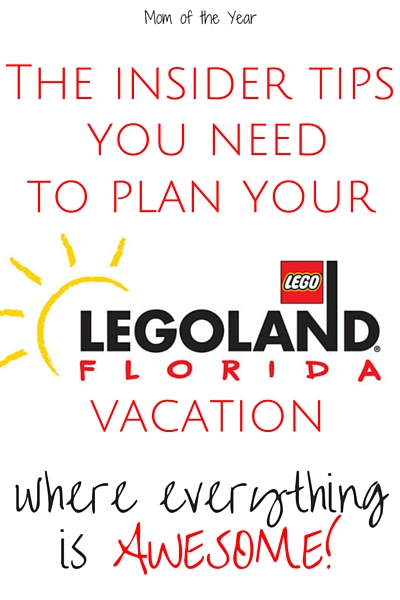 ***Here's my big insider tip: While the prices at Legoland for LEGO are the cheapest you'll find* (Truly! We stocked up big-time on the minifigure key chains that we use as sensory fidgets for my son for this reason), LEGO minifigures are always more expensive than the generic off-brands. Before you go, buy a bundle of generics off Amazon, I got twenty for $8 (ten for each child, which was the perfect amount) and trade those while you are in the park. The staff didn't mind and we got some generic ones in return, which was more than fine. It was all about the fun of the trading game!
*Related additional insider tip: Not only are LEGO prices cheap at Legoland, there is the best selection of LEGO merchandise you will find anywhere, including some theme-park exclusives. If you have LEGO fans in your family, pack an collapsible empty suitcase to stock up–seriously.
Legoland was a dream-come true trip for our family. Go, book a hotel room, and then thank me later.
As for me and my family, we're still blissing out from our trip to this magical place. The only problem? Figuring out how we can get back there ASAP!
***I did receive comped tickets and stay for the writing of this blog post, our family most sincerely fell in love with Legoland Florida.***
The following two tabs change content below.
Meredith blogs at The Mom of the Year, where she dedicatedly earns her title one epic parenting fail at a time, offering quick, relatable laughs for fellow parents and all their empathizers. She has been part of several best-selling anthologies, featured on prominent sites such as Huffington Post, In the Powder Room and BlogHer, and loves her role as the Executive VP/Operations Manager of The BlogU Conference. When she's not breaking up fights over Legos and juice boxes, she remains fully committed to sharing a less serious look at the world of parenting.