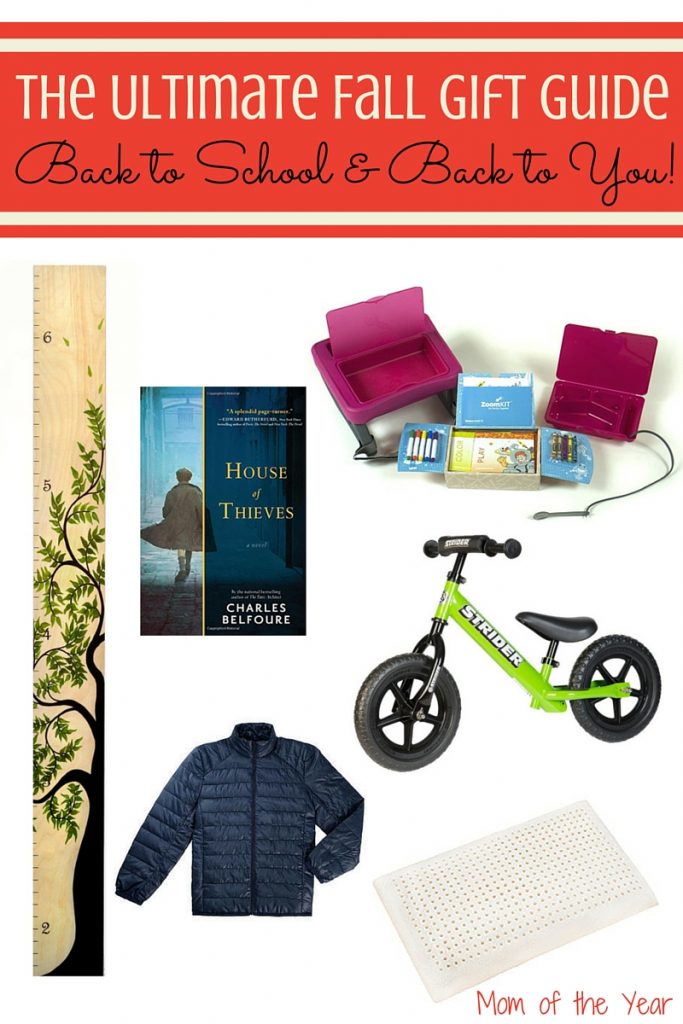 It's here, friends. It's really here. All the endless back to school planning, shopping and panicking, days when we prayed the sunshine would never end, days when we prayed the sunshine would end, and secret stolen swoons over pumpkin soup recipes and cute ghost-themed cupcakes on Pinterest in the corners of August, FALL HAS ARRIVED.
I'm not sure whether to celebrate or be nervously wringing my hands over the dramatic schedule shake-up that's descending on our day-to-day, but I do know one way I'm definitely welcoming in the fall: casing out fabulous new products while I plot and plan my purchases for the upcoming months. Fun!
Aside from checking off your current gift list, fall is a super time to spruce up your home a bit or treat yourself after the kids head off to school. Also, if you're anything like me, you'll find that despite all that shopping you did to prep for September, there are still a few things the kids need to ease the transition back to school. Plus, no time like now to get a jump on holiday shopping!
I love to shop, and I love sharing my boss finds with all of you. There are so many things I'm loving this fall, but here's a list of some of the coolest, unique items I've found, all things reasonably priced and well worth your hard-earned pennies!
Even better, I'm giving away some of these products to one of YOU! Enter through the Rafflecopter below before Tuesday, September 1, 2015, at 5:30amET for your chance to win. As long as you are 18 or older and live in the Continental United States, you are eligible to win!
Fall's here, friends. It's time to get shopping!
************************************************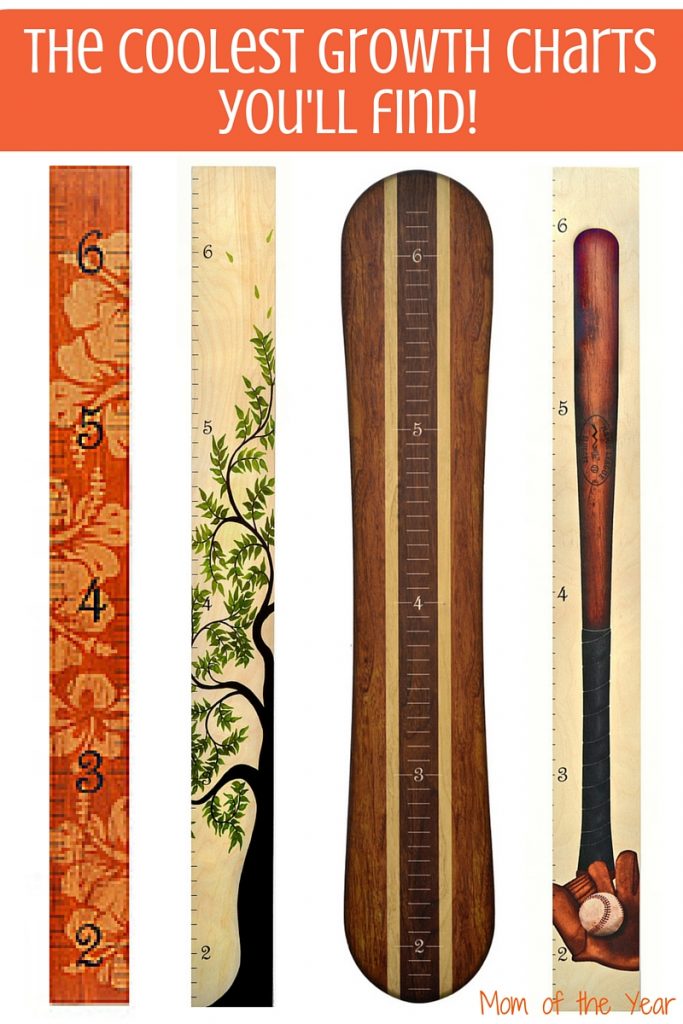 Growth charts are everywhere! What a sweet way to time capsule your children's growth while adding a fun accent to your home. After shopping a few different brands, I found these gorgeous birch plywood personalized creations from Growth Chart Art. The selection is tremendous, and I LOVE their mom-supportive, eco-friendly mission. As described on their website:
"Growth Chart Art TM is a woman owned, family friendly company.  It may sound cliché, but we want to do well by doing good.  Our definition of GOOD is: making our products out of environmentally friendly materials like formaldehyde-free plywood, eco-friendly inks and post-consumer paper/packaging; offering "mother's hours" for our employees and supporting children by donating to groups that help children grow up great."
Go check Growth Chart Art out and select the perfect one for your home. These would also make an amazing family gift for someone on your holiday list. And make sure to enter the giveaway below, because a growth chart of your choice (up to $85 value) is up for grabs!
***************************************************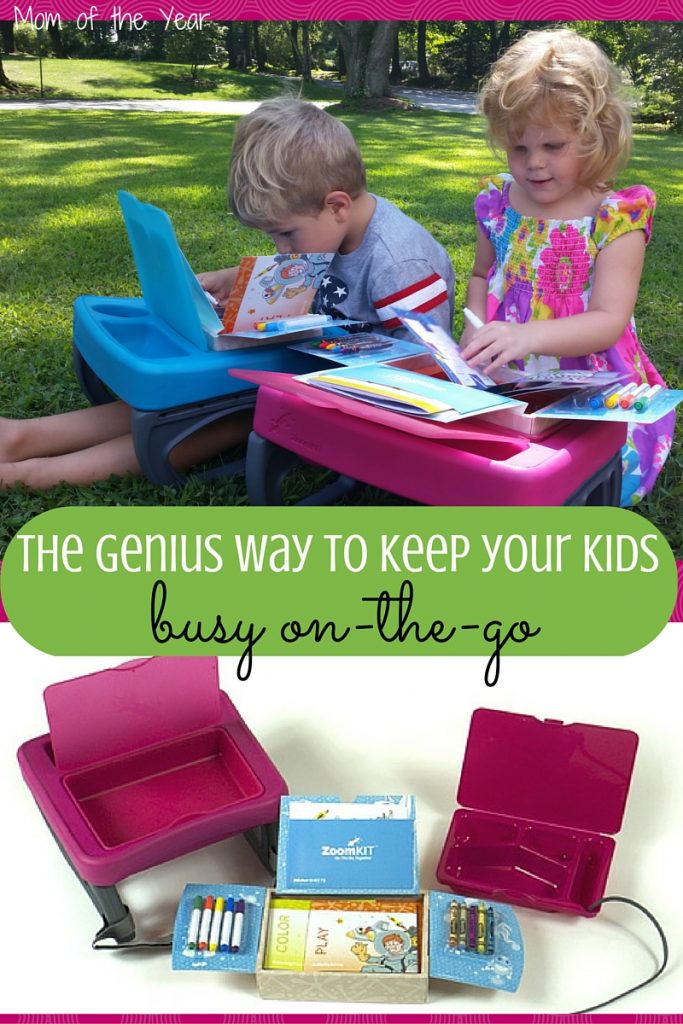 When we got our ZoomKITS, I showed my kids how they work and then…didn't hear from them for nearly a half hour. In Mom-speak, in case you aren't clear, this translates to "These things are miraculous!". I said to my husband, "Holy Cow, these things really work!"
ZoomKIT is a portable travel table that works with car seats, boosters, strollers or stand alone. Fill it with your child's special toys or one of their activity inserts. I love that my kids can work on their "desks" wherever our days take us–the car, waiting on the sidelines at a sister's soccer practice, the yard on nice days. Totally transportable, this is such a smart contraption for kids!
I think my favorite part is the self-contained snack tray. It would be so easy to pack up a lunch ahead of time, throw it in a cooler, then hand it back over the seat for the kids to snap into their table so they can munch away while we're on the road.
However you use it, ZoomKITs are a find–snatch one up for the kiddo in your life today!
********************************************************
I am very possibly the pickiest pillow person in history. When I heard about Three Happy Coconuts organic latex pillows, I was hopeful, but not ready to bet the bank until I checked one out. When my pillow arrived, I was wowed with the cushiony supportiveness. But I couldn't get too attached, because my husband stole from me. You see, he gets so hot while he sleeps, and the special stay-cool design is a perfect fit for him. And when he sleeps well, he flails around less, so I sleep better, so really, it's a win-win. So I'll let him have this amazing pillow–he'll just owe me one 😉
Why are Three Happy Coconuts pillows so great? This healthy, hypoallergenic alternative to a traditional cotton or wool pillow is made of organic latex, which offers great head and neck support. The durable latex allows it to last twice as long as a traditional pillow because the latex is inhospitable to bugs, dust mites. Most importantly, it boots mold and bacteria by not retaining retain heat or water. It's great for those who suffer from allergies and chemical sensitivities. The perforated structure provides adequate ventilation and air flow which helps keep you cooler. It fits all standard pillowcases and comes with lightweight cotton protector that is machine washable.
Go grab one of these fantastic pillows for yourself (or your hot husband!) and make sure to enter for the standard-sized one up for grabs in the giveaway below.
**************************************************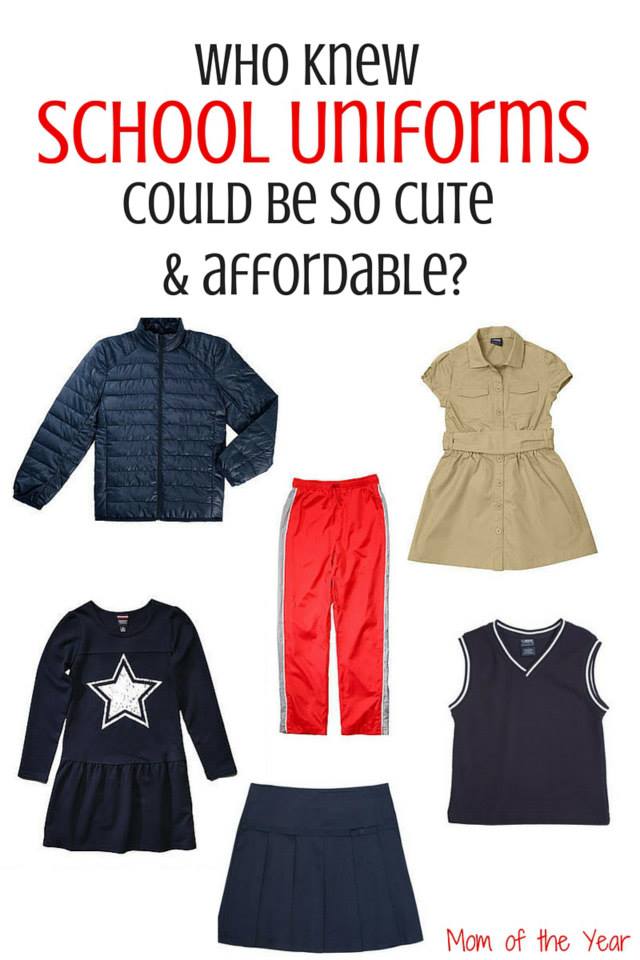 My kids are 6 and 4 and I'm only now starting to get the hang of this children's clothing thing. Two things have become abundantly clear: you can never have too many of the basic items and clothes cost money. So while their schools don't require uniforms, sites like French Toast are a super find for us: lots of simple, durable clothing for a song. If your kids attend a school where uniforms are necessary, French Toast is even more of Godsend.
As described on their website, "Looking for quality, yet affordable school uniforms that will not break the bank? FrenchToast.com is your destination for quality boys and girls school uniforms at affordable prices. Our collection of school uniforms includes everything from boys and girls long and short sleeve knits & polos to shorts, capris, pants, and jumpers & dresses in a variety of uniform sizes including plus sizes,husky sizes, juniors, young men's, slim sizes and even toddler sizes! We also offer girls and boys activewear for school or play and outerwear that will keep your child warm while heading to school in style! We understand every child has different taste, so at FrenchToast.com our school uniforms are updated regularly with the latest fashion trends so you can find the perfect style to please your child. You can even purchase accessories to match your favorite French Toast uniforms."
Pop over to French Toast and stock up on the items your kids need and enter below to win two tops and one bottom of your choice from their wide selection!
**********************************************************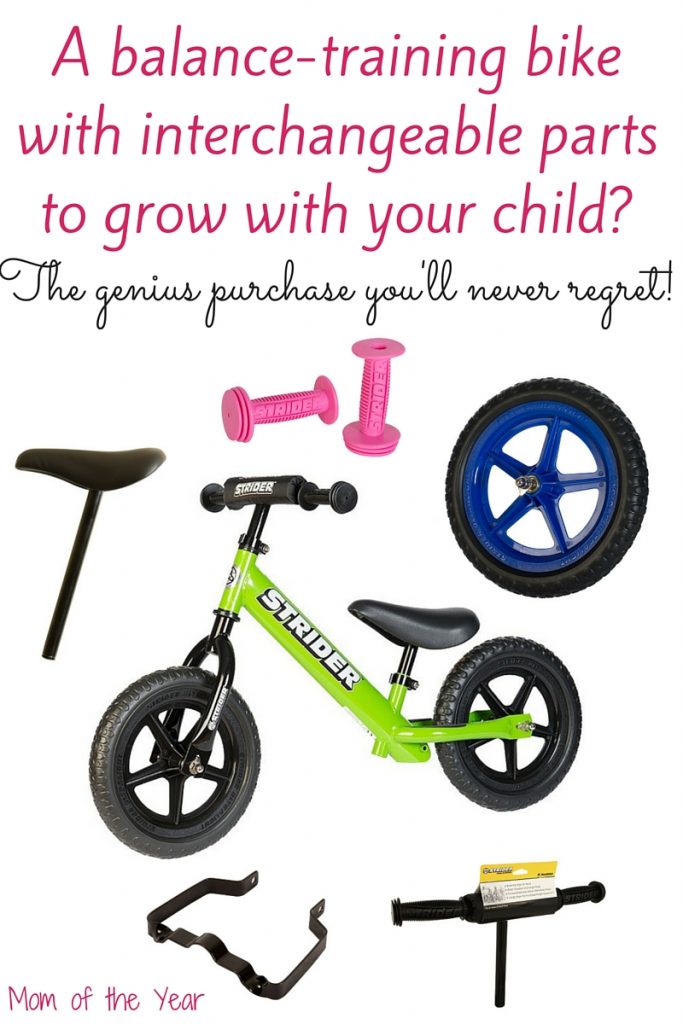 Back in the Spring, our family made the leap and got one of the uber-popular Strider Bikes. After a few short hours with our Strider, I understood why this brand's reputation is so well-earned. Strider genuinely meets their mission to "to build lightweight, efficient, all-terrain bikes that build two-wheeled balance, coordination, and confidence in children". This bike as been such a blessing for my hesitant, cautious son in learning to ride a bike.
Moreover, these bikes are incredibly well-made. Since they are truly built to last, I love (love, love, love–can't say this enough) that they sell interchangeable parts you can easily switch out for your children as they grow. So instead of shelling out a bunch of cash for an entirely new bike, I can simply purchase the exact parts we need in a bigger size, which saves us a ton.
I can't say enough about Strider Bikes. Invest in one for your family–Fall is the perfect season for bike-riding!–or make plans now to give a super-sweet holiday gift for the kid on your list.
**********************************************************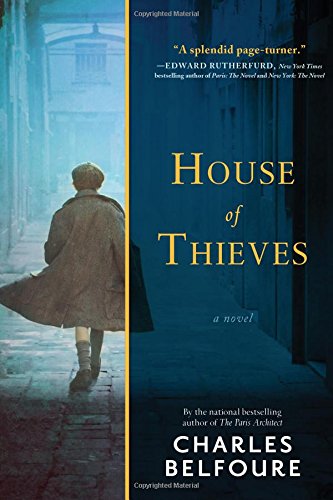 Charles Belfoure's first novel, The Paris Architect, blew me away. It's a true reader's read. When I heard his second novel, House of Thieves, was coming out? Let's just say I made no casual show of working to get my hands on an advanced copy. I'm digging in and delightfully getting carried away in the world of 1886 New York Belfoure has artfully crafted.
As described on Amazon:
"In 1886 New York, a respectable architect shouldn't have any connection to the notorious gang of thieves and killers that rules the underbelly of the city. But when John Cross's son racks up an unfathomable gambling debt to Kent's Gents, Cross must pay it back himself. All he has to do is use his inside knowledge of high society mansions and museums to craft a robbery even the smartest detectives won't solve. The take better include some cash too ―the bigger the payout, the faster this will be over.
With a newfound talent for sniffing out vulnerable and lucrative targets, Cross becomes invaluable to the gang. But Cross's entire life has become a balancing act, and it will only take one mistake for it all to come crashing down ―and for his family to go down too."
Need a gift for the reader on your list? Want to treat yourself by escaping with a great read? Looking for a super fall book club pick? Snatch up House of Thieves and enter through the giveaway to score an extra copy for a friend!
**********************************************************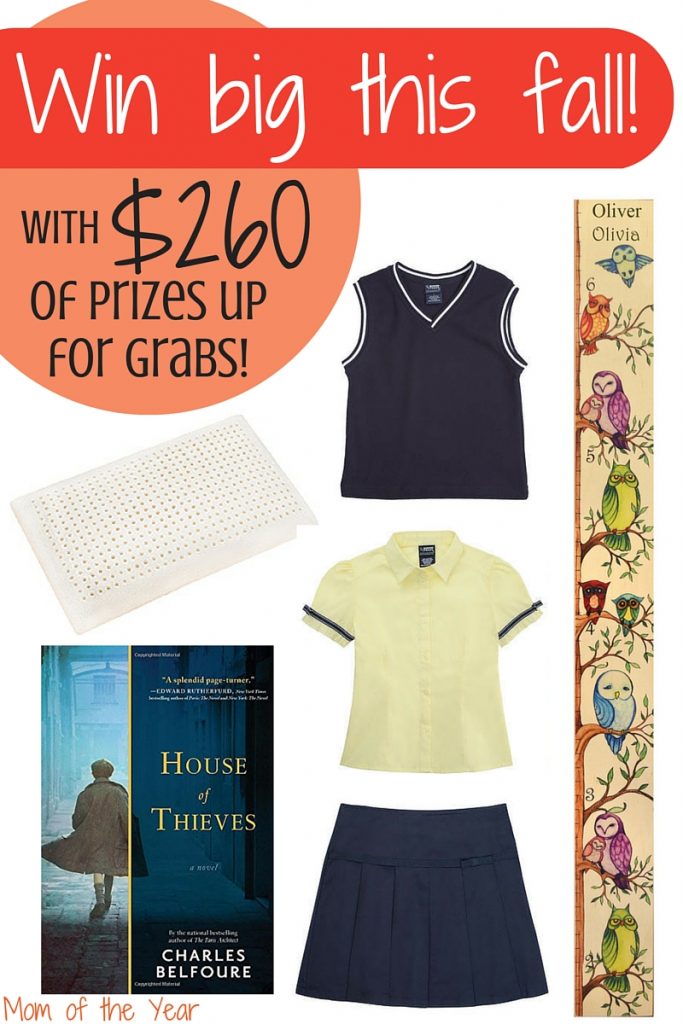 Happy fall, happy shopping, and happy winning, friends!
****Thank you to French Toast, KidsGoCo, Charles Belfoure, Palmpring, Growth Art Chart, and Strider for providing product for review for this gift guide! Our delight in your products is 100% genuine!****
The following two tabs change content below.
Meredith blogs at The Mom of the Year, where she dedicatedly earns her title one epic parenting fail at a time, offering quick, relatable laughs for fellow parents and all their empathizers. She has been part of several best-selling anthologies, featured on prominent sites such as Huffington Post, In the Powder Room and BlogHer, and loves her role as the Executive VP/Operations Manager of The BlogU Conference. When she's not breaking up fights over Legos and juice boxes, she remains fully committed to sharing a less serious look at the world of parenting.