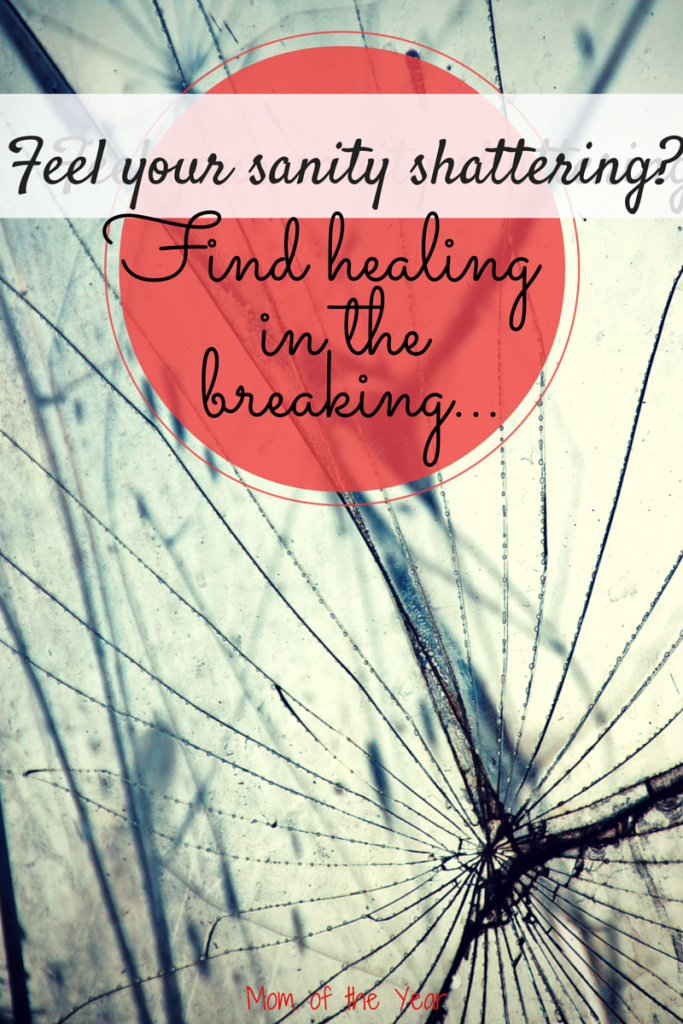 I love my kids. I love the way my son works passionately to understand EVERYTHING and how he insists on praying for China at dinner because he is fascinated that it is already breakfast time there.
I love that the knees on all my daughter's pants are stained and worn because she throws herself into playtime with vigor and how she gives me sweet little back pats when I hug her because it's a Mommy-thing to do.
I love their laughs, their smiles and even their messy backpacks strewn all over the kitchen. It's evidence that they are growing, learning, and thriving, right?
I think of making cut-out sugar Christmas cookies with them and the flour getting stuck into the wooden floor cracks for weeks, and I still love them. Right after I bang my head against the wall for a few minutes.
Despite all this loving, they wipe me.
Some days I don't know what is up or what is down or which way to even start looking if I did have time between apple juice refills to figure it out.
This life is not an easy thing; it's not supposed to be.
That's okay.
But some days when the demands are raging, and the middle-of-the-night cries were plentiful, breathing in and out becomes a bit tricky. It's a feeling of being swallowed into a complete loss of sanity, strength and self.
One day recently, my daughter was having A Day. You parents know what I mean. It can be tempting to check a child's behavior as faulty discipline or poor boundaries, but after hanging out in motherhood for a few years now, I have learned that there are the children who break into an emphatic hour-long rolling tantrums because the color of the plastic Goldfish bowl they were handed is not pink and there are children who just eat the Goldfish.  There are children who can remain in a generally seated position throughout church and those who spontaneously turn into a wild climbing monkey as soon as the pastor begins speaking. I know, because I both types of children.
My daughter is more of the tantrum-ing monkey variety.
I do not want to point the finger at her exclusively. On this particular day, I was especially over-tired, my son was struggling with homework, and dinner was burning. In fact, I had already called my husband in tears twice that day, threatening to quit. Quit what, I'm not sure, as Motherhood allows no take-backs and my only boss is myself; I can't imagine how pissed she would be if I handed in my resignation.
In any case, I sent the children out to play and decided to take one small productive step for my day; I would put away the dishes. I opened the cupboard and a glass flew out at me. It shattered all over the open dishwasher, counter, sink and floor.
It shattered all over my last tether to stability and I fell to the floor, sobbing. I crouched there, among the broken glass and just let the wails rack me, "I can't do this anymore. I can't do this any more….Ican'tdothisanymoreIcan'tdothisanytmore…" Over and over and over again.
If anyone had been watching, it would have seemed a dramatic movie scene. The sheer, unprovoked action of the glass throwing itself out of the cupboard at me seemed horrifically cruel. It felt as the weight of a thousand impossibilities was exploded at me and were escaping through my my cries.
It felt cathartic.
It felt real.
And as some innate part of me found its way through my hysteria to carefully clean up all the glass shards before they met tiny little toes, I knew this one truth: I was right; I couldn't do it any more.
For that day, it was too much. I had been stretched and pushed too much, and I broke. But in the breaking, the well of of all I was holding in found a way out. And that part? Felt wonderful.
I will always love and care for my children. Even when I think I can't find a way to tidy up glass shards, I somehow will.
I will also break sometimes, and that will be okay. And on those days sobbing it out will feel pretty darn good.
And on those days I will quit. After I clean up the broken glass, of course.
Image credit: depositphotos.com, image ID:2534803, copyright:sirylok
The following two tabs change content below.
Meredith blogs at The Mom of the Year, where she dedicatedly earns her title one epic parenting fail at a time, offering quick, relatable laughs for fellow parents and all their empathizers. She has been part of several best-selling anthologies, featured on prominent sites such as Huffington Post, In the Powder Room and BlogHer, and loves her role as the Executive VP/Operations Manager of The BlogU Conference. When she's not breaking up fights over Legos and juice boxes, she remains fully committed to sharing a less serious look at the world of parenting.