We never think anything will go wrong when we send our children to play at a friend's house. However,
accidents can happen. They could slip while playing in the yard, get bit by a dog, or suffer any number of
accidents. It is also common for some kids to engage in dangerous behaviors when adults are not
around.
Whatever the cause, you want to know how to respond when your child has an injury at a friend's
house. Unfortunately, it isn't always a simple matter. Beyond the complexities of dealing with the
immediate situation, there could be legal issues.
This post will cover some of what parents need to know in the event a child is injured while at a friend's
house.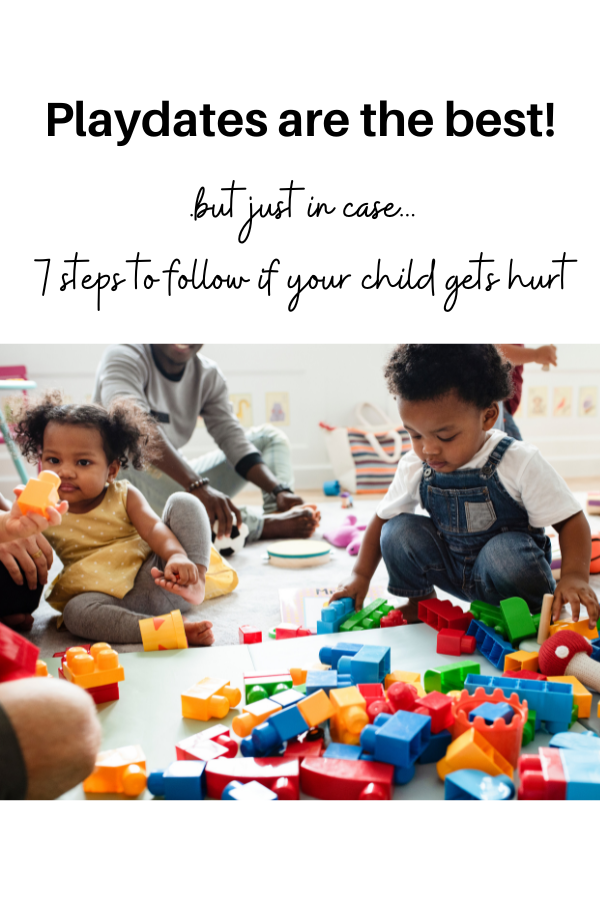 Address Medical Issues
The first and most important step is to tend to any injuries the child may have. If it is minor, the parent
of your child's friend might address it with simple first aid. In that case, the parent might call to inform
you of the incident, or your child might tell you when they come home.
For more serious injuries, you might need to take your child to their doctor or the hospital. If it is more
serious, the friend's parent might drive them to the hospital or call 911 for an ambulance. In that case,
you'll need to meet your child at the hospital.
Speak With the Child and Doctor
Once you are there, you can get information from the child and healthcare professionals. The doctor will
advise you on the extent of the injuries and treatment options. You may also need to ask your child how
the injury occurred. Tell them the importance of being honest, and that you need to know how they
were injured. You might even want to take notes when speaking with the child.
Work With Your Health Insurance
Working closely with your health insurance provider will be an important part of the process. Depending
on the injuries, medical expenses can add up fast. However, your health insurance coverage might pay
some or all of the costs. That means you should contact your insurance provider as soon as you can to
inform them of the incident.
Under the best circumstances, your health insurance will cover all the medical expenses, and that will be
the last you need to worry about costs. However, it is important to note that they might refuse some of
the bills. They might even tell you that you need to contact the friend's parents to get their insurance to
pay.
Document the Incident
It is important to keep all documentation and evidence in case you have trouble with the claims process.
Keep all records from doctors and hospitals. Maintain all the medical bills and keep receipts if you pay
for any medical expenses out of pocket. You might also want to take pictures to document that child's
injuries.
Contact the Other Parents
You'll need to contact the parents of your child's friend to discuss the possibility of filing a claim with
their homeowner's insurance. Ask the homeowners for their explanation of what happened. Explain that
your health insurance is not covering all the costs, and ask them to provide information so you can file a
claim with their homeowner's insurance.
One key point is that the insurer might deny coverage or try to offer a settlement for less than the total
expenses. When asked, an attorney from Goidel and Siegel said, "The homeowner's insurer might try to
send you back to your health insurer for the costs. They might also try to settle quickly with a low offer.
It can be difficult for people to know what to do when you have two insurers both saying the other
should pay."
Meet With an Attorney
If you're having difficulty with the insurers, it is probably time to meet with a few attorneys. An
experienced personal injury lawyer will be able to look at the case and make an assessment. They'll
know what your health insurance should cover and what may be available from the homeowner's
insurance of the property owner. The lawyer will be able to work on your behalf to recover fair
compensation.
Understanding Fault
Another point is understanding fault. Just because the accident happened on someone's property, it
does not mean they are liable. There are different components to liability in these cases. For example,
there are questions about the duty of care, whether the homeowner breached that duty, and if that
breach was the cause of the injury. Each of these elements must exist for a legitimate claim. It is possible
for the property owner to be found only partially liable or not liable at all.
It is important to note that these issues are complex. Trying to deal with an insurer on your own could
result in you compromising your rights or not getting full compensation. That is why it is a good idea to
consult with a personal injury attorney in situations like these.
The following two tabs change content below.
Meredith blogs at The Mom of the Year, where she dedicatedly earns her title one epic parenting fail at a time, offering quick, relatable laughs for fellow parents and all their empathizers. She has been part of several best-selling anthologies, featured on prominent sites such as Huffington Post, In the Powder Room and BlogHer, and loves her role as the Executive VP/Operations Manager of The BlogU Conference. When she's not breaking up fights over Legos and juice boxes, she remains fully committed to sharing a less serious look at the world of parenting.