Thank you to Mikra for sponsoring this post so I can fill you in on their superstar product CELLF and some smart energy boosters to help you tackle your days!
Anyone else feeling their age? I turn 43 later this summer, and sluggishness and fatigue are increasingly becoming constant battles. Chalk it up to running hard after kids and activities, or just my body getting older, but I am feeling it. After way too many days of dragging myself through the hours with the flimsy help of caffeine, I decided to tackle my energy levels this summer with a holistic, healthy approach. I'm not a medical pro, but these are things that have all been helping me a ton–especially my new find of CELLF. Read on for the scoop, and get ready for an energy surge, my friends!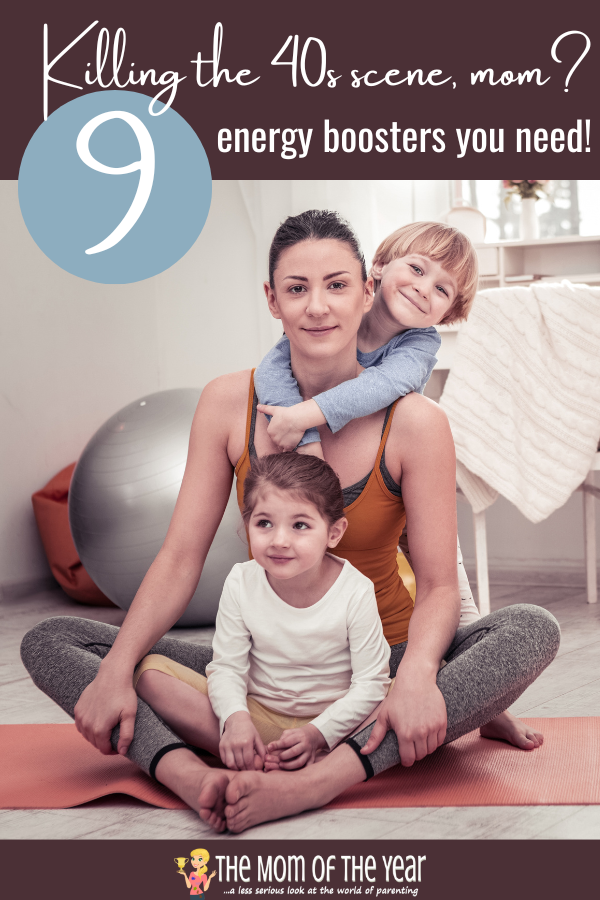 Energy Boosters for the 40+ Crowd
Water, water, and then more water. I know, we've all heard this a million times, but proper water intake really does make difference in my days. Bonus for consistency with this–I have noticed increased energy when I have repeatedly chugged my water several days in a row.
Get moving. It can feel impossible to add one more thing to your already packed days, but when I take the time to exercise, I feel more alert and awake with more energy to tackle all the other things on my list.
Sleep matters. This is another one we've all been told so many times. While the temptation is strong to stay up and get things done, I am so, so less productive the next day. If I can stick to a regular bedtime, I function better and end up getting more done overall.
Vitamin D for the win. Summer is the perfect time to get outdoors and soak up some of that energy-boosting Vitamin D the sun gives us. Multitask and take your exercise outdoors to get your fitness and sunshine in all at once.
Avoid refined sugar. I find the older I get, the worse I feel after a sugary treat. Not only does sluggishness set in, but with repeated intake, brain fog seems to set in too.
Make sure to get protein. If I don't have protein at each meal, I crash and crash quickly and hard.
Naptime can be brilliant. My mom was always a huge fan of the 20-minute nap. Even if you can't actually fall asleep, taking a few minutes to shut your eyes can be tremendously restorative.
Relax! Easier said than done, I am sure, but taking non-sleep time to unwind and do something you find enjoyable restores my soul, helps me to feel more balanced and able to tackle my to-do list.
And finally…CELLF! What is CELLF? How does it work? Let me tell you all about it…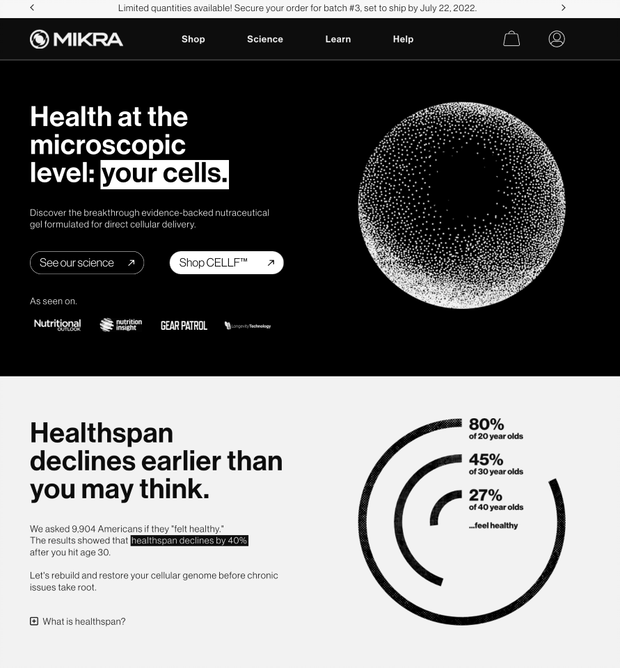 Mikra is a brand devoted to maximizing your healthspan—the number of years in your life you are healthy and feeling like your best self. They focus on improving your daily life, prioritizing both physical and mental health while delaying biological age. Their primary goal is to ensure you're not just living, but thriving.
Mikra works to achieve this by addressing your health at the smallest level: your cells. Our bodies are made of upwards of 37 trillion different cells, all with different lifespans and instructions. Mikra seeks to maximize cell efficiency by minimizing and reversing damage to their structure.
How do they do this? CELLF by Mikra supplement is an intensive superblend formula designed to help boost energy and mental focus on a cellular level. Specifically created for people aged 30+ who are starting to feel the effects of biological aging, like low energy, poor sleep quality, brain fog, slower recovery time following strenuous exercise or alcohol indulgence, and chronic inflammation.
CELLF is comprised of all-natural, sustainable ingredients with no added sugar or excess fillers. While CELLF may be nourishment for your cells, it isn't food. It's a dietary supplement.
How does CELLF work?
The precise dosage of each key ingredient in CELLF is backed by extensive scientific evidence and was selected in order to deliver maximum results at safe levels. Designed for maximum absorption, the combination of our iron-binding glycoprotein (lactoferrin) with a liposomal barrier provides impenetrable protection to get CELLF through digestion intact and delivered directly to your jejunum (mid-small intestine) to be distributed to your blood plasma and concurrently, your cells.
Similar to how oxidation can affect your cells, exposure to oxygen at any point can degrade the potency of your supplements. For this reason, CELLF is packaged in individual-use sachets you can squeeze directly into your mouth to reduce oxygen exposure or mix with a spoonful of nut butter for immediate consumption.
What are the key ingredients in CELLF?
Glutathione: Actively reduces free radicals and reactive oxygen species within the body, protecting cells and preventing tissue damage.
CoQ10: improves the speed and efficiency of mitochondria, facilitating more energy production and availability at a cellular level.
PQQ: Provides neuroprotection and stimulates the increase of mitochondrial numbers, improving function and resulting in more efficient, natural energy production.
Lactoferrin: Transfer molecule designed to protect CELLF liposomes during the digestive process, allowing armored passage to the intestinal tract for full absorption.
What are the top benefits of CELLF and who is it designed for?
Primarily, by supporting cellular health by combating oxidative stress and chronic inflammation, CELL boosts energy, increases focus and provides cognitive support.
While the target age of CELLF is those 30-45, it can benefit all ages. CELLF is targeted towards this age range in line with Mirka's commitment to increasing your healthspan by beginning prevention against cellular damage at a earlier age.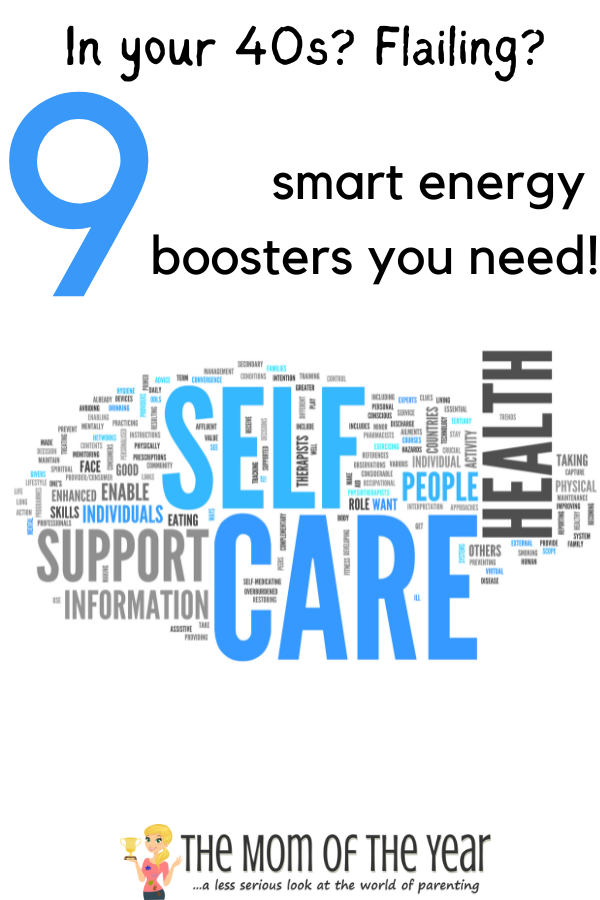 How long will it take to feel the benefits?
Every person is different; your current state of cellular health, your age, activity levels and dietary routine are all factors in determining how and how quickly your body will respond. On average, within 7-14 days, many users notice a steady improvement in energy. Within 30 days, you may start to feel a reduction in general fatigue and a stronger output and recovery during and after exercise. Within 60 days, you may notice a deeper and more restorative sleep, quicker recall, improved attention span and a reduction of inflammatory markers within the body. Within 90 days, you can expect a sustained improvement in energy, alertness and activity levels, more rapid recovery potential and internally, your stores of glutathione are replenished and ready to defend against future battles with oxidative stress.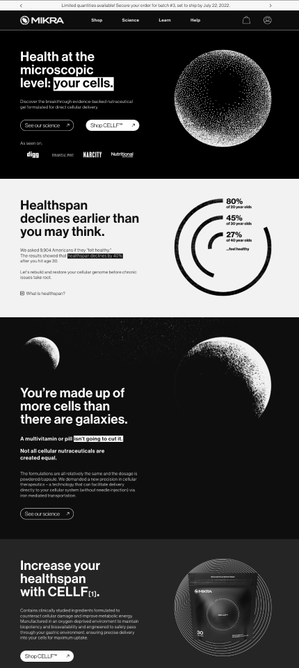 Intrigued, friends? Check out some of the reviews on the website, then use code MEREDITH10 to get 10% off your first order!
In my book, anything that can help me feel energized to tackle my day is a HUGE win. Share your thoughts here after you give it a try. We may be getting older, but we can do this–one smart, healthy step at a time.
The following two tabs change content below.
Meredith blogs at The Mom of the Year, where she dedicatedly earns her title one epic parenting fail at a time, offering quick, relatable laughs for fellow parents and all their empathizers. She has been part of several best-selling anthologies, featured on prominent sites such as Huffington Post, In the Powder Room and BlogHer, and loves her role as the Executive VP/Operations Manager of The BlogU Conference. When she's not breaking up fights over Legos and juice boxes, she remains fully committed to sharing a less serious look at the world of parenting.