It's no secret that home maintenance is imperative for all homeowners. Neglecting a home can lead to its gradual dilapidation, rendering your most valued asset worthless or a financial burden. And while most homeowners have a detailed home maintenance checklist, when it comes to plumbing, you will need to consider daily and weekly tasks instead of only annual tasks.
Your property's plumbing system impacts 15 percent of your home's value. But beyond that, experiencing plumbing problems is undeniably frustrating, to say the least. It is so important to maintain your home's plumbing system!
Whether your showers are ruined by low water pressure, or it takes an hour to fill the bathtub, most plumbing problems will impact your daily life and put quite a damper on your day. So, maintaining your plumbing system is crucial in upholding your home's value and ensuring your living space is functional and comfortable.
That said, if you aren't too sure what kind of maintenance tasks are essential when it comes to this area of home maintenance, we've listed them for you. Prioritizing these tasks and particular creating habits will ensure your plumbing system is always in top condition.
The Daily Tasks
Fortunately, the daily tasks will gradually become habits, and they're pretty straightforward as well. These tasks include running cold water for about fifteen seconds every time you use the garbage disposal, being selective about what goes in the garbage disposal, and clearing out clogs as soon as you notice them.
Leaving clogs will make the problem worse, as the water-soluble components of the drain or toilet clog will gradually dissolve, and the rest will fill these gaps, compacting the clog even more. Moreover, you'll also experience unpleasant smells from the bacteria festering in the clog and the stagnant water, and your plumbing system will be damaged over time.
Fortunately, removing clogs is pretty straightforward with the right products. Alternatively, there are also natural drain cleaning solutions that you can make yourself at home. The most common DIY drain cleaning solution is hot water, baking soda, and vinegar, which creates a bubbling volcano in the drain and breaks up the clog in the process.
But if your efforts are unsuccessful, you will need to contact a plumber as soon as possible. If you cannot remove a clog, it is vital to get a plumber as the problem can fester, as mentioned above. The reasonable cost of the callout will save you from pricey repair needs later on.
The Weekly Tasks
The weekly tasks to prioritize are also relatively simple. You must check under sinks for signs of leaks or moisture. Next, you must also inspect all drains for signs of slow drainage, which signals a clog that needs to be removed. While you are checking these, you should also check and clean out your washing machine and tumble dryers lint traps.
Weekly tasks are pretty crucial in ensuring no plumbing problems go unnoticed. Because plumbing problems can fester gradually before suddenly causing damage, checking around your home weekly is vital.
If you do happen to notice any plumbing issues when doing weekly inspections, be sure to get an expert plumber as soon as possible if you aren't able to manage the problem on your own.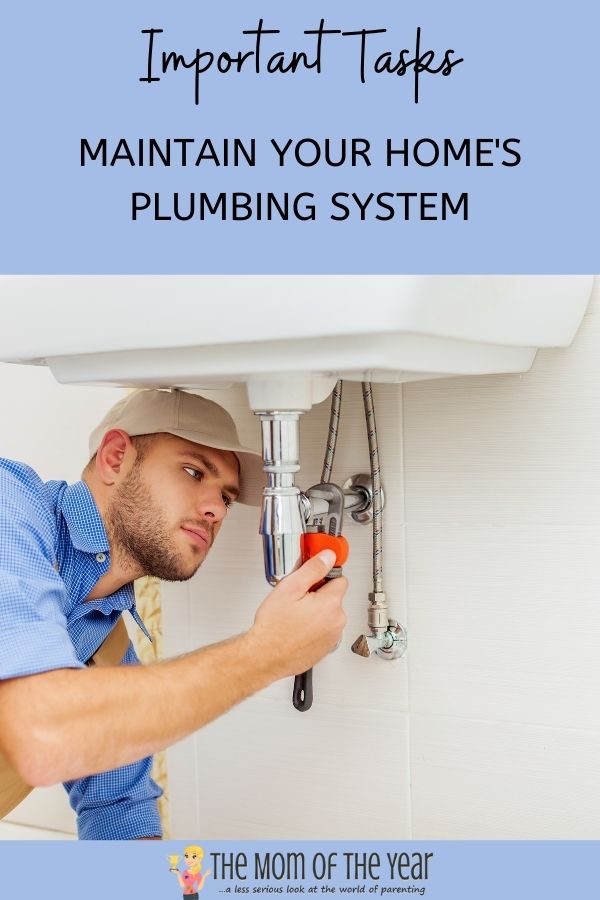 Seasonal Tasks
When winter starts approaching, you will need to prepare your home's plumbing system for the cold temperatures. However, this is only essential if you live in a colder climate where frozen pipes are common.
You can prepare your home by insulating pipes, shutting off valves, and disconnecting hoses. Furthermore, it is also vital to empty your water heater and refill it. This is essential for draining out all the mineral build-up at the bottom of the tank. Not draining your water heater can, unfortunately, lead to costly problems, or worse, the need for a replacement. And because a water heater should last between ten and fifteen years, you won't want to replace it before its expiration date arrives; water heaters are not really pocket-friendly purchases.
Frozen pipes can be exceptionally damaging to your plumbing system. The problem can lead to burst pipes. And some of the telltale signs of frozen pipes include faucets that won't flow or lousy water pressure, and toilets won't refill after flushing.
When it comes to the warmer seasons, you must check thoroughly for leaks, monitor appliances, and clean all your sprinkler heads and showerheads. You can easily clean out your sprinkler and showerheads with a baking soda and vinegar solution.
In addition, it is also essential to call a plumber when summer starts approaching to schedule an inspection of your plumbing systems. This is vital for your annual home checklist as well. Even if there are no noticeable plumbing concerns, a professional plumbing inspection is still necessary to ensure no underlying issues need attention.
Essential Things You Need To Maintain Your Plumbing System
Because there are several tasks that you can do yourself to maintain your plumbing system, you will need a few essential tools and products.
When it comes to tools, things like toilet plungers, drain snakes, an adjustable wrench, and a few other odds and ends are generally in regular ready-stocked toolboxes. On the other hand, some handy products to keep include baking soda, vinegar, drain cleaner, and bleach.
Maintaining your plumbing system with the tasks mentioned above is the best way to ensure you can avoid the costs of repairing costly damages. A faulty plumbing system can lead to extensive property damage, ranging from rising damp and rot to water damage on flooring and ceilings.
Because these damages can degrade property value substantially, you must prioritize plumbing maintenance and annual professional inspections. That said, even if you are a relatively skilled hands-on homeowner, you should still rely on a professional plumber to handle tasks such as roots in pipes, burst pipes, and several others. Attempting some plumbing fixes can lead to even more damage if you don't know what you are doing or if you don't have all the right tools and equipment for the job. Do you do any of this to maintain your home's plumbing system? Let me know in the comments!
The following two tabs change content below.
Meredith blogs at The Mom of the Year, where she dedicatedly earns her title one epic parenting fail at a time, offering quick, relatable laughs for fellow parents and all their empathizers. She has been part of several best-selling anthologies, featured on prominent sites such as Huffington Post, In the Powder Room and BlogHer, and loves her role as the Executive VP/Operations Manager of The BlogU Conference. When she's not breaking up fights over Legos and juice boxes, she remains fully committed to sharing a less serious look at the world of parenting.