Acid reflux or GERD are both problems that really affect your quality of life. Not only do they reduce the number of foods you're able to eat, but they also impact other areas. For instance, sleeping is an issue when you have acid reflux. So is exercise and even the ability to work effectively, so figuring out how to get rid of GERD is important!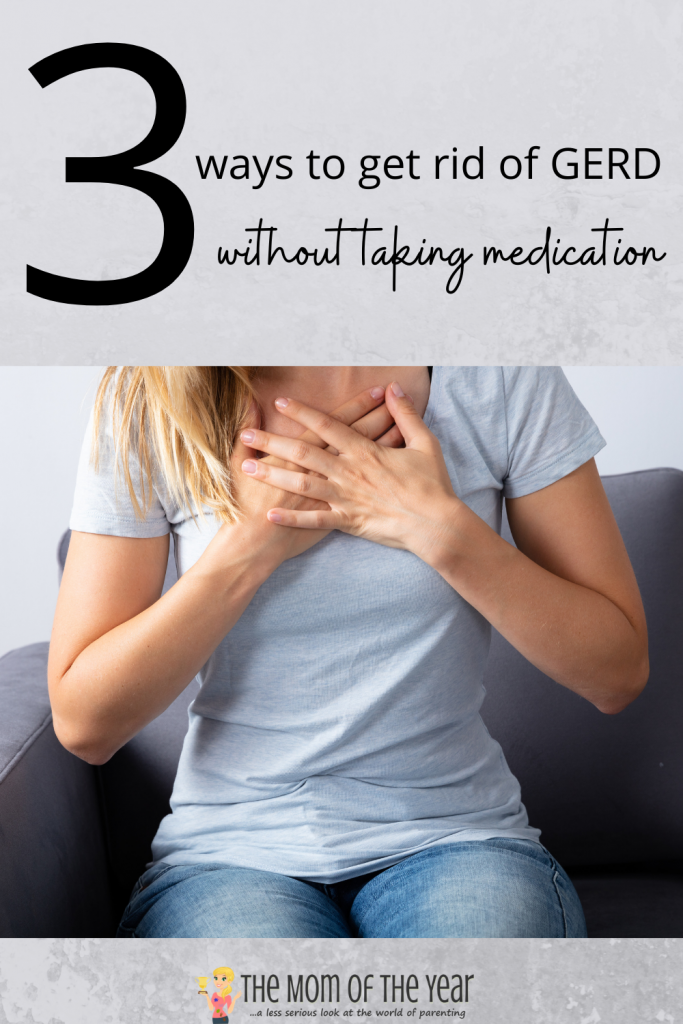 They seem like minor afflictions, but people that suffer from them regularly would tell you otherwise. That's why it's important to not ignore these problems. In fact, you can do some physical damage to your esophagus if you let it go without treatment.
You should definitely seek medical attention for them, but you can also be doing things at home to alleviate the problems so you aren't dependent solely on medication. In this article, I will give you some ideas on how to treat GERD yourself at home.
3 Ways To Get Rid Of GERD Without Taking Medication
1 – Get the right bed
Nighttime is especially difficult for sufferers of GERD. When you lie down the acid finds its way up to your esophagus and is very uncomfortable. Which leads to poor sleep and loss of energy. It can also lower your immune system so you find yourself getting sick more often.
The key is to raise yourself up a little bit in bed so the acid stays down. You can prop yourself up with pillows, but the best idea is to get a Ghostbed adjustable bed base so you can comfortably lie in bed with your torso raised and avoid the acid from traveling.
Ideally, you can have your head 6 to 9 inches above your feet. If you aren't ready to buy a new bed frame then using a foam edge is a good alternative.
2 – Stay up after eating
It makes sense that you would want to relax after eating but the problem is that is when the acid starts to activate inside your stomach. If you are relaxing in bed to read or watch TV before sleeping then this is going to cause you some discomfort.
Instead, make sure that you give yourself a few hours of staying upright before you go to bed. Either stand up for a while by going for a light walk or sit upright at the table or couch for a while to give the acid a chance to settle. It also gives any medications that you may be taking a chance to work.
3 – Avoid stress
This is easier said than done, I know. But keeping your stress at bay will give you a lot of relief when it comes to acid reflux. When you're stressed, your body starts producing acid in overdrive.
Try to find some ways to deal with the causes of your stress and you will have fewer issues with acid reflux. For instance, doing meditation is a good way to keep your stress from affecting you physically. Also, avoid situations that you know cause stress. Holidays with the families drive you mad? Then stay home this year. Does watching a thriller cause you anxiety and bring on GERD? Watch a family movie instead.
The following two tabs change content below.
Meredith blogs at The Mom of the Year, where she dedicatedly earns her title one epic parenting fail at a time, offering quick, relatable laughs for fellow parents and all their empathizers. She has been part of several best-selling anthologies, featured on prominent sites such as Huffington Post, In the Powder Room and BlogHer, and loves her role as the Executive VP/Operations Manager of The BlogU Conference. When she's not breaking up fights over Legos and juice boxes, she remains fully committed to sharing a less serious look at the world of parenting.