Carrie is taking it away this month with our Cobble Hill Book Club Discussion! Thanks for joining us, friends. 🙂
Well, here we are again … month 324 in the year 2020! We are hunkered down again and, frankly, losing our minds. I don't know what I would do without Netflix and all my books! To no one's surprise, I have read a record amount this year in a wide variety of subject matters. It's been one of the few joys of this year. I hope you to can find a little bit of joy these days as well.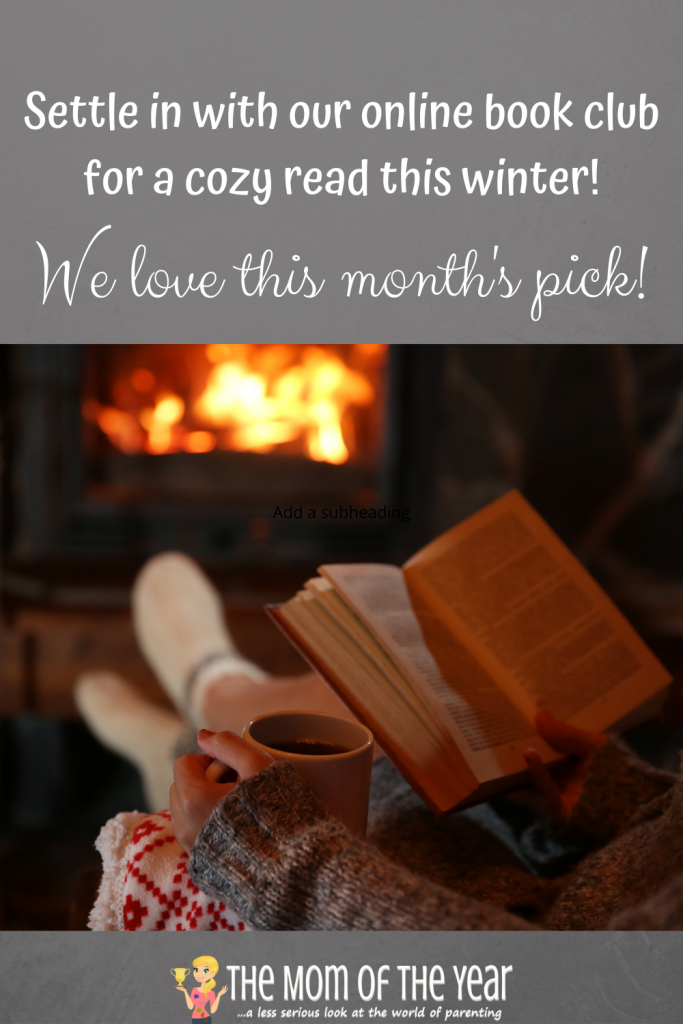 Our online book club pick for this month was Cobble Hill by Cecily von Ziegesar. I hope you all were able to read along with us! This book reminded me a little of Truly, Madly, Guilty by Liane Moriarty. Both center around several couples within a neighborhood that have both some major and minor issues that consume them and/or the people around them. I'm curious to know if you got the same vibe?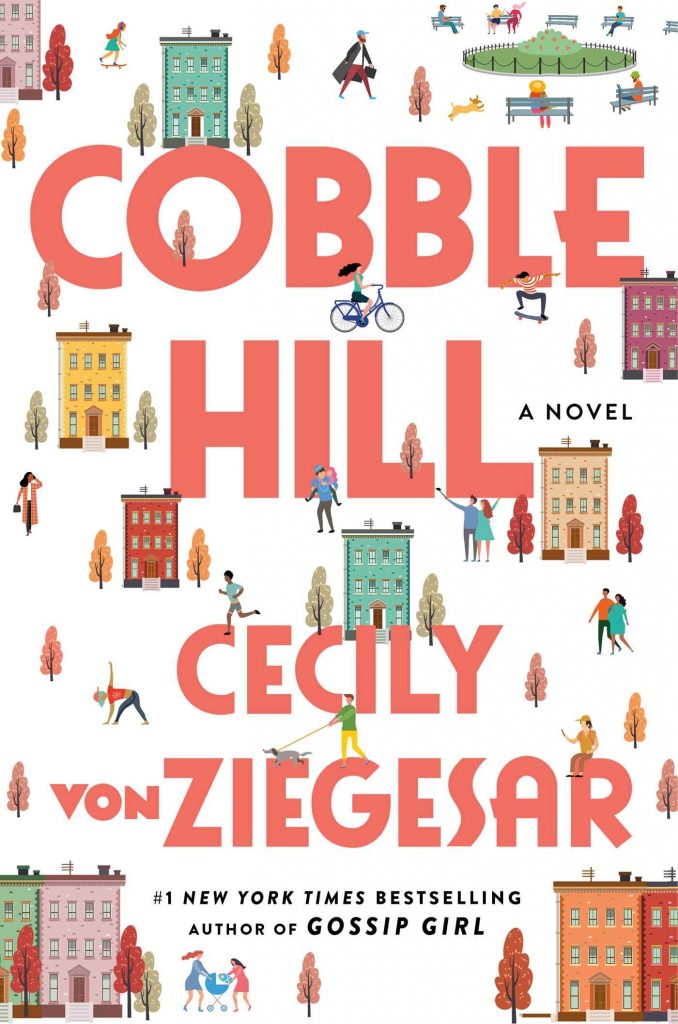 Our first couple is Roy and Wendy. Roy is an established author struggling to write his next novel, while Wendy works for a magazine where she gets surprisingly demoted. They have three daughters, but the main focus is on their daughter, Shy, who still lives at home with them. They have just recently moved to the neighborhood from England.
Our second couple is Stuart and Mandy. Stuart is a retired famous rock star married to his groupie wife, Mandy. Mandy has been pretending to have MS for some time for a variety of reasons, mostly to gain her husband's attention. Their son Ted is in elementary school and doesn't play too big of a role until the end of the novel.
Our third couple is Tupper and Elizabeth. Elizabeth is a strange and elusive artist who is in and out of her husband, Tupper's, life. Tupper is an entrepreneur who develops helpful and unique gadgets.
Peaches and Greg round out the last of the couples. Peaches is the school nurse and finds several of the neighborhood men attracted to her. She and her music teacher husband, Greg, have spent their lives obsessed with the band that Stuart, their neighbor, was once a part of. They have a son Liam who has yet to find a comfortable social circle in high school.
And so begins the great mix of personalities (and a lot of marijuana) that results in numerous predicaments for all the characters.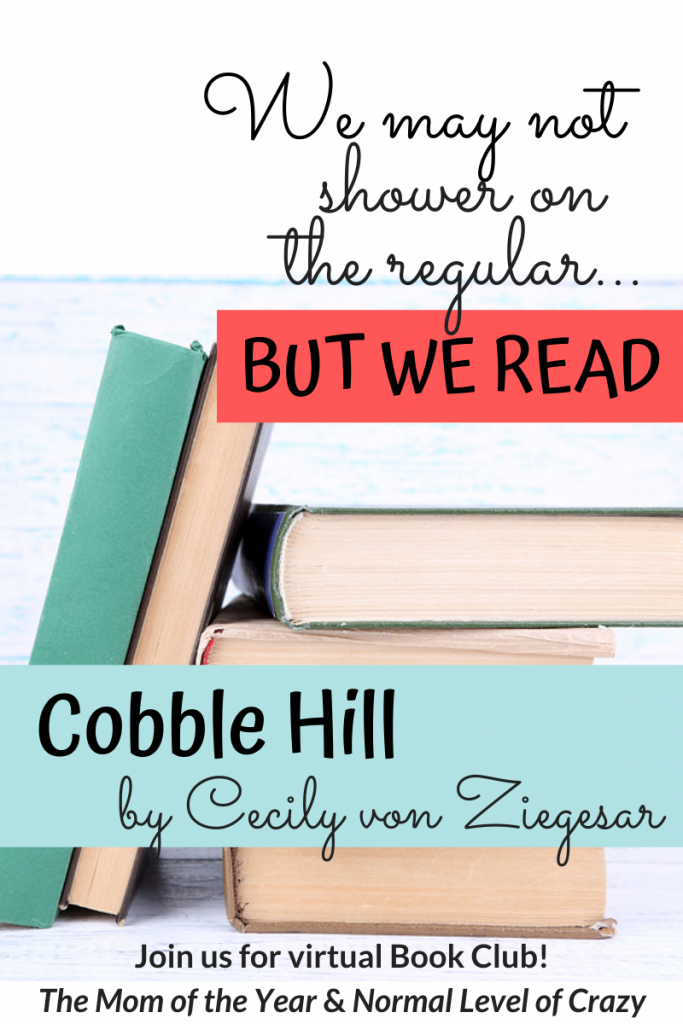 Probably my favorite storyline was that of Shy and Liam. I recognize that they were not the main focus of the book, nor were they grown adults, but their friendship (and eventual girlfriend/boyfriend status) felt both sweet and real to me. And possibly the most mature out of all the couples; which is interesting considering they are teenagers.
Roy's struggle with writing his novel was very often funny to me. How many of you would like to read the final of draft of Gold?? Pregnant teenagers on Mars? Sign me up!! Wendy, on the other hand, was torn over telling Roy about her demotion. I felt that her storyline seemed the least problematic and angsty.
I felt that the reveal about Mandy was sort of anti-climatic and seemingly easily forgiven by Stuart. Pretty sure there would be a huge destruction of my marriage if I lied about a major illness (and my husband kissed another woman). But who knows!
Tupper and Elizabeth were just plain weird and, I felt, the hardest to relate to. I'm sure there are artists out there like Elizabeth, but her antics seemed beyond comprehension at times. And Tupper just seemed sad to me. I was hoping at the end that he had figured out that he was best without her, but it seems that wasn't the case.
Overall, I found Cobble Hill a little lacking. I think it would make for a great Netflix show where the characters could be explored more and the outrageousness would maybe present as more fun than weird.
Also, I'm really worried about Ted and hope they eventually got him into therapy!!
Let us know your thoughts on Cobble Hill! I think this book would provide a great in-person book club discussion if we can ever all see each other again. Here's hoping 2021 brings us lots of book discussion time!!
Meredith and I are super excited about our next pick, A Princess for Christmas by Jenny Holiday! A super sweet holiday book sure to put you in the mood for Christmas! Curl up with some hot chocolate and read on for the description below.
As always, we are giving away a copy for free! Leave a comment on this blog post by 12/18/20 by 5:30am ET, and as long as you are 18 or older and live in the continental United States, you are eligible to win!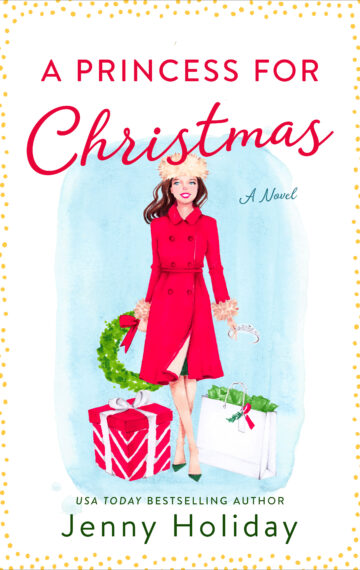 "A perfect combination of sweet and sexy moments makes A Princess for Christmas an unputdownable read!"–Mia Sosa, USA Today bestselling author
From USA Today bestselling author Jenny Holiday comes a modern fairy tale just in time for Christmas about a tough New Yorker from the other side of the tracks who falls for a princess from the other side of the world.
Leo Ricci's already handling all he can, between taking care of his little sister Gabby, driving a cab, and being the super of his apartment building in the Bronx. But when Gabby spots a "princess" in a gown outside of the UN trying to hail a cab, she begs her brother to stop and help. Before he knows it, he's got a real-life damsel in distress in the backseat of his car.
Princess Marie of Eldovia shouldn't be hailing a cab, or even be out and about. But after her mother's death, her father has plunged into a devastating depression and the fate of her small Alpine country has fallen on Marie's shoulders. She's taken aback by the gruff but devastatingly handsome driver who shows her more kindness than she's seen in a long time.
When Marie asks Leo to be her driver for the rest of her trip, he agrees, thinking he'll squire a rich miss around for a while and make more money than he has in months. He doesn't expect to like and start longing for the unpredictable Marie. And when he and Gabby end up in Eldovia for Christmas, he discovers the princess who is all wrong for him is also the woman who is his perfect match.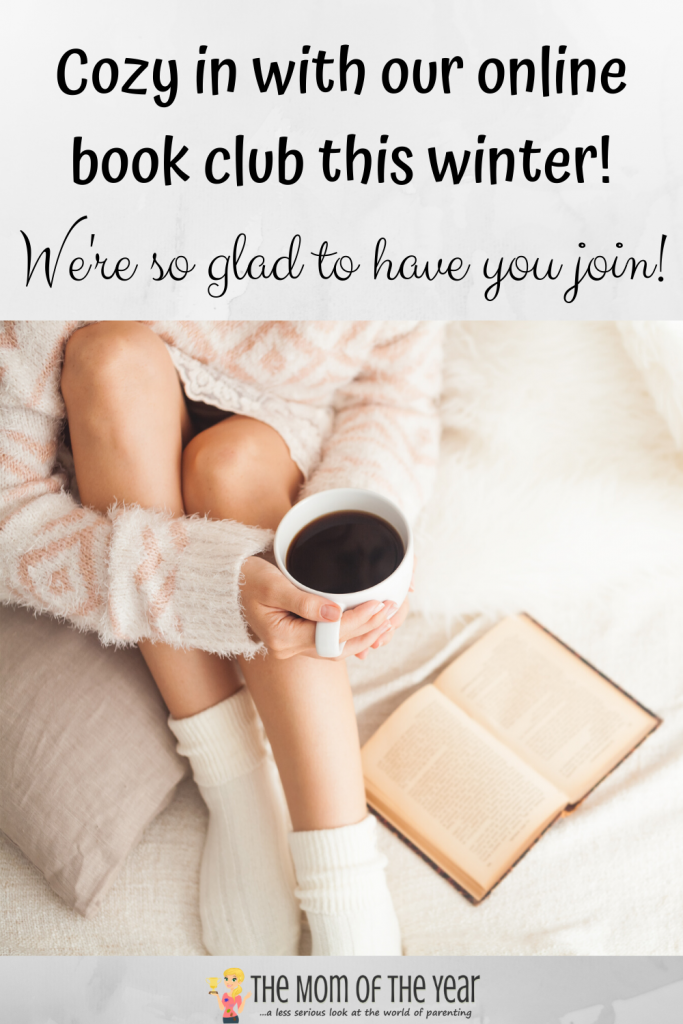 Thanks so much for joining our Cobble Hill book club discussion! As always, we love hearing your thoughts and opinions! Keep them coming!!
Stay healthy and safe out there! We're almost out of the woods! xo
*Thank you to Atria Books for providing copies for out Cobble Hill book club discussion for us to review and give away! All opinions are 100% our own.*
The following two tabs change content below.
Meredith blogs at The Mom of the Year, where she dedicatedly earns her title one epic parenting fail at a time, offering quick, relatable laughs for fellow parents and all their empathizers. She has been part of several best-selling anthologies, featured on prominent sites such as Huffington Post, In the Powder Room and BlogHer, and loves her role as the Executive VP/Operations Manager of The BlogU Conference. When she's not breaking up fights over Legos and juice boxes, she remains fully committed to sharing a less serious look at the world of parenting.