Thank you to Evolution CBD for sponsoring this post. All opinions and references to health claim research are 100% my own and are not provided by the brand in any way.
We have two rescue dogs on our scene, both adorable and both entirely psychotic! Our little jug dog (Jack Russell/pug mix–yup, we did the dog DNA kits with our pups, because how can you not?) is a hyper-vigilant, barking mess who perceives the FedEx truck to be the greatest threat to mankind, matched only in menace by birds flying overhead. Our Australian Cattle dog mix is far more refined in her hysteria, only working herself into a frenzy when our home is under direct attack from unfamiliar guests at the door or when my boss cooking skills yet again set off the smoke alarm. However, she has an anxiety of a different ilk, being rescued from a very, very bad situation in which she was treated incredibly poorly. In the two and a half years she's been ours, she firmly attached herself to me, and when I leave the house or change our routine, it doesn't fly well; her anxiety hits the roof.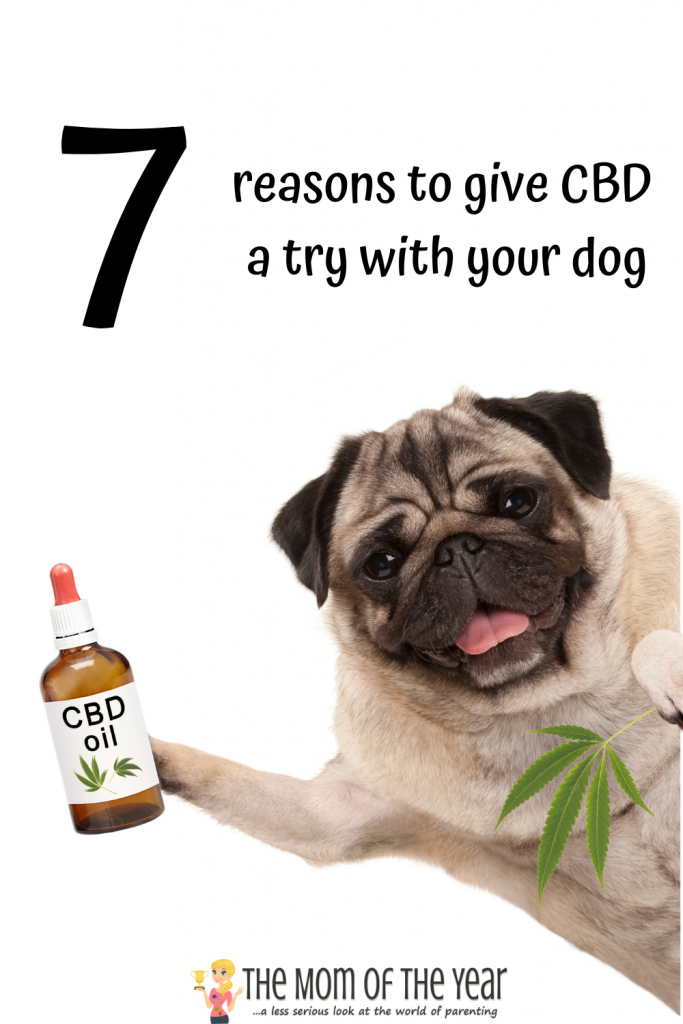 The thing is, we love these two cuddly creatures…very much, in fact. And if we could somehow lessen their anxiety, stress, nervousness and fear, it would be a really, really good thing. I wrote earlier about my own discovery and delight in CBD products for my own wellbeing, but it wasn't until my neighbor shared her success in checking out CBD for her dog that I considered it as a fix for our pups and was so intrigued. So when Evolution CBD reached out and asked me to try their Canine CBD Tincture, I was keen to give it go!
Why Evolution CBD?
I was so impressed with Evolution CBD's commitment to customer care above all else while providing the best science, the best technology, and the best manufacturing available in the industry. They are famous in the industry for releasing the world's first water soluble CBD product (yup, they make products for humans too, and I have been LOVING this water-soluble product!).
Evolution CBD only uses all-natural, full-spectrum, terpene-rich hemp oil extract from industrial hemp. Recognizing that transparency is paramount in the CBD industry, their product line contains the highest quality CBD oil available. Evolution's hemp contains high amounts of cannabidiol from the 100% natural-pure ethanol extraction process, and none of their products contain heavy metals nor insecticides. All are 100% gluten-free, and non-GMO.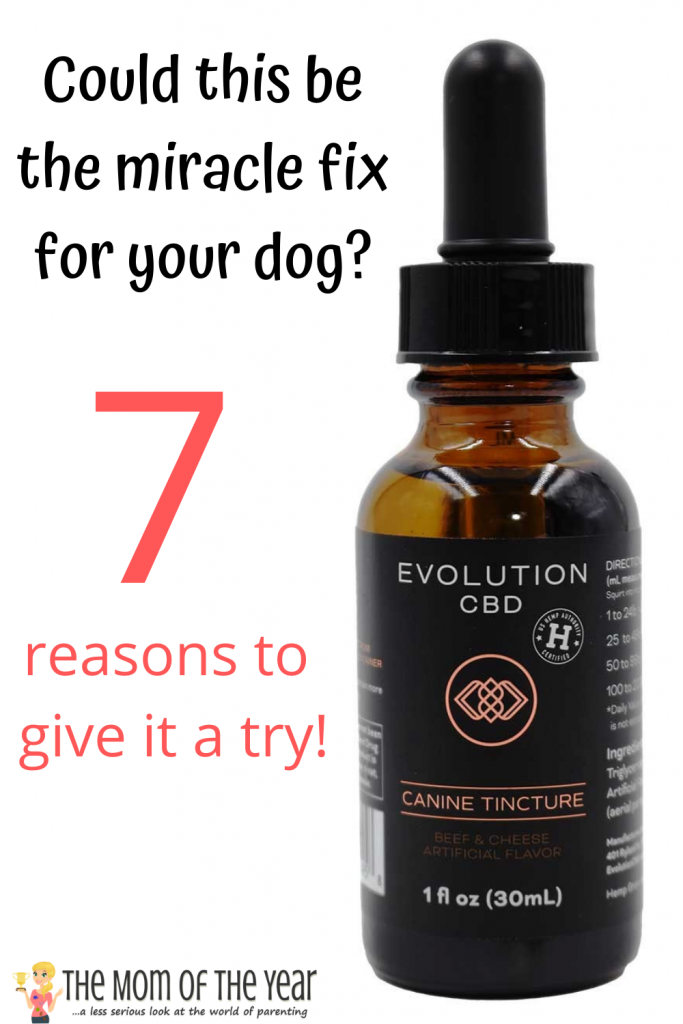 CBD Can Help Your Dog? 7 Reasons to Give it a Try!
As gleaned from my research and experience, there are seven primary ways CDB can help your dog:
Anxiety. This is the primary reason I wanted to try CBD with my dogs! They both suffer from generalized anxiety, and my girl dog also has a hefty dose of separation anxiety resulting from her abusive history.
Discomfort. CBD's anti-inflammatory properties can significantly reduce discomfort your pooches might be experiencing.
Increase appetite. Elderly or sick dogs often experience a loss of appetite. CBD can work to stimulate hunger.
Treating joint discomfort. CBD has also been found to have success in reducing symptoms of joint discomfort in dogs.
Nausea. CBD can work to reduce nausea and vomiting episodes that your dog may experience.
Sleep improvement. This is one of the primary reasons I take it for myself! CBD can work to help dogs fall asleep faster and stay asleep longer.
What was our experience using CBD with our dogs?
We are still in early days, so I can't speak to the long-term effects of CBD usage with our dogs, but I CAN say that the immediate effect appears to be spot-on! After a rather stressful day of online schooling and hyper dog-management we went from this: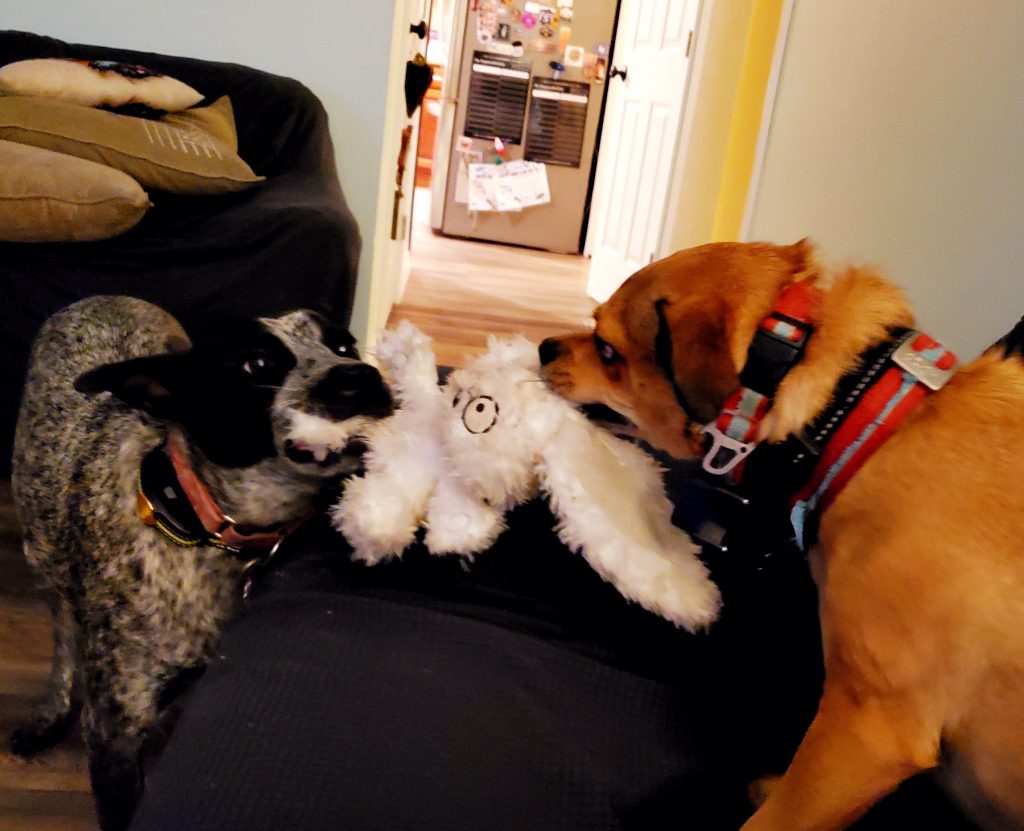 To this: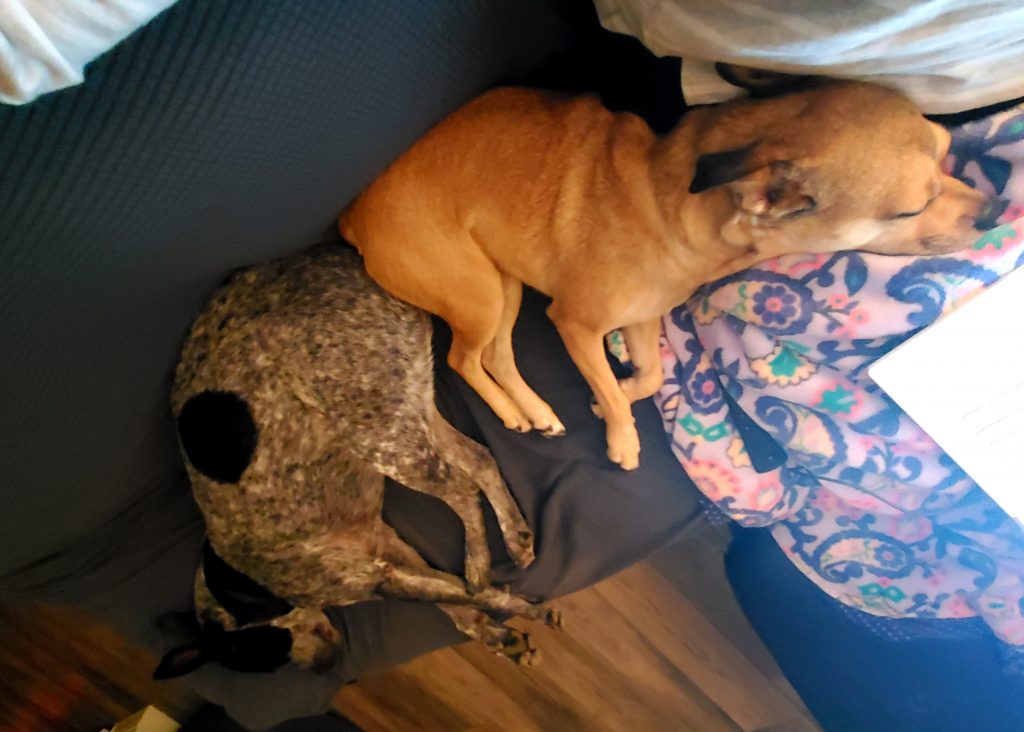 Usually they do tire out from all their play and racing around the yard by evening, but rarely do they settle in so soundly wherever they land without moving. I am definitely curious to see if their overall behavior will chill out after they have been taking CBD for a while, but I am very pleased with the immediate effects!​​​​​​​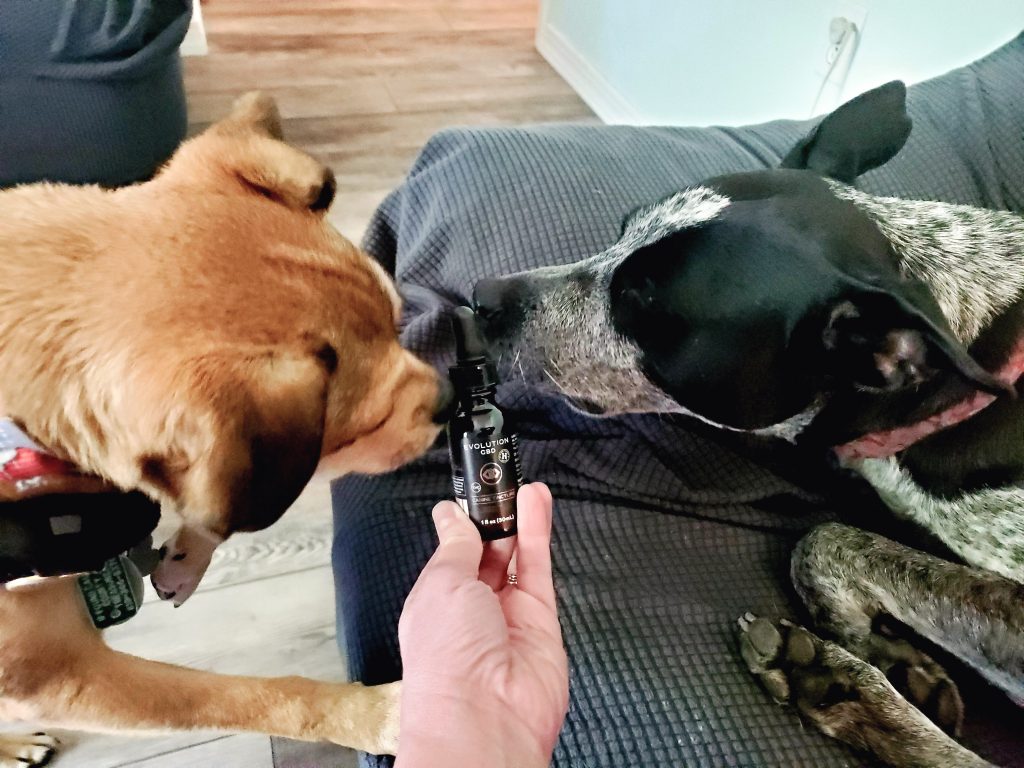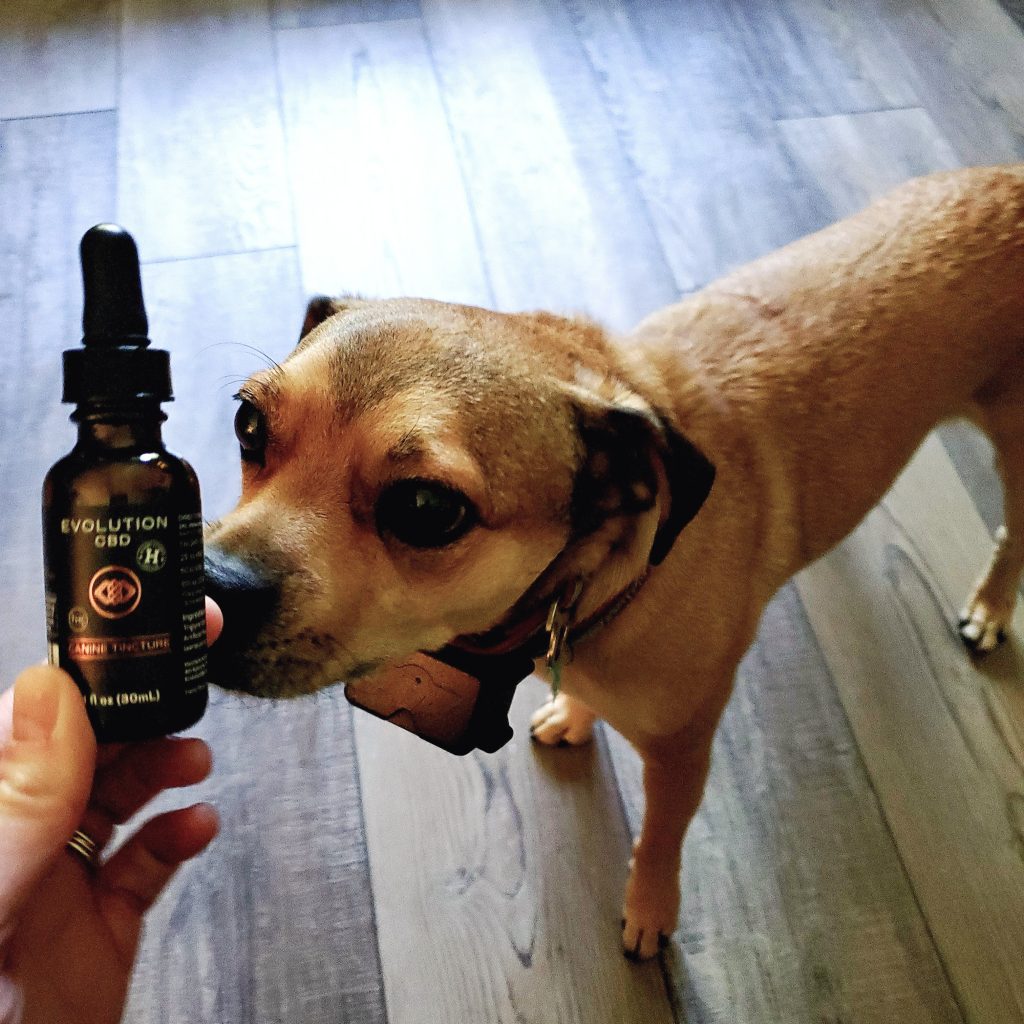 It wasn't a difficulty for me to administer the Evolution Canine CBD Tincture via a dropper, but I love that they have the CBD treat option–my dogs LOVE their treats, and this would be a cool way for me to administer their dosage while making them feel special!
Bottom line: should you try CBD for your dog? If your pooch has any of the issues listed above? Go for it, friends! Anything we can do to help our pups live their best life is a win in my book!
The following two tabs change content below.
Meredith blogs at The Mom of the Year, where she dedicatedly earns her title one epic parenting fail at a time, offering quick, relatable laughs for fellow parents and all their empathizers. She has been part of several best-selling anthologies, featured on prominent sites such as Huffington Post, In the Powder Room and BlogHer, and loves her role as the Executive VP/Operations Manager of The BlogU Conference. When she's not breaking up fights over Legos and juice boxes, she remains fully committed to sharing a less serious look at the world of parenting.