Thank you to iD Tech for sponsoring this post so I can fill you in on their cool online tech camp experience!
Oh gracious, friends…these days are tough ones for sure, and during these weeks of e-learning, we're all doing the best we can to keep our kiddos' minds busy. It's not easy, I know! This is the time of year we would usually be choosing summer camps for our family, but COVID-19 has made it all a different scene. We are now all actively working to sort and smartly occupy our days. So when I was recently introduced to iD Tech's online tech camp experience, I was so intrigued. They sounded like a genius fit for my children, so we decided to give it a go–read on for our experience!​​​​​​​​​​​​​​​​​​​​​
What is an iD Tech's online tech camp all about?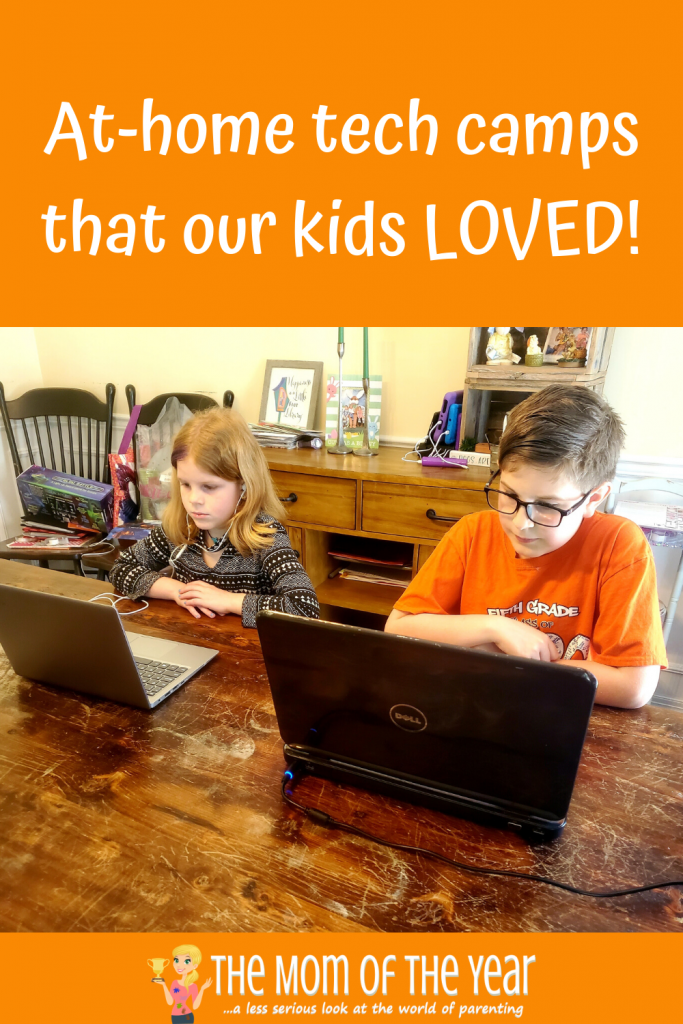 iD Tech is the world's #1 tech summer program for ages 7-19, but now, with the current situation, they are offering online tech camps your kids can participate in from home! Founded in Silicon Valley, programs are usually held at 150 prestigious campuses worldwide, from Stanford University and NYU to Caltech and University of Cambridge, but now your kids can enjoy these camps without leaving the house.​​​​​​​
With their over 20 years of experience and 450,000 alumni, iD Tech transforms your child's love of apps and video games—yes, even Minecraft and Fortnite!—into a foundation for college, internships, and dream careers at companies like Google, EA, and Tesla. Kids will have a blast and build the tech skills employers are seeking!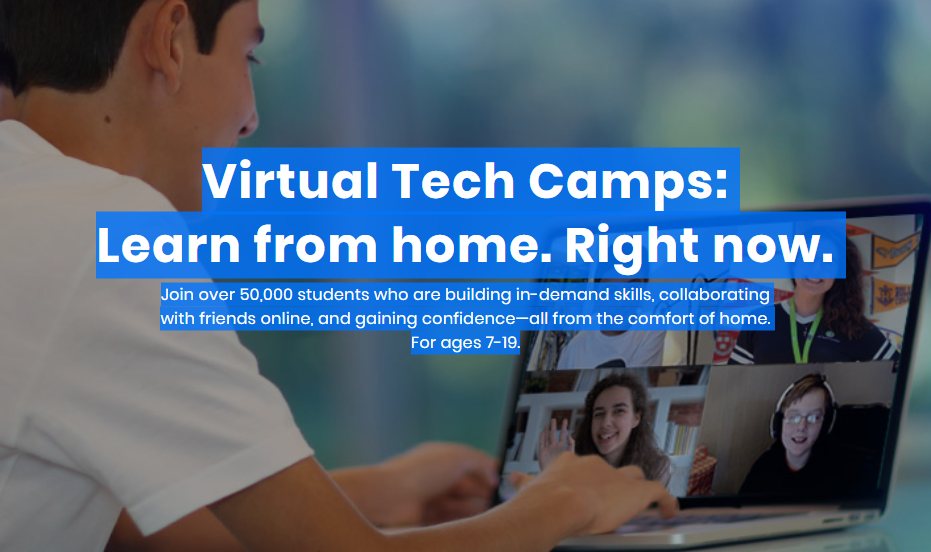 Weeklong day and overnight options are available, with courses for all skill levels in C++, Java, Python, AI, machine learning, VR, 3D printing, game dev with Fortnite, Unreal, Minecraft, Roblox, and more. In addition to their flagship iD Tech Camps, iD Tech also offers all-girls camps, pre-collegiate teen-only Academies, an advanced capstone experience, and year-round Online Private Lessons.​​​​​​​​​​​​​​​​​​​​​​​​​​​​​​​​​​​​​​​​​​​​​​​​​​​​​​​​​​​​​​​ This online virtual tech camp is GENIUS for your kids! With virtual tech camp and online private lesson options, they work for your life NOW, with everything going on. Bonus? You snag some alone time while kids build their tech skills. Score!​​​​​​​
​​​​​​​What was our iD Tech online tech camp experience like?​​​​​​​​​​​​​​​​​​​​​​​​​​​​​​​​​​​​​​​​​​​​​​​​​​​​​​​​​​​​​​​
Since I wanted both of my children (ages 8 and 10) to participate together and wasn't exactly sure of their skill set/level, I opted to sign them up for the Online Private Lessons (OPL) in Minecraft Game Design. There are SO many options for both OPL and the Virtual Tech Camps–check out all of the choices HERE. By being able to select an online tech camp that truly suits your child's age/ability level, you can assure they will meaningfully build on their existing skill set while learning more!
I scheduled the same time for our OPL, for five days in a row with the same instructor. If you sign up for a Virtual Tech Camp, the times are preset. With the OPL, I signed up for each day individually and did so a couple of weeks in advance to secure a consistent instructor/time that suited our daily schedule. If you are flexible on either front (okay with different daily times and/or different daily instructors, you should be able to start OPL more immediately).
Set up was tricky at first, then smooth sailing. And the only reason it was tricky was that we parents failed to load Minecraft to our kids' laptops before kicking off the camp…eek. So our kids kicked the week off building their Minecraft world on Xbox, and then continued as such with a laptop in the background to communicate with the instructor. Lesson learned for you: make sure to have all programs installed on kids' computers/devices before starting!
They LOVED their instructor, and so did we! He was endlessly patient, encouraging and lovely with them. And as parents during this dicey time of trying to work two full-time jobs from home, having someone else to competently take charge of our kiddos for a chunk of time each day was a true gift!
I loved seeing my kids work together and build a love of Minecraft game design together. Their online virtual tech camp experience has finished, but the inspiration to build and play together continues, and this means more to me than anything! Now, when they annoy me too much during our daily grind, I can holler, "Go build Minecraft together!"…and they do…and it works 🙂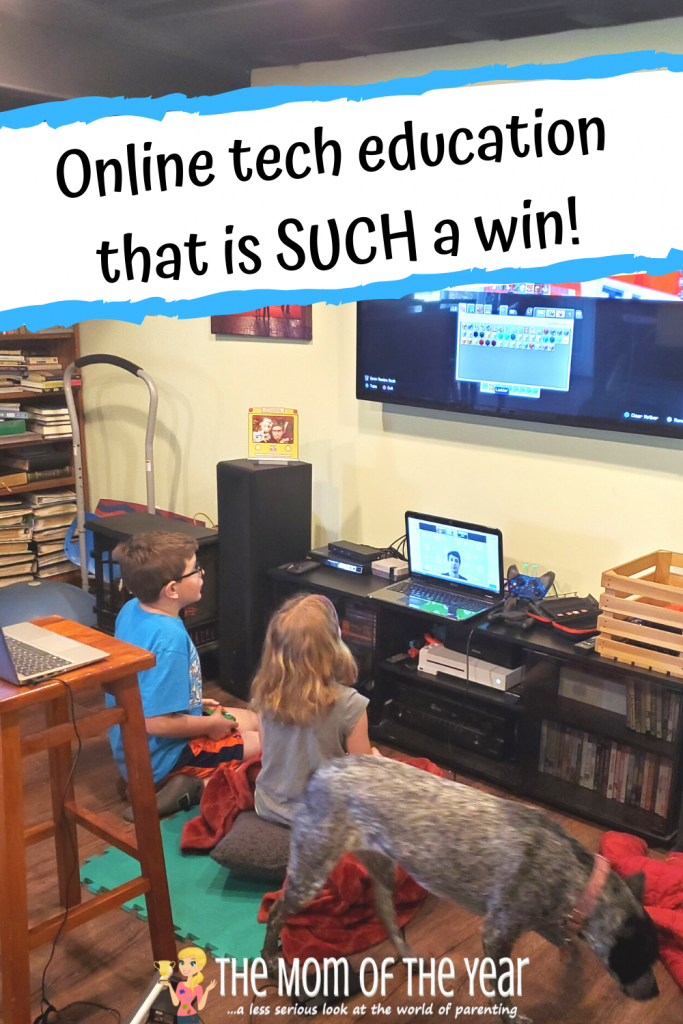 So listen, friends, I know how tough these days are. And they are often over-full with all the Zoom meetings, school assignments, calls, extra meal-prep and the like. iD Tech isn't meant to add to your commitments, but to help stimulate your kids in a healthy way while freeing up a bit of time for YOU, parents. I can honestly say I was SO proud of my kids' growth over their iD Tech online tech camp week…and I also loved the bit of time for myself!
Intrigued? Ready to check it out? Make sure to grab this code: SPIDEL125 to get $125 off your virtual tech camp with iD Tech! Go give it a go with your kids, snag some smart inspiration and scheduled time for them while scoring some much-need YOU time for yourself! Let me know how it goes for you!
Here's to finding a smart solution for your kids' time at home and making the most of their (and your!) days!
The following two tabs change content below.
Meredith blogs at The Mom of the Year, where she dedicatedly earns her title one epic parenting fail at a time, offering quick, relatable laughs for fellow parents and all their empathizers. She has been part of several best-selling anthologies, featured on prominent sites such as Huffington Post, In the Powder Room and BlogHer, and loves her role as the Executive VP/Operations Manager of The BlogU Conference. When she's not breaking up fights over Legos and juice boxes, she remains fully committed to sharing a less serious look at the world of parenting.