Choosing a summer camp is no joke, mamas! Do you want an all-day every day program? Something to keep the kiddos busy in the mornings? A sleepover camp? Maybe you want a sports theme? An animal theme? An alien theme (you laugh…but I promise…if you look hard enough, you will find one out there!) Do you want it to be close by? Do you need or want transportation to be provided? The options are truly endless, and deciding what is best for both your kiddos–and YOU–can be a daunting task.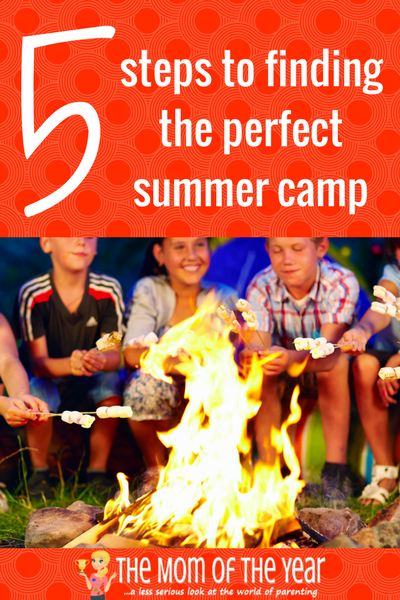 Growing up, I attended a summer camp for one week each year, and it truly became like a second home to me. As a teenager, I volunteered at the camp. As a young adult, I worked at the camp. As an adult (pre-kids), I again volunteered at the camp. My husband also grew up going to the same camp and we met and then got engaged there, then had our kids baptized with lake water from the camp. And then last year, I sent my own kids to that very same camp. We were all beyond excited as we packed their bags and loaded the car and headed out the door. As we got closer and closer, I felt butterflies in my stomach–the same butterflies I got as a camper, only this time it was for my kids. My KIDS. Standing on the other side of the registration table was surreal.
Over the years, I have checked in hundreds and hundreds of campers. I've comforted their parents as I guided their children to their groups and assured them that we would take good care of them. I waved and smiled as they drove off. And now I was the one leaving my kids with a young, eager camp counselor. I was the one driving away. I was the one tearing up and wondering how in the world my kids would survive without me for the week.
As I said goodbye to them, I paused to wonder what it was that made this camp such a special place for me. My mom had done her homework when we were small, and this worked out so well for me that I was able to confidently send my own kiddos there. But where do you begin if you are not already connected to a camp? Here are some tips to help you choose the best camp for YOUR kids.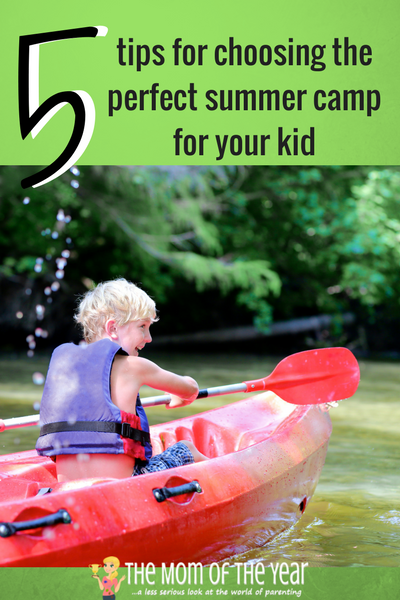 5 Tips for Choosing the Perfect Summer Camp:
Personality. Consider your kids' likes/dislikes and personalities when you are looking at potential camps. Camps come in all shapes and sizes. Some are action-packed and keep the kiddos moving all day long. Others are more laid-back and offer "free time" and rest periods. Does your child thrive on keeping busy all day long? Or, is your child more interested in learning and exploring at his or her own rate? These are important factors to consider. A day away from home can be exhausting; if the schedule is one that is overwhelming (or, on the flip side, boring) for your child, he or she is unlikely to truly engage and enjoy the experience. Just as with anything else, what works for one child will certainly not always work for another, so be sure to look at the camp's scheduling and philosophy as part of your decision-making process.
Curriculum. Many camps offer a wide variety of programs. I have seen themes ranging from sports to music to arts and crafts and everything in between. While timing, location, and cost (we will get to those in a minute) are important, engaging your child in something that truly interests him or her is even more important. Be sure to ask your child what type of camp he/she is interested in. It might surprise you! My daughter chose a camp that surprised me. It wasn't what I would've picked for her on my own, based purely on her interests and extracurricular activities, but we pursued her choice, and she had the time of her life. This can be a great opportunity for your child to try something brand new!
Personal Experience. I think we can agree that there's something to be said about word-of-mouth referrals. We can research and research and research, but at the end of the day, what really helps us to make an informed decision is talking to other parents. Talk to your family, friends, and neighbors to see what their experiences have been with the camps you are considering. Ask questions (lots of them!). Let that information help guide your decision. On paper, a camp may look fantastic, but at the end of the day, knowing that your friend's child had an incredible experience at a camp is likely to be what pushes you to take the plunge and register your own child for the same camp.
Cost. We can't talk about gow to choose the perfect summer camp without discussing costs. Obviously, cost will vary greatly from camp to camp, and it is dependent on a number of factors: What are the hours of the camp? Do the kids come home at night or sleep there? Is transportation provided? Are meals provided? The answers to these questions will be big factors in the overall price. But make sure to consider additional costs to the upfront camp fee: some camps charge extra for things like snacks, field trips, extra programming, etc. Be sure to factor additional costs into your overall cost estimates to determine whether it is a good financial fit for your family.
Location. They say location is everything, right? In a lot of ways, it's true. Consider YOUR schedule when choosing a camp for your child. Do you need it to be close to your work? To your family? To your home? If a camp looks great, but it is 40 minutes in the wrong direction, it may not work well. The camp my children attend is 2.5 hours from home (remember, they stay overnight at the camp for a week, so we aren't making the drive daily!) While that seems like a far distance, the camp is less than 20 minutes from my family–parents, aunts, uncles, grandparents–all of them! So, while I would not feel comfortable sending them 2.5 hours in a direction where we had no one to help in a pinch, I AM comfortable sending them to a location that, while not in my own backyard, is in my family's backyard. Don't hesitate to think outside the box and look at locations that are near other friends and family or a place you may want to visit while your child is at camp. Opening your options a bit may help your find a camp that is a perfect fit for your child.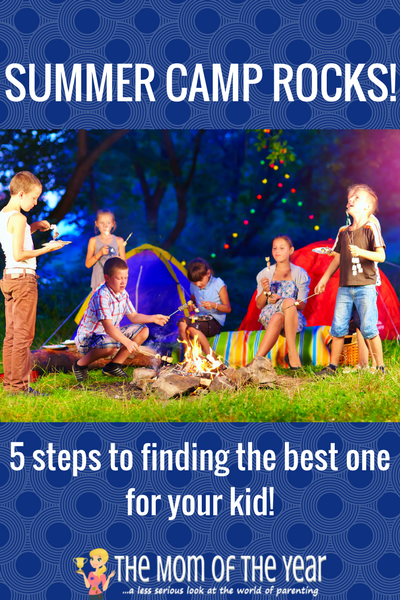 Some of my very favorite memories were made at summer camp. It can truly be a life-changing and memory-making experience that your kids will carry with them for a lifetime, so it's important to do your homework and find a good fit for both your child and your whole family. Make a list of must-haves (and must not-haves). Do your research. Talk to friends and neighbors who have sent their kids to camp. Consider cost and location. And then? Take a deep breath and send them on their way. They can do it…and so can you!
First image credit: depositphotos.com, Image ID:51931389, Copyright:olesiabilkei 
Second image credit: depositphotos.com, Image ID:66200413, Copyright:CroMary
Third image credit: depositphotos.com, Image ID:51931637, Copyright:olesiabilkei
The following two tabs change content below.
Amy Waltermyer
Amy is an English teacher turned stay at home mom to her three amazing kiddos, ages 10, 8, and 4 months. She has been married to her very own Superman for over 12 years and loves riding this crazy roller coaster of life with him. After getting the "big kids" to their various activities (soccer, and hockey, and dance…oh my!) and loving every second of being back in the baby stage, Amy still finds time to work as an educational consultant, focusing on ACT/SAT test preparation. If there's time after that (HA!), she enjoys going for long mind-clearing walks, reading, and binge-watching anything on Bravo. Amy enjoys traveling with her family and spending time with friends…making memories one crazy adventure at a time!
Latest posts by Amy Waltermyer (see all)