Planning a visit to Legoland? Yay! This is hands-down our family's favorite vacation destination! We love every bit of it–from the too-creative amusement park, delightful themed accommodations, parent-friendly evening entertainment, and much-beloved LEGO-everything!! Count us in 🙂 Considering a trip to Legoland yourself? Here are the ins and outs of Legoland accommodations: the Hotel vs. Beach Retreat and what to expect!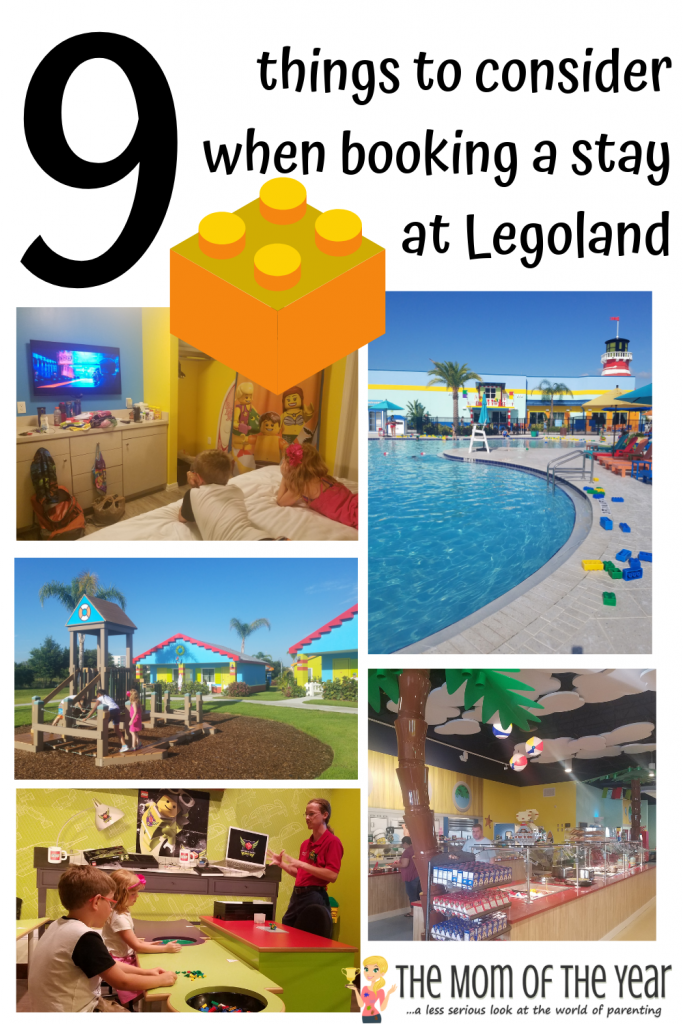 Legoland Accommodations: Hotel vs. Beach Retreat
PRICE: Beach Retreat is less pricy than the Hotel. ​​​​​​​​​​​​​​​​​​​​​This is obviously the big one if you are on a budget.​​​​​​​​​​​​​​
ROOMS: The Hotel and its rooms are more intricately themed and detailed than the Beach Retreat. Whereas the Hotel has a separate room for the kiddos, second TV included, the Beach Retreat has a bunk area for children blocked off with a shower curtain sans the extra TV. Know what works for you and your family. At our first stay, it was really neat for the kids to have their own TV and for us all to enjoy the i​​​​​​​ncredible theme-ing, but honestly, there is so much to do at the park and the rest of each resort, you won't feel deprived if you opt for the Beach Retreat!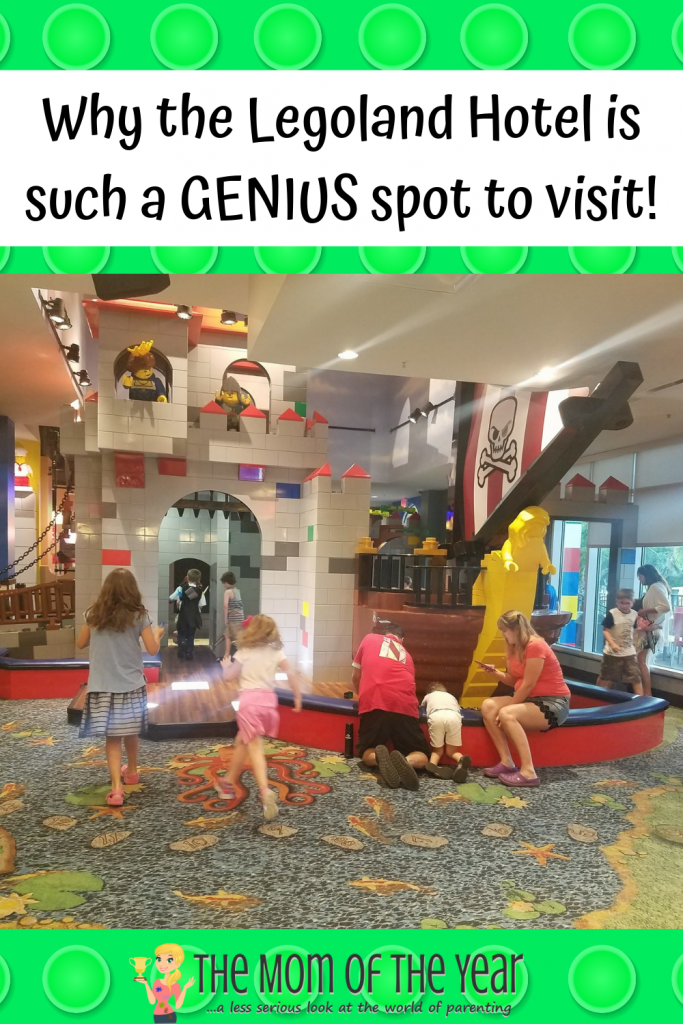 PLAYING BELLHOP: In addition to aesthetics, you'll want to brace yourself for some significant slugging of luggage and the likes for the Beach Retreat. This property is LARGE, and while there are a few wagons to help you transport your gear from the often far-off parking spots (often tricky to find and already in use by another family if you do spot one), there are no bell hops, and when you find yourself at the end of a long travel day, this logistic could make a significant difference. Know your budget and your tolerance and plan accordingly. I also told my husband if we stayed at the Beach Resort again and drove down to Florida, I would take a packable wagon to avoid the stress.
PLAYTIME: The Beach Retreat offers a super play structure in front of your room pad. This is central to every room pod on property, and it's awesome! When we arrived after a long day and were eager to unpack sans "help" of kiddos, we sent them out to play–all within view of our front porch! There is also a fantastic outdoor play area/sandpit (themed cornhole included!) off the resort pool. The Hotel offers no such outdoor play areas but does have a fantastic indoor play castle space off the lobby, while the Beach Retreat indoor play area is far smaller. Six to one, half a dozen to another.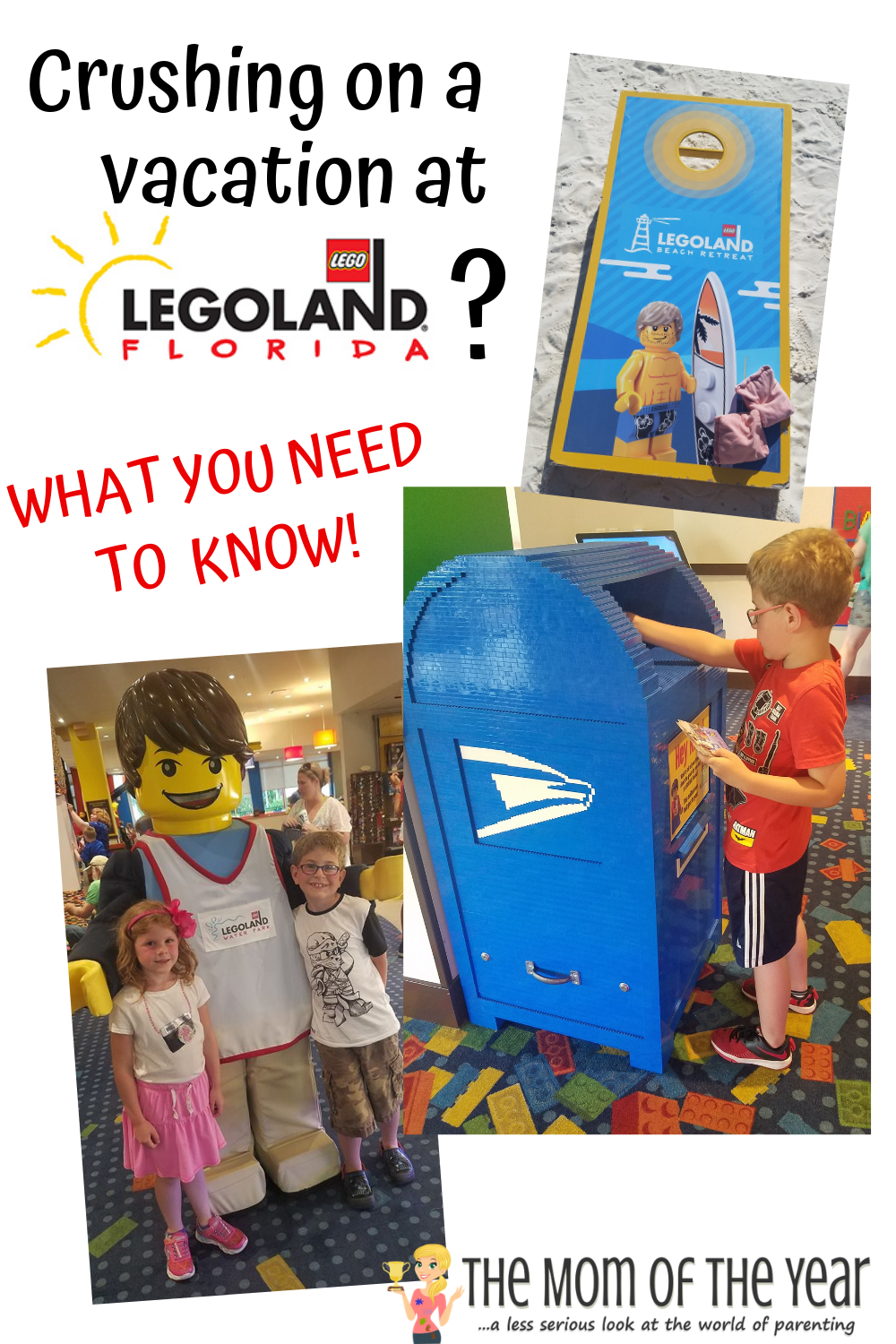 BREAKFAST: While a breakfast buffet is included on both properties, the Hotel buffet is fancier and far more extensive in comparison to the Beach Retreat buffet. Think: no custom omelets/egg orders and forget the LEGO character appearances you might enjoy at the Hotel. We also experienced longer lines (especially for drinks) and far less-accommodating service at the Beach Retreat. The buffet at the Hotel is an upgrade you will enjoy, but if you go with the Beach Retreat, you'll still be thankful for the easy, included breakfast to start your day (even sans the bells and whistles).
CONVENIENCE: Hands-down, you can't beat the convenience of the Hotel to the Legoland park. You literally walk out your door, trek a few feet ("130 kids steps" to be exact) and are there! Whereas the Beach Retreat requires a shuttle (often with a long wait) or driving yourself to the parking area. The sweet proximity of the Hotel to the park isn't to be overlooked–it is truly AWESOME. Forget something after you arrive at the park? Take a couple-minute walk back to your room to grab it. Sweet!
MASTER BUILDER CLASS: At the time of our visit, the Master Builder Class was only open to Hotel guests, which was a major bummer for the hard-core LEGO fan club in my home. Having experienced this highlight at our first visit, they were only too eager to repeat…but it wasn't an option at the Beach Retreat. If you have true LEGO fans in your home, the Master Builder Class is a must-do…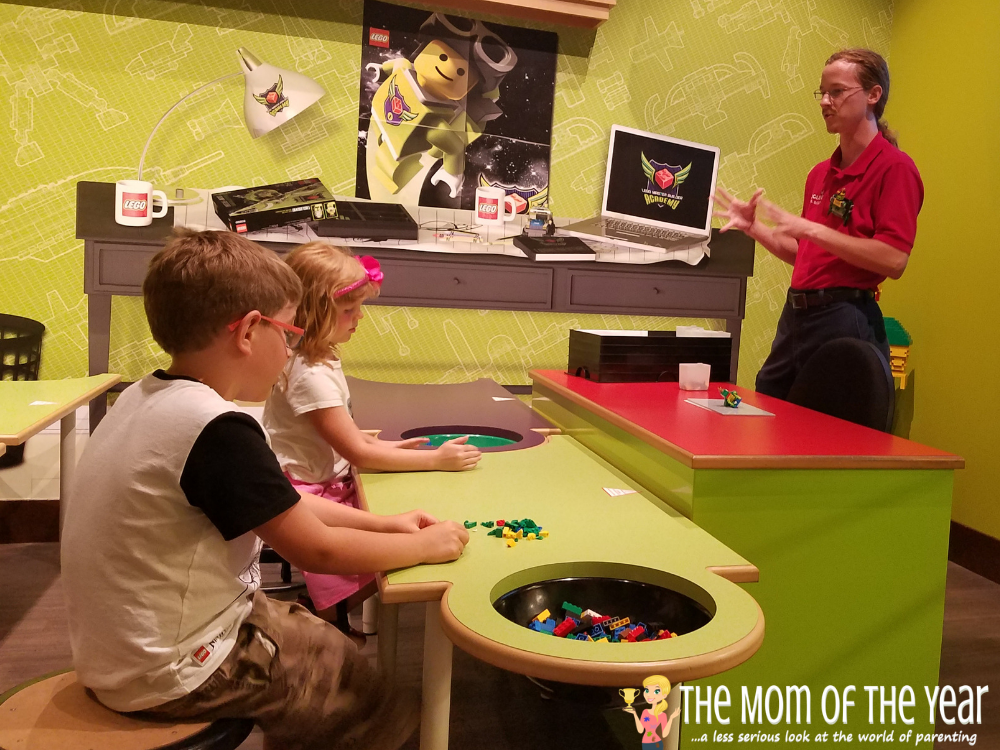 EVENING ENTERTAINMENT: This is my selling point. The lovely option of chilling by the bar with my husband at the Hotel while our kids were delighting in the evening entertainment? The BEST parent-pleasing vacation we have ever enjoyed! The Beach Retreat doesn't have this, so…
SHOP ON: The Beach Retreat does offer a larger and far more extensive gift shop if this is of concern. We drove to Florida, so had a car for any need sundry runs, and any LEGO-themed items we could grab at the theme park, but this is worth noting for those who plan to spend a lot of time at the resort.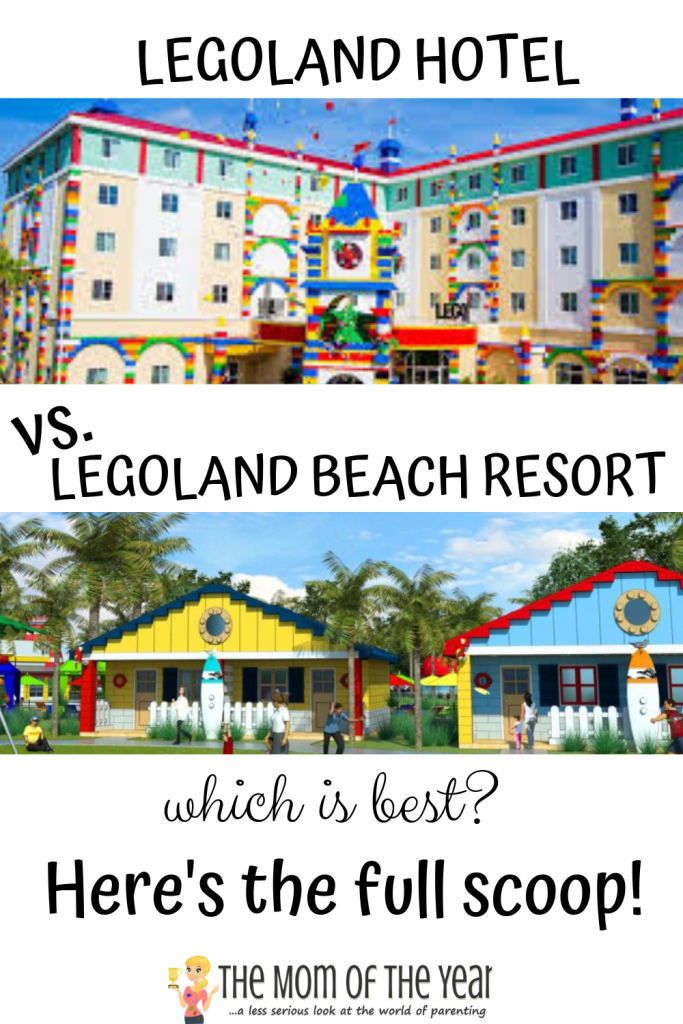 Bottom Line:
If price and cost is your primary concern for Legoland accommodations, book the Beach Retreat and prep yourself for a lovely Legoland experience! If you have a few extra dollars, chip in on the Hotel and enjoy far more amenities and conveniences.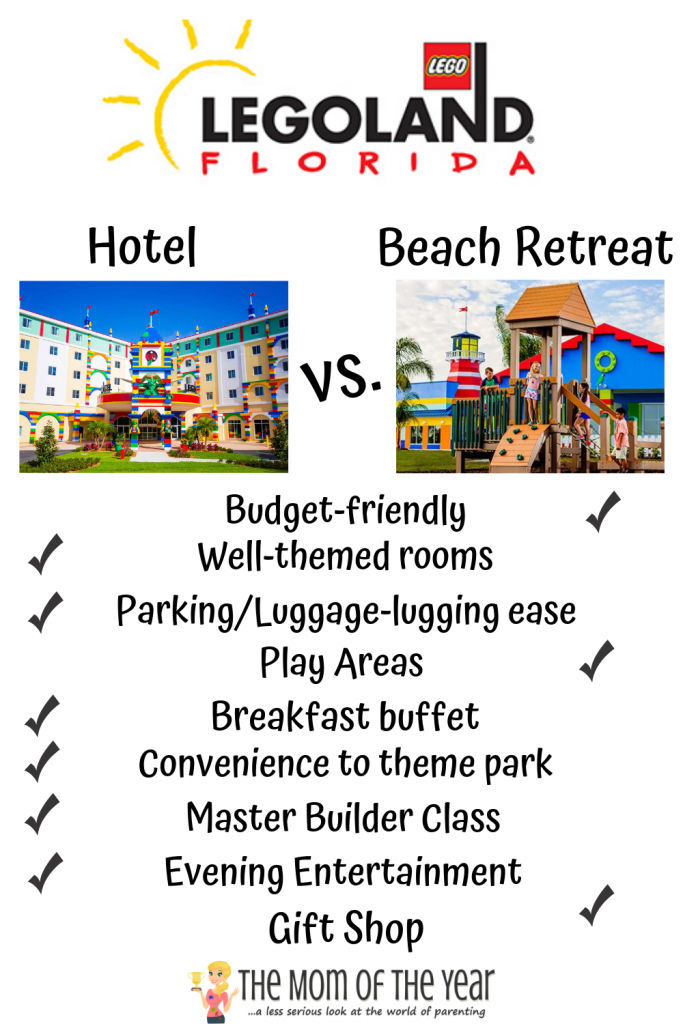 Either way? Legoland accommodations are delightful and such a very worthy stop on your Florida itinerary. To add to the fun, the Legoland Florida Pirate Island Hotel has JUST opened–we hope to visit soon so I can fill you in more! Whichever Legoland resort you book, in truth, I tell you, friends–Legoland is the BEST vacation we have ever enjoyed as a family and we truly can't wait to return! It is the perfect MUST-DO, family-friendly, parent-accommodating, kid-captivating stop when in Florida! Trust me, friends, GO, and stay on property for a super memorable experience for your whole family!
The following two tabs change content below.
Meredith blogs at The Mom of the Year, where she dedicatedly earns her title one epic parenting fail at a time, offering quick, relatable laughs for fellow parents and all their empathizers. She has been part of several best-selling anthologies, featured on prominent sites such as Huffington Post, In the Powder Room and BlogHer, and loves her role as the Executive VP/Operations Manager of The BlogU Conference. When she's not breaking up fights over Legos and juice boxes, she remains fully committed to sharing a less serious look at the world of parenting.