Thank you to The Crayola Experience for sponsoring our visit and this post so I could fill you in on these tips for visiting The Crayola Experience. Our love for this place is 100% genuine!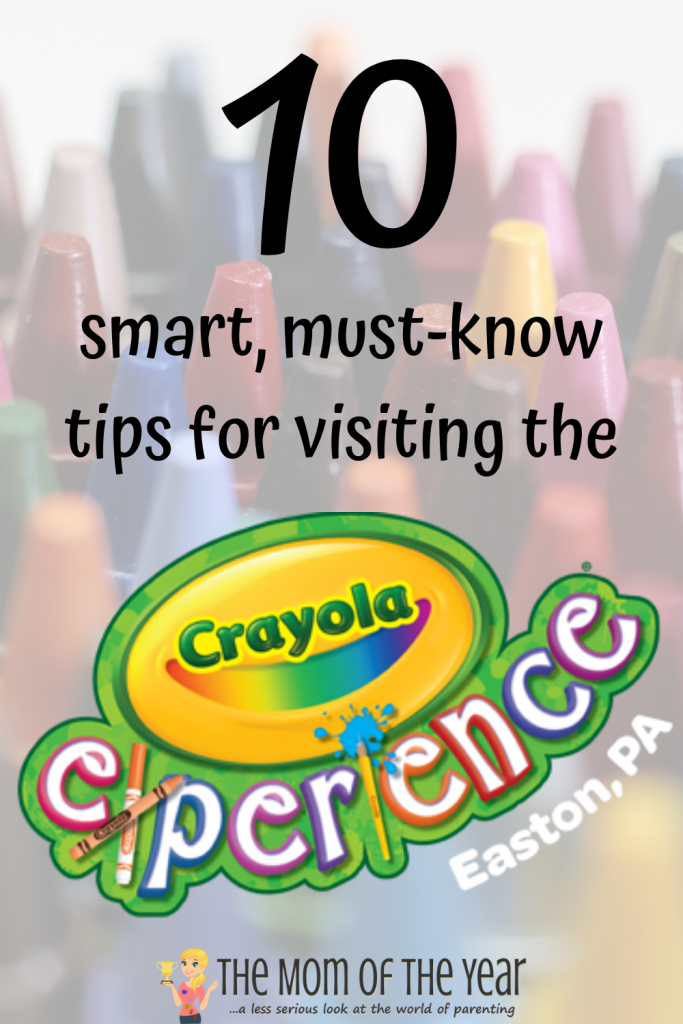 We LOVE our local day trips, and our recent Spring Break was the perfect time to pop back to The Crayola Experience, one of our favorite places to visit! Every time we go, I figure out a few more things to make the day flow smoothly, so whether you've never been or are a crayon factory veteran, make sure to check out the tips below!
10 Tips for Visiting The Crayola Experience
All parking is street parking. There is plenty of it, and The Crayola Experience in Easton, PA is located directly on the square, but street parking it is. Also, SET A TIMER ON YOUR PHONE (or whatever other device or hack you have to remind yourself) when your three hours of parking (the max allowed by the meters) is up. The meters now take credit cards, so quarters aren't necessary, but if you think you even might be visiting for longer than three hours, make sure to set a timer so you can pop down to refill the meter as needed. (I was an idiot and did not, but thanks to my far-more-on-the-ball friend, I rushed down to reload with four minutes to spare!)
Get there EARLY. With all of this parking scoop in mind–depending on what is happening in Easton that day, it may take you a bit to find a spot, and you may have to walk a jaunt. Also if the Crayola Experience itself is busy that day, the line for tickets may be long and moving slowly, and also…kids. I am sure you have your stuff together more than I, but somehow those little creatures also seem to make everything take twice as long (read: walking down a single block may take five minutes alone).
Pack a backpack. The Crayola Experience is super about providing you with a bag to carry art projects home, but if your family is anything like mine, we will also need water bottles, kleenex, phone chargers, and a zillion other accouterments to see our way through our day. And a backpack is far more comfy to tote around for the day than a large purse!
Bring some single dollar bills. I never have these in my wallet, so I had to make sure to grab some before we headed out. You are given two tokens/person with your ticket, but the crayons you can label yourself and the packs of modeling magic (so many colors, and for such a reasonable price at $0.50/pack!) make for such fantastic souvenirs! There are change machines that allow you to switch up your dollars for additional tokens as needed.
Buy your tickets online in advance to save on admission. All those dollars saved add up in the long-run, mama! There are also lots of other special offers (like teachers, hospital employees, social workers and first responders get in free!)
The Crayon Factory Show is a can't miss! But…it can be tricky to fit into your visit if the Crayola Experience is busy. It typically runs every hour on the half hour (10:30, 11:30, etc…) If you are waiting in line for another attraction, it can be challenging to pop down to hit a showing at its start. Not to mention, if it's busy, shows fill up quickly (sometimes standing room only!) My advice: plan on going to the earliest possible showing (10:30am is ideal!). If you find yourself 20-30 minutes before the next showing, not in a line for something else, play in another area for a few minutes, or simply go ahead and get in line for an early seat for the upcoming show. If you don't make attending the show a priority, it will slip away from you before the day is over (trust me, we've been there!).
If the day is busy, pick and choose your activities. If it's not crowded, go on and do them all! If it is crowded, maybe only hit one or two of the three attractions on the top floor. These lines all tend to be long and take a while, but you'll leave with a unique souvenir from whichever one(s) you choose. As for the other activities, if your kids are into them (Silly Selfies was such a hit with my children! But we had checked out Water Works and Color Magic in the past and it was crowded, so we skipped those spots).
You can leave and come back in! While Cafe Crayola is a great place to grab a kid-friendly meal (we have done this in the past and it worked so well!), if you are in need of a break or feeling adventurous, you are permitted to leave The Crayola Experience and return with a handstamp or otherwise proof of that day's admission. Easter is chock-full of adorable, kitschy eateries that are fun to check out before, during or after your visit to The Crayola Experience! Pro tip: this option to check out and back in is also helpful if you need sneak out to refill that parking meter!
End your day at the indoor Color Playground. It is truly an awesome place! So awesome, my kiddos could spend endless hours there. So I have learned to hit all the attractions we want to check out first, then land here last. They are then allowed to play until they or I am ready to call the day and head home!
Save some cash for the gift shop. Even if you aren't a typical gift shop fan, I do recommend The Crayola Store. It is HUGE! It is also full of unique (crayon and marker stuffies!), cool items you might not be able to find elsewhere, along with build-your-own crayon and marker sets. It's worth a stop before you head home!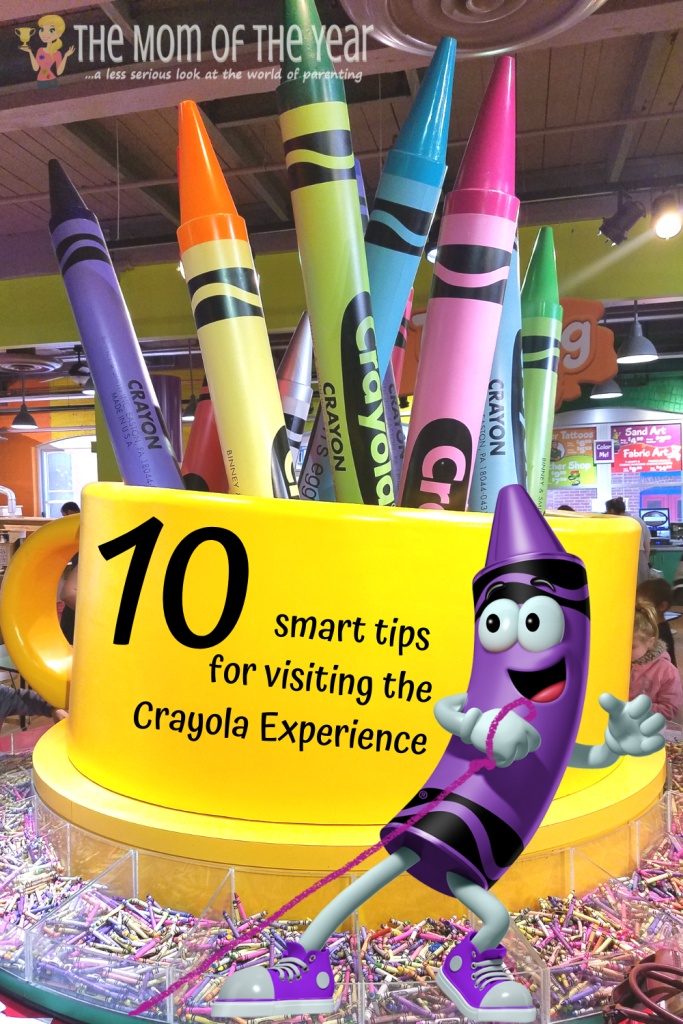 Also a special thank-you to The Crayola Experience for hosting special sensory-friendly events, like Sensory Sunday later this week on 4/28, when the building will open an hour early and families can play with lowered music and less people in the building. They are also planning another sensory event around Mother's Day with some fun crafts planned. Check their events calendar for the full line-up!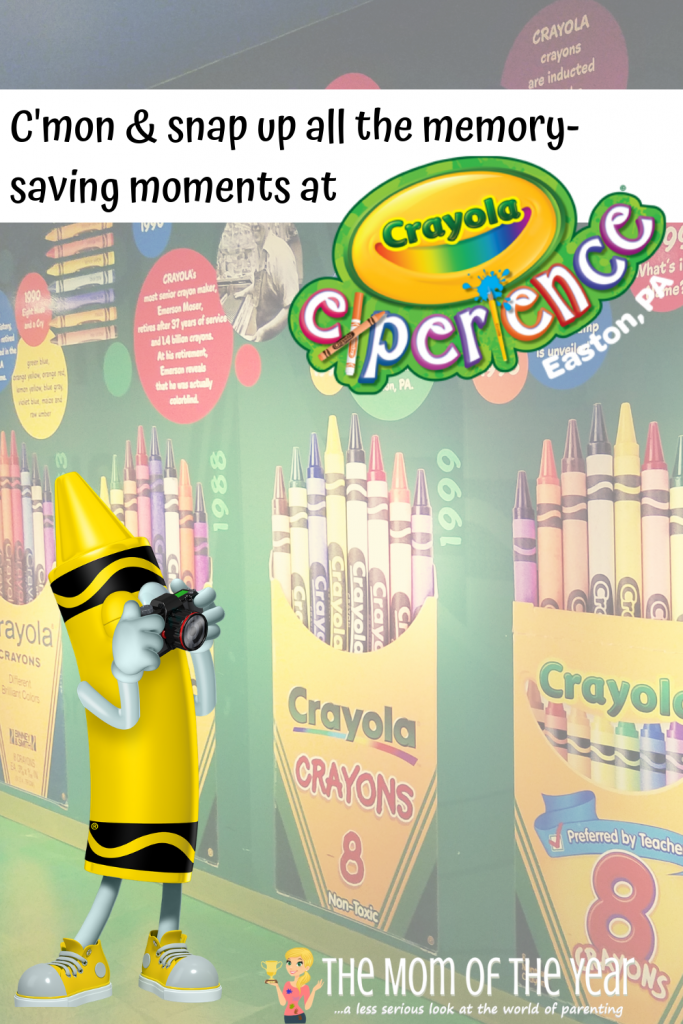 My kiddos love spending a day at The Crayola Experience, and always bed to return! I hope you are able to check it out yourself, and these tips make for a smooth visit. Let me know what you think!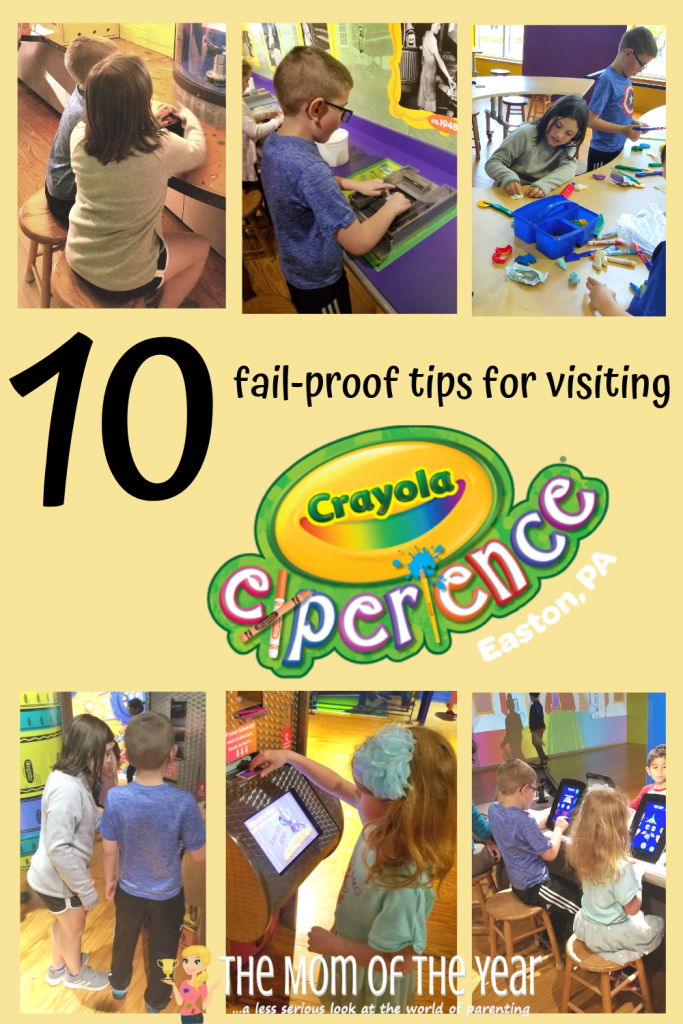 The following two tabs change content below.
Meredith blogs at The Mom of the Year, where she dedicatedly earns her title one epic parenting fail at a time, offering quick, relatable laughs for fellow parents and all their empathizers. She has been part of several best-selling anthologies, featured on prominent sites such as Huffington Post, In the Powder Room and BlogHer, and loves her role as the Executive VP/Operations Manager of The BlogU Conference. When she's not breaking up fights over Legos and juice boxes, she remains fully committed to sharing a less serious look at the world of parenting.