My kids love being invited to birthday parties, but as a mom, I feel the stress of trying to find the perfect gift. When we go to a close friend or family member's birthday party, we usually know the child well enough to pick out something they will really like. But with school friends, we often don't know the kid well enough to pick out something tailored to their likes.
And with four kids, we get invited to lots of parties! So, in order not to go broke buying gifts, I'm always on the lookout for a great gift that's also a great value. With this experience, I have developed a list of kid birthday gifts for every age that appeal to a broad range of children and interests.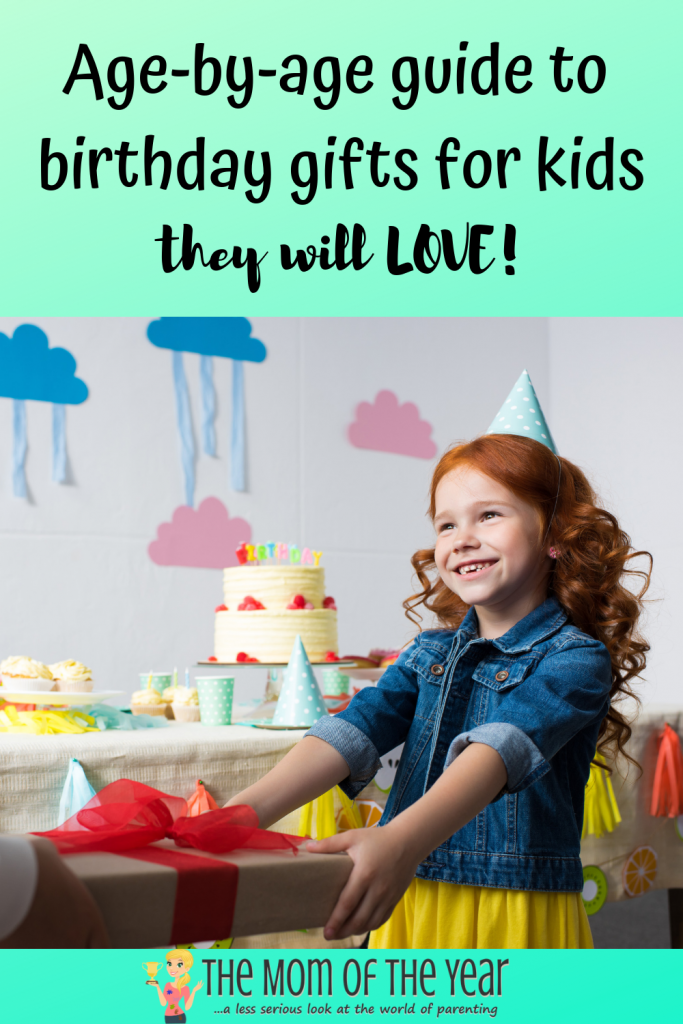 Over the past twelve years of buying gifts for my kids' friends, and receiving birthday gifts from their friends, I made mental notes about which presents were a hit and which were a flop. With this in mind, I've formulated an age-by-age guide with all the very best presents we've either given or received. Read on to get the scoop, mama!
Kid Birthday Gifts for Every Age that Win!
Preschool and Early Elementary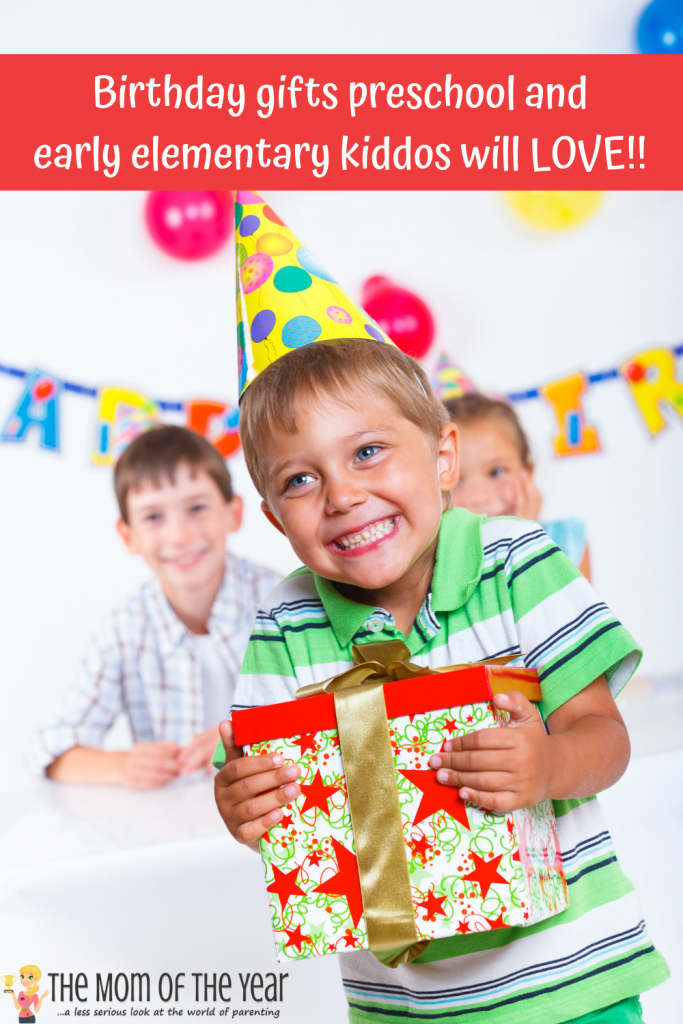 Uno Cards and Card Holder
My family loves UNO! It's a great beginner card game because the rules are simple and it helps young children identify their numbers and colors. Since a pack of UNO cards is inexpensive, throw in this set of card holders too! These are a great way to help younger players keep track of their cards.
Matchbox Cars
Matchbox and Hot Wheels cars are usually just about $1 per car. Have your child pick out a few that they think the birthday kiddo would love, or grab a pre-packaged set of 10 or 20.
Skip-A-Long
A Skip-A-long is a fun toy and it gets kids up off the couch. It's a great price point too!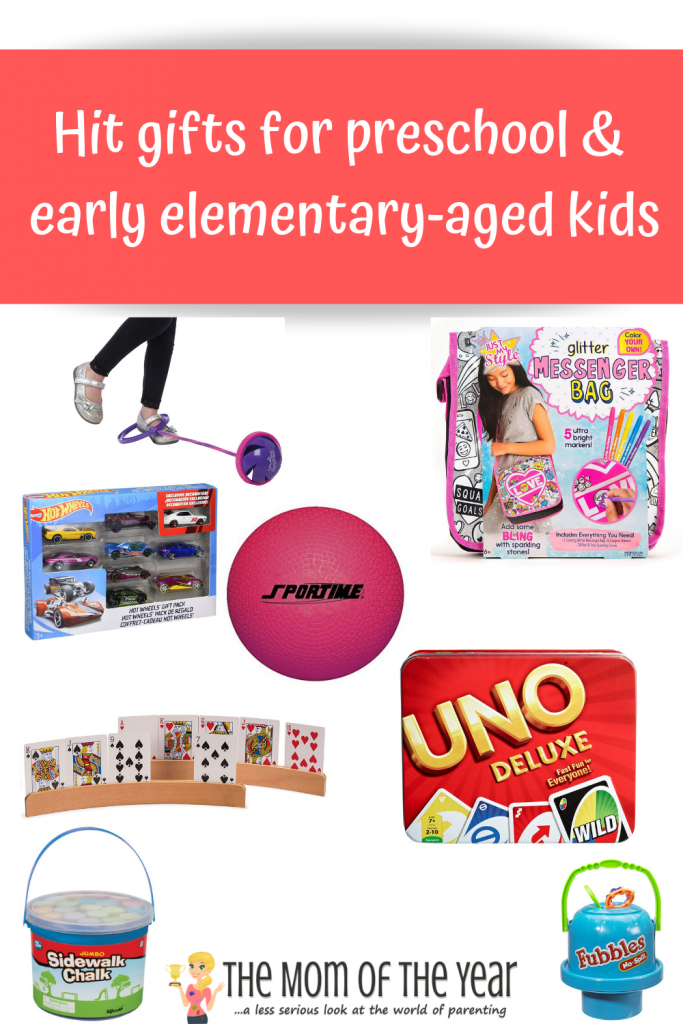 Playground Ball, Sidewalk Chalk, & Bubbles
This is what I like to call the trifecta of outdoor fun! If the birthday party is during warmer months, this is a great gift! Kids go through balls, chalk and bubbles quickly and it's always fun to replenish the supply!
Craft Kits
If the birthday is during colder months consider a craft kit the birthday boy or girl can do inside. I love this color-your-own water bottle because it's fun and besides, who couldn't use another water bottle?
One of my girls received a color-your-own messenger bag kit one year and that was a hit too! Again, it was a fun craft, plus we can always use another tote bag.
Elementary Age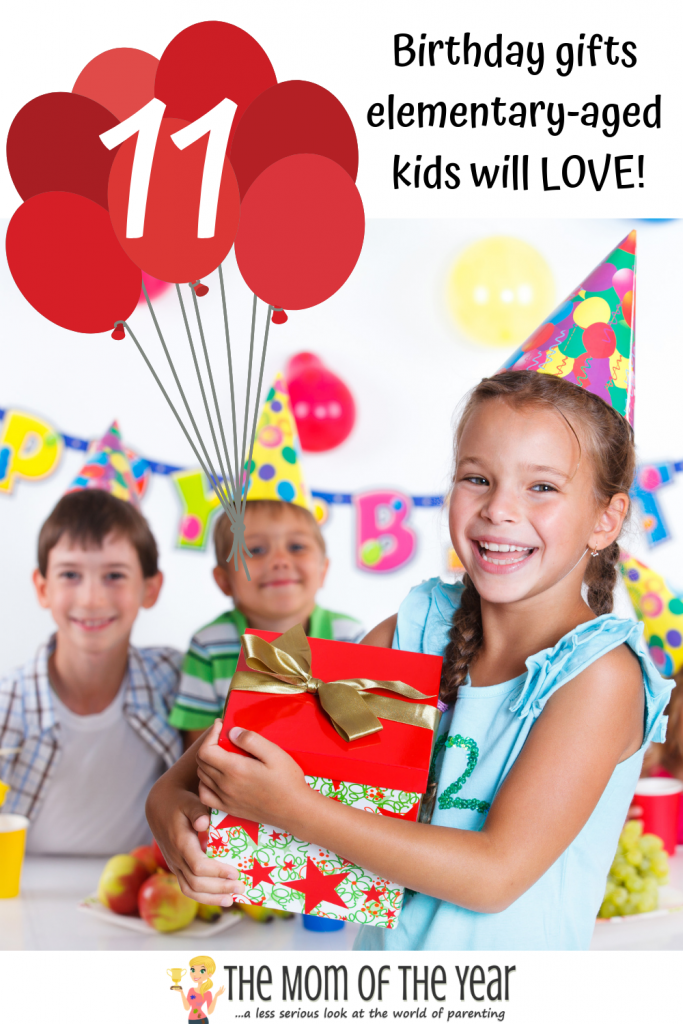 Magnet Kit
This seems too simple to be a good gift, but our magnet kit is one of the most played with toys at our house, both by our own kids and their friends too. The price is right on this one too!
Mermaid Blanket
A beautiful crocheted blanket that comes in a variety of colors. Sure to be a big hit with mermaid fans!
Reverse Sequin Pillow
Honestly, I don't know anyone who doesn't love a reverse sequin pillow–and this one is under $15!
4M Science Kits
4M makes a ton of science kits and they are mostly priced under $20. You can make a clock out of a potato, a robot out of a soda can, or a rocket using water and a plastic bottle.
Light-Up Gloves
Light-up gloves are such a fun gift for a boy or girl with a birthday in the winter.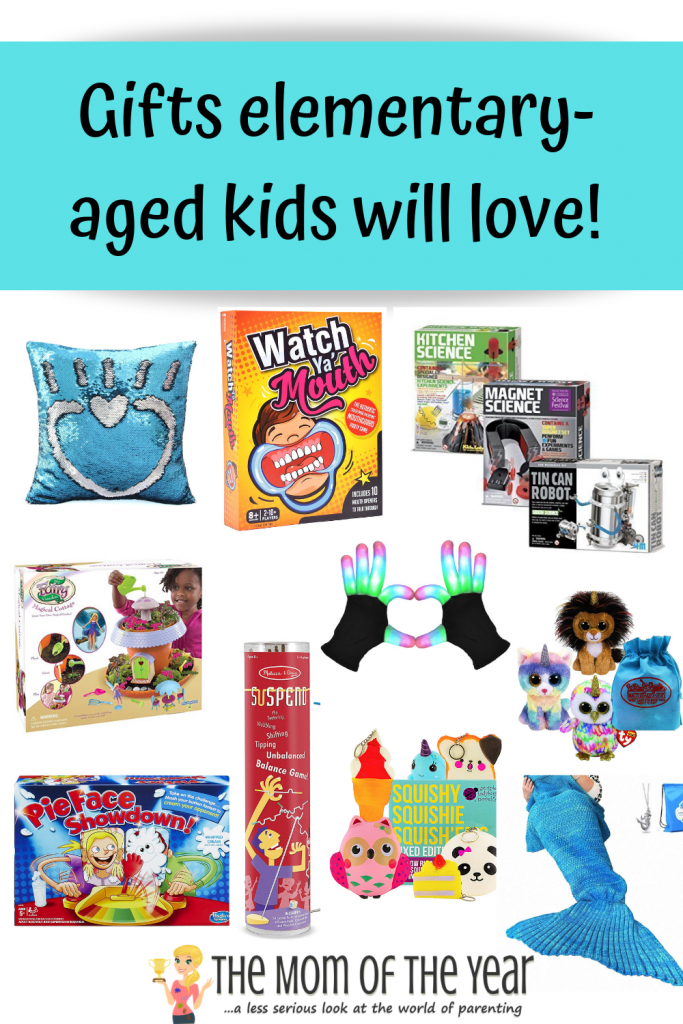 Beanie Boo Stuffed Animals
Most kids I know have a Beanie Boo or two and are happy to add to their collection!
Squishes: Big and Small
I don't know what it is about these little squishes, but my kids can't get enough of them! Buy a couple, or a whole pack! These are also great as party favors. Big Squishes are a safe bet too!
Fairy Garden
The birthday girl will love growing flowers for her very own fairy!
Board Games
Board games are a great gift for a school friend's birthday party because they are both fun and a great price point. The only trouble here is that they may already have the game so don't forget to include a gift receipt. Here are a few that we love for elementary aged kids:
Pie Face Showdown: Hilarious and delicious!
Watcha Mouth: This game gets my entire family in hysterics!
Suspend: This is the newest game we've added and it's great for all ages. It's even fun to play on your own.
Late Elementary
LEGO kits
LEGO can be on the expensive side, but if you still want to give them as a gift, there are a few great options. You can grab the LEGO Make Your Own Movie Kit. It includes everything you need and children can add to it with his or her own LEGO.
There's also a Lego Chain Reactions Kit that provides you with everything you need to make simple machines. This one is under $20 too!
This is an updated version of the Magic 8 Ball. You can ask it questions and then wave your hand over the ball to get your answer. It speaks and changes colors!
Sewing Kit
These are great crafting kit ideas for an older elementary kiddo.
Nerf Gun
Nerf guns are a great gift because the more you have, the more friends you can have over for an epic shoot out!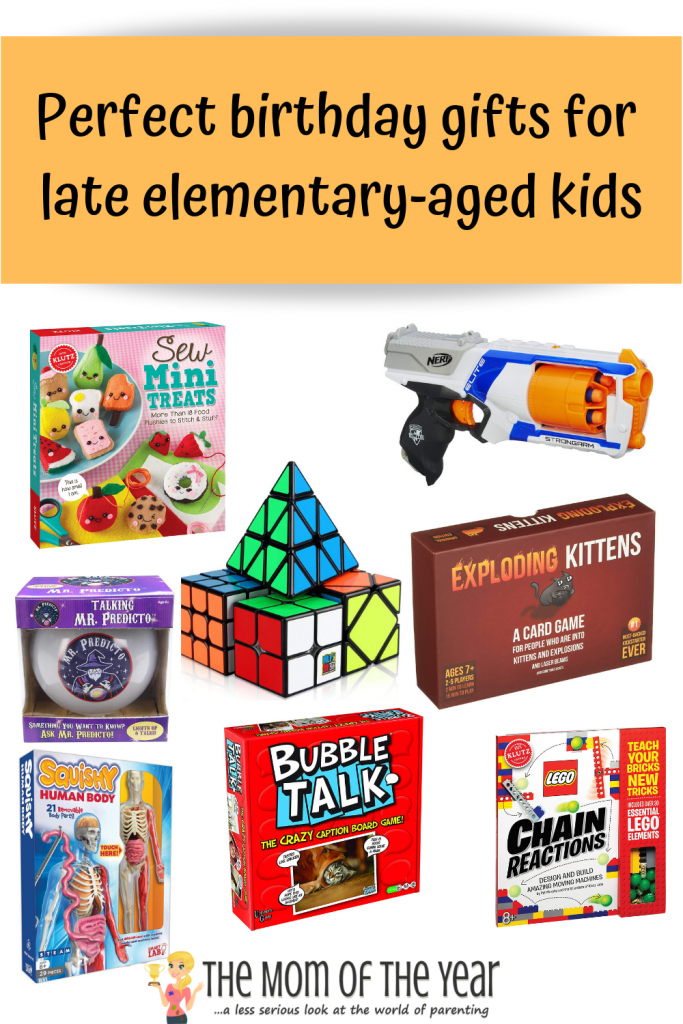 Rubix Cube
Rubix cubes are still fun! Plus there are a ton of different sizes and shapes now. Since they aren't too expensive, you can even throw in a book that teaches the birthday kiddo how to solve it!
Squishy Human Body
This one is less than $20 and is great for a science-minded kid. It was one of my son's favorites!
Board Games
Again, board games are always a good buy. Two of our favorites for older elementary age kids are Exploding Kittens, a fast-paced card game, and Bubble Talk. Bubble Talk is similar to Apples to Apples but with pictures. My whole family loves this one!
Older Tweens and Teens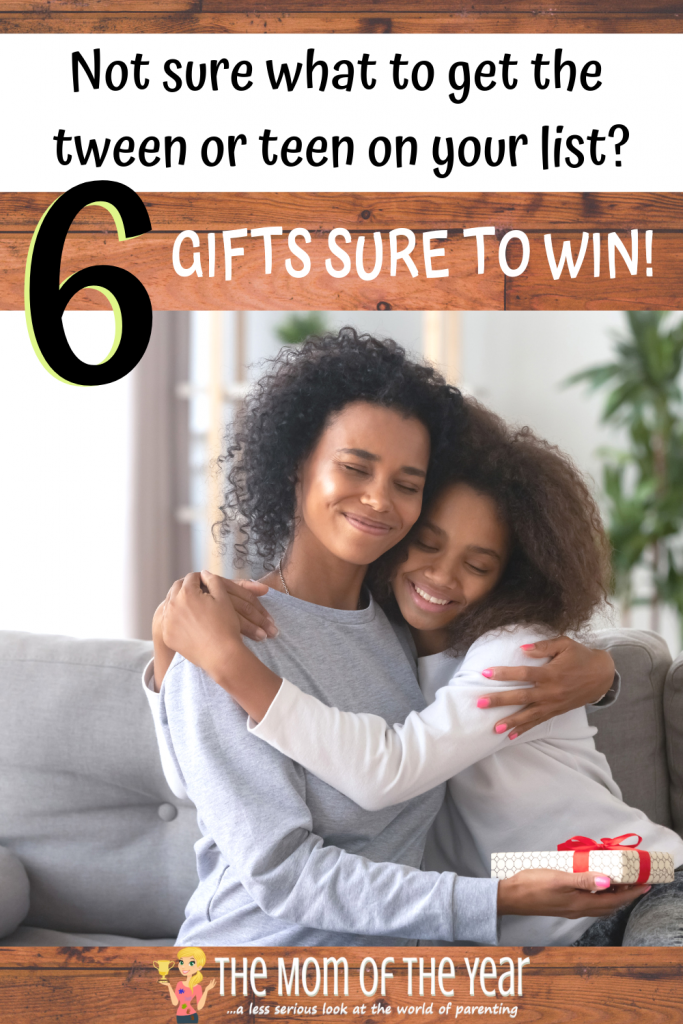 These are great for music lovers, or any teen who is prone to losing ear buds!
These are collapsable grip/stands for phones or tablets and come in a ton of designs.
Brain Teasers
There are a ton of brain teaser puzzles out there all under $20. This one looks challenging and fun!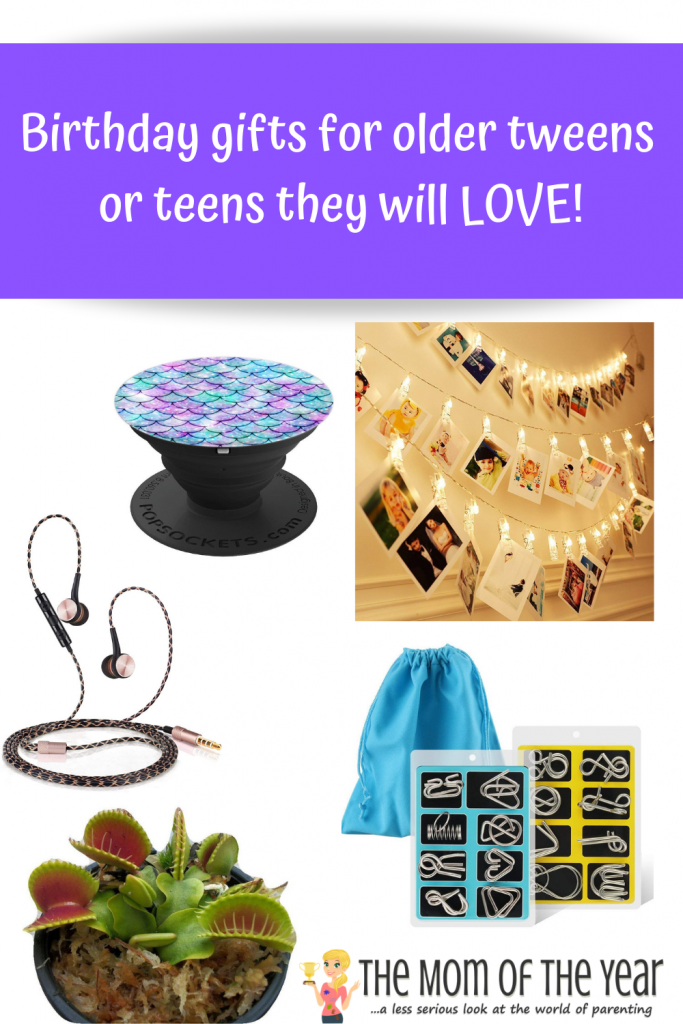 Photo Clip String Lights
These string lights with clips are a great way to display photos and would be a fun addition to any tween or teen's room.
Venus Fly Trap
Hit up the plant store and grab a Venus Fly Trap–a fun and unique gift perfect for tweens and teens.
Magnet Balls
These magnetic balls can be formed into any shape you can imagine. They are a great fidget for kids while doing homework!
Gifts for ANY age
There are a few gifts that work for all ages as long as you choose one that is appropriate for the age you are shopping for. Things like books, movies, throw blankets, puzzles, art supplies and craft kits will work for all ages and will be on the lower side price wise.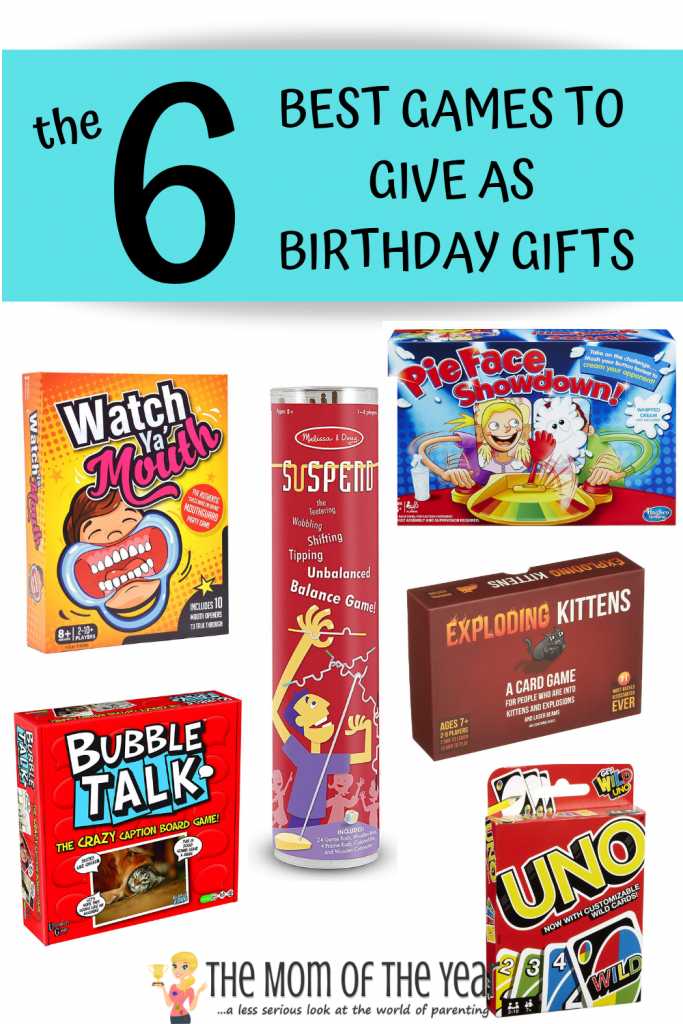 Hopefully this list helps you out if you are stuck for a birthday party gift! Heck, you might even want to buy a few to stow away in the closet. That way, when your child gets invited to a birthday party, you can just grab a great gift and go!
I'm always looking to expand on this list, so if you have any more great gift ideas, please share them in the comments below!
The following two tabs change content below.
Anne is a mother of four, a 10 year old boy and 6 year old triplet girls. Always looking for a creative outlet, Anne sometimes hijacks her kids' parties, projects, and costumes to get her fix. (Even though they'd rather have their party at a moonbounce place and their costumes from a store). She blogs at onceuponamom.net where she writes funny and sometimes poignant posts in the hopes of lifting up other moms as they travel the chaotic, beautiful road of mothering.
Latest posts by Anne Metz (see all)