We have the world's smallest powder room. You can literally sit on the toilet and brush your teeth at the same time. I'm not exaggerating. I guess because it was so small, we just never spent any time decorating it or making it look pretty after we moved in three years ago. And honestly, if storage didn't become an issue, I'm pretty sure it would still look the way it did when we moved in, and I'd never have considered giving this teeny room a farmhouse makeover!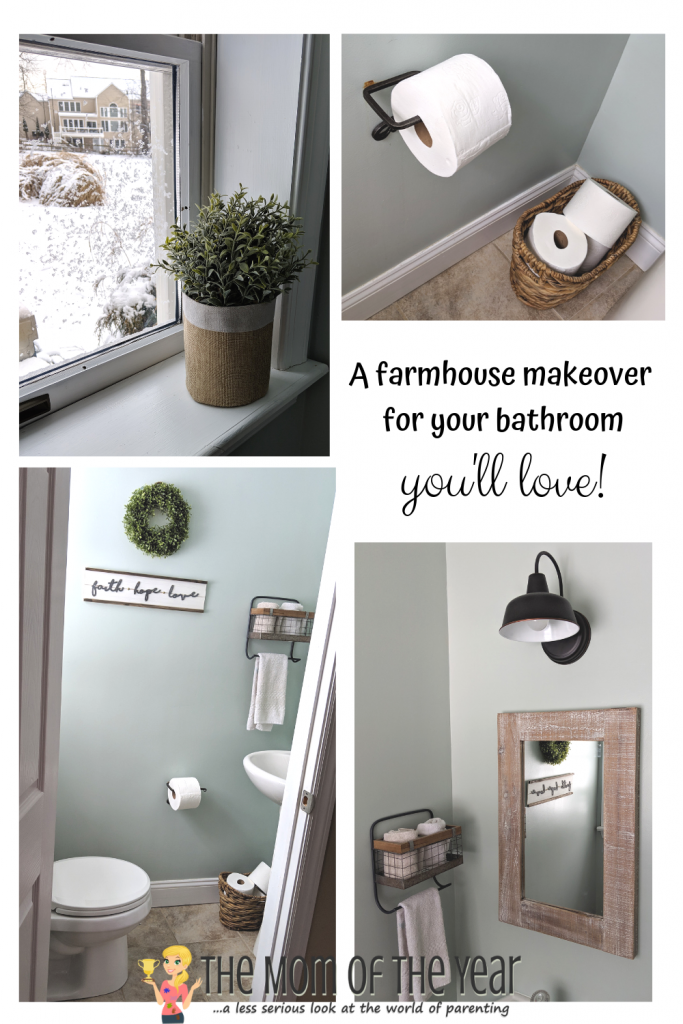 But storage did become a problem. Because the world's smallest powder room has a vanity sink, there is absolutely no storage. No place for extra TP or extra hand towels. Plus our towel holder was placed so low you had to reach under the sink to actually grab the towel. So, since I I needed to move the towel holder up and figure out some storage, I thought I might as well re-do the whole thing with a cool farmhouse makeover!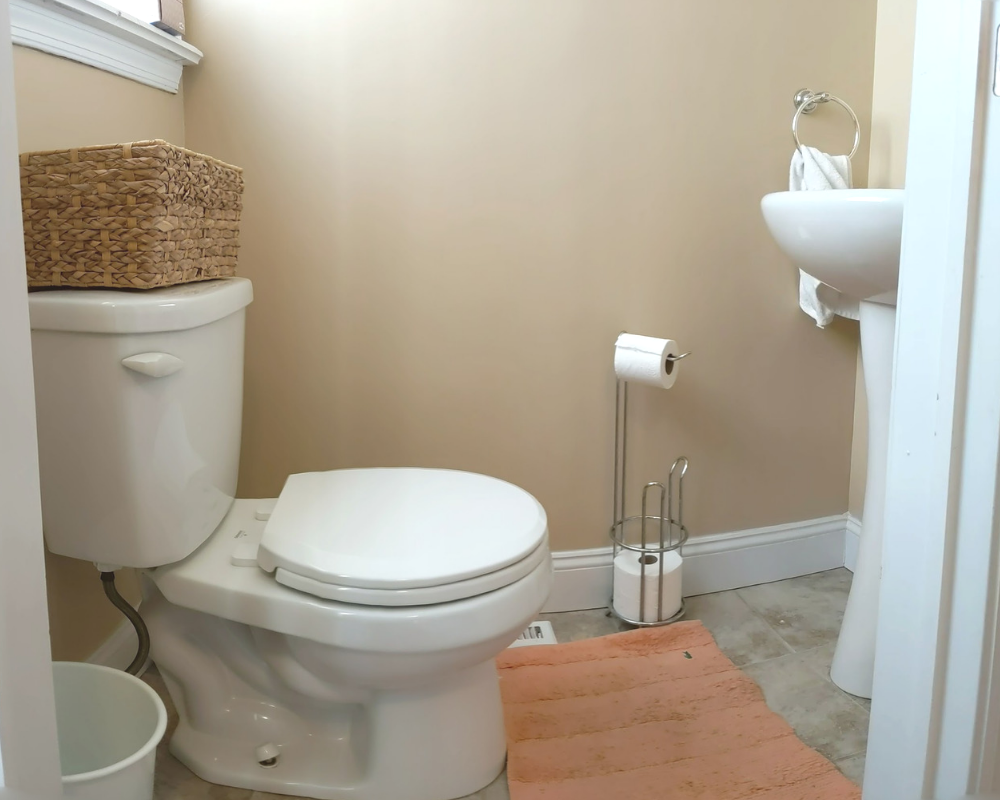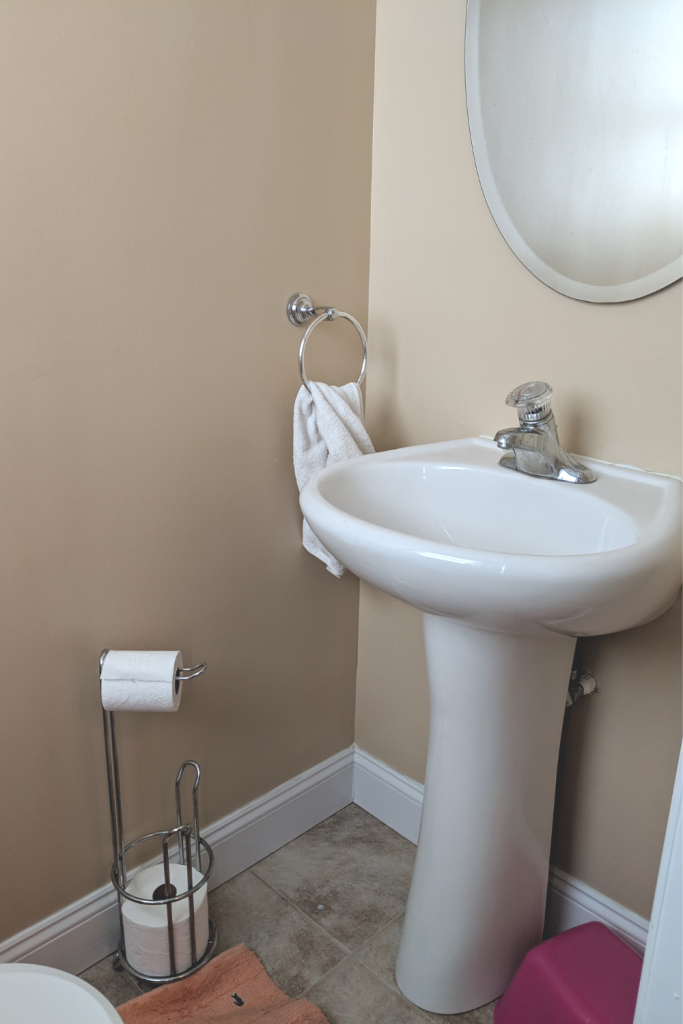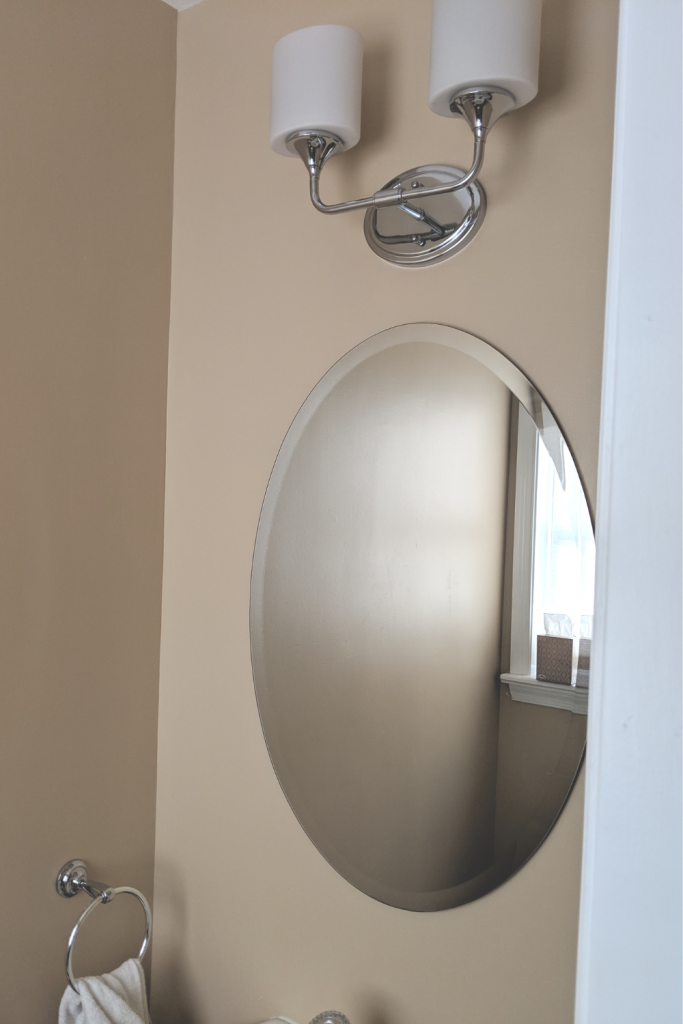 How to Give Your Bathroom a Farmhouse Makeover
Elements you'll need:
Paint
The first thing I did was choose a farmhouse makeover-approved color, Sea Salt by Sherwin Williams. Actually I grabbed the closest thing in Valspar because it was a little cheaper.
Light Fixture
The original light fixture was too shiny for me. Plus, it mainly served as a dead ladybug catcher! So I found this farmhouse light fixture. COOL TIP: I bought a light that is meant to be an outside sconce. It was similar to the bathroom fixtures but far cheaper. And, since my bathroom is so small, we didn't need a very big one!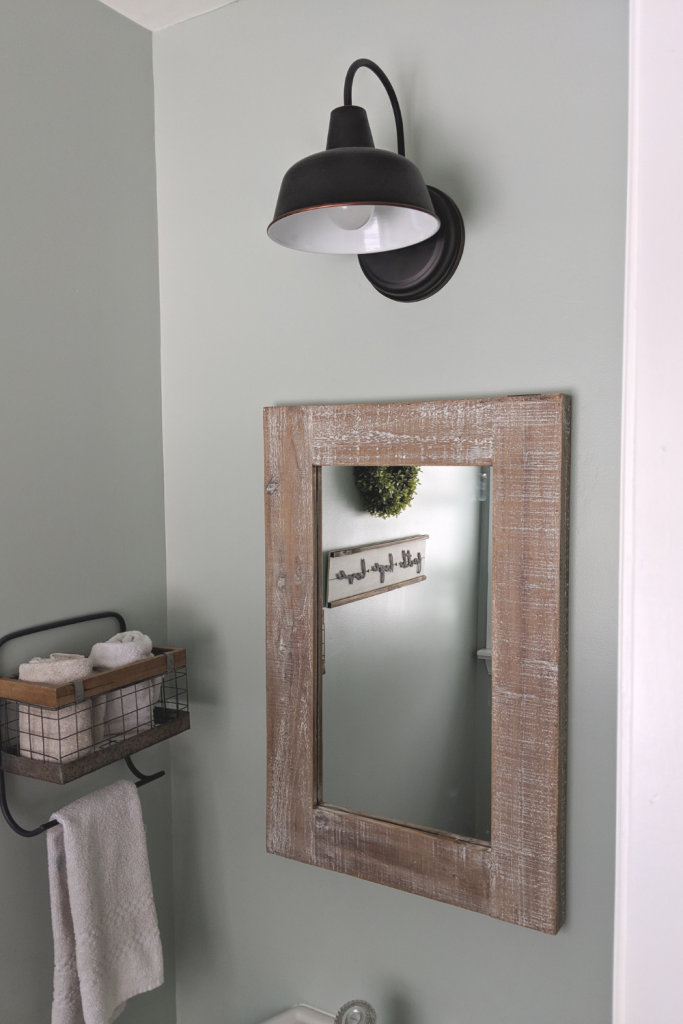 Mirror
The mirror that was in the bathroom is pretty much the standard for powder rooms around here. I liked the size, but I wanted something that was more farmhouse makeover-y. I moved the original mirror up to my bedroom and bought a small rustic framed mirror. I bought it at Hobby Lobby, but I found this similar one on Amazon.
Towel Bar
My main problem in this bathroom was the towel ring. It hung so low that it was hard to dry your hands. Plus, there wasn't any good storage space for extra clean towels. We have a large family and lots of people over our house. Which means lots of guests are washing and drying their hands in this bathroom. That means the towel gets pretty damp and doesn't have time to dry out in between bathroom visits. I wanted a way to keep extra clean hand towels handy.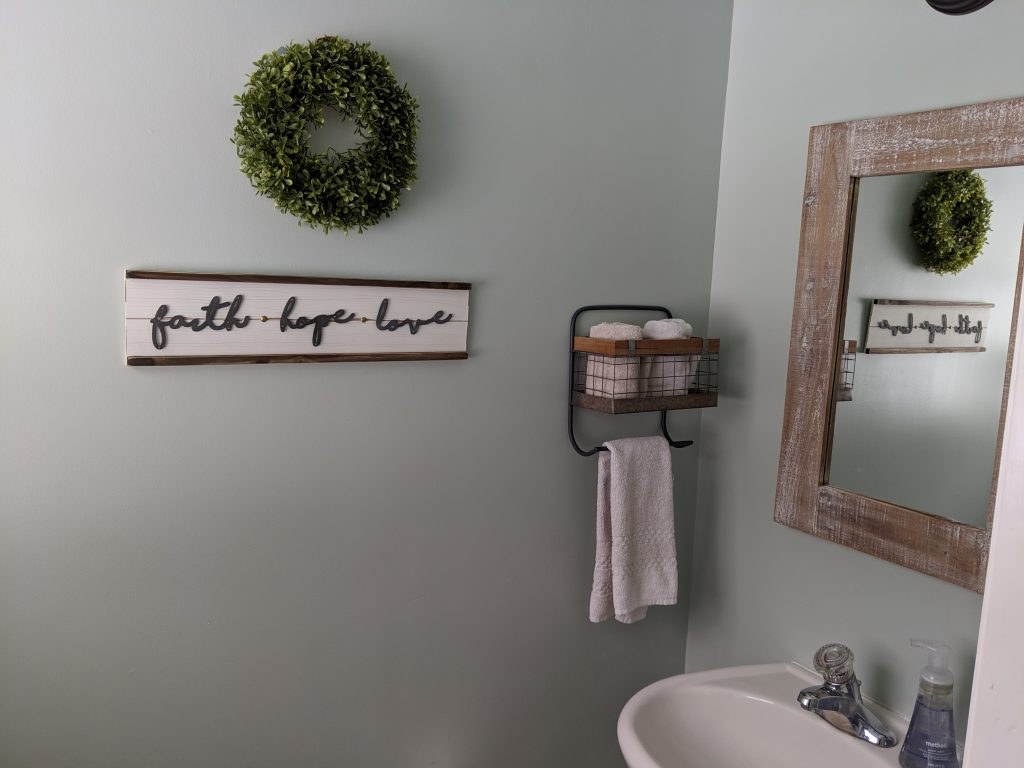 My original plan was to grab a shelf that had a towel bar underneath, but I had a hard time finding one small enough to fit my space. Then I found this gem at hobby lobby. I'm pretty sure it's not meant for a bathroom. I think it's mean to hold coffee cups on the bottom because it came with S hooks on the bar that we removed. But I love it in my bathroom! I can store three extra hand towels in the basket and I hung it up higher so you don't have to reach behind the sink to dry your towels. If my space was just a tad larger, I probably would have gone with this shelf.
Basket
I picked up this basket at (can you guess?) Hobby Lobby for storing extra rolls of toilet paper. I love the addition of texture and I think it helps give the bathroom a farmhouse feel.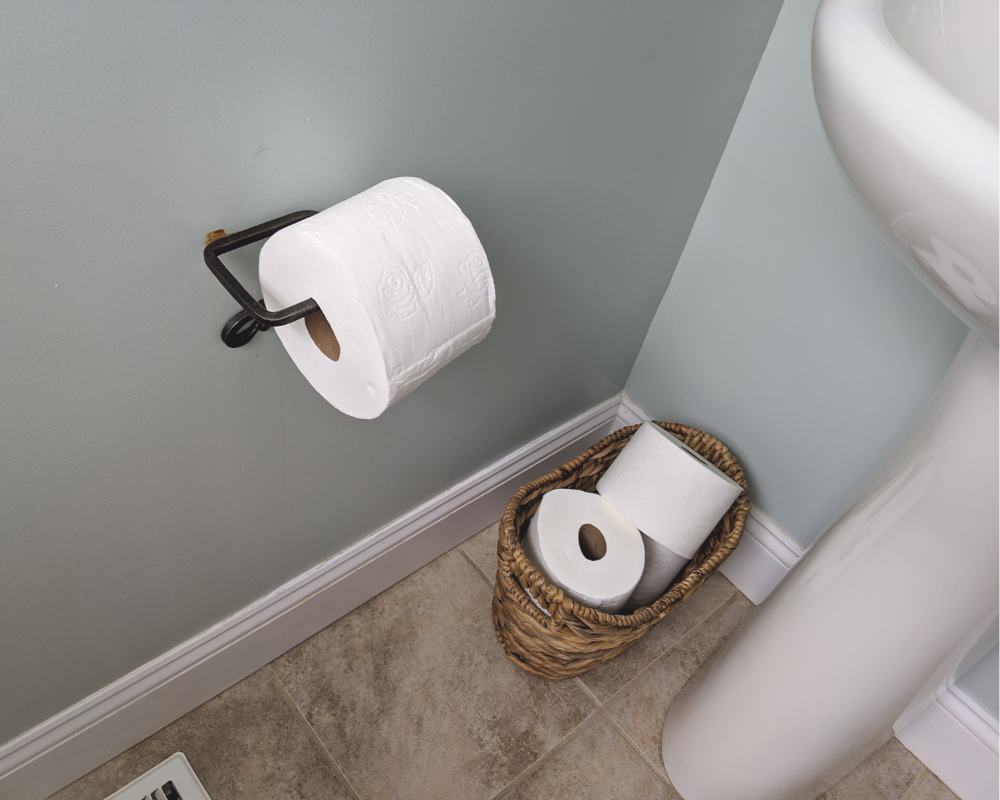 Toilet paper caddy
Previously, this bathroom did not have a toilet paper holder. We think probably because in addition to being short, the bathroom is also super narrow and there isn't a lot of extra room on either side of the toilet. We solved the problem by just shifting the paper holder forward a little. We found this wrought iron toilet paper caddy, again at Hobby Lobby.
Decor
Every farmhouse room needs a wooden sign and a boxwood wreath! There were a lot of funny wooden bathroom signs, but my husband and I couldn't agree, so we went with something simple. I also added a fake plant to the windowsill. I still have the receipt for it because I think I might add a real plant there instead. But then I'd be worried that my cats would knock it onto the floor and leave me a big mess! I'll give it a few days to see if it grows on me before I decided to return it or not.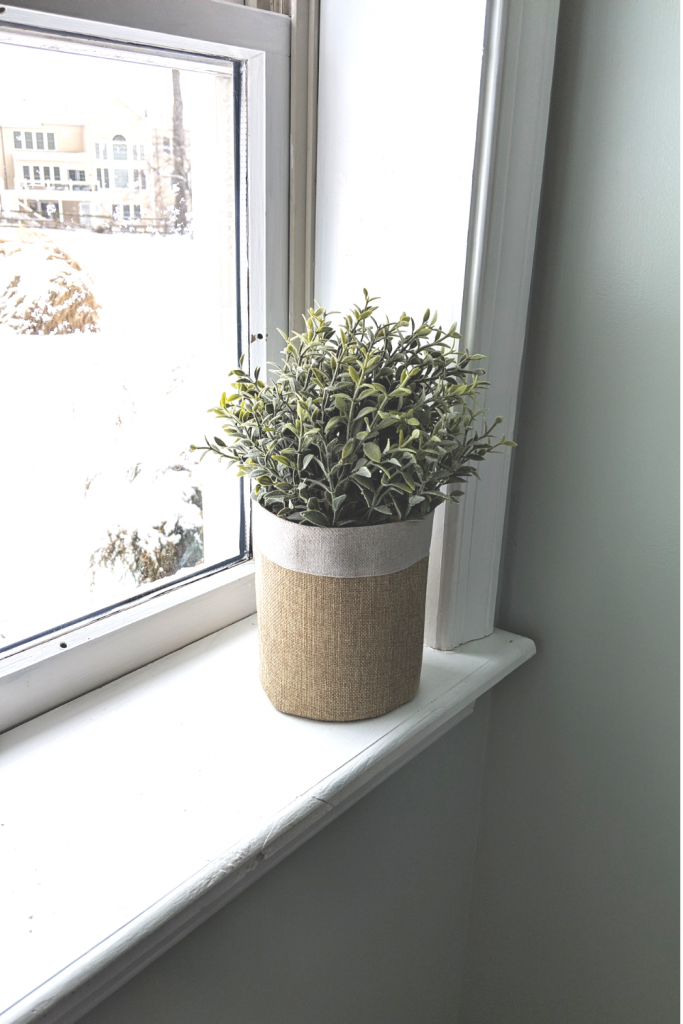 And that covers it! This project was super simple and didn't take much time at all, once we made all our decisions about what to buy for the bathroom of course. Making the decisions about all of the elements took more time than actually painting and putting it all together.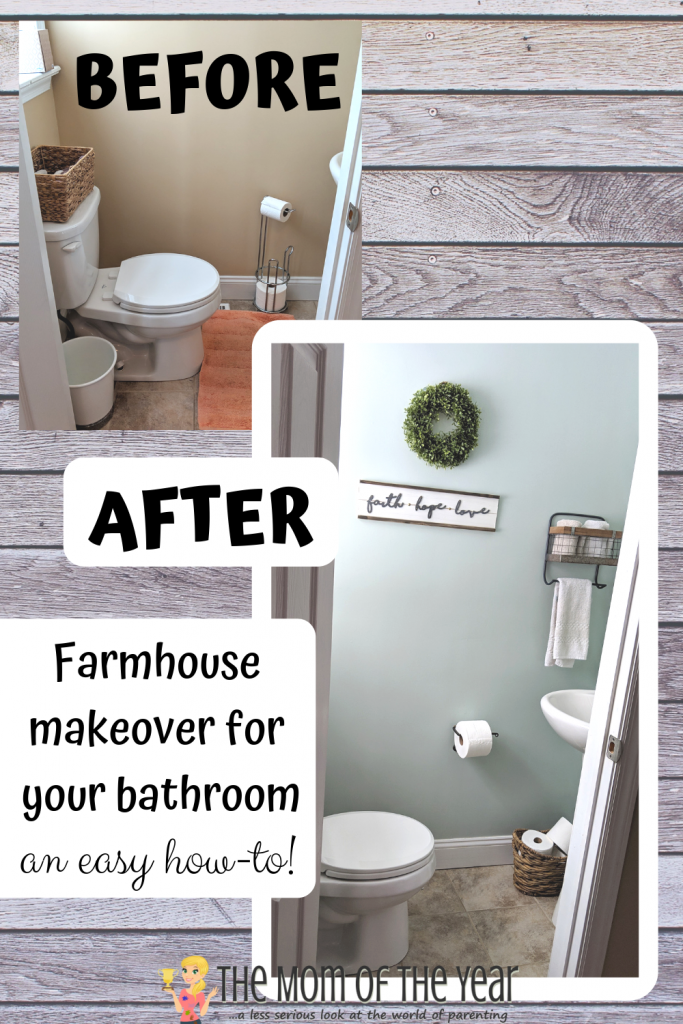 Hopefully this gives you some ideas for creating a farmhouse bathroom in your home!
**********************************************************
If you are contemplating a larger re-do with replacing the toilet or sink in your bathroom, make sure to consult this handy guide from Wayfair, Toilet Dimensions & Measurements to Know–it helps make knowing what size you need so handy!
The following two tabs change content below.
Anne is a mother of four, a 10 year old boy and 6 year old triplet girls. Always looking for a creative outlet, Anne sometimes hijacks her kids' parties, projects, and costumes to get her fix. (Even though they'd rather have their party at a moonbounce place and their costumes from a store). She blogs at onceuponamom.net where she writes funny and sometimes poignant posts in the hopes of lifting up other moms as they travel the chaotic, beautiful road of mothering.
Latest posts by Anne Metz (see all)