Sometimes I stare at my home and desperately want to update it.  I can't be alone in this, right? Reality tends to hit, as it often does, when I realize I have young children and a large home improvement project is just not something I am prepared to take on at this point in my life.  Instead, I did 5 easy home improvement projects to my home that made it feel different and exciting! Curious as to what you can do for an easy home improvement fix without the home improvement cost? Read on below!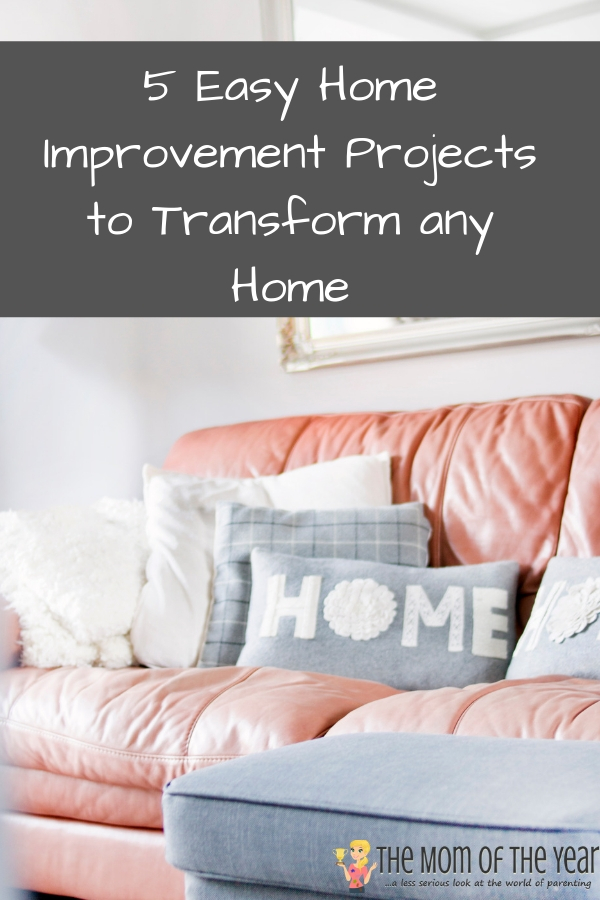 Paint Cabinets
My kitchen was outdated and desperately needed a new look but affording an entire kitchen renovation was not in the cards. Instead, I painted my cabinets and truly transformed my space! Now my kitchen looks entirely new and all it took was a can of paint and a day of work. While we were in the kitchen working, we also added Heat-Line to our pipes since our winters can be bitter.
Add Door Trim
A fun way to make rooms more exciting is to trim out your doors! This was an easy update and made my home look more unique and sophisticated. If you have space, you could even replace doors with something fun like a barn door. An even more fun twist would be to search antique stores for that perfect old trim and give it a new life in your home.
New Garage Doors
Don't neglect to give the exterior of your home a facelift. Mine was starting to look a bit dull so we settled on new garage doors. Now my home looks fresh and refined from outside! This also forced us to clean the inside of our garage, a shop vac and http://filtervac.com/rentals/ helped do the trick wonderfully.
Accent Rug
Never underestimate the power of a rug refresher! Adding a new accent rug can completely transform a room and can be done on a budget. If you don't have new carpeting in the budget, you could even add an accent rug over top of existing carpet.
Replace Lighting
The secret is out; builder's grade lighting is ugly. Finding something new that fits your home's style is a great way to make over your home. Maybe you can even be bold and click here to look into hydrosolar options for your home. Not only will the new lighting look great, but the lighting changes could add even more warmth to your home.
Investing in some easy home improvement projects for your home shouldn't take up much time or money. Something as simple as a new rug or the best ffe furniture, can truly transform a space. If you are lacking
time, money, or just aren't ready for a large renovation project, making some small changes can be just enough to make your home feel refreshed. Do you have any other easy home improvement ideas? Comment below and let me know, I would love to hear them!
The following two tabs change content below.
Lindsay Houser
When Lindsay isn't fielding three-nager temper tantrums and scraping Play-Doh off the floor, her passions are the great outdoors, cooking, creating, and healthy, holistic living.
Latest posts by Lindsay Houser (see all)